Ilkley Harriers news archive 2010
Harrier of the Month, March
Nominations were:


Tom Adams – for recent wins
Dave Cummings – for XC results
Rachel Wolfenden – for Trimple 20 results
Don MacRae – for Peco runs
Dave Wilby – for 10k results
Kate Archer – for improvement and recent results
Jo Prowse – for N Rd Relays
Henry Heavisides – for hard work and captaincy
Janet Bairstow – for group leads
Vic Verecondi and Jann Smith – for the cycling gear
Alison Eagle – for results
The HoM awards went to Kate Archer and Tom Adams. Congratulations to them, they will receive technical running shirts from HoM sponsor UP & RUNNING.
Wakefield 10k, Sun 28 March
Henry Heavisides reports ... it was a hard run at the Wakefield 10k this morning. There was a strong wind and some significant inclines, combined with an early start from the clocks going forward. The event was well organised with closed roads & chip timing. It's not really a PB course & most of us recorded slower times than at other recent 10ks. It seemed that we lost a lot more time going uphill into the wind than we gained on the downhill tailwind sections. Fastest Ilkley Harrier was Dave Wilby out of about 10 of us who were running. Results from www.sportsystems.co.uk:

(1   31.07  Mark Warmby, Newham & Essex Beagles)
14   35.43  Dave Wilby
53   39.14  Henry Heavisides  1st M55
118  41.54  Jane Bryant       1st F40
156  42.55  Ed Brougham
173  43.29  Kelly Harrison
229  44.03  Viv Verecondi
505  49.29  Don Macrae
516  49.40  Paul Sugden        PB!
1185 runners


This was a counter in the Harriers Race League ...
Baildon Boundary Way, Sun 28 March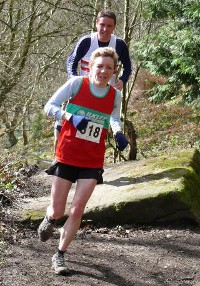 Results from www.ukresults.net

1    1:19:07  Tom Adams  Well done, Tom!
9    1:28:14  Jamie Hutchinson	
69   1:44:40  Elizabeth McCann  PB, 3rd V35	
73   1:44:46  Kate Archer	
80   1:47:06  Paddy Hagan	
105  1:50:18  Peter Shields	
162  1:57:40  Helen Horton	
171  1:58:59  Sharon Meadows
189  2:01:43  Liz Price
191  2:01:56  Martin Wright	
207  2:04:32  Keith Wood	
242  2:10:16  Jane Guillard	
258  2:13:02  Andy Sarah
261  2:13:20  Alison Stretton	
265  2:13:33  Amanda Newham	
285  2:18:02  Gaenor Coy	
293  2:19:37  Antonio Melechi
297  2:20:28  Michael Picken
336  2:38:48  Eric Hawthorn	
The ladies won the team prize.

See the Woodentops photos
Arkendale 10km, Sun 28 March
Jean Sullivan reports ... a lovely sunny breezy day for this 10km. An undulating course on mixed terrain, which included a memorable crossing of a few flooded fields! Great home baking available in the registration barn afterwards, as well as the chance to purchase some freshly laid eggs and to see some new born lambs. Country life at its best! I didn't break any records but was just happy to get round! I just spotted one other Harrier on the results sheet so apologies if I have missed anyone:

163  54:48  Jean Sullivan
172  55:36  Christine Cox


Blubberhouses Moor 25, Sun 28 March
From Jez Hellewell ... Had a great run (it's an LDWA event & as far as I know not classified as a race !) today on The Blubberhouses Moor 25. Extremely windy, but dry & mainly sunny, so I couldn't complain. Saw Amanda Parnaby at the start & Alison. Apologies if there were other Harriers who I failed to spot. Started off at a decent pace with a local chap (Chris brown) who knew the route well as, foolishly, I hadn't managed a recce. We kept overtaking & subsequently were re-overtaken by Alison many times, who, having seen run for the first time, was extremely impressive. "Not steep enough" & "Just a training run" were 2 of her comments ! I lost Chris after about 21 miles, but Alison & I managed to catch him up over the last few fields. We all finished, together, in the top 10 in a time of 3.42 (a PB for me over this distance !) & I think it's safe to assume that I was the happier of the 3 of us with that outcome ! Well done Alison & thanks for your navigational help over the last few miles.
Amanda adds .. further to Jez's report, I saw Emma and Bob Payne who finished in 5 hrs 40 and I finished in 5 hrs 46.
And from Alison E ... It was Alison Eagle not Bennett who ran (Jez do you remember we talked about Fell Eagle at the start!) - I was really glad I had reccied the route as the field was really strung out after only the first mile, and at times I found myself on my own to make route choices. Having also reccied it with one of the organisers helped, as a couple of alternate route choices, made up ground on those ahead. Heading down the fields, rather than the road, at the start, saw Jez and I arrive at Swinsty reservoir ahead of the leading men! I then settled into a steady pace, on the flat round Swinsty and Fewston letting Jez head off with the fast men! Apart from one runner who caught us up I saw no-one else behind us for the whole of the run, which was rather eerie. The hills, despite the strong wind in our faces up to Rocking Hall, allowed me to catch Jez up and overtake, until the flat and runnable downhills where he was much stronger for the first half. The second half saw us working together, as Jez says, which was really great as it is, and felt, a very long way across the moor from Beamsley, to Round hill and onto Timble, esp negotiating some of the bogs. Once again my road support was brilliant, thanks Morgan, allowing me even to change my shoes to allow more cushioning for my nagging hip and back for the last few miles on the roads and paths. I was the 1st lady and Jez and I came in together 6th/7th I think. As with all the LDWA events very well organised, with as usual cheerful marshals and great refreshment support during and afterwards.
Coniston 14, Sat 27 March
Andy Wiggans reports ... As we have babysitters on tap and free accommodation there was no way I wasn't going to go over to the lakes today, but it was a gloomy little Hector that arrived in Coniston this morning for the floodwater extended Coniston 14+. My injured calf had seemed worse than ever yesterday, so my intention was to try a tentative warm-up and if there was any sign of pain I wouldn't run. A few yards around the school field were surprisingly pain free. Deciding I was being lulled into a false confidence I ran a few hundred yards down the road. Still no pain. Weird. There was clearly nothing to do but to line up. Richard Hinsley, picking up the Verecondi mantle of late-late-lavatory hunting, had disappeared shortly before the start, but I was determined to run this steady so I waited for him to reappear. Soon after we were off from an unusual position half way back down the field, so our first mile was a very steady one. We were soon up to our intended pace of 7:20 miles, which we held right to the left turn where we crossed to the other side of the lake for our return up to coniston. Richard's lack of mileage began to hurt at this point (poncing around the far east on exotic holidays does not count as training) so after a few jelly babies provided by a kind lady and a gel provided by me, we parted. I had a brilliant time after this. I felt pretty strong and kicked the pace up to something under 7min miling, and passed what felt like dozens of people. My calf was behaving itself too - tight, and a bit painful on the uphills, but nothing that bothered me. In the end I managed to sneak under 2 hrs - very chuffed given that I didn't expect to be running at all. Sitting in the black bull with a celebratory pint of bluebird I received a text message informing me I was 106th with a gun time of 1:59:45, 102nd and 1:59:15 on the chip. This is, of course, a PB for the rarely run 16.76 miles! There were a few Ilkley vests in evidence - Jon Sinclair had a good run to crack 1:50, Rich Hinsley ran 2:10 and bits and Andy Wilson continued his comeback sneaking under 2:30. This is a fantastic race, and one to make a weekend of - I'm now off for a beer!!
Results c/o Ben Sheppard from www.tdl.ltd.uk

23  1:48:54  Jonathan Sinclair
40  1:52:18  Ben Sheppard
100 1:59:09  Alexander Sinclair
102 1:59:15  Andy Wiggans
253 2:10:10  Richard Hinsley
582 2:25:03  Val Kerr
665 2:289:16 Andrew Wilson


Ilkley Harriers is Clubmark accredited
We're pleased to report that Ilkley Harriers now has England Athletics Accredited Club Status (Clubmark). The Club has been working towards this standard for several years, with a number of people involved in that time including Geoff Howard, Nicky Jaquiery, and Peter Shields; but the final submission in December 2009 was largely based on work completed by Shirley Wood in the last year. Reviewing our policies and procedures and creating the Clubmark folder has been time-consuming, but has many benefits for the Club. There will be a formal presentation of the certificate by England Athletics soon, and a fuller report in the next newsletter.
Northern Road Relays, Sun 21 March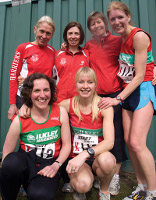 Diane Haggar reports ... On a glorious spring day it was fantastic to have a ladies team at this prestigious event. At the sharp end things were obviously very hot and it was very disconcerting to have so many of the men flying past you. Sadly Jane B was not with us - get well soon - but the ladies aquitted themselves well. Sally Morley kicked us off with a great run to put us in 14th place. We slipped a few places but with an excellent leg 4 from Jo we started to pull back, and finished where we started at 14th. We just missed the 2 hours, recording 2:01:42. (This improves on our 2008 position, 16th, and may be our best ever result. Paul) The race was won (again!) by Chester-le Street.

Sally Morley    (14) 18.15
Diane Haggar    (16) 20.23
Karen Lambe     (18) 22.21
Jo Prowse       (17) 19.43
Jann Smith      (16) 21.21
Alison Bennett  (14) 19.39
(team position at end leg)
14th from 28 teams


Henry Heavisides reports ... the team ran really well today at the Northern 12 stage Road Relay Championships at Wythenshawe Park in Manchester. The standard of competition was very high with many very strong teams. The men's race had 6 legs of 7.4k & 6 legs of 4.9k, the women's race was 6 legs of 4.9k. It was advertised as a 'road relay', but part of the race was on a running track with the rest on paths around the park, some being quiet muddy in places. Well done to everyone who took part. (This improves on our 2008 position, 31st, and is just outside our 26th in 2007 that got us into the National Road Relays. Paul) The winning team was Leeds City AC.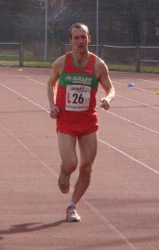 Tom Adams        (19) 23:57
Mark Iley        (23) 18:01
Justin Philips   (27) 26:44
Richard Reeve    (28) 17:30
Jamie Hutchinson (29) 26:37
Henry Heavisides (27) 17:50
Lawrence Basham  (33) 27:48
Stephen Coy      (31) 18:00
Nick Richardson  (32) 27:17
Paul O'Looney    (31) 17:48
Dave Wilby       (32) 26:21
David Westhead   (29) 17:10
(team position at end leg)
29th of 46 teams


Bradford 10k, Sun 21 March
Richard Hinsley reports .. a nice morning in Bradford with the backdrop of the Town Hall saw 940 runners lining up for the Bradford 10k. A flat and fast course said the marketing material. Ignoring the first kilometre with hill and numerous right-angled turns this was certainly true... until the gradual climb and short decent in kilometre 4. From there to the finish it was indeed a broadly flat but unfortunately for me no longer a fast course as any hope of a PB had gone. The car showrooms on the left and right quickly passed by (with no sight of any particular bargain) for us to be greeted by the infamous Bradford "hole in the ground" which, whilst it currently does not provide any shopping experience, has fortunately cleared the way to see some lovely Victorian architecture to distract you as we entered the finishing straight. A close race for the Harriers with me, Adrian and Richard finishing within about 30 seconds of each other. A decent crowd to cheer us home, followed by water, T shirt, photo call for the fist 4 Harriers home. Overall an enjoyable morning.
Winning time with the list of harriers I could find are

1   33:15  Ben Bennett, Redhill Road Runners
65  41:07  Richard Hinsley
72  41:23  Adrian Bastow
79  41:38  Richard Morris
106 42:26  Kate Archer
171 44:29  Vic Verecondi
275 47:31  Martin Wright
323 48:35  Sue Bickerdike
329 48:43  Karen McNicholas
421 51:07  Paul Sugden
469 52:10  Kevin Wardale
486 52:41  Emma O'Looney
647 57:48  Greg Wright


Photos on woodentops.org.uk and David Brett's site
Edale Skyline fell race 21m/4500', Sat 20 March
Alison Weston reports ... I drove myself, Steve Weston, Brian Melia and Heather Dawe to Edale on Sunday for the classic skyline race. Seemed to arrive a little early (to put it mildly) and just happened to find a great cafe with log fires burning in Hope! It was a beautiful Spring day for the race with brilliant visibiilty. A strict kit check including compulsory mobile phone! It is a really tough race with the second half being lots of bog and stony ground just when your legs want an easy time. The race was won in almost record time and Brian was first Harrier home in 3hr 52. A hard but great day out. Hope it makes the 3 Peaks seem easy but I doubt it!!

Brian Melia   3hrs 52
Alison Weston 3hrs 59
Heathert Dawe 4hrs 05
Steve Weston  time tbc


Fiendsdale fell race, Sat 20 March
7.5m/2500'

11  65:24  Steve Turland
19  69:07  Nick Pearce
68  99:38  Phil Chappel


Hardmoors 55, Sat 20 March
Eddie Winslow reports ... the Cleveland Way between Helmsley and Guisborough is hilly. Add in a cold, damp, windy Yorkshire Spring day, with low cloud reducing visibility and perhaps this event should have been renamed "The very HardMoors 55". I started well, running easily through to Sutton Bank in about 12th place but turning North along the escarpment the muddy conditions proved tricky; I'd chosen trail shoes as much of the race route is flagstoned but the loss of grip meant I struggled for a few miles. My body then decided it wasn't playing and I spent the next ten miles making slow progress and gradually sliding down the field to about 25th. Going over Wainstones I finally started to fell better and began to move strongly once again. By 40 miles I was catching some of the people who had overtaken me. The cold took its toll on a few who had to stop to warm up and others made some interesting route choices in the mist – on the dog-leg section to Roseberry Topping I saw three people behind me who I had last seen 15 miles previously ahead of me. I finished just as dusk turned to dark in a time of 11 hours and was pleased to have pulled back up to 15th place.
Filey Flyer, Sat 20 March
Amanda Parnaby reports ... Emma Payne and I took part in the Filey Flyer, a distance of 22 miles starting and finishing in Filey and taking in part of the Cleveland Way and Yorkshire Wolds. A wet day and very poor visibility meant that sea views were out of the question. It was an enjoyable event organised by East Yorkshire LDWA. Emma finished in 4 hours 56 minutes and Amanda in 4 hours 57 minutes
Leeds Hyde Park 5k, Sat 20 March
John Marshall was 93rd in 25:35
www.parkrun.org.uk/leeds
Trimple 20, Sun 14 March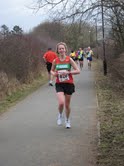 From Rachel Wolfenden... still feeling the effects of the thoroughly enjoyable Dales Way relay I stood on the start line of the Trimpell 20 with a degree of nervousness, especially as I had never run this far in a race before. The 20 mile route starts in Lancaster and follows the river Lune inland and back. It is very flat compared to the Wharfe valley and was recommended as good training run in preparation for the London marathon. Conditions were very good for running except for a stiff breeze for the second half of the race. Despite the wind I managed to maintain a very consistent pace throughout and was delighted with my finishing time of 2 hrs 22 mins (7th out of 120 women). Clearly the Tuesday evening runs and Saturday morning hard sessions are bearing fruit (thanks Paul, Neil and Geoff!). This was a well organised race with good facilities at the start and finish and I would thoroughly recommend it for those considering long training races next season. Fingers crossed I can keep going for another 6.2 miles in London!
Keighley 10k, Sun 14 March
Keith Wood reports the Ilkley Harriers results for the 'hard' Keighley 10k were as follows:-

(1st   35.45  Adrian Jones)
90th   45.52  Andrew Wilson
101st  46.17  Keith Wood
108th  47.00  Andrew Webster
116th  47.17  Rebecca Stapleton
148th  49.01  Edward Bickerdike
173rd  50.20  Sue Bickerdike

480 ran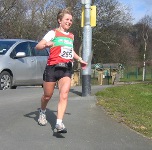 Spen 20, Sun 14 March
Julian Mawson (thanks, Julian!) reports that Jonathan Sinclair finished 22nd in 2h15.24 and Sally Malir finished 43rd and fourth lady (third FV45) in 2.21.30.
Inter-Counties XC, Sat 13 March
Jenny Dybeck was 42nd, and 1st counter for Yorkshire, in 23:46 in the U20 Women's race over 6km. Well done, Jenny!
Haworth Hobble aka Wuthering Hike, Sat 13 March
Hardy Harriers in this long one (33m/4000'!) were ...

103  5h53.19  Nicky Jaquiery
159  6h21.14  Ewan Welsh & Mike Baldwin
161  6h22.17  Russel Thomas + 1 
253  8h01.30  Amanda Parnaby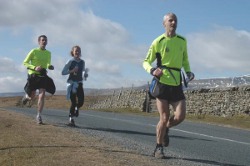 Dales Way social relay, Sat 13 March
From Alison B ... Thanks to the 38 Harriers who took part in the Dales Way Relay. Photos below (more shortly) and there will be more details and tales of the Grand Day Out to follow in the next newsletter.
We are collecting for the Yorkshire Air Ambulance. Thanks to those who have already contributed. We will be collecting during the rest of the week for anyone else who wishes to donate.
Windmills Whiz, Sat 13 March
Tom Adams was just 2s outside the course record; our men won the team prize; and Kate Archer was 2nd lady but by just one place and a few seconds.

1    37.15  Tom Adams
10   41.09  Martin Archer
15   42.02  Ian Rowbotham
19   43.50  Justin Phillips
40   47.23  Paul Stephens
56   48.58  Kate Archer 2nd lady
59   49.30  Graham Breeze
100  57.02  Phil Chappell
110  64.46  Sue Morley


Wharfedale Primary Schools XC Relays, Sat 13 March
Over 170 children, 58 teams, ran in the KS2 relays at Nell Bank and had a great day's competition in perfect conditions. Afterwards, awards were presented for League winners and positions in the Wharfedale Primary Schools League co-ordinated by Ilkley Harriers. More on the Junior Pages.
Dentdale Run, Sat 13 March
Fiona Schneider reports ... last time I did this run in 2008, we were restricted to one loop of road in Dentdale which we had to repeat. Even then, we were knee deep in water at one part. So it was delightful to run this race in glorious sun, with the catkins out, lambs in the fields and snow on the fell tops. Too bad that a not so fit, fifty female had to compete over 14 and half miles with the keen, mean and lean. I looked in vain for other Harriers, but think I was the lone entrant (it was the Dales Way Relay day! ;-) Ed.) I had intended to join the relay at Bolton Bridge afterwards, but a hamstring was having none of that and I shall have to wait another year. I love the Dentdale Race which has the challenge of Pennine undulations over a figure of 8 course centred on the village. The prize is endless cups of tea, sandwiches and cakes, served by the delightful locals (unless of course you are keen, mean and lean and then there are substantial trophies waiting .. )
www.dentdale.com/DentdaleRun/DentdaleRun.HTM

1st  Steve Littler Wesham RR  1h17:56
311  Fiona Schneider          2h20:18   24th out of 37 in LV45-55
  

Leeds Hyde Park 5k, Sat 13 March
John Marshall was 146th in 27:20
www.parkrun.org.uk/leeds
PECO XC, Esholt, Sun 7 Mar
Update 14 March by Henry Heavisides ... Ilkley Harriers won the men's vets competition for race 5 & for the series. We were second men's team overall. Malcolm won the M55 series & I won the M50 series. The Ladies team were 4th overall & 3rd ladies vets.
St Bedes organised some nice sunshine, and for the Esholt sewage tanks to be drained so it was a pong-free Esholt that was enjoyed by a good turnout of Harriers junior and senior ... senior results are:

13  Jamie Hutchinson
17  Dave Cummings
23  Mark Iley
25  Malcolm Pickering
30  Henry Heavisides
43  Paul Stephens
45  Ed Brougham
59  Paddy Hagan
76  Ian Marshall
86  Paul Wood
88  Andrew Jackson
97  Don MacRae
115 Andrew Bennett
2nd team, 1st Vets team

4   Kate Archer
10  Alison Bennett
11  Diane Haggar
54  Louise Jackson
60  Alison Ricci
65  Sally Pickering
83  Amanda Parnaby
4th team, 3rd Vets team


Half Tour of Pendle, Sat 6 March
Results from www.clayton-le-moors-harriers.co.uk

62   82:12  Nick Pearce
108  89:09  Norman Bush
128  91:45  Kelly Harrison
143  93:00  Diane Haggar
227 115:30  Sarah Fuller


Some 20 junior Harriers ran in the junior races.
Trollers Trot, Sat 6 March
From Jez Hellewell ... had a great, steady away, run today with fellow Harrier, Toni Melechi. Met Val Kerr after about 7 miles, who seemed to be running effortlessly. As indeed she did right up to the finish as we kept bumping into her at various points. It was, unfortunately, the last ever Trollers Trot as John Sparshatt, the organiser, can't get anybody to take over the organising of this cracking run (or walk, as it's part of the LDWA). Had a sneaky peak at the results at the finish &, from upside down, it looks like Tom Adams was the joint winner in a fantastic time of 2.58. Apologies if this is incorrect ! Toni & I didn't fancy pushing Tom too hard & so held back & came in at 4.03 (my Garmin said 4.01, but what's 2 minutes ?). Sorry for any other Harriers I didn't spot!
From Alison E ... a shame if someone does not take this on as it is a great event. I managed 2nd lady in 3.41, managing most of the way to stay with the leading lady, adventure racer Helen Jackson and with Neil Smith. Managed to get to the river to just before Burnsall in 3hrs, still in touch with Helen and Neil, but the flat riverside of 4.8 miles back to Grassington took its toll and I slowly let the others escape as my legs, hips, back gave up. Morgan, as throughout the race, was on hand to give me encouragement and to finally make it back, where I and the guy in front spent a couple of minutes, in our tiredness, to actually find the door to get into the school to finish!

1=   2h58  Tom Adams
6    3h14  Dave Wilby
13   3h36  Neil Smith
16   3h41  Alison Eagle 2nd lady
42   4h03  Jez Hellewell
43   4h03  Toni Melechi
45   4h06  Val Kerr     5th lady
87   4h41  Nick Mellor
102  4h48  Graham Breeze
119  5h15  Linda Wright
120  5h15  Victoria Wright
 

5k Time Trial, Tue 2 March
From Henry Heavisides ... Thanks to Neil, Paul, Dave & Jane for helping with organising the finish area of the time trial. Well done to everyone who ran. Tom Adams set a new course record with an amazing 16:12 (good job it wasn't a predictor run, or he would have been last!). We had exactly the same number of finishers as we had for the previous time trial in November, but generally times were quicker this time.
Results were:

1.  Tom Adams 16:12
2.  Nick Richardson 17:53
3.  Dave Westhead 17:56
4.  Richard Reeve 18:25
5.  Jonathan Sinclair 18:30
6.  Ben Sheppard 18:35
7.  Dave Cummings 19:24
8.  Julian Carter 19:33
9.  Ed Brougham 20:14
10. John Tate 20:21
11. Paul Stephens 20:33
12. Phil Judd 20:41
13. Colin Alexander 20:43
14. Mike Bryant 21:02
15. Charles Oxtoby 21:19
16. Brian Melia 21:21
17. Kate Archer 21:31
18. Vic Verecondi 21:34
19. Diane Haggar 21:38
20. Jann Smith 21:52
21. Sam Haggar 21:59
22. Val Kerr 23:03
23. Sharon Meadows 23:18
24. Natalie Curtis 25:26
25. Ros Frost 23:45
26. Karen Lambe 23:50
27. Mike Picken 24:26
28. James Pickersgill 24:32
29. Andrew Kitchen 25:03
30. Don MacRae 25:04
31. Paul Sugden 25:26
32. Lynn Donohue 25:51
33. Sheena Pickersgill 26:14
34. Emma O'Looney 26:50
35. Jacqui Weston 27:29
36. Ian Balfour 27:29
37. Antonio Cardinale 28:14


---