Ilkley Harriers news archive 2009
Harrier of the Month, December
Nominations were:


Jann Smith - sorting the Club kit
Jeff Paget - Luton Marathon: 1st V55, Club Record, and fastest male Harrier time in 2009
Richard Hinsley, Langdale 10k time and improvement
Henry Heavisides, Ribble Valley 10k time
Justin Phillips, Ribble Valley 10k 1st Harriers and PECO XC performance
The HoM awards went to Jann Smith, and Jeff Paget. Congratulations to them, they will receive technical running shirts from HoM sponsor UP & RUNNING.
A special award for Outstanding Performance was agreed for Lyn Eden on completion of her '65@65'.
Auld Lang Syne fell race, Thu 31 Dec
Ilkley results from a shortened and snowy course, where the Ilkley ladies took the team prize ...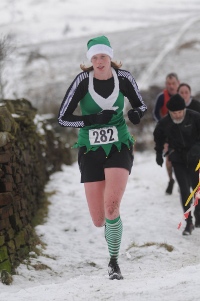 (1  39.35  Alistair Brownlee, Bingley H)
27  45.42  Ben Stevens
37  47.00  Jim Ryder
40  47.18  Ian Rowbotham
54  48.31  Jamie Hutchinson
69  49.07  Steve Turland
71  49.10  Martin Archer
79  49.54  Nick Pearce
82  50.02  Paul O'Looney
89  50.48  Neil Smith
102 51.57  Andy Wiggans
103 51.58  Paddy Hagan
106 52.08  Richard Reeve
119 52.50  Alison Eagle
142 53.57  Sally Malir
144 54.04  George Stevens
156 54.49  Graham Breeze
165 55.05  Ian Marshall
182 56.02  Bob Wightman
191 56.43  Kate Archer
209 58.16  Alison Weston
212 58.29  Michael Waterhouse
244 60.28  Jo Foster
251 60.52  Clare Smith
252 60.54  Kelly Harrison
258 61.18  Joyce Marshall
267 61.58  John Coates
297 64.26  Rob King
312 66.22  Jim Towers
314 66.28  Alison Stretton
344 70.11  Rachel Hagan
349 71.07  Sue Stevens
362 73.30  Paul Sugden
377 81.11  Lyn Eden


Any errors or omissions? This was the final 2009 Harriers League event, so please let Paul know.
Full results and photos on woodentops.org.uk
Jolly Holly Jog, Mon 28 Dec

(1  37.39  Phillip Elliot-Dick, York Knavesmire)
4   41.32  Ben Stevens
22  44.17  Norman Bush  1st 65+
77  49.48  Geoff Howard
107 52.04  John Gates
115 52.29  George Stevens
223 61.41  Sue Stevens
441 finishers


Ribble Valley 10k, Sun 27 Dec
Andy Wiggans reports ... After the "rigours" of yesterday's duathlon (well, more the two pints of Landlord that followed it) I wasn't quite sure what was going to happen at the Ribble Valley 10k. Parking was tricky as the car parks were closed due to snow, but everyone was very sensible and parked back up the road in Clitheroe, and in the end we all got away easily enough. The course has been changed slightly from last time I did it, with the start and finish now in same place, facilitated by a little "up the road, round a cone, say hello to your mates as you run back down then back on route" loop just after 5k. Something approaching 1,000 runners made the trip, 14 of them being from Ilkley. I had a cracking tussle with Henry H, several times thinking he'd dropped me and each time just managing to pull him back. In the end I just squeaked in ahead in 124th place with 37:14 (my 8th PB of the year by 18 seconds), and Henry was 126th in 37:19, his best time of the year. Henry was 4th M50. I'm pretty sure Henry's 37:19 will get him in the UK rankings for M50, just behind Richard Reeve who's already in there for his Abbey Dash time - The other particularly notable result was Jane Bryant getting in the prizes as 3rd F40 with 41:36.
Full Ilkley results were:

(1   29.21  Tom Lancashire, Bolton UH)
98   36:01  Justin Phillips PB
124  37:14  Andy Wiggans  PB
126  37:19  Henry Heavisides
160  38:21  Mark Iley
204  39:34  Jeff Paget
243  40:33  Robert Cunningham
279  41:36  Jane Bryant
388  44:28  Michael Bryant
395  44:40  Keith Wood
428  45:26  Rebecca Stapleton  PB
474  47:05  Vic Verecondi
495  47:59  Bradley Chapman
496  47:59  Neil Chapman
503  48:10  Nick Mellor


Provisional results on UKResults.net
Henry Heavisides adds ... there was a good contingent of Ilkley runners at the ever popular Ribble Valley 10k. The course is surprisingly fast as it's on twisting country lanes with lots of undulations. It's not even a 'downhill' course anymore, as the start & finish is at the same place. It made a change to be running on wet roads rather than the recent snow & ice.
Justin Phillips was first Ilkley Harrier to finish with a new PB of 36:01, although he was kicking himself not to have got under 36 minutes. I ran around the course with Andy Wiggans who just beat me in the sprint to the line. I finished in about 37:19 and Andy would have been a couple of seconds quicker in a new PB. I was pleased to run almost 3 minutes faster than at this race last year.
Other Ilkley runners included Mark Iley, Jeff Paget, Jane Bryant & Rob Cunningham who all finished well up in this high quality race which included the North of England championships.
Chevin Chase, Sat 26 Dec
Loads of Harriers in this one, results from Aire Centre Pacers ...

(1  38.02  Alistair Brownlee, Bingley H)
11  44.51  Dave Wilby
15  45.16  Ben Stevens
27  47.00  Jamie Hutchinson
33  47.17  Ian Rowbotham
34  47.18  Martin Archer
44  47.49  Ralph Tench
50  48.11  Stuart Pitches
64  49.31  Paul O'Looney
65  49.33  Richard Reeve
86  51.07  Nick Pearce
104 51.55  Rob Cunningham
113 52.22  Paul Stephens
118 52.29  Neil Smith
135 53.14  Sally Malir
141 53.23  Neil Chapman
209 56.01  Adam Bennett
217 56.23  Simon Chapman
231 57.00  Kate Archer
235 57.04  Julian Carter
236 57.07  Rachel Wolfenden
241 57.22  Alison Bennett
250 57.40  Catherine Gibbons
275 58.43  John Woodward
276 58.43  Russell Thomas
287 59.25  Dave Taylor
302 59.42  Keith Wood
309 59.55  Val Kerr
317 60.23  Jo Prowse  1st female super-vet
320 60.26  Helen Horton
334 60.59  Kelly Harrison
356 61.34  Sharon Meadows
368 61.54  Anthony Swanepoel
376 62.09  Amanda Newham
403 63.24  Andrew Jackson
411 63.45  John Coates
414 63.57  Charles Oxtoby
424 64.20  Anna Masterman
430 64.33  Martin Wright
455 65.43  Clare Smith
465 66.05  Sophie Brown
554 69.59  Mary Gibbons
555 70.00  Bernie Gibbons
579 71.05  Sue Bickerdike
580 71.14  Nigel Tapper
592 72.18  Sheena Pickersgill
594 72.26  Gaenor Coy
596 72.28  Alison Stretton
628 73.53  Sue Stevens
678 76.59  Jane Guillard
682 77.03  Emma O'Looney
696 77.56  Andy Sarah
697 77.57  Vince Gibbons
699 78.12  Andrew Bennett
751 82.08  Claire Macina
776 84.47  Jeanette Thomas
792 86.28  Amanda Parnaby
825 finishers


Any errors or omissions? This is a Harriers League event, so please let Paul know.
Kildwick Duathlon, Sat 26 Dec
Andy Wiggans reports ... Just a fun event, but friendly and enjoyable all the same. Shortened bike route (5.5m) and a slippery run up to Farnhill Pinnacle and back (2.5m) - I was the only Ilkley interloper present, but was welcomed by the K&CAC team. There were about 20 entrants, some of whom didn't bother with the run, some of whom didn't cycle, but all enjoyed themselves. I upheld Ilkley's honour with a "podium" finish to be 3rd in about 36 minutes.
They're doing these in the evening through the winter, which I imagine is quite good fun if your lights are up to it, along with the series of night-time fell races.
The Stoop, Sun 20 Dec
With deep unbroken snow on the ground, icy patches, and bands of snow coming across, the course was simplified to 'out to The Stoop and back'. The Ilkley ladies won the team prize. Other Ilkley results ...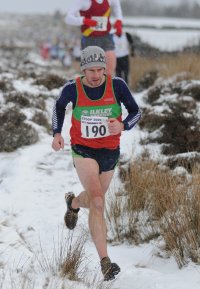 1    30.50  Rob Hope, P&B
5    33.23  Tom Adams
15   34.56  Ben Stevens
25   36.36  Jamie Hutchinson
30   36.59  Ian Rowbotham   1st V50
64   41.08  Victoria Stevens 3rd lady
67   41.18  Ed Brougham
74   41.33  Paddy Hagan
117  45.12  Kate Archer
137  47.15  Catherine Gibbons
148  50.11  Bob Payne
173  59.50  Jim Towers
175  60.56  Vince Gibbons
180  68.07  Mary Gibbons
183  72.12  Lyn Eden - official sweeper
  

Photos and more on woodentops.org.uk
Christmas Relays, Tue 15th December
Numerous shepherds, angels, Santas, elves and wizards took to the streets for this evening of festive fun. There was even a Mary and a Joseph. Special thanks to Amanda Parnaby who did a great deal of shopping, heating, transporting and serving, in order to providing the runners with mulled wine and mince pies. She was ably assisted by Sue Lugton. The event has raised £70 for Cancer Research UK so far. Further donations welcome at Club Night on Tuesday 22 December ...
Calderdale Way Relay, Sun 13 Dec
Results from the Halifax Harriers web site:
| POS | Team | Leg1 | | Leg2 | | Leg 3 | | Leg 4 | | Leg 5 | | Leg 6 | |
| --- | --- | --- | --- | --- | --- | --- | --- | --- | --- | --- | --- | --- | --- |
| 21 | Ilkley Harriers | Steve Turland | | Dave Wilby | | Nick Pearce | | Jim Ryder | | Duncan Cooper | | Paul O'Looney | |
| | | Jamie Hutchinson | | Tom Adams | | Mike Baldwin | | Jonathan Whittaker | | Ian Rowbotham | | Mark Mon-Williams | |
| | | 1:23:12 | (19) | 1:00:07 | (7) | 0:43:04 | (21) | 1:18:02 | (27) | 1:08:20 | (39) | 1:22:40 | (50) |
| | | 1:23:12 | (19) | 2:23:19 | (12) | 3:06:23 | (15) | 4:24:25 | (15) | 5:32:45 | (16) | 6:55:25 | (21) |
| 41 | Ilkley Harriers Ladies | Helene Whittaker | | Kelly Harrison | | Catherine Gibbons | | Andrea Priestley | | Alison Eagle | | Alison Bennett | |
| | | Sally Malir | | Heather Dawe | | Jenny Dybeck | | Tracey Greenway | | Nicki Jacquiery | | Diane Hagger | |
| | | 1:37:56 | (73) | 1:14:21 | (49) | 0:48:40 | (54) | 1:19:03 | (34) | 1:06:54 | (28) | 1:22:41 | (51) |
| | | 1:37:56 | (73) | 2:52:17 | (62) | 3:40:57 | (55) | 5:00:00 | (46) | 6:06:54 | (44) | 7:29:35 | (41) |
| 94 | Ilkley Harriers Mixed | Jo Prowse | | Amanda Newham | | Joyce Marshall | | John Coates | | Sue Morley | | Paul Stephens | |
| | | Laurie Prowse | | Sarah Fuller | | Jo Foster | | Kevin Gooch | | Eric Morley | | David Brown | |
| | | 2:09:18 | (110) | 1:31:08 | (105) | 0:51:57 | (71) | 1:37:58 | (89) | 1:28:18 | (98) | 1:18:30 | (32) |
| | | 2:09:18 | (110) | 3:40:26 | (108) | 4:32:23 | (102) | 6:10:21 | (97) | 7:38:39 | (99) | 8:57:09 | (94) |
117 teams ran
From Dave Wilby ... Firstly a big thank you to Mike Baldwin & Dave Brown for stepping in to the teams late in the day, and a HUGE thank you to Kevin Gooch for stepping in very very late in the (Satur)day. The Calderdale Relay is notorious for being a captain's nightmare, and after initially looking promising, this one maintained its deserved reputation with comfortable ease!!!!
On top of selection duties, I once again had the dubious honour of running with club whippet Tom Adams. He's been top of the Harriers pile all season, and now that some bright spark has talked him in to the weekly track sessions, expect to see straws being drawn amongst the rest of us next year when the relays come around. We took on leg 2 together this year, and as we set off we had a few pairs within chasing distance ahead of us. A steady start was required on the long drag up to the reservoir to avoid me blowing up, and then a leg stretch across the moors. As I approached Stoodley Pike, Tom was just packing up his breakfast hamper and enjoying the last drags of his first cigar, but like a true pro he was ready to go as soon as I arrived. We passed 3 teams on the descent to take our early tally to 5 and then belted along the long stretches of track, road & fields which follow, with no other teams in sight ahead of us. I took advantage of the mandatory 'walk' through the stables to draw my first proper breath of the race, and then we were off again, plummeting steeply down in to Todmorden. As we approached the last long climb, we could see the pair from Abbey Runners ahead of us and decided that a scorched pair of lungs were a worthwhile price to pay for local honour. Tom had a club record in his sights, my vision was starting to blur, but we worked hard up that endless bloody climb and arrived high above the town with a good gap behind us. Finally, with a sub 1hr time within reach, all we had to do was switch off our brains for the last mile, and let gravity do its thing. Down the road, down a lovely grassy track and then in to the woods, a great way to finish a fantastic leg. Time of 60:07 (so close!!), a club record by over 4 minutes and 7th fastest overall for the leg. Tom cycled back to the start of the leg, I staggered, stumbled and finally collapsed against the car, and awaited the return of my legs!!
From Alison Eagle ...Firstly congratulations to all the Ladies who stoically remained fit and available from the selection of the race to the day (sorry reserves but a big thankyou for offering your services and I am sorry you did not get a run - know Paul is looking for Pennine Bridleway pairings).
Despite a little sightseeing Leg 1 ladies Sally and Helene got us off to a solid start; despite being hindered by a calf problem, Kelly and partner Heather kept us in contention, in 3rd place I think. The youngsters on leg 3 Jenny and Catherine had a good leg to set Andrea and Tracey off in 3rd on Leg 4. Having kept upto date by text Nicki and I were not expecting to be off in the mass start. Bingley Ladies came through looking strong about 12 muinutes in front of the mass start. We were pushing to the front of the mass start when at the back, at the changeover, I saw a red vest, a waving baton and Andrea's voice - not again I thought (the last time Nicki and I did this leg we had about a minute in front of the mass start, 2 years ago the Ilkley ladies had about 30secs, this was even closer!). I pushed back, panic on my face, Nicki wondering what on earth I was doing.
"Let me through" I yelled and eventually met Morgan, passing me the baton from Andrea.
"Out the way" I shouted, and the runners parted as Nicki joined me, we set off in a lung bursting start, Cries of "Go for it Ilkley" rang in our ears as the mass start were set off seconds later.
The pace slowed a little but determined to let no ladies teams pass us we worked hard, only having 3 teams overtake (and we got 1 back as well as passing others). Nicki pulled me up the hills, the route was full of wonderful mud - just our cup of tea and we managed to retain the 2nd place Andrea and Tracey had got us into with a superb run, an Ilkley Ladies record for Leg 4, I think. We even managed to gain back a couple of minutes on Bingley.
A good leg 6 by Di and Alison, starting in the mass start, saw us secure 2nd place, consolidating a great performance from all on the day.
Well done to all, hopefully the Mixed Ladies had good runs. Thanks to Morgan for following us round with the campervan, just the job for keeping warm at Wainstalls and then producing a brew at the end of the leg. Took me ages to get the mud off my legs in the bath later - a sign of a good fell race!!
From Paul Stephens ... Over the stile, through the gate, along the road, betwen the houses, up the steps and through the field; past Sainsburys, along the canal, up through the wood, down the cobbles, but where were we? Was it Shelf or Southowram, Bailiff Bridge or Brookfoot, Thornhill, Norwood Green, Brighouse or somewhere on the Calder? Whatever, the weather was good for running, and we didn't get lost. David (Brown) and I set off in the mass start and kept with people all the way. David had agreed to run at the last minute, and he's a little faster than I am. He also clearly had a target in mind. I would have been happy to equal last year's time. David was more ambitious, paced it well, and succeeded in pulling me along. I hadn't anything left at the end to overtake the 2 teams just in front, but we did post a respectable time. A good day out and thanks to Andrew Bennet for the taxi service.
From Sarah Fuller ... Just want to give my "relay virgin's" perspective on the Calderdale way experience ... Once I'd got over the shock at being in the team I was really looking forward to taking part in my first club relay. We did a reccie the week before so were (reasonably) confident with the route although a bit worried about the amount of tarmac in it (us fell runners are a bit wary of the hard flat stuff!). I was disappointed to come down with a bit of a cold in the week before but felt ok in training runs so was determined to run. The team atmosphere at the start of the leg was awesome with Dave and Lee and Heather and Kelly also lining up for leg 2 as well as a number of other familiar faces. We set off in the mass start and held a steady pace in the main pack up to the top of the first loooooonnng climb to the reservoir. We then took off across the muddy bits (hoorah!) to Stoodley pike, a fast, furious and muddy decent saw us pick off quite a few teams so we were really chuffed and going well - for us! Bit of a route mistake but nothing major and we held a steady pace for the next few miles across the tarmac and trails to the stables but not quite quick enough to hold off the teams we passed on the muddy stuff - (note to self - do some more road running and speed training for next year!). Then a well appreciated walk through the stables, another nice quick decent this time on trails and roads, avoid getting run over in the centre of Tod and then onto the final grim climb, which surprisingly wasnÕt as bad as it felt in the reccie (hoorah for jelly babies) - although we did have to wait rather annoyingly at the railway crossing for a train to pass! And then fast and muddy down into the finish. Amanda and I were well matched and well chuffed to have finished in about 1.30 without getting too lost! I just want to say thanks to Alison / Dave for giving us the chance to take part - I enjoyed every minute of the experience and wouldn't hesitate to volunteer again (should the club be desperate enough!). Well done to everyone ...
Langdale 10k, Sun 13 Dec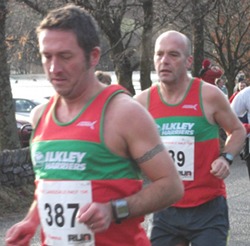 Andy Wiggans reports ...Now so popular they need to run it twice, the Langdale Christmas Pudding 10k was run on both Saturday and Sunday to enable even more people to experience the breathtaking beauty and leg-sapping undulations of the Great Langdale valley in the Lakes. Vic Verecondi, Richard Hinsley and I made the trip for the Sunday race, and were rewarded with clear(ish) skies (Vic was slightly chagrined as they "weren't as blue" as last time he was there) and chilly temperatures, perfect for running. The fields were still brilliantly white from the overnight frost, as the sun makes little impact on the valley floor this time of year, and there were a few slippy bits on the road, being gritted as we arrived.
We were away bang on time, with a significant proportion of runners sporting festive costume, and several more kitted out for some kind of arctic ski race with several layers of fleecy things from head to toe. Now Hinsley and I may to the stouter end of the BMI scale, but we don't believe that anyone intending to actually perambulate at anything above walking pace needs to wear that much stuff in the UK whatever the weather, so readers will be pleased to hear that all three of us, even the Antipodean, ran in shorts and vests. And in Vic's case, gloves, presumably in case the opportunity to make a snowman presented itself at any point. We also saw a certain T. Lonergan looking fit and stylish in the vest of Sale Harriers - "Ey ups" were duly exchanged.
I set off from reasonably near the front, having got snarled up in the melee here before, and was surprised to find myself looking at not very many people disappearing off up the road in front. One of them had to stop because his balls fell off (they were Christmas decorations, in case anyone was thinking "blimey, it really was cold!"), and I soon settled down with a group of three or four guys of a similar pace. The race goes along the valley road, but it does, as mentioned, undulate a bit, so the pace was hardly constant. However I found myself racing a couple of blokes, one of whom I now know to be an employee of one of the sponsors, the Langdale Hotel. As we went past Wainwrights, a pub owned by said establishment, this young lad accelerated to about 4 min mile pace and left us for dead - it was only when I saw the large crowd of (largely female) co-employees cheering him on I realised I had become an unwitting participant in some sort of hospitality industry mating ritual and he wanted to look good in front of someone in the group of supporters. I also noticed, however, that he was wearing those daft socks that don't really look like you're wearing socks, and as I am a man who holds certain principles involving comedy footwear, he could not be allowed to beat me.
Fortunately a combination of his 400m of high-speed showing off and a convenient upward undulation left him a bit pooped, so I and another runner wearing more traditional hosiery, passed him on the hill. I also managed to hold off the proper-sock wearer by a few seconds over the last couple of km and came in with 9th place in 37:52, a time and placing that I'm right pleased with given the lumpiness of the course.
After the finish I wandered down to watch my clubmates finish, and was looking expectantly up the road when a very chuffed looking Richard Hinsley appeared from behind me, already finished and grinning idiotically. 24th in a stonkingly good sub-40 time of 39:41. I know we'll have to stop being nice about how well he's doing considering how little running he's done eventually, but this is a bloke that's gone from struggling to run 3 miles in under half an hour to sub-40 10k in 10 months - lots of hard work and a great deal of good advice from a Mr Wolfenden (and proper socks).
Vic came in looking cool and relaxed, having run 46:14 to be 108th. We all agreed that this is a terrific race to put on the list, and as there's a team prize one that Ilkley would have a good chance of winning. There's another two races in April (17th/18th I think) so anyone not doing London should consider it.
There were 379 finishers and the winner was Steve Littler from Wesham in 32:51.
Leeds Hyde Park 5k, Sat 12 Dec
Justin Phillips was 9th in 17.56. The event was bolstered by 200 folk in Santa outfits ... www.parkrun.org.uk/leeds
Bolton by Bowland fell race, Sun 6 Dec
Jamie Hutchinson reports ... A very respectable start time of 11.30am and we headed out into the quagmires around Bolton by Bowland. As usual I set off at a good pace but soon found the going tough and feared to lose my shoes in the never ending mud. The only real climb came within the first few miles and then followed sections on road, tracks (mud) and fields (quagmires) Š more of an extreme cross country race. Good to see a few other Harriers there. The race was won by I.Holmes in 47.30, harriers were:

16th Jamie Hutchinson 55.50
41st Nick Pearce      61.44
72nd Norman Bush      66.40
89th Kate Archer      70.32
 
164 ran & trudged round.


Complete Runner XC #4, Guiseley, Sun 6 Dec
Results from Complete Runner

Men
39  39.00  Tom Adams
56  40.22  Jim Ryder
77  41.51  David Westhead
82  42.06  Mark Iley
86  42.16  Malcolm Pickering
155 51.48  Eric Morley
163 56.29  Jim Towers
164 56.32  Bob Payne

Women  11th team
43  23.09  Catherine Gibbons
47  23.17  Sally Malir
78  26.16  Sue Morley
80  26.35  Jo Prowse
91  29.31  Emma Payne
92  30.00  Bernie Gibbons
95  33.03  Lyn Eden

Plenty of good junior results  on th day incl. 1st U11 Girls team


This was the final race in the Complete Runner XC League, and notable overall results are ...

Lyn Eden, 1st L60-64
Jenny Dybeck, 2nd L17-19
Diane Haggar, 2nd L45-49
Malcolm Pickering, 2nd 55-59
Jo Prowse, 3rd L55-59
Catherine Gibbons, 4th L17-19
Bernie Gibbons, 4th L55-59
Sue Morley, 5th L50-54

1st U11 Girls team
4th Womens team 
4th U13 Boys team
6th U13 Girls team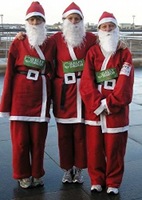 Liverpool Santa Dash 5K, Sun 6 Dec
From Jacqui Weston ... the watches went out of the window for this race, it was pure fun. It was a surreal moment walking to the start surrounded by Santas all dressed in red and blue outfits (blue for the hardcore Everton supporters) for the start of the world record breaking Santa Dash in Liverpool with 9,997 other Santas.
To be honest we couldn't really tell you what the course was like as we were laughing so much. We stopped a couple of times to take pictures and soak up the atmosphere, although Emma felt that if we had got a wiggle on we would have won! A bit of wishful thinking but we would certainly have finished quicker.
So the results for Emma O'Looney, Jacqui Weston & Sue Bickerdike were 3PB's for 5K run in a very hot and rain soaked Santa suit with hat and beard - 29:00
Luton Marathon, Sun 6 Dec
Jeff Paget reports ... the torrential rain at 9am gave way to broken cloud at 10am for the start of the Luton Marathon and it stayed rain free, if very breezy, for the duration of the race. This was my first race as a Vet 55 and I was racing with/against my 29 year old son, Tom, who runs with Otley. Having gone off rather too quickly I ground out the last few miles and finished 38th overall in 3.08.10 which earned me 1st Vet 55. Tom finished 97th in 3.19.57 so I re-established supremacy in the family pecking order! I think that there were 493 finishers.
This is a new Ilkley Harriers age group record, knocking 2 minutes off Peter Shields' London 2004 time, and the best men's time this year.
Guys 10M, Garstang, Sun 6 Dec
Paul Sugden reports ... after travelling in solid rain from Ilkley I was nearly tempted to just sit this race out and watch from the ferris wheel. However just ten minutes before the race it stopped raining. On a flat course the only problems were the wind which kept blowing throughout and the two massive puddles we had to run through at 7 miles. It was a well organised run and definitely PB course as I came in 3m15s better than previous attempt at Bradford in 1:24:55. Jann finished 4th Lv40 in 1:14:09. Now it's time to eat the prize of Lancashire cheese!

1   8:52 Antony Ford  M Sale Harriers Ac
141 1:14:09 Jann Smith
245 1:24:55 Paul Sugden

PEXO XC, Sat 5 Dec
Henry Heavisides reports ... despite the fixture clash with the Complete Runner tomorrow, there was a really strong team at today's PECO race. The conditions were quite challenging with a bit of everything, mud, hills, mud, woods, mud, road, mud, track, mud & fields with a lot of mud as well. Dave Wilby led us home with a fine 3rd place, we must have scored quite well in both the overall mens & the mens vets team race.

3   Dave Wilby
7   Ian Rowbotham
9   Steve Turland
15  Justin Phillips
27  Dave Cummings
29  Paul O'Looney
30  Henry Heavisides
44  Ed Brougham
46  Paul Stephens
54  Paddy Hagan
82  Ian Marshall
96  Paul Wood
104 Andy Jackson
126 Graham Stead
133 Vic Verecondi
134 Don MacRae

Ladies
10 Diane Haggar
60 Louise Jackson
61 Alison Ricci

Juniors
16 children ran in the 1 mile and 2 mile races

Endurance Life Gower Coastal Marathon, Sat 5 Dec
Adrian Hall (the 'Southern', or 'original', Adrian Hall) reports ... starting from Llangennith in Gower, the "marathon" took in 28 miles of the Gower peninsula including Llanmadoc, Oxwich Bay, Port Eynon Bay and Rhossilli. A very picturesque course with 1500 m of ascent. Finished 13th of 169 in 4 hours 27 mins.
Park Run, Manchester, Sat 5 Dec
Rob Cunningham reports ... Did the Park Run 5k event at Platt Fields Park in South Manchester today and was probably not the most popular as when in 2nd place around the 4k mark I lost sight of the lead runner and went completely the wrong way, taking a couple of people following me off course too. Oh well it's a run and not a race.....obviously. Ended up 3rd in 20:50
Rudolph's Romp, Sat 5 Dec
Amanda Parnaby reports ... 24 mile off road around the southern end of the Yorkshire Wolds taking in part of the Wolds Way, starting and finishing at Brantington between Hull and Market Weighton. As expected, it was very wet underfoot which meant it was difficult keeping your feet in some places. At least the overnight rain cleared to leave a lovely day. Organised by the LDWA with over 400 runners and walkers taking part. Finished in 5 hours 51 minutes.
---