Ilkley Harriers news archive 2009
Harrier of the Month, September
Nominations were:
Pete Shields and team - for their hard work in organising the YVAA Road Relays;
Jenny Dybeck - For clinching the ladies BOFRA title and for results in the senior relay teams;
Richard Reeve for his run in the vets relay, he was second fastest Ilkley Harrier;


Graham Arthur for stepping in to run the vets relay at very short notice after running an 18 mile fell race in Scotland the day before;
Chairman for the last year, Andy Wolfenden;
Brian Melia for his Ultra Trial du Mont Blanc completion;
Helene Whittaker for her victory in the Ladies Mountain Trial;
Geoff Howard for his 5th place in the World Masters V65 race;
Alison Eagle for her 5th place in the World Masters LV45 race and for leading England to a team gold medal;
and Ian Rowbotham for results at Whernside and YVAA Relays, and supportting others in training.
The HoM awards went to Ian Rowbotham and Peter Shields. Congratulations to them, they will receive technical running shirts from HoM sponsor UP & RUNNING.
The Committee made an Outstanding Achievement Award to Jenny Dybeck.
Ilkley Harriers AGM, Tue 29 Sep
The AGM was a success with a good attendance and a new Committee duly elected. Membership subscriptions will remain at the same level as before (a new subscription form will be available next week); and a new committee was duly elected.
Officers of the Club
Chairman: Paul Wood
Depury Chairman: vacant
Honorary Secretary: Paul Stephens
Honorary Treasurer: Eddie Winslow
Other Committee members:
Colin Lugton (Noticeboard)
Christine Matthews
Catherine Gibbons
Neil Chapman (Fixtures)
Malcolm Pickering (Men's XC Captain)
Henry Heavisides (Men's Road Captain)
Diane Kitchen (Ladies' XC Captain)
Emma Barclay (Ladies' Fell Captain
Jane Bryant (Ladies' Road Captain)
In addition Dave Wilby was re-elected Men's Fell Captain, and Suzanne Bickerdike will continue as newsletter editor.
YVAA Road Relay Championships, Sun 27 Sep
From Henry Heavisides ... well done to all of our teams today. I'll let Jane comment on the fantastic Ladies results, where we won prizes in every age category. Amongst the men, we had two bronze medal teams, which is a huge improvement on our performance last year. In particular, our M50 A team (Richard Reeve, Ian Rowbotham & Jeff Paget) did a tremendous race, even beating our M35 & M40 teams after 3 legs. A great result as well for our M40 A team, Paul O'Looney, Ralph Tench, David Brown & Steve Weston, despite some confusion at one of the changeovers (next year we should wear names on the front of our vests!).
Many thanks to all who ran, especially those who came forward as reserves at short notice. Special mention to Graham Arthur who ran an 18 mile fell race in Scotland on Saturday afternoon, I was only able ask him to run at 10pm last night.
Also thanks to the organising team, particularly Pete & Paul and to Christine for the refreshments.
From Jane Bryant ... Well done to all our lady runners today. In total we had 5 teams out and had success in all categories. In the V35 category, the team of Sally Morley, Jane Bryant and Jann Smith came 3rd. We then had great placings of 8th and 12. The V45 Team of Sally Malir, Alison Bennett and Di Haggar all had fantastic runs and for their trouble came 1st, brilliant. The V55 team of Jo Prowse, B. Gibbons and Sue Stevens also had great runs and came in first. Unfortunately, they had no direct competition, but we should be proud that as Ilkley Harriers were the only club to have a V55 team. Today was a brilliant day for Ilkley Harriers, it was well organised (thank-you Pete and the team) and the turn out for the marshalls and the food contributions were fantastic, a day to be proud of, can we do it again next year?
From Peter ... What a great day, good weather, good competition and some great results - well done all the teams. Plus a great well done to all those that marshalled, registered, time kept, first aided and contributed some wonderful food. Gold medals to you all plus an extra gold medal to those in the cafe who collected £87.24 through contributions, well done! All the effort has certainly enhanced the Ilkley cause.
From Christine ... a very big thank you to all those who kindly brought food along for today's YVR event. Those taking part in the race passed comment on the high standard of refreshments. All efforts were greatly appreciated!
See Brian Sweet's photos of the race here, and Paul Sugden's photos on Picasa.
Full results are on www.yvaa.org.
(The race details are here.)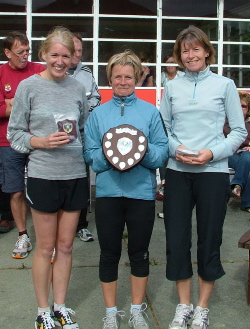 Results from YVAA.org

V35 6th
17.43 Nick Richardson
18.25 Richard Joel
18.19 Jez Helliwell
18.26 Stephen Coy

LV35 3rd
18.23 Sally Morley     Fastest female leg
20.50 Jane Bryant
21.01 Jann Smith

LV35 8th
22.29 Alison Weston
24.22 Gaenor Coy
22.22 Karen Lambe

LV35 12th
25.23 Jane Guilliard
26.56 Emma O'Looney
28.01 Jackie Weston

V40 3rd
18.06 Paul O'Looney
18.10 Ralph Tench
18.39 David Brown (corrected)
18.01 Steve Weston

V40 5th
18.38 Dave Jepson
18.57 Mark Iley
20.01 Andrew Sheldon
19.43 John Atkinson

LV45 1st
19.47 Sally Malir
20.18 Allison Bennett
20.14 Diane Haggar

V50 3rd
17.53 Richard Reeve
18.14 Ian Rowbotham
18.17 Jeff Paget

V50 10th
19.25 Paul Stephens
18.50 Henry Heavisides
20.04 Neil Chapman

V50 15th
19.54 Ed Brougham
22.54 Nick Mellor
21.55 Graham Arthur

V50 17th
25.55 Andrew Bennett
24.01 Don Macrae
23.29 Bob Payne

LV55 1st
22.10 Jo Prowse
25.48 Bernie Gibbons
26.34 Sue Stevens


Three Peaks Cyclocross, Sun 27 Sep
Paddy Hagan reports ... this was the 47th staging of the event, which takes in the Yorkshire 3 peaks by cyclocross bike (for the uninitiated they look like road bikes but are a bit stronger - mountain bikes are banned). 38 miles in total, 5,000 feet, mostly off road. After a short road stretch from Helwith Bridge, the route starts up Simon Fell, which is steep even by fell running standards, and on to Ingleborough itself before descending to Cold Cotes. Back up to the Hill Inn on road and it's off road again for a nasty carry up Whernside and down again on the track to Ribblehead viaduct. Next stop Pen y Ghent via Horton in Ribblesdale, where bikes go and up and down via the same walker's track (dodging each other and walkers in the process). Nick Craig pipped Rob Jebb to first place by seconds in 2:54:12. Rumour was that Jebb was suffering from a dislocated shoulder so was slower down Pen Y Ghent. I felt like I had dislocated everything coming down Pen Y Ghent, which is like cycling on a mix of marbles and sharks' teeth, but then I was 271st, though quicker than last year. Rennee Saxton was first lady in 4:18:36, with Heather Dawe second in 4:26:55. (I don't know all of these people, I'm just going off the results). The event was superbly organised, with the organisers even erecting a new stile so we did not have to queue at the top of Simon Fell. Any time gained on this I wasted through a puncture coming off Whernside, which tends to eat up inner tubes. All in all a great day out, and fish and chips in Settle rounded things off nicely. Ilkley entrants on the list of finishers, others no doubt lurking under cycling club names.

Graham Pearce   3:23:11
Stuart Pitches  4:04:18
Heather Dawe    4:26:55
Paddy Hagan     4:36:21
Andy Flaxman    5:38:08 


Rab Mountain Marathon, 26-27 Sep
Helene Deeney reports ... well done to all the Harriers that took part in the RAB mountain marathon. The venue of the Howgills, fantastic weather and great prizes made for a fabulous weekend. In the ladies vet category, otherwise known as 'women who should know better' Ilkley had two teams. Rachel Hagan and Angela Sturgeon pulled back two place on day 2 to finish 12th overall and Sue Booth and myself finished 1st lady vets.
Sarah Fuller reports ... I also did the RAB this weekend. What a fantastic event, great weather, great location and top quality organisation again. I somehow managed to win this last year so had some expectations (well not that many but one can hope!). Everyone did the same course in a score format. Elite class had 7 hours and 6 hours and the standard classes 6 hours and 5 hours. In theory checkpoints worth more points were further away and more difficult to get to. The terrain was a mix of killer accents and decents and fast grassy ridge running. The route choice was tricky but we found the navigation relatively straightforward due to the clear weather. Day 1 we chose a good route but had to bin a couple of checkpoints on the way in putting us 25 points behind the leader overnight. Much better day 2, finishing strongly but not enough for the podium this year! Chuffed with our performance overall and enjoyed this a lot. Well done to Helena and Sue for winning the ladies vets category...
As Helena says there were a few Harriers out this year –results:

Elite (/32)
10th Dave Wilby 560 points

Standard
ladies (/20)
4th Sophie Brown 345 points
5th Sarah Fuller / Ellen Hughes 345 points
17th Sharon Fuller / Emma Payne 180 points

Vet ladies (/14)
1 Helena Deeney / Sue Booth 342 points
12 Rachel Hagan / Angela Sturgeon 213 points


Any more hiding under orienteering club names?
Norland Moor Fell Race, Sun 27 Sep
From Lyn Eden ... 6.3 miles with 800ft of climb. Lovely day for an amble round Norland Moor. Added bonus was the lovely glass paperweight given to all finishers to celebrate Halifax Harriers 125 years anniversary.

Lyn Eden 75.33  1st O/60 

Leeds Triathlon, Sun 27 Sep
From Vic Verecondi ... Well after much fun over the summer months having a go at a few triathlons, the final hurrah for 2009 was an Olympic Distance Tri at Roundhay Park... Starting time 8.00am.. A bit cold for a swim even wearing a wetsuit...
You all have heard the mega stories over the past few months from members of the club who had a go at a few triathlons, so I'll keep this short and sweet...
Swim (1500m): Went quite well (again thanks to Andy Wiggan's goggles)
Transition 1 : Grand improvement due to no dizzy spells, thanks to advice from Steve Coy and earplugs... I'm sure Andy Wiggans will be pleased to hear of this improvement...
Cycle (40km): Damn hard work.. Hilly, tight corners, constantly changing gears.. I'd call it very technical...
Transition 2 : Whizzed through here.. No hassles...
Run (10km) : A good run though knackered by this stage...
Total time: 3 hours 15 min (unofficial)..
I'm looking forward to next year already... It has been great fun and I'd recommend it to anybody who likes a challenge which is very achievable...
Roll on some road races now...
Horsforth 10k, Sun 27 Sep
John Marshall was 256th in 51.36
Whernside fell race, Sat 26 Sep
Ewan Welsh reports ... A few of use travelled to Dent for the Whernside race, route is basically up Whernside, down Whernside (to the right), along the valley a bit then up great coum, back down to Dent (that's all retrospective as I had no idea where I was going). Race had a bit of everything, a bit of tarmac, good trail, no trail with tussocks, long climb, steep descent, steep climb, long descent…..12 miles with 3000ft. Weather was splendid; a wash in the river was most refreshing. Haven't seen the results yet, I do know that Kelly Harrison was 3rd Lady, Ian Rowbotham was 1st V50 (men), Graham Breeze was 1st V60, I finished in one piece in a reasonable state (first race of that ilk for a while) as did Russell, as this was the first time I met him I didn't catch his surname (apologies Russell, I hope I've got your forename correct !).
South Lakes Half Marathon, Sat 26 Sep

32  1h47.33  Sean Murphy

Two Breweries Hill Race, Sat 26 Sep
Results from Graham Arthur, on shr.uk.com

17  3h18.31  Mark Mon-Williams
72  4h09:18  Graham Arthur

Thieveley Pike Fell Race, Sat 26 Sep
Lyn Eden reports ... 4.25miles with 1300ft of climb. Beautiful day for a classic race.

Sue Morley   51.30
Eric Morley  53.21
Lyn Eden     67.48


Great North Run, Sun 20 Sep
From www.greatrun.org ...

278   1:25:53  Robert Cunningham    PB
1806  1:38:22  Tim Ratcliffe
1909  1:38:46  David Eastwood
6061  1:50:37  Brenda Ogden		
6311  1:51:12  Juliet Muirhead		
6740  1:52:07  John Pickering		
12061 2:01:08  David Ibbotson		
12208 2:01:24  Bernadette Gibbons		
18548 2:12:00  Jennifer Carne		
22271 2:18:47  David Fox		


David Ibbotson says ... First proper race in 5 years and it was a PW but my knees are OK and I got a sun-tan. Target of sub-2 hours seemed comfortably achievable until about mile 9, but after that, someone had spaced the mile markers further apart.
Rob Cunningham says ... Thats a PB for me so I'm really pleased, joining the Harriers over the summer has definitely helped and hope to see everyone again at Christmas if not before.
From Wendy Hutchinson ... after training hard for weeks I arrived at the run still nursing a knee injury and having been in hospital just 4 weeks before, but after training for so long in the hope of breaking 2 hours I just wasn't prepared to defer! My best time had been 2.20 the previous year and I hoped this was my year to break 2 hours. In the blazing sun I got off to a good start, my first 7 miles averaging 8 and half minute miling but at 9 miles my knee was really starting to cause me problems and I gradually saw the minutes of each mile adding up. By 11 miles feeling sick with knee pain I knew my goal was shattered but was not prepared to give in! Finally coming home in 2.12 with a PB but a shattered knee I felt I could have done no more! There is always next year!
Berlin Marathon, Sun 20 Sep
Colin Lugton reports ... Liz Price completed the Berlin Marathon in 3.55.42
Kirkstall Trail Race, Sun 20 Sep

129  66.11  Sheena Pickersgill
130  66.18  James Pickersgill

Dale Head fell race, Sun 20 Sep
Jim Ryder reports ... I completed the Dale Head FR today 4.5m, 2200ft - 16th in around an hour. A small field.
Embsay fell race, Sun 20 Sep
From www.bofra.co.uk ...

18  23.01  Dave Cummings		
22  24.58  Jenny Dybeck   1st lady
23  25.03  Paddy Hagan
25  25.09  Richard Reeve
28  25.34  Norman Bush
30  25.40  Michael Waterhouse
32  25.45  Morgan Williams
37  26.02  Diane Haggar
52  28.26  Val Kerr
59  29.57  Sue Morley
64  40.30  Lyn Eden

Quite a few Harriers juniors too ...


Harrogate Trail Race, Sun 20 Sep
Jamie Hutchinson reports ... a 10k trail race around the Harewood estate starting from the Cricket pavilion and organised by Pannal Primary School PTA. A great little race with a small field. I managed to lead all the way round and finished in 37.56
Lantern Pike Fell Race, Sat 19 Sep
Lyn and Jim report ... 5 miles, 1050ft of climb from Little Hayfield near Glossop. The fell race was part of the country show and sheepdog trials. Last minute panic due to heavy traffic and queuing into the show meant last minute dash to registration. Very hot day. Steep road section uphill onto the fell and back down from the fell, bit of a traverse, steep climb to the peak and a lovely run along the ridge and downhill to the road section.

Jim Towers    49.57
Eric Morley   53.22
Sue Morley    54.40
Lyn Eden      66.04


Three Shires fell race, Sat 19 Sep

44  2h21.50  Ian Rowbotham
72  2h30.47  Dave Wilby
113 2h42.48  Alison Weston
182 3h00.57  Kelly Harrison


Leeds Hyde Park 5k, Sat 19 Sep
Henry H reports ... this was my fifth time running this weekly event this year, each time I've managed to improve my best time for the course. Today I ran 18:42 in 17th place out of 175 runners. It's quite a slow course with lots of twists & turns, ups & downs & narrow paths, I was pleased to get within half a minute of my best 5k time at Esholt. John Marshall was 67th in 23:03. The winner was Tim Crossland of Leeds City AC in 16:17.
The event website (www.parkrun.org.uk/leeds) has lots of interesting statistics, if you like that kind of thing. For example, 13 different Ilkley Harriers have competed in at least one of the 102 Leeds Park runs, the fastest being Dave Wilby in 17:49. Of 2376 runners who have competed in one of the races, the fastest time ever is 15:18 and the second fastest was run by the recently crowned World Triathlon champion Alistair Brownlee. On an age graded basis, I'm currently in 23rd place (out of 2376) and have the 3rd fastest time in my age group (out of 52 runners).
Ilkley Triathlon, Sun 13 Sep
From Andy Wiggans ... Lots of Harriers at the rather good Ilkley Tri this year - too many to namecheck, so I'll just report briefly on my last hurrah as a multi-sport athlete.
Last did this in 2005, when I had a horrid bike leg so was out for revenge. I'd done quite a lot of swimming this year, and had worked hard on my technique - so was unsurprised to see my swim time for 500m almost exactly the same as my last underprepared effort - 10mins for 75th out of 292. The bike was a lot better, with all those Monday night sessions paying off (well, all three of them) and my time for running from the pool, putting my shoes on and riding round the Carters Lane/Curly Hill loop 3 times was 32:36 and was good for 21st place on the bike leg. Felt good on the run, and even allowing for a T2 Vic would have been proud of, including setting off on the run with my bike helmet still on, I was pretty pleased with 20:44 and 20th place on the run.
Overall 1:03:20, and 18th place out of 292 - so 7mins quicker than last time and a nice way to sign off my triathlon career, although I have to say I'll probably be back for Ilkley as it's such a great event. With the Harriers Trail Race getting great write ups and now the Tri being so well received, Ilkley's really on the sporting map!
Still not a patch on Embsay Crag fell race, mind...
Ralph Tench adds ...Agree with Andy, Sunday was another great day at the Ilkley Tri as the event was once again held in sunny weather. Along with some of the local fell and now trail races this is a real town event with what seems like scores of people you recognise taking part as school and family teams as well as individuals. There were lots of Harriers mixed in those groups with former Harrier Graham Pearce winning overall in a cracking time of 00:54:46, particularly as he claimed to be nursing a hangover from the previous night's 30th celebrations. There's hope my decades of 'social training' may pay off after all.
I also owe Graham thanks because as winner I believe he forfeited the 'local' label to enable me to be first Local Male, thanks Graham. I finished 9th overall and was second male 40 and missed under the hour by 16 seconds (01:00:16) which I would like to blame a poor transition and riding into a ditch going onto the bike. More than just time consuming it was rather embarrassing... Loads of Harriers, friends and family in the field. Hopefully captured most of the club members in the race but there are a lot under disguise as team entries, other Tri clubs or as Understated and Overoptimist entries etc. Apologies to anyone not listed. Full race results at www.Tri247.com.

1   54.46  Graham Pearce
9   60.16  Ralph Tench
17  63.03  Lawrence Basham
18  63.20  Andy Wiggans
23  64.37  Stephen Coy
34  66.04  Ian Rowbotham
37  66.35  Kelly Harrison
57  69.24  Paul Sowden
68  70.22  David Brown
71  70.55  Mark Iley
86  72.49  Caroline Bell
132 78.16  Alison Weston
171 81.53  Gaenor Coy
188 83.45  John Hayes
211 86.28  Fiona Schneider
230 88.57  Kevin Wardale
254 95.00  Sarah Hayes


The Yorkshireman Marathon, Sun 13 Sep
Jez Hellwell reports ... Great race. Tough, but enjoyably so. Ran it as a pair with a friend from St.Bedes. Just seen the results & we managed to squeeze into the top 10 in 4h09.36. Saw one other Harrier taking part in the full marathon (Amanda Parnaby, 121at in 6h19.26). The weather was perfect & the marshalling superb. Part opened bananas, biscuits & Deep Heat en-route ! I'll consider taking part again next year. However, I need to up my training to get sub 4 hours. Got to 18.5 miles in 2 hours 46 mins, so should have done it this year really !
From www.kcac.co.uk, we had the following results in the Half:

19  1h54.50  Richard Joel
28  2h01.25  Emma Barclay 3rd lady
34  2h03.30  Sally Malir
56  2h13.50  Andy Shinn


Lake District Mountain Trial, Sun 13 Sep
From Sarah Fuller ... I did the LDMTon Sunday which was fantastic. Hot and sunny conditions made the navigation (relatively) straightforward but particularly on the longer courses the going was tough due to the heat. The LDMT is a bit like a one day OMM – a navigational time-trial. Due to my 'novice' status I opted for the 'short' trial billed at 10 miles with 3,500 feet of climbing (short? Well yes compared to the alternatives!). Our base was Eskdale and the courses covered the areas both to the north and the south of the valley (the men taking in most of the Lake District by the look of things!). Having had a bit of practice at this compass malarkey in the Phoenix a few weeks ago I set off confident of at least finding all the checkpoints! A small mistake to CP 1 but little lost and then quite smoothly through 2 and 3. Then it all went horribly wrong as I believe it did for many competitors – I debated at the top of Hardnot pass whether to take the longer route round Harter Fell but annoyingly (with the benefit of hindsight of course!) chose to maintain height and contour Harter fell on the north – big big mistake. An hour or so of heather and bracken bashing, boulder hopping, bog trotting and falling in holes with no chance of breaking into a jog finally saw me at the next checkpoint covered in cuts and bruises and a bit deflated. No major problems for the final checkpoint and the run in (apart from that stile right before the finish line – who put that there?!) and that was that. 4 hours 17 minutes – pleased to get round for a first go. I finished 40th and 3rd lady. Helene had a fantastic run and achieved another win in the Women's Trial – 20 years after she first won it I believe – legend! A few other Harriers were there and did us proud as you can see from the results. Loved this event and can't wait for next year, I might even have a stab at the 'womens' course!
Results from SportIdent...

Men 29.3km
10  5h45.58  Hector Haines
16  5h57.50  Jonathan Whitaker
76  8h07:08  Graham Arthur

Women 21.8km
1   4h30.18  Helene Whitaker

Short course 13.9km
6   3h06.53  Peter Haines
41  4h17.44  Sarah Fuller


Settle Loop Tough Trail, Sun 13 Sep
From Diane Haggar ... Only the second year of this event, but one to recommend. A fantastic course but definitely "tough". After climbing steeply, steadily, then steeply again out of Settle towards Malham for nigh on 3 miles (the markers weren't very accurate) I was beginning to think that Burnsall might have been a better option!! However the views from the higher part of the course were fantastic as we took in vistas of Malham Tarn, and then the 3 Peaks. The best thing was, on a trail, i could look at the view instead of looking at my feet. A runnable 2 mile descent completed the route and i thankfully picked off a few others for a time and position I was really pleased with. Free tea & cakes, and I met the "famous" Jim & Lyn for the first time, which was a real pleasure.

Diane Haggar 1:15;54   4th Lady & 2nd LV40
Sarah Haines 1:22:08   3rd LV50
Jim Towers   1:25:45
Lyn Eden     1:53:20   1st LV60


Mileta 10k, Sun 13 Sep
Henry Heavisides reports ... I was pleased to run this tough course in 39:56, 2 1/2 minutes faster than last year, in 19th position. After a flat first km, it's uphill for 5km, then a fast 3km downhill, followed by a steep rough footpath & finally half a lap of the running track....so a bit of everything. The winner was Chris Miller of Harrogate in 34.49.
Burnsall fell race, Sun 13 Sep
Results from www.bofra.co.uk ...

13  16.28  Chris Gale
27  18.21  Dave Cummings
30  18.40  Helen Ilsley  2nd lady
33  18.47  Jenny Dybeck  3rd lady
38  19.21  Richard Reeve
40  19.30  Michael Waterhouse

U17
16  16.22  Bradley Chapman

Some good junior results too.

First Monster Duathlon, Sun 13 Sep?
Amanda Newhamh reports ... with 3 friends entered I the First Monster dualathlon race .. after many views of Loch Ness and km's of pine wood and moors we managed to complete in 7.5 hours which bought us into 21st place out of 275 teams a party after was great fun. A grand day out in Inverness
Newbiggin Bay Triathlon, Sun 13 Sep
From Vic verecondi ... Many moons ago whilst planning this triathlon adventure I decided, as part of the total "experience", to have a go at an open water triathlon where the swim leg was in the sea.... I found a sprint distance triathlon (750m swim, 20km cycle, 5km run) in a seaside town in Northumberland, Newbiggin Bay... It was well worth the drive... Once again the adventurous nature of the triathlons I have been doing continued... Initially my preparation was a bit dodgy... Having a slight calf strain I decided to have an easy lead in to this tri... This didn't eventuate... I blame the great weather on Friday and Saturday... Why you ask??? I decided to cycle 20 miles Friday night and swim a mile in the lido Saturday morning... Hardly a restful preparation...To add to this my calf was still a bit dodgy... I also had a sniffle... These are my reasons/excuses before the event... Anyway the tri start was great... The swim leg started with a mad charge, running into the water from the beach... Once again there was the usual kicking and hitting etc etc whilst swimming.. Actually good fun when you get used to it... The swim leg was two laps around bouys in the harbour and a little section where you ran around a turning point on the beach ... On the first half of the swim I actually went quite straight (thanks to Andy Wiggans for lending me a pair of fancy goggles)... I feel the run on the beach midway through the swim threw me off and I returned to my typical style and zig zagged all over the place in the second half of the swim.. Once again my achilles heel, transitions, caused a delay before the bike leg.. Whilst removing my wetsuit I had dizzy spells and had to grab hold of the bike rack whilst completing transition... If anybody has advice on how to avoid these spells please let me know... The cycle and running legs were both uneventful but difficult at times due to a stiff breeze throughout the whole race.. Anyway I came 84th out of 101 competitors with a time of 1hr 37min 8sec... An improvement of about 6 minutes on a previous sprint tri.. Got a great technical shirt also... So pretty happy all round.... The winner was Ian Simon in a time of 1hr 9min 14sec (Alnwick District Triathlon Club)...
WMRC, Zagreb, Sat 12 Sep
Dave Tait reports Geoff was 5th and Alison 5th in the World Mountain Running Championships
From Geoff Howard ...It was a great course. I felt I ran hard and according to plan - not disappointed because it was a great experience and although on another day I might have been within a sniff of third, Innocenti & Reitmer are in a different class - a privilege to run against them. The best news is that Alison was first counter in the winning England F45 team.

F45   5th  54.08 Alison Eagle
M45  57th  59.00 Morgan Williams
M65   5th  52.24 Geoff Howard


From Morgan ... Zagreb; a city of contrasts. A historic old Upper Town. A neo-classical and quite beautiful Lower Town, rebuilt after the ravages of the Second World War. And the concrete urban jungle of the outskirts showing their relatively recent Communist roots.
It it was a little odd to be based in a bustling capital city, the friendliness of the natives and the quality of their food and drink (particularly the dark beer) more than made up for it.
The organisation was perhaps not up to "normal" standards and there were a few frustrating moments, but smiling disorganisation one can cope with! Flying in to Ljubljana in Slovenia, we had a few hours drive, followed by a nightmare trying to find the most devioulsy located hotel in the whole of Croatia. Having planned to recce the course on Thursday afternoon, we had to potter about looking over bits of it on Friday morning, and had a 20 minute gentle run to keep things ticking over.
Despite a somewhat damp Friday, Saturday dawned fair and sometimes sunny. By various means our group made it to the start in good time. As well as Geoff, Ben Grant from Harrogate and Richard Barrett and Steve Sayer from Skipton had joined the group. Start times ranged from 11.00 am (Steve MV35) to 1.30 pm (Ben and Geoff MV60 and MV 65.)
A less than successful year's running meant that most of 9 kms uphill with 2,400' of climb would be quite challenging for me. In other years, I have suffered badly on these Masters' uphill only courses. A clear mind set to start steadily, whatever anyone else did, took firm hold.
The course was an excellent one. About 0.7 kms of road (in hot sunshine) was followed by off road sections of varying gradients, mostly wooded paths and not too hard underfoot. The first 3 kms had very little climb and the bulk of the field sped away. Sticking to my guns, I was only a few from the back at the first road crossing/water station. Having tipped most of a bottle of water over my head, in a vain attempt to cool down, the course steepened and I could at least get into a good rhythm. Then the faster starters started to come back to me and I passed a good few over the next 3 - 5 kms. Unlike previous Masters courses, I was able to run all the way and even pick up some pace on the last flatter 500 metres. 57th overall in 59 minutes. 80 ran.
I never saw Alison after the start so wasn't able to provide any verbal encouragement at all. From what I know, she ran steadily and eased her way past Evelyn Dugdale of Kendal in the final km to take 5th place in the W45 category. Best of all, she was first counter for a gold medal winning English WV45 team.
We both had sufficient enery left to jog back down the course to encourage Ben and Geoff. Working out which runner was in which category was tricky. The V60s, 65s, 70s, 75s and 80s had all set off together, but worse, their numbers all had the same yellow markers with the category in red on top of the yellow. So being clear about where Geoff was in his race when he passed us was a lottery. He ran well for sure to place 5th against classy, multi-medal winning opposition.
Geoff went off to catch a train to Hungary on Sunday morning; we headed for Kranjska Gora and had a good afternoon's climb. Sadly it chucked it down all day Monday. Just like home!
Paras 10, Sat 12 Sep?
From Steve Weston ... After some encouragement from Jacqui I entered the Paras 10....a 10 mile mainly hard surface endurance race. This is one of the things the cadet paras have todo to passout. You can enter as a normal race or as the "P company challenge" wearing boots and carrying a 35lb bergen. (The paras have to do this in 1hr 50). Sensibly I opted for the non-bergen option. The course was very undulating but very runnable.......apart from the waist high water trudge at 8.5 miles.
There was plenty there to entertain archery, paintballing (the kids loved this), parachute drop experience (this was scary although I couldn't bottle it because little kids were doing it!), funfair and the finale was of course a Red Devils parachute display
Results for the run

1 Thomas Cornthwaite 52.21 (Blackburn Harriers)
20 Steve Weston 1.07.27

The P company challenge was won by Matthew Driscoll from York Acomb in an unbelievable 1:16:06....maybe next year.
Great Westmorland Trail Race, Sat 12 Sep
Jim Ryder reports ... completed the Great Westmorland Trail Race on Saturday: 7.5miles, 1200ft. 10th in 50min26sec, 127 finishers. A fast, mainly grassy run, with a long and a short hill, and excellent views over to North Pennines, Eden Valley and Howgills. Very well organised and friendly, with free tea, butties and cake for finishers.
Hodder Valley show fell race, Sat 12 Sep
Lyn reports ... Slaidburn, Lancs. 7miles, 1100ft of climb. Lovely agricultural show, good fell race, very well marked. Only navigational skills needed are trying to find first Slaidburn, as the signs kept disappearing, and finally after finding Slaidburn exactly where the show was. However lovely hot day, good tough fell race with a bit of everyhing.

Jim Towers   67.45
Nick Mellor  80.50
Lyn Eden     96.57


Trunce 9, Mon 7 Sep
Lyn reports ... Oxspring, nr Penistone. 4.25 miles with 550foot of climb. Last race in the series, carnival atmosphere with lots of runners in fancy dress including their dogs. Very large turnout meant delays at the stiles and river crossings. However good atmosphere and enjoyed the series. Made a change to run at least one of these races in the sun.

Jim Towers 36.55
Lyn Eden   48.31


Shelf Moor fell race, Sun 6 Sep
Welcome back to Tracey Greenway (Ambler, as some will remember her) who reports... Shelf Moor 5.9 mile 1,500 Ft it was an English Championship race in 2004 and I think it may be in next year's English fixtures again. It's a great short race really steep climb with an extremely fast decent. I also raced last weekend at Padfield and came 2nd (the race results aren't out yet).

1  44.10  Lloyd Taggart, Dark Peak
30 57.41  Tracey Greenway   1st L40


Helvellyn Triathlon, Sun 6 Sep
Dave Wilby reports ... After spending the night sleeping next to transition it should have been a relaxed start to the day, but as usual I'd underestimated the cunning of the idiot dog Ralph, who made a break for freedom with just a few minutes left to the start of the race. He headed for the water but realised that with 2 angry owners dressed in westuits bearing down on him, his plan wasn't going to see a successful repeat of the previous night's stand off, and so it was that with literally a minute to spare, I made it in to the water for the start of the swim. At least the chaos had had the effect of raising my heart rate so the immersion in 11 degree water didn't affect as me as much as it usually does!! The swim was shortened due to the low temperature and would now be approx 1km rather than 1.5km. Starting off at a controlled pace I avoided the initial bunfight and started making my way slowly through the field. Despite a few kicks in the chops at the first turn I maintained my rhythym and exited the water in approx 90th position. Onto the bike and getting my legs warmed up was my first priority as the lake had numbed everything. Taking my time to build up the effort rather than adopting my usual tactics of going off too fast, I started to pass people on the first climb over Matterdale End, and felt great. I seemed to find riders all along the route to battle with which really helped to keep me going at an honest pace, and by the time I got the top of the Struggle at Kirkstone Pass I was up in to the top 30. Out on to the run and the tannoy was telling me I was already 20 minutes behind the leaders, I was just hoping they hadn't dragged too many along with them and that there would still be a few within chasing distance. It took me about half a mile to find my running legs but by the time I hit the lower slopes of Helvellyn I'd managed to get nicely in to my 'hands on knees' rhythym which helped me pick up a few. Climbing up Swirrel Edge there was a group of 5 of us who were all moving at the same pace and pushing each other on, a couple in particular had been climbing strongly and I didn't want to end up with us all together at the finish so I made a bit of a move up the last technical climb. I didn't bother looking back but pushed as hard as I could along to the climb of Whiteside, glad of the strong wind on the rocky terrain which I hoped might slow the others down a bit. I hit the zig zag descent as hard as I could hoping to get out of sight around the corners, and as I hit the concrete track towards the bottom I could see that no one was giving chase too closely. Just about managed to keep my legs turning on the last stretch of road to come in 15th overall, and thoroughly chuffed.
Kelly Harrison & Helene Whitaker resumed their close fought battle from Wensleydale, with the tables being turned this time around. Helene had the stronger swim but a quicker transition by Kelly saw them out on to the bike at roughly the same time. Passing and re-passing each other for long stretches of the bike leg, Kelly eventually got a gap going up the Struggle and then by her own admission 'ran scared' for 9 miles to increase her lead over the run course.
I counted 3 other Harriers in the results for this one, apologies if I've missed anyone.

15   Dave Wilby - 3:51:00
72   Jamie Hutchinson - 4:15:00
137  Kelly Harrison - 4:28:00 (8th Female)
166  Helene Whitaker - 4:33:57 (4th FV40)
308  Paddy Hagan - 5:06:04
439  Adele Mitchell - 6:01:09 


Paddy Hagan adds ... This was my fourth attempt at this lunatic event. Hopes of a proper PB were scuppered by the shortened swim (as last year). In fact this proved a lifesafer as my legs started cramping in the final third. With hypothermia setting in, transition was a five minute wrestling match with a stubborn wetsuit and recalcitrant socks. I proceeded to cycle like a granny (slow and very shaky) until eventually warming up just in time to start taking a few people (mostly from the Fens) on the infamous "struggle" over Kirkstone pass (which could warm the dead). With renewed spirits I managed a 1 min 15 sec transition to the run which I think is my biggest sporting achievement ever, and recovered further time and position on the climb up and down Helvellyn, which I was delighted to manage in a PB of 1 hr 53. Bryan and Rachel Websdale got to the finish line together in style (they are recorded as DNF having wisely cut out Swirral Edge due to poor weather coming in on the tops later on) and we all managed the fifth discipline (tea and bacon baps in Glenridding) magnificently. I will not be attempting this event again so Dave can rest easy.
Bradley Show fell race, Sun 6 Sep
Malcolm Pickering reports ... Tom Adams finished 2nd. to Scottish Commonwealth international Neill Wilkinson from Morpeth Harriers.

1   24.11  Neill Wilkinson, Morpeth Harriers
2   24.38  Tom Adams
12  28.26  Malcolm Pickering  1st. o/50
43  32.02  Neil Smith
48  32.56  Jim Towers
62  36.33  Eric Morley
64  37.04  Sue Morley
65  38.03  Bob Payne
68  46.47  Lynn Eden


In the junior Under 12 race Sarah Pickering was 2nd. girl in 7.39 and James Pickering 7th. boy in a close finish with his sister in 7.43.
Cumberland Challenge Cyclo-Sportive, Sun 6 Sep
Andy Wiggans went ... back to the county of my upbringing (if not my forefathers - they were from Preston) to do what'll probably be the last sportive of the season. Brilliantly organised, great route including the climb of Hartside and some horrid lumpy rolling stuff north of Hadrian's Wall, this is a figure of 8 circuit based on Brampton near Carlisle.
Not as ostentatiously challenging as some of the other big sportives like the White Rose and The Fred, this is nevertheless a tough day out - 107 miles, with around 7,000 feet of climbing, and on the second northern loop the route goes across a series of valleys so it's just up and down for about 20 miles.
Pleased to get under 7 hours for the whole thing with 6:46, and my moving time of 6:32 means an average speed of 16.5mph, which is respectable (for a fat lad, anyway). Great marshals (amongst the best on any event I've done), foodstops with cheese butties (making the pork pie I carted round as "non-sticky sustenance" a tad redundant) and the opportunity to buy chips and beer (it just felt so wrong!!) in the school canteen afterwards make this one to travel for. Recommended.
Ilkley Incline, Wed 2 Sep
Another super race organised by Geoff Howard and his team of many able helpers. The Ilkley Incline is on the up and up, with a record 73 finishers this year including 22 Harriers. Both men's and ladies records were under threat but not quite beaten! Ilkley had first ladies team. Read organiser Geoff Howard's report here.
Results and photos on the Incline Page
There was also a record field, of 19 teams, in the Junior Sprint Relays that preceded the Incline. More on these in the Junior Pages.
Muker show fell race, Wed 2 Sep
Morgan reports ... a BOFRA Championship race this one. With the River Swale in spate, the river crossing was out of bounds and the "long course" brought into play. A run up the river to a bridge crossing, then run downriver to the short course, run the short course, then repeat the river crossing detour in reverse. Heavy showers intervened on a regular basis during the afternoon. The short course must be great fun on a warm sunny day (ha ha). Then a dash back to the Incline for a warm down, or should that be a warm up?

1   Alastair Dunn, Helm Hill  16.31
32  Morgan Williams  21.41  

---