Ilkley Harriers news archive 2009
Harrier of the Month, August
Nominations were:
Nicky Jacquiery for 2nd lady in the Lakeland 50,
Mike Baldwin for Zinner Zinal,
Rebecca Mon-Williams for the Rombalds Romp,
Jenny Dybeck for the win at Gargrave,
Andy Wiggans for a sub 2.30 Olympic distance triathlon,
Brian Sweet for group leading and a great performance at the Jane Tomlinson 10K,
and Rachael Gooch for Sedbergh Hills.
The HoM awards went to Nicky Jacquiery and Jenny Dybeck. Congratulations to them, they will receive technical running shirts from HoM sponsor UP & RUNNING.
Coast to Coast Adventure Race, 28-31 Aug
Dave Wilby reports ... After years of planning, this weekend finally saw the realisation of one race organisers dream. James Thurlow of Open Adventure fame finally brought his vision of a Coast to Coast, multiday, multisport race, to the adventure racing masses of the UK. And without hesitation I can honestly say it was absolutely inspirational, amazing fun, and a real privilege to be involved.
The race was split across 4 days, with an average of 4/5 stages per day, and was open to solo's or mixed teams of 3. For those in teams (of which I was one), then 2 team members raced each stage, and all 3 team members had to complete at least 1 stage each per day. Between stages there were transition areas where your support crew could clothe & feed you, and pick up/drop off kayaks, bikes, running shoes etc.
Each night, the racers and support crews camped together, and the race briefings were held each evening in a local pub, which made the social side of things a great feature of the race. The cameraderie between racers and crews was brilliant, and made competing a real pleasure.
The leading solo men were visiting Kiwi Liam Drew, and Bruce Duncan who were seperated by just 6 minutes after 22 hours of racing. Leading lady was Nicola McLeod who completed in approx 27 hours, over 2 hours clear of her nearest rival. In the teams competition, Helly Hansen-Nuun took the honours in another close fought battle. I was racing for Team Inov-8 with Neil Hamblin & Lucy Harris, and we came home in a very respectable 6th place. There were approx 70 entries in total. Quick summary of what each day entailed below, no distances as I'm still waiting for Neil's Garmin downloads etc, but needless to say it was a long way and we finished in about 25 hours.
Just a quick note, this race really was easily accessible (as long as 1 person held a kayak qualification). A support crew is a great idea, although we supported ourselves which worked perfectly. The next one is in 2 years time and if I could enter tomorrow I would. This really is the best adventure race I've done.

Day 1:
1. Coastal Run from Whitehaven to St Bee's (Sea Kayak replaced by run due to wind speed)
2. Bike to Crummock Water
3. Paddle length of Crummock Water & Buttermere (with portage in between)
4. Run over Robinson, Dale Head & Catbells down to shoreline
5. Swim across Derwent Water and run to Moot Hall

Day 2:
1. Road ride to Thirlmere
2. Paddle length of Thirlmere
3. Run over Helvellyn to Patterdale, descending Striding Edge
4. Paddle length of Ullswater
5. Road ride to Kirby Stephen

Day 3:
1. Run over Nine Standards Rigg to Keld
2. Mountain bike to Castle Bolton
3. Road ride to Northallerton

Day 4:
1. Road ride to Swainby
2. Run over Cleveland Hills
3. Mountain bike to Glaisdale
4. Road ride to Robin Hood's Bay


Quick dip in the sea, fish & chips and an ice cream to finish - and the sun came out at just the right time. Perfect end to a great weekend's racing.
Spofforth trail race, Mon 31 Aug
Jamie Hutchinson reports ... 10km approx in quite warm conditions and damp underfoot in places but generally very runnable. I ran 37.15 a pb for this course finishing in 8th position and also Jane McCarthy 46.48 and 65th overall. Darran Bilton (after a late start!) won in 32.15.
Ultra Trail du Mont Blanc, Sun 30 Aug
Morgan Williams reports ... Brian Melia has finished the UTMB in 110th position in 31h24:34. splits. As can be seen he started off nice and steady (nearly 700th at St Gervais) and then worked his way through the field almost into the top 100. Brilliant effort.
Brian's report ... Finally managed to get on a computer as we are hut walking in on the GR5 from St Gingolph to Niece with a Ultratrail Du Mont Blanc race sneaked in the middle..
I finished the UTMB 2009, what a fantastic event, apparently there are some dazzling videos of the event on the UTMB web page although I only have my memory of it at the moment.
It has to be one of the most spectacular starts right in the centre of Chamonix. It all kicked off on Friday night at 6.30pm and basically you wind your way through beautiful villages and over mountain passes from France to Italy then Switzerland and finally finishing where it began. Food and drinks stops had a slightly carnival feel to them in the beginning, fluids were mainly water and coke!! food was cheese salami and cakes and always noodle soup. Unfortunately I began right at the back as that was the only place I could find. 25 minutes later I was able to start running it was the usual argee bargee with the addition of sticks! as I found out. Eventally I was able to settle in a nice pace through Les Houches and over into St Gervais and by 1.35am at the Croix De Bon Homme it was single file. I descended into Les Chapieux with a nice group who I kept with up the long climb up the Col de la Seigne, conversation helped greatly as it was long ascent. By 6.30am we were descending from the Col Chècrouit-Maison Vielle just as the sun was coming up. The track down to Courmayeur has to be one of the best runs of my life with a dirty great big menacing glacier on my left, but breathtaking views into the valley below. A change bag is allowed to sent on to Courmayeur so this is a good time if you want to shower or sleep along with the usual food and drink. My right foot when I changed my socks had a blister so I put a Compeed on and set off after 20 mins with a fellow Brit, but for the next 2 hours I was in agony, so by Bonatti decided to take some ibuprofen, this seemed to work on and off to the finish. I managed to find out from those around me that I was under 200th place so I was really chuffed as I thought more 1500th and just pushed on, trying to keep a good pace. I felt quite low at La Fouly so I attached myself to some flying French men who dragged me up to Champex by 4.00pm. Then this idiot told me there was at least another 12 hours to go to Chamonix, I felt terrible. I decided to turn on my phone coming round Bovine to let Susan and Richard know not to stay up, they than told me the officials said it was no more than 6 or 7 hours, that was it, I decided to try and make sub 30 hours and I just legged it. I kew I was doing well as my position kept falling. By Trient I was 124th and still felt strong, I felt if I could just get to the top of La Flegere with 1.5 hours to the finish I could do it, but it was too difficult climbing up and once at the top with the head torch on again I could not comfortably manage the boulders, I took the decision to finish rather than injury, the paths off the top were the worst of the UTMB, but not many came by and I still passed a few. Tarmac and a welcome sight of my son Richard lifted my tiring legs and we ran the final kilometre together and finished at 1.54am in a time of 31hr 24m in 110th place. I was over the moon with the race Susan gave me a big smacker(rare) it was worth the effort.
Some points I ran in road shoes, but really a soft trail shoe would be better as there were many miles similar to the tracks over to Dick Hudson's, Kilien Jornet won in an amazing time with Salamon lab trainers which a huge amount of people wore. The rest of the night I do not remember, the next day the legs were agony, but sleep healed. We nipped back into Chamonix for prize giving and ice creams some just finishing in under 46 hours, just amazing applause.
I thought the event was outstanding the organisation was geared arond the runners and I was pleased I had raced it, I still cannot get over some of the scenery. If you are interested in the race you need to go to the website as you need 4 points gathered at various recognised long distance runs eg; Bob Graham, County tops - they are listed and you have to apply by the end of December.
I cannot repeat what I said to Susan on crossing the line, but I think she felt I would not run it again!
Lancaster 5k, Sat 29 Aug
From Diane Haggar ... I ventured up to Lancaster for this very flat out and back blast. Rather apprehensive as my last 5K, exactly 12 months ago on the same course, had been a disaster. Therefore I was chuffed to bits to get close to 20 mins. 3rd lady in 20:09.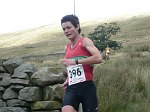 Dentdale fell race, Sat 29 Aug
English Champs race. Results from www.race-results.co.uk ...


Ladies, 2nd Team
1   32.11  Jane Reedy, Ambleside (formerly Jane Leather 
                                  of Ilkley H!)
9   34.15  Helene Whitaker
11  35.02  Emma Barclay
16  35.53  Alison Eagle
27  37.30  Holly Williamson
29  38.18  Alison Weston
41  40.18  Sally Malir
42  40.32  Angela Srivastava
50  41.24  Alison Bennett
51  41.25  Rachael Gooch
63  47.01  Clare Smith

Men, 9th team
1   25.28  Simon Bailey, Mercia
51  32.00  Ian Rowbotham
94  35.25  Kevin Gooch
111 37.54  Morgan Williams
120 39.56  Neil Smith
124 40.57  Pete Shields
146 48.53  Andrew Bennett


Morgan adds ... One might describe this as a missed opportunity for the Ilkley men to have pushed their way higher up the men's English Championship standings. Barring Rowbo, a somewhat motley collection of Ilkley men managed 9th place in the men's team race. It's a long time since I counted for the men in a Championship counter! Let's hope it's a while longer before it happens again.
This was a counter in the IH Running League - Kevin's run has taken him to the top of the League! ...
Leeds Hyde Park 5k, Sat 29 Aug
Henry Heavisides reports ... my 4th appearance this year at this weekly race. Managed to run 19:00 for 10th place. John Marshall ran 23:36 for 52nd place. The winner was Adam Grice of Leeds City AC in 16:19. There were 126 runners.
Road Rankings
Latest update from Henry Heavisides here.
Sedbergh Hills race, Sun 23 Aug
Kevin Gooch reports ... The forecast of weather warnings for the NE did not bode well for this AL classic fell race of 14miles and 6,000ft of ascent. As we approached Sedbergh about 11.00am on Sunday it started to rain...and pretty much continued for the rest of the afternoon. Mist on the tops made navigation a little testing - pleased we had our Pete Bland maps. This was the first time I'd done this particular race (Rachael's 3rd or 4th) and it certainly was demanding. With a mixture of tracks, trods, awkward contouring and open moorland requiring careful navigation, this race has everything. Deceptively benign looking round topped hills (so they tell me) drop down into steep descents and ascents where stream systems cut through the fells. After several of these the quads start to burn and doubts creep in as to whether the dreaded cramps will begin before reaching the end. Fortunately we both managed to finish. Dave Tait running for Dark Peak had an awkward fall about a third of the way round and had to walk in. Hope you're feeling OK Dave. Thought I saw another Harrier vest there but didn't see any more on the results list by the time we left, so apologies for any omissions.

1   Rick Stuart 2.21.03
92  Kevin Gooch 3.27.23
113 Rachael Gooch (2nd LV50) 3.44.31


Allgäu Panorama "Marathon", Germany/Austria, Sun 23 Aug
Roy Ruddle reports... 69km 3000 ascent, see www.allgaeu-panorama-marathon.de

1st  Christian Stork 6:24:47
98th Roy Ruddle      9:34:49

244 finished


Montane Phoenix Long O - Cheviot hills, 22/23 Aug
Sarah Fuller reports ... This was basically a mountain marathon format but with the civilised twist of returning to base after day 1! The courses were also shorter than normal mountain marathons but consisted of a similar format with A, B, C and D courses available. Not having done a 'point to point' event before (my somewhat scant MM experience consists of 2 score events!) I opted for the C course along with 29 others. The distances were down as 15km and 12.5 km (ish) but they were very conservative estimates particularly when you take into account my own navigational variations (aka blunders!). Day 1 was a lovely warm day which helped the navigation. The terrain was a mix of perfectly runnable to the downright hideous brackenfest. The small numbers and spread of available start times meant you were often on your own enjoying the lush views of this beautiful area. Only One significant error on day 1 which cost me about 10 mins which frustratingly meant the difference between 5th place and 12th place but it was an awesome day and I was chuffed. Day 2 was very different with the added interest of some clag and rain. I was in the chasing start and had a good first hour catching a few competitors slighlty ahead of me but it wasnt to last and a bit of a rubbish route choice and a bit of trouble locating one CP was frustrating but hey. I found the terrain more punishing on day 2 but was thankful to be in the C class and done in under 3 hours as the rain intensified! My total time for the 2 days was 6hrs 7 mins and I enjoyed (almost!) every one of them! I finished 10th overall and 2nd lady. Sharon Fuller did D class (12km and 8km ish) in a total time of 5hrs 52 mins and 14th overall - a great effort from Sharon. Not sure if there were any other harriers there as a lot of folk had registed under their orienteering club and the range of start times meant you didnt really see too many people! I recommend this event - it was friendly, low key and great practice for navigation as well as a good day out in the hills, the range of classes on offer means there is something there for all abilities as well so see you there next year....
Paul adds ... There were a few other Harriers running under orienteering club names, as Sarah said ...

A Class
4th   7h10.43  Ben Stevens
B Class Pairs
5th   7h34.42  Rob King and Bryan Websdale
C Class
2nd   4h57.26  Mirjam Fassler (2nd by 49 seconds!)
C Class juniors
3rd   4h58.32  George Stevens
D class
5th   5h03.54  Sue Stevens
E
2nd   4h13.55  Paul & Emily Wood


Burnsall Classic, Sat 22 Aug
Colin Lugton reports ... Bright sunny weather and some fantastic Wharfedale scenery provided a beautiful backdrop to the Burnsall 10 Mile Classic Road Race. This has previously been described as one of the toughest 10 miles around. As usual the "undulating" event attracted only a small field of stalwarts. This year there were only two Ilkley Harriers, so there was no opportunity of winning the team prize as the Harriers did in 2007.
I often don't drink during a race, but on this occasion I was feeling thirsty due to the high temperature so was pleased to use the only water station at 7 miles.
Vic emphasised to me after the race that he was using it as a 8min/mile training run, and he was very pleased with his time.
The road race results were:-

1   52.47  Alan Buckley (Leeds City)
83  79.13  Vic Verecondi
100 95.27  Colin Lugton
107 finishers


The Feast Sports programme offers a full afternoon of events for spectators and families , including various children's and junior fell races. Also, there is an egg throwing completion, and lots of side shows including Pillow fighting.
Richard Joel & Bob Payne competed in the fell race, later in the afternoon

1   14.26  Ian Holmes, Bingley
45  19.48  Richard Joel
118 25.20  Bob Payne


Gargrave Show fell race, Sat 22 Aug
Steve Weston reports ... I thought there woudldn't be many Harriers at this event but I hadn't figured on it being a championship race. In the end a big IH turnout with Jenny Dybeck comng in as 1st lady. A great day out with an interesting race. Full results from www.bofra.org.uk

1  Lee Athersmith 23:12 U/A
21 Dave Cummings 28.30
24 Jenny Dybeck  28:57 1st Lady
27 Mike Baldwin  29.06
29 Helen Isley   29.23
33 Steve Weston  30.44
38 Alison Eagle  31.39
40 Morgan Williams 32.13
45 Diane Haggar  33.07
56 Sue Morley    35.52
70 Eric Morley   40.47


Weasdale Horseshoe fell race, Sat 22 Aug
Jim Ryder reports ... on this 8m/2000ft. race. A small field of fell runners completed the excellent Weardale fell race, Jim Ryder came 9th in 68mins. Comes with a great local show so highly recommended.
Brecon Beacons fell race, Sat 22 Aug
Sophie Brown reports ... While visiting family in South Wales I took part in this race, 19 miles, 4500 ft in fine conditions covering a magnificent route taking in Carn Pica, Cribyn, Pen-y-Fan, Corn Du and Tor-y-Foel. My mum and dad supported me en-route having both taken part in the race 25 years ago. A time of 4:53 near the tail end of a small field (about 50), and an enjoyable day out. I would highly recommend this race to anyone in decent conditions but advise to avoid like the plague if the clag is down.
Golf Ball Fell Race, Wed 19 Aug
Jim and Lyn report ... 5.5miles, 800ft climb from the Glory Pub, Crawshawbooth, Rossendale. The Fourth and final race in the Rossendale Harriers Mid-week Series. Lovely sunny evening with a nice breeze on the tops of the fells. Seemed a long 5.5 miles with a long wait at a gate within the first half mile of the race.

Jim Towers   51.20
Lyn Eden     76.04 1st 0/60, on the night & for the series.


Trunce 8, Mon 17 Aug
Jim and Lyn report on the 8th race in a 9 race series. Usual course, 4.25 miles with 550ft of climb at Oxspring near Sheffield. Lovely sunny evening. Perfect conditions for running although large field meant a few hold-ups in the early stages. Four river crossings meant that you could cool off as well.

Jim Towers  37.25
Lyn Eden    47.55


Granny's Bay 10 mile Lytham, Sun 16 Aug
Henry Heavisides reports ... it was a very windy morning at Lytham St. Annes for the Granny's Bay 10 mile race with sand blowing in off the beach for most of the course. Having run this course earlier in the year in similar conditions, I knew that it was important to keep plenty in reserve for the tough 2nd half. I probably kept a bit too much in reserve as the last mile was by far my fastest of the day. Overall I was satisfied with my 67:19 for 28th place out of 173 runners.
Lakes Triathlon, Sun 16 Aug
Andy Wiggans reports ... On a wet, grey and dismal day, Vic and I drove over to Cumbria for the Lake District Standard Triathlon. Steve Coy had also entered, another relative novice at open water swimming. This was to be my triathlon swansong - having done a couple of open water tris this year I haven't much enjoyed them, but I have always had a hankering to see if I could go under 2:30 for an olympic distance, so I decided to do one more for luck.
The 1500m swim was in Bassenthwaite Lake (which, as an ex-pat Cumbrian, I feel compelled to point out is the only Lake in the Lake District), and compared to the horrid weed-fest that was the swim at Ripon it was a delight. You couldn't see much but the water was gunk-free and the field seemed fairly spread out from the start, so apart from one leg into the wind it was almost pleasant. I'm no swimmer, so I'm pleased with a swim time of 29:36, as anything under 30mins is, for me, pretty reasonable. Compared with "proper" swimmers, of course, it's pants - the fastest swimmer was out of the water in just over 20 minutes. Steve was just a few seconds behind in 30:44, which apparently involved a degree of zigging, combined with a soupcon of zagging. Vic, who if left to his own devices, would probably swim round in circles (I'm not sure if it's related to the way the water goes down the plughole in Australia), enjoyed a tour of the northern part of the lake and eventually clambered out in 37:37.
The organisers had told us that the first part of the bike route was into the wind, so I was congratulating myself on my awesome Contador-style power as I averaged 24mph along there - only slightly chagrined to be passed by a cheery Mr Coy who promptly shot off effortlessly into the distance looking like he was off to the shops. Of course the announcer's weather analysis was 180º out and as we turned back north the road started to go uphill and the wind hit us full in the face. Ah well, so much for my power... Steve's red (non-club-branded) tri-suit was just visible in the distance, and thanks to him being held up by some cars I eventually caught him. We played tag team, passing and re-passing each other for a few miles until the road started to climb properly when Steve opened up more of a gap. With about 4 miles to go I was surprised to pass Steve again, as his hamstrings had both cramped up. As at Ripon the "1500m swim, 40k bike, 10k run" distance had been adapted to suit the local area, so given the bike was almost a mile longer than "standard" my time of 1:14:14 was ok, averaging almost 21mph on a hilly, windy course. Although I didn't know it Steve was just behind at this point, and apparently due to superior shoe changing skills was right on my tail as we went out on the run. Vic was pleased with his 1:26:03, averaging "over 30k, fair dinkum", whatever that means.
I'd suffered a stopwatch malfunction and only had the time of day to estimate my time from, so was guessing I needed to run about 43mins for the 10k to get under 2:30 - Steve, as I found out later, knew we had to go under 42mins! There were no distance markers, so with no watch either I was pretty much in the dark time-wise, and when the road reared up and the pace dropped to just above walking I thought the 2:30 had gone. An "Otley-esque" hill for about a mile saw everyone slow right down, with some people walking, but of course what goes up must come down, and after a flat section on top a steep descent saw us back on familiar territory as we joined the last section of the bike route. This gave a clue to how far there was to go, and as I felt like I was running at a reasonable pace I used the line of slower runners to put on a bit of a finishing burst over the last couple of miles. I finished feeling much stronger than my last tri at Ripon, and was very closely followed by Steve who'd been following my blue (non-club-branded) tri suit and had just failed to catch me. In the end we both cracked 2:30 - I did 2:26:46 to come in 51st place, with Steve in 57th with 2:27:24. We both reckon the run was a bit short, as we both ran pretty much bang on 40mins, which seems quick considering the course and the "warm up" of swim and bike. Vic came in looking good in just over 3hrs with 3:00:49 (his transitions have improved massively, but he still managed to take over 5 minutes for the two changeovers, compared with Steve's under 2 minutes - I'm really not sure blow-drying his hair after the swim is strictly necessary) in 225th place. There were 277 finishers, which I think includes 20 or so relay teams who did a leg each.
So - apart from Ilkley in September my triathlon career is, for the moment, over - back to running and biking for me, and no more splashing about - well that's the intention anyway. Glad to have ticked the "sub-2:30" box, but equally glad to put my wetsuit away!
Stephen Coy adds ... To add to Andy's comprehensive report the Harriers Tri Trio were on the road again, to just north of Keswick, in summary
- Disappointing swim – not helped by poor weather, bad mindset and swimmers around me who seemed incapable of swimming in a straight line – but got through it only a minute or so down on target time
- Good bike – despite the near vertical rain, caught then kept in touch with Andy W post cramping
- Tough but "proper" run in the sun – managed to keep Andy in sight all the way round but he would not slow as we both picked off runners !!
- Chuffed with overall time sub 2:30 as 40k bike over (but 10k probably a bit under), not bad for 2nd attempt at this distance and 3rd open water event
- Great location should the weather be like it was for the run the whole way through, recommended
- Sorry to hear Andy hanging up his wetsuit but trying to talk him into doing multi sport events with duathlons as he is a good pacer for me J and I may get past him one day
Worsthorne Moor Fell Race, Sun 16 August
Lyn and Jim report ... 7 miles, 900ft of climb. More multi-terrain than fell but an enjoyable run with more road and path than we would have preferred.

Jim Towers  53.57
Sue Morley  62.05
Lyn Eden    77.02


Thanks for our award for Harrier of the month for July. It was totally unexpected and a lovely surprise. Even more so for the fact that neither of us are anywhere near the front of the field, and in fact mostly the opposite. We both just love running the fells and enjoy the company and friendliness of like-minded runners, many who have become friends over our years of running. It also shows what a super club Ilkley is, in noticing and acknowledging the achievements of all members, even new members like us. Thanks again, we really appreciate it. Lyn and Jim
Leeds Park Run 5k, Sat 15 Aug
From www.parkrun.com

8th  18.11  Justin Phillips


Pilgrim's Cross fell race, Wed 12 August
Lyn and Jim report on this race from Rossendale, 6 miles, 1100 ft of climb. Race 3 of the mid-week Rossendale series. Lovely run in very sunny conditions.

Jim Towers 53.32
Lyn Eden   79.23

Wensleydale Triathlon, Sun 9 Aug
Dave Wilby reports ... Wensleydale, billed as one of the 'ten toughest' triathlons in the country, and certainly providing value for money in terms of time spent on the course. Mountain goat Helene Whittaker was around for this one, fresh from a night's wild camping with the family, plus myself and Kelly Harrison, fresh from a 2 week pastry sampling trip to the French Alps. The swim took place in a surprisingly mild Semer Water and was a 1 lap, 1800m affair. Despite posting my best ever swim time I was as always, well down in the 2nd half of the field coming out of the water. The bike course is the real attraction of the event as it immediately climbs up a 25% gradient before further climbs of increasing severity over Askrigg Common, Buttertubs and Garsdale Head, returning to Hawes for a total of just under 40 miles. Amazingly, Kelly & Helene posted bike splits just 2 seconds apart despite being out of sight of each other. I managed to work my way back into the race and came off the bike just inside the top 10, but with my legs having paid a price. The run was a 12 mile out and back affair from Hawes to the summit of Great Shunner Fell, mostly good underfoot and pretty much all runnable, it was still a very stiff test of the legs and mind at that stage of the proceedings. I picked up a couple of places in either direction to shuffle my way across the finish line as 5th male solo, Helen had a strong run to claim 6th female (and inside the top 30 overall) and Kelly capped a very impressive performance to take 7th female. For the record, the times were as follows:

Dave Wilby       4:39:55
Helen Whittaker  5:14:16
Kelly Harrison   5:20:14 


Bingley Show Fell Race, Sun 9 Aug
3miles with 575ft climb. More a trail race than a fell race, but very enjoyable and a very entertaining show as well. Entry fee included entry to the show.

Jim Towers  20.28
Lyn Eden    28.33  2nd 0/60


Jim most dis-chuffed. He missed the 2nd 0/55 prize by 1second. He's going to go training on Thursday in an attempt to gain that extra second.
Arncliffe Gala, Sat 8 Aug
Lyn Eden reports ... 1.8miles, 443ft climb. Ian Rowbotham ran both the 4 mile road race and the fell race and there was one other Ilkley runner whose name I don't know. Don't know their times and, haven't seen the full results on the web yet.
Paddy Hagan adds ... Ted Mason won this short sharp race (1.8 mile, 443 ft, record 10 mins 26). He always does I think. It's a lovely event (before and after, that is) with a great atmosphere. I was delighted to come in the top half and faster than my previous attempt, if I have remembered my time right (so I probably haven't). I spotted three other senior Harriers competing but the challenge was to beat three army boys taking part. I assumed this would be easy, as they had head to toe army uniform on - and it was a warm day - but had to reassess this quickly as they sped up the initial track, comfortably ahead of me. (Shouts of "What are you doing at the back!" from a spectator to his friend (??), another runner, who happened to be alongside me at the time didn't help morale!) Fortunately, lack of equipment (no fell shoes, no wicking vest, no helicopter..) held the army back on the grassy climb and I was able to pick them off (very) slowly and make further ground on the descent. Difficult to know if my subsequent attempt at the Gala strong man competition (fortified by a pint by this stage) was more or less successful. Secured third place male team ... out of a field of three, with prizes for first and runner up. Shame! However, any event that combines milk urns, tractor tyres, tree trunks, hammers and nails has to be worth a go, even if it is not strictly "track and field".

Jim Towers  16.47
Lyn Eden    23.48


Leeds Park Run 5k, Sat 8 Aug
From Henry Heavisides ... 3 Ilkley Harriers completed the Leeds Hyde Park 5k today. Stephen Coy finished 7th (out of 159 runners) in 18:22, I was 13th in 19:12, but the star performance was 7 year old Dominic Coy running 26:44 for 93rd place in what I believe was his first race.
Jane Tomlinson York 10k, Sun 2 Aug

1119  53.45 Margot Dale
3165  72.17 Brian Sweet


Steel Fell, Wed 5 Aug
Sarah Fuller reports ... whilst on hols in the lakes I did the Steel fell race - only about 3 miles but a tough (very) steep climb and a boggy run accross the moor and back again. Really friendly evening race and free to enter. I had a hard time with the descent with my dodgy ankle and lost a couple of places but good fun nonetheless. Mostly Keswick, Borrowdale and Ambleside runners and a not very impressive challenge from me! My time was 37.13 and I narrowly avoided being last (62 ran).
Whittle Pike, Wed 5 Aug
Jim & Lyn report on this race ... from Cowpe Village Hall, Rossendale. Second in the Rossendale Series. 4.5mile, 1400ft climb. Extremely tough race. Just do it and find out how tough it is. Lyn's view is that the miles are measured with elastic, realistically the race is - over 5 miles. Beautiful views, peat bog, tough descents and ascents. [They breed them hard in Rossendale].

Jim Towers  58.00
Lyn Eden    91.31


[Perhaps one race too many this week, but how wonderful to be able to run.]
Crow Hill Reverse, Mytholmroyd, Tue 4 Aug
5m/1000ft climb.

Jim Towers  42.52
Lyn Eden    62.41


Trunce 7, Mon 3 Aug
4.25m, 550ft climb.

Jim Towers 35.01
Lyn Eden   49.55


Round Hill fell race, Sun 2 Aug
Results from www.otleyac.co.uk...

1    55.19  Matthew Crane, Dark Peak
5    60.38  Chris Gale
9    62.20  Ian Rowbotham  1st V50
46   72.49  Mike Baldwin
67   76.31  Ewan Welsh
69   76.31  Helene Whittaker
91   80.44  Kay Pearce
109  83.48  Phil Chappell
127  91.11  Sue Morley
151 121.55  Lyn Eden
152 125.43  Amanda Parnaby

Idle 10K Trail Race, Sun 2 Aug
Jann Smith reports on... a real multi-terrain course with grass fields, canal towpath, cobbles, muddy tracks , stone steps and a few stiles. Nice scenic, varied course and well organised race.

1    Stephen Broadbent  36.17  (Bingley Harriers)
81   Jann Smith         49.55  6th lady, 1st F40
115  Di Kitchen         52.29
151  Gaenor Coy         56.30
166  Andy Kitchen       57.35
254  finished


Gaenor Coy adds ... A fairly tough but very scenic course starting at Woodhouse School, first following the Canal for approx 2 miles to Calverley Swing Bridge and then over mixed undulating terrain through the woods to the finish. The course finish was changed slightly at the end from previous years due to a bull in a field, so unfortunately it was not fully possible to compare my result to last year. Well done to Jann Smith who had a brilliant run to finish 1st V40 lady (6th Lady overall).
Farleton Knott fell race, Sun 2 Aug
From www.bofra.co.uk

24  44.18  Dave Cummings
27  45.45  Jenny Dybeck  1st lady

U17
15  25.01  Bradley Chapman

U14
13  19.21  Odin Hargreaves-Madhas

Pendal Pedal, Sun 2 Aug
From Andy Wiggans ... Having done a few cyclo-sportives this year, and fresh from a few days riding up some long, hot hills in Majorca I hooked up with my mate Steve Brock from Keighley & Craven AC to do the Pendle Pedal this weekend. Less well known than several of the Dales sportives, yet with a fearsome reputation I thought it'd be a good test of my cycling fitness, and with the unfeasibly gnarly young Stephen along it'd be interesting to see how the thinner me coped with a day out with a fit lad.
The route starts from the Rolls Royce social club in Barnoldswick and initially heads west before turning north to climb over Waddington Fell. On the way Brocky decided his cleats were in the wrong position so we stopped for mechanical adjustments, then headed on into the lumpy country of the Forest of Bowland. Waddington Fell, then Cross o' Greet were both testing enough, but there felt to be plenty in the legs. On the way down towards Wray we hooked up with a small peleton and cracked on at a respectable pace to the half way-ish point at Crook o'Lune, via Gressingham and Over Kellet. Steve is a notorious bonker (he does about 15 miles per bagel), but for once he got hungry before he conked out so we ignored the rather monotonous energy bars on offer and went for a sausage and egg butty and a cup of tea from Woodies butty shack. This 30 minute stop put paid to any hope of a good time, but reinforced our view that savoury stuff is far better than sticky stuff on a big day out.
After Crook o' Lune the route heads back eastwards from Quernmore up the steep climb past Jubilee Tower, then on over the Trough of Bowland. Steve was (rather satisfyingly for me) struggling a wee bit on this section, and it didn't help when he missed the feed stop in Chipping and carried on over Longridge Fell without stopping. I caught up with him at Clitheroe, and we girded our collective loins for the notorious last 20 miles. We'd been warned not to underestimate this bit by several people, so we were expecting it to be tough - and how right we were.
It's brutal - across the A59 (here by means of a cunning track stand Steve managed to leave me behind) and straight onto the Nick o' Pendle - I lost 100 yards on Stevie as we crossed the main road, and I didn't catch him again for about 10 miles. After Pendle there's a whooping descent into Sabden where the road goes left and up at about 20% over Black Hill, and after this there's another 25% climb up to Newchurch before a final climb over the A682 to the turn off to Barlick. I used to think finishing over Langbar on the White Rose was cruel but this was something else.
We finished with an overall time of 7:54, but 50 minutes of this was cleat-adjusting and butty-waiting, so we were pleased to average just about bang on 15mph for the 105 mile ride. It's a tough day out, but there's a 100km version if you don't fancy the full fat one, and the scenery, which many Yorkshire cyclists will rarely ride through, is absolutely stunning. I'd thoroughly recommend it (and the sausage butties at Woodies) to anyone who's enjoyed the White Rose, Etape du Dales etc.
I was, however, somewhat sartorially embarrassed to see my companion looking resplendent in his club cycling top, whilst I advertised some obscure Spanish bike shop - any news on our club cycling jerseys?
Borrowdale fell race, Sat 1 Aug

50     Steve Turland     3h45
136    Alison Weston     4h18
289    Russell Thomas    5h31


Lakeland 50, Sat 1 Aug
Nicky Jaquiery reports ... this race is basically 50 miles off road from Dalemain in the northern Lakes to Coniston in the south. I completed it 195th overall and 2nd woman in 11h28
Hellifield Gala fell race, Sat 1 Aug
Jim & Lyn report ... 3.5mile with 850ft of climb. incorporated Yorkshire Junior Championships. Outstanding performance from Jenny Dybeck, U/18 who came 2nd in her age category U/18, and overall third woman in the Senior race.Ilkley women as a whole performed well:

Jenny Dybeck    31.06  2nd/u18, 3rd/Snr wmn
Sue Morley      37.06  1st O/50 
Lyn Eden        48.28  1st 0/60


---