Ilkley Harriers news archive 2009
Harrier of the Month, June
Nominations were:
Shirley Wood for Junior commitments and Clubmark development;
Andrew Bennett for commitment to training and racing;
the Ladies Horwich 5K team for winning a silver medal at the British Masters;
Hector Haines for race performances;
Alison Eagle for Junior coaching and good performances at Tebay, Yorks vets and numerous other races;
Jack Wood for race results.
The HoM awards went to Shirley Wood, and to the members of the Ladies Horwich 5K team (Jane Bryant, Sally Morley, Jann Smith). Congratulations to them, they will receive technical running shirts from HoM sponsor UP & RUNNING.
Saab Salomon Forest Trail, Swinley Forest, Berks, Tue 30 June
Adrian Hall (Mk I) reports ... an undulating and dusty 10 km trail race through Swinley Forest on a very hot evening. Well organised by 209 Events; part of the 2009 Trail Series.


1. Alan Murchison 38m 44 sec Winchester & District
8. Adrian Hall 41m 34 sec
301 ran


White Rose Challenge, cycle sportive, Sun 28 June
Andy Wiggans reports ... Seemed to be a few Ilkley types at this traditionally sunny, and worryingly bumpy sportive. Me and Andrew "The Herb" Herbert were doing the medium route of 130km (or 81 miles for anyone watching in black and white). With my new svelte figure and Ultegra equipped bike (thanks to my "chain in wheel" mishap the other week I managed to sneak a few cheeky upgrades in at repair time) I had my eye on a silver standard of 6:15, with an unspoken distant possibility of gold at 5:25. Gold lasted about 8 miles when my back tyre went pop just after Fewston, but I managed to get it changed in under 10 minutes and set off after silver (and The Herb, who I'd told to crack on in my best Scott of the Antarctic voice).
Following an eyeballs out chase to Greenhow, during which I saw proud dad Neil Chapman waiting for his lad who looked to be going really well when I saw him, I caught The Herb, and we pressed on to Grassington for energy juice and flapjack. Our time to Grassington was the same as last year - despite the puncture. Heading up Littondale I realised something was odd about my bike computer - it was calculating the average speed including stops rather than just moving time - which meant that our 14.7mph wasn't that far outside 15mph (gold standard) despite the stop, so we pressed on a bit over to Malham. During the climb from Halton Gill we got separated, so after stopping in Malham for 5 minutes or so I started to get anxious about the average speed which was quite literally dropping before my eyes, so left before The Herb arrived.
The section over to Hetton and down Wharfedale passed ok, but always with Langbar looming after it - and even with my best efforts I still couldn't seem to make any headway into the required speed to hit my standard, meaning I had no slack at all. Langbar felt really hard, and I hit the top with about 20 minutes to get back to Ilkley within 5:25. I hammered it down the hill, and was just starting to relax after I turned off Carter's Lane onto the Denton road when my bike computer flew off. A screeching halt, some choice words and a mad dash back to the sports club, and I "dibbed in" at 5:21:08, 4 minutes inside gold and enormously chuffed.
The Herb arrived an inordinately long time later, having missed the turn to Thorpe and carried on in the wrong direction going back UP Wharfedale, only turning round after a brief tour of Grassington and a second visit of the day to Kilnsey. He doesn't wish to talk about the time (but suffice it to say he'd have smashed Silver standard if he'd gone the right way).
All in all a great day out, with brilliant organisation (apart from the signs at the Thorpe road not being quite billboard-esque or illuminated enough for the visually challenged Herb), a beautifully scenic route and some gnarly lumpy bits.
Thing is, we'll have to do the long one next year...
Bob H has spotted the results are up ... names I recognise, including some retired members. I feel they should be remembered. I think the DM must be our old DM. The age and time seem about right.

80K Course
Bob Hamilton     2:56:30      Gold
Philip Atkinson  3:19:06      Silver
Paul Wood        3:39:25      Silver
Peter Shields    3:58:04      Bronze
Bradley Chapman  3:58:27      Bronze

130K Course
Andy Wiggans     5:21:08      Gold
Kelly Harrison   5:51:19      Silver
Jo Foster        6:00:28      Silver
Dennis Ackroyd   6:00:31      Silver
Jim Ryder        6:00:35      Silver
Janet Grace      6:07:57      Silver
David Matthews   6:19:42      Bronze
Andrew Herbert   6:24:56      Bronze

182K Course
Tim Ashelford    7:32:23      Gold
Richard Malir    7:40:11      Silver
Stuart Pitches   9:01:29      Bronze


Great to see so many members (and retired-from-running ex-members) out on the White Rose this year. I promised No.2 son I would ride with him this year, so I went around the short course early doors and caused a few problems by arriving back while people were still going out! I recorded 2.51, but it was a while before they could find a time-station to dib me in! Great rides from Kelly, Jo and Andy in particular. It seems a little harsh that the ladies have to go for gold by the same standard as the men! Well done too to young Bradley and old Paul. I think our webmaster might be finding a new lease of life. It's got to be silver in the 130K next year. And then gold!! Great to see Dennis out and still clearly very fit. Remarkable that he managed to split Jo and Jim. I'm pretty sure they didn't ride together. Stuart must have a story to tell! Major mechanical or majorly lost? You were flying when we rode together a few weeks back. Let's have some more reports and encourage an even bigger turnout from the club next year. It's a fantastic event to have on our very doorstep.
Jo Foster adds ... It was a great ride and very well organised. Jim and I rode round together, never seeing Dennis unfortunately (see Bob's report!). A bit unfair that I was a few seconds quicker than Jim becuase he could have gone a lot quicker, kindly waiting for me as we'd agreed we'd ride together. We caught up with Kelly at Malham who was feeling good, rode with us for a few miles and then disappeared into the distance - great ride Kelly! We also spotted Bob coming back in the other direction! Great to be able to do a sportive from home and my the first one where I've managed silver standard instead of bronze! Good Etape preparation. We've just worked out that the same distance will take us to the foot of Mont Ventoux in 3 weeks time - ouch!
Great Lakes Run, Sat 27 June

1   2h37:41  Simon Booth, Borrowdale
15  3h24:00  Jon Whitaker
24  3h37:39  Ian Rowbotham


Arrochar Alps, Sat 27 June
Graham Arthur reports ... Another extended navigational challenge (low cloud), like Jura, but without quite so much wind, and no rain, yet a much higher attrition rate. For a good brief description of this sixth in the Scottish Long Classics series, also a counter in the SHR Champs, click SHR report. My multiple reccies and two times racing of this course over the last couple of years paid off, and, unbelievably, I never got lost. There was a moment of despair when I realised I had dropped my compass early on in the race. Fortunately I had an altimeter, and spot heights plastered all over my map.
Eldwick Gala fell race, Sat 27 June

1   17.26  Graham Pearce, P&B
11  19.43  Ben Stevens
16  20.22  Jamie Hutchinson
19  20.46  Richard Joel
62  24.57  Jim Towers
92  28.10  Sue Morley
109 34.14  Lyn Eden


Jubilee Handicap 5km Time Trial, Thu 25 June
Vic Verecondi reports ... A new era time has arrived in the Verecondi household ... as of tonight my son Luca holds the "record" for a 5km race ... this came about through a 5 km time trial tonight staged by Keighley and Craven AC. Luca and other juniors were running in the event. The course was quite tough, the route being a 300 foot climb on road up to Jubilee Tower staring at Greenhead School and then back. Basically 2.5km upwards, turn around 2.5km back down. Anyway my time was 21.58…. Not bad I thought... I was delighted to see Luca (12 years of age) obtain a time of 21.28 Fantastic effort. His training has been very good and it seems all those extra sessions on Saturday mornings on Ilkley Moor have helped also. Thanks very much to those who organised the event for the juniors and also for making me very welcome, it was a most enjoyable evening.
Blackamoor Chase, Thu 25 June
Jim Eden reports ... from the Cricket Inn, Totley. 6 miles, 1450ft of climb on the fells and through the Blackamoor Nature Reserve. Lovely run but tough in very hot and humid conditions. Part of the Totley Fell Series:

Jim Towers  61mins 16secs
Lyn Eden    89mins 26secs


Esholt Bash, Wed 24 June
Results from skyrac.org.uk:

1   37.59  Michale Creedy, St Theresa's
6   41.16  Jamie Hutchinson
45  52.25  Angela Srivastava
91  70.55  Claire Macina


Beamsley Beacon fell race, Wed 24 June
Results from www.wharfedaleharriers.org.uk:

1   38.18  Gareth Hird, Wharfedale
6   40:11  Jim Ryder
7   40:28  Chris Gale
9   40:46  Ian Rowbotham
11  41:00  Jack Wood
15  41:43  Richard Joel
18  42:28  Jez Helliwell
24  43.56  Duncan Cooper
25  44:03  Steve Weston
33  44:54  Richard Reeve
39  46:06  Paul Stephens
42  47:20  Paddy Hagan
52  49:01  Alison Weston
56  49:30  Michael Waterhouse
60  50:37  Chris Oxlade
62  51:30  Jim Towers
70  54:44  Clare Smith
76  56:39  Rachel Hagan
80  59:29  Bob Payne
81  61:55  Sue Morley
88  82:22  Lyn Eden Ilkley

Race for Life 5k, Harrogate, Wed 24 June
Wendy Hutchinson reports ... I did the Cancer Research 5k at Harrogate Pavillions and my time was 26.27 which was another PB for me.
Yorkshire Vets Grand Prix at Meanwood, Tue 23 June
Jim Eden reports ... off road course approximately 5 miles using part of the Meanwood Valley Trail

Jim Towers   37mins 20secs
Lyn Eden     50mins 59secs


Trunce fell race, Mon 22 June
Jim Eden reports ... part of a 9 race series, 4.25 miles, 550ft of climb. Torrential downpour and thunderstorm all race made the three river crossings interesting and flash flooding meant that you were knee deep in places. All good fun.

Jim Towers    38mins 01secs
Lyn Eden      50mins 17secs


Helm Hill, Sun 21 June
Morgan reports ... Another poor run by me in the Helm Hill BOFRA race on Sunday afternoon in muggy conditions. Dave Cummings had a great run to place 15th. A decent course, if a bit fast, with short ups and downs. I wouldn't call it a cross country course, but I wouldn't call it a typical BOFRA course either!

15  27.42  Dave Cummings 
36  32.02  Morgan Williams 


Photos on David Brett's site.
Freckleton Half Marathon, Sun 21 June
Don Macrae reports ... certainly lived up to Pete Bedwell's promotional sell of being friendly, well organised and a good course. I managed to sneak under the two hour mark in 1:59:51 as the only Harrier on the result sheet. However, there was also Mr Lonergan doing his 100th. H.M. (86th. in 1:34:27) accredited to Sale Harriers. Same coloured vests?
Settle Hills, Sun 21 June
Graham Arthur reports ... with some bigger-name events on this weekend Settle Hills was a very pleasant and low key jaunt round Attermire.
Results from Settle Harriers:

1   53.35  Alex Whittam,Calder Valley
23  68.58  Steve Weston
27  70.06  Graham Arthur


Jane Tomlinson 10k, Sun 21 June
Wendy Hutchinson reports ... Well what turned out to be a scorcher of a morning with no breeze, the conditions for me were worrying. However, having run the race last year in a time of 1.08 I had remembered the gruelling hill at the end and managed to reserve a small amount of energy that was not sapped up by the heat at the end to put in a performance of 58.25. Happy with this it was then nice to know that in my age group 40-49 I came 102

63   40.16  RICHARD REEVE
555  47:43  AMANDA ODDIE
883  49:48  JOHN PICKERING 
901  49:53  JOHN MARSHALL
1133 51:07  TIMOTHY HARVEY RATCLIFFE
1570 53:15  FIONA SCHNEIDER
1960 54:56  MARGOT DALE
2171 55:40  EMMA O'LOONEY 
2856 58:25  WENDY HUTCHINSON
3307 59:58  GREG WRIGHT
3642 61:14  ELIZABETH MCANDREW 
6404 76:25  BRIAN SWEET
6985 84:49  CHRISTINE REILLY    


BMAF 5k, Sun 21 June
Jane Bryant reports ... Sally Morley, Jann Smith and myself made our way over to a cloudy Horwich for the BMAF 5k as part of the Horwich carnival races. It was a tough 3 lap course. The results were:

1.  Claire McKittrick 17.79 (Chamwood A.C.)
6.  Sally Morley 18.23 4th V35
21. Jane Bryant  20.58 4th V40
25. Jann Smith   21.56 5th V40


Ilkley ladies were 2nd team overall to Hallamshire Ladies and 2nd V35 team, so silver medals all round.
Tom Titterman Fell Race, Sun 21 June
Jim Eden reports ... 4 miles, 700ft of climb, from the Hare and Hounds Pub, Chiserley, nr Hebden Bridge. Final event of the Midsummer Madness 3 day event.

Jim Towers  38.22
Lyn Eden    54.30  1st FV 0/60


Buckden fell race, Sat 20 June

1   34.14  Hector Haines
43  44.07  Norman Bush
56  46.00  Peter Haines


Tebay fell race, Sat 20 June
British Championship race, results from www.tebay.org

1    69.44  Simon Bailey, Mercia
52   82.32  Lee Morley
83   86.21  Dave Wilby
105  88.17  Ian Rowbotham
122  90.21  Jim Ryder
126  90.38  Jonathon Whitaker
142  93.00  Geoff Howard
147  93.22  Emma Barclay
148  93.31  Heather Dawe
156  94.41  Helene Whitaker
161  95.53  Duncan Cooper
168  96.19  Holly Williamson
183  99.16  Alison Eagle
199 102.19  Peter Shields
214 105.32  Alison Bennett
261 114.07  Kelly Harrison
279 119.29  Amanda Newham
303 144.45  Andrew Bennett


HDSRL #4, Richmond, Thu 18 June
After a brief shower it was a lovely evening with a hard race amidst beautiful scenery. The team results were affected by the relatively low turnout to this distant event, but there were some great individual runs.
Results from www.harrogate-league.org.uk.
From Graham Arthur ... on the basis that our SuperVets (M/F 55+) are only just behind Swaledale, who naturally had a very good turn out at Richmond, and that Otley is a long way for THEM to come, we could clinch this one with a good turn out on Thursday 2nd July at Otley.

1    29.33  DARRAN BILTON
14   34.43  NICK RICHARDSON
24   35.26  STEVE WESTON
39   36.49  PAUL O'LOONEY
52   37.44  KEVIN GOOCH
54   37.48  JEFF PAGET
71   38.54  PAUL STEPHENS
72   38.59  SIMON CHAPMAN
78   39.21  HENRY HEAVISIDES
81   39.59  ANDREW SHELDON
82   40.00  ALISON BENNETT
98   41.13  GRAHAM ARTHUR
135  43.22  KEITH WOOD
137  43.35  VAL KERR
168  47.12  JANET GRACE
182  50.28  MARGOT DALE
187  51.10  PAUL SUGDEN
193  51.54  DONALD MACRAE
195  52.05  ANDREW BENNETT
209  55.52  DAVID MILLSON
210  56.26  MANDY CHAPMAN


Kettlewell fell race, Thu 18 June
Four Ilkley Harriers travelled to Kettlewell to run a five mile, 1800 ft of climb fell race organised by Abbey Runners to celebrate their 25th anniversary. A well organised event including soup and roll in the Bluebell afterwards. Well worth doing if Abbey Runners do it again next year.

Jim Towers       52.02
Morgan Williams  53.47
Amanda Newham    56.37
Lyn Eden         75.50  1st FV 0/55


Weets Fell Race, Wed 17 June
Dave Taylor was 56th in 53 minutes; Norman Bush was 43rd in 50:21 1st V65
.
Kettlewell, Sun 14 June
Morgan Williams reports ... Short and steep with 2 crossings of the River Wharfe. Nice sunny day, bite to eat and an ice cream afterwards. Well done to Jenny for keeping her run of seconds going!
David Brett took some good photos. Results from www.bofra.co.uk

1   Ted Mason        12.59 (Wharfedale Harriers)
10  Lee Morley       14.03
17  Ian Rowbotham    15.07
27  Dave Cummings    16.20
39  Jenny Dybeck     16.59 (2nd lady)
41  Norman Bush      17.05
49  Morgan Williams  18.03
50  Alison Eagle     18.09 (3rd lady)


Bradford Millenium Way Relay, Sun 14 June
Results from St Bede's site:

Open team, 8th 6:29:08
Jamie Hutchinson, Dave Wilby 1:19:58
Paul O'Looney, Richard Reeve 1:25:37
Neil Chapman, Pete Shields   1:07:21
Nick Richardson, Malcolm Pickering 1:12:38 (5th fastest pair on this leg)
Jez Hellewell, Jonathan Sinclair 1:23:34 (6th fastest pair on this leg)	

Mixed team, 18th, 2nd Mixed team 7:22:20	
Dave Jepson, Sally Morley 1:27:32
Joyce Marshall, Henry Heavisides 1:33:02
Helen Horton, Keith Wood 1:22:04
Alison Bennet, Neil Smith 1:20:58 (Fastest mixed pair on leg)
Val Kerr, Nigel Tapper 1:38:44
	

Loch Lochy Munros, Sat 13 June
Graham Arthur reports ... Glorious conditions for the inaugural race starting and finishing at one of the Highlands' most scenic locations. This is the fourth race in the Scottish Long Classics series, and I have now been lapped by Brian Marshall, so embarrassment at being in the lead purely by dint of having done three races as opposed to everyone else's one or two is over. The winner was Andy Symonds with a few stars not far behind. I'll say no more, so read the organiser's report and salivate.
Otley 10, Wed 10 June
Andy Wiggans reports ... a first time for me and my chums, Sean Murphy and new member Richard Hinsley, so none of us knew what to expect apart from some lumpy bits. In the end the lumpy bits were a bit less lumpy than I was expecting, about the same as Sean was expecting (well he does live in Otley) and a bit of a shock for our Richard. As usual I saw Nick Richardson bounding off into the distance and settled in to run my own race. All those sessions on a pan flat track have obviously been well worthwhile as I seemed to pass quite a few people on the hills.
As you'd expect for a hilly course that's definitely "not a PB course" all three of us got PBs - mainly on account of this being our first ever 10 miler (Rich and Sean) or first for yonks (me). In the end I crept into the top 30 in 28th place with 64:10 (PB by something over 4:30), Sean had a great run in 69:03 to be 71st and Richard, despite his surprise at the general hilliness of the hills, ran 72:30 to be 117th. This is an amazing performance for a bloke who was turning round after a mile and a bit of our lunchtime runs in late Feb as he was worried about getting trapped the wrong side of Bingley 5-Rise Locks and not being able to get back up!
Photo: Terry Lonergan's snap of the Ilkley ladies who won the team prize: Sally Malir, Jane Bryant, and Kay Pearce. Great result!
Results from www.otleyac.co.uk (photos there too):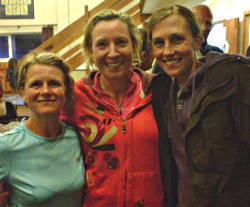 1    53.43  Ian Fisher. Otley AC
24   62.56  Nick Richardson
28   64.10  Andy Wiggans     PB
30   64.25  Richard Joel
36   65.23  Richard Reeve    2nd V50
37   65.35  Jack Wood
63   68.44  Simon Chapman
64   68.45  Neil Chapman
71   69.03  Sean Murphy      PB
72   69.05  Sally Malir      1st LV40
105  71.25  Nigel Tapper     PB
116  72.25  Mike Baldwin
117  72.30  Richard Hinsley  PB
132  73.52  Jane Bryant      2nd V40
134  74.05  Peter Shields
135  74.13  Kay Pearce       PB
157  75.45  John Woodward
195  78.57  John Coates
249  84.14  Janet Grace
271  86.43  Brenda Ogden
290  89.40  Alison Stretton

1st ladies team (of 11); 5th men's team (of 22)
349 finished


This was a counter in the Ilkley Harriers Running League
Yorkshire Vets Grand Prix Races 3 & 4 - Walton May 31st & Pudsey June 10th
Alison Eagle reports ... Although I am not concentrating on these this year they are still great low key events, friendly and well organised, with food and lots of prizes after each one. Using them as training runs, I was a little diappointed with my outing at Walton. Very hot conditions and my badly timed final push, due to a lapse in memory about where I was in relation to the end, left me in 4th overall, 3rd Vet45 in 38.38.
At Pudsey, once again in the rain just like Stretton, on a muddy woodland course (great) I had a better run and finished 3rd overall and 1st Vet45 in 37.24.
Shame that we cannot get more Harriers out to these as I'm sure we have number of runners who could do well in their age groups! See YVAA web page for details for the next one in the series at Meanwood on Tuesday 23rd June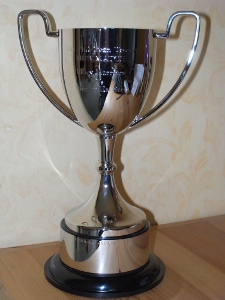 Mob Match! Tuesday 9 June 7.30pm
Ilkley once again BEAT BINGLEY in the annual Mob Match on Bingley's home turf at the Bingley St. Ives Trail Race! Hurrah!
Tom Adams won the race handsomely and led in a further 41 Ilkley Harriers - Bingley only fielded 28 runners. Taking the best 28 Ilkley Harriers' points, according to the rules, the result was:
Ilkley 2395 : Bingley 2225

Detailed results here.

So Ilkley's name will be inscribed again on the super 12" cup purchased from the legacy left by Phil Dean.

A few photos of the start here, and lots of race photos on woodentops.org.uk..
Read Dave Jepson's report here.
This was a counter in the Ilkley Harriers Running League
Harewood Chase, Sun 7 June
In the men's race, Jack Wood was 10th in 37.59 and Jean Sullivan was 19th in the ladies race in 49.24
Wansbeck Sprint Triathlon, Sun 7 June
Andy Wiggans reports ..."Bike - check, running shoes - check, wetsuit - check..." is the normal kit list for one's first triathlon - but our very own Vic "The Handy Dandy" Verecondi has apparently added some male grooming items and a mirror. Nothing else can explain the extraordinary amount of time he spent in the transition from the swim to the bike at the Wansbeck sprint tri up in Northumberland today. Looking down the list most people seem to be between 45 seconds and 2 minutes. Vic? 6:39. I can only assume he was drying his hair and ironing his bike top.
Anyway - me and Britain's best/slowest dressed man set off outrageously early this morning to get to Ashington, about 15 miles north of Newcastle, for our first open water sprint tri (750m lake swim, 23km bike and 5k run). As newbie triathletes we were in the first wave to set off, along with the people wearing armbands and rubber rings. I had never swum in my wetsuit before, and Vic had only done a few lengths of Ilkley Lido, so we were both reasonably pleased to just survive - I managed 17:48 and Vic 20:22 - both way off the pace of proper swimmers but far from a disgrace. I whizzed through T1 (as we triathletes call it) and Vic presumably met up with his "gentleman's gentleman" to be dressed and have his hair done. The bike was quick and flat, and I'm grateful to Paul O'Looney for the loan of his posh back wheel to mean I had a complete bike with which to go and do battle with the torrential rainstorm which now ensued. I passed a few folk out on the bike and came into T2 in the lead. Vic, clearly concerned more with sartorial elegance than speed, opted to go slightly slower but posted another respectable time. The run was two laps of the swim lake, and due to a watch malfunction I had no idea how fast I was going, but I didn't get passed by anyone so finished the first of the rubbish swimmers in 1:20:53, which is well inside my target of 1:30 - the results show I did 20:30 for the 5k, so not blisteringly quick but ok. Vic came in 1:43:17, but having shattered his transition PB, taking a mere 2:30 in T2, helped by not bothering with the "running specific socks" (no, I don't know what they are either) and Harriers vest he had brought along to change into.
My feelings of elation at having beaten a bunch of non-swimmers were shattered by the publication of the results, as I ended up 32nd on overall time out of 134 (which to be honest I'm still pleased with for a first go), and Vic was 119th. The winner was a bloke called Alan Copland in 1:07:00, but he cheated by being good at swimming.
LAMM - 6th & 7th June
Last weekend a small, but some would say perfectly formed, group of Harriers travelled north to Scotland to take on the challenge of the Lowe Alpine Mountain Marathon (www.lamm.co.uk). This was my first LAMM, and my partner in crime for the weekend was Heather Dawe, who was returning to the event after a couple of years of concentrating on shorter, easier challenges such as the Bob Graham Round. The forecast for the weekend was for freezing temperatures and wintery showers so it looked like we might be in for a tough time at the hands of the usually clement and welcoming Scottish weather. As it turned out, Saturday brought a cold wind, but largely dry conditions, save for a few short showers, and Sunday was gloriously warm, hot even. Visibility all weekend was generous, and the views were endless. The terrain was pretty good underfoot, but the climbs and descents ensured we didn't have things easy.
Day 1 saw us traversing, and criss-crossing the stunning Five Sisters of Kintail ridge, before eventually heading through Glen Affric and passing Britain's most remote youth hostel. Day 2 was the more runnable day and we moved well, but those climbs still weren't getting any smaller! Eventually, after a weekend total of 16:45hrs, we finished 13th overall in the Elite, which brought with it my first Elite completion in one of the major mountain marathons.
Also on duty were Nicky Jacquiery & Joyce Marshall in the B Class, who we bumped in to in the middle of nowhere on Day 1, and Kevin & Rachael Gooch who were in the Score class. Ex members Dan Goodey & Phil Lincoln-Jones were also doing the Elite course, and I did see Ken Jacquiery enjoying a well earned Wilf's at the end too. Apologies if I've missed anyone.
Rother Valley Triathlon Festival - 6th and 7th June
Steve & Gaenor Coy report This weekend must have been the weekend for first time Open Water triathlons reading of Andy and Vic's escapades in Northumberland.
We spent the weekend in Rother Valley and joined 100s of others competing and watching in various events from under 9's Scootathlon's (which both our boys took part in but with their running heritage managed to run 2.5k for the first leg rather than 400m along with a large number of the boys field due to marshalling incompetence) to the disabled national triathlon championships.
Later on the Saturday, when the weather had cleared up, Gaenor took part in her first ever triathlon and in open water (other than a brief dip in Ilkley lido in a wetsuit) as part of a women's only event - 200m swim, 10k bike, 4k run - and pulled out a fantastic performance coming in 16th in a time of 50:43. The winning time was way ahead of the rest at 40.40.
On the Sunday after a ridiculously early start I took part in the "sprint" distance event - 750 swim, 25k bike, 5k run - and was really happy to coming in 19th in 1:24:09 out of 170 (winning time was 1:13:28) in particular with my swim of 13 mins and a 18.36 5k run, despite having a curled up insole in one shoe and energy gels in the other (which I could not feel due to numb feet) however due to these school boy transition errors I am paying for it as I have no skin on my heels – maybe I should borrow Vics run specific socks next time (but he can keep the grooming products)..
Anyway a great event and despite the bad weather on the Saturday morning a nice family weekend out which we would both recommend to others for next year.
The Two Castles 10k, Sun 7 June
New member Wendy Hutchinson reports on The Two Castles 10k, Run Warwick Castle to Kenilworth Castle. I finished in a time of 57.14, a PB by 11 minutes. I am very very pleased with my performance even though it not a fast run for most of the members at Ilkley but for me was a huge improvement on my last 10k run this time last year and I was also suffering from jet lag.
Stretton Hills Race, Sat 6 June
Alison Eagle reports ... Apologies for this belated report for Stretton Hills but I have only just dried out. Arrived on the Friday for a weekend in the Shropshire hills in the rain and left on Sunday in the rain. In between yes it rained, and rained! But that should take nothing away from the Stretton Hills Fell Race, a course designed as a one off for the championship, only finalised the week before- and just a short at 5.75m, 2,500ft.
The race started at Carding Mill, owned by the National Trust - who were very accomodating hosts. They lit the log fire and made no fuss about wet, dirty clad fell runners changing in the toilets and taking over the cafe (mind I think fell runners and followers were the only ones out that day and certainly bought our own weight in drinks, soup and cakes!). Th course went out into the local hills, lovely to run in, inlcuing steep short ascents and steeper very wet, soggy downhills. Although a marked course it was difficult to spot the flags at times in the rain and the mist, but was excellently marked out and marshalled.
In separate races mens and ladies races the Ilkley Ladies were out in force with 7 runners, and all were needed to claim first team place in both the Ladies, by just 4 points, and vets Ladies competitions. This places us in joint first place in the English Champs with Calder and ahead in the Vets with 2 wins out of 2. Once again as at Fairfield the Ilkley Ladies battled it out amongst themselves, though further down the field overall, all within 34s of each other! Holly Williamson this time the first Harrier in in 15th, followed by Helen Ilsley, 17th, Alison Eagle, 18th, and Emma Barclay, 20th. But still the red and green vest flooded in with young Jenny Dybeck in 22th ( a big step up from her U/17 races previously and a little tough she admitted afterwards!) and Alison Weston, 25th. Alison Bennett completed the team in 41st, beating Calder's third counter and ensuring Ilkley Ladies of that important first place.
After an hour's wait, the men set off just as the Ilkley ladies began to arrive at the finish! Unfortunately Ilkley men were in short supply but good results from those who did make the trek down. Unfortunately there was little support as they finished as the bad weather continued and the ladies were still warming up in the cafe!
A well organised friendly event, in a lovely part of the country. It was a shame that numbers were low. I will cetainly be happy to venture down again but hopefully with much better weather conditions!
Results from MerciaFellRunners.org.uk:

Men's race:
1    44.37  Rob Hope, P&B
38   53.57  Lee Morley
69   57.22  Ian Rowbotham
118  63.16  Geoff Howard
160  69.50  Morgan Williams
168  71.26  Pete Shields
198 finished

Ladies' race
1    54.12  Philippa Jackson, Keswick
15   62.22  Holly Williamson
17   62.35  Helen Ilsley
18   62.37  Alison Eagle
20   62.56  Emma Barclay
22   64.04  Jenny Dybeck
24   64.34  Alison Weston
41   69.57  Alison Bennett
65 finished

Penyghent Fell Race, Sat 6 June
Thanks to Val Kerr for these results ...

Winning time             48:37
15  Chris Gale           54:37
50  Norman Bush          62:00
65  Sarah Haines         66.06
67  Michael Waterhouse   66:18
93  Florence Haines      71:02
94  Chloe Haines         71:17
95  Val Kerr             71:19
(121 finishers) 

Wharfedale Off-Road Marathon, and Half Marathon, Sat 6 June
Ewan Welsh reports ... Myself and Mike Baldwin kept each other company around the Wharfedale off road marathon on Saturday. Keeping in mind the not so well known saying of 'don't let the first mile dictate your last mile' we started off at a steady pace and basically kept that steady pace for the duration, we came in on 3 hrs 47 mins, no idea of the results yet. I was delighted with my run, haven't felt that good since the Archie Gemmil goal in the 78 world cup!
The route takes in (from Threshfield), Kettlewell, over to Arncliffe, up to Malham Tarn then back down to Threshfield. It's an excellent route, a friendly low key event, tea and buns at the end plus a shower, magic. I would recommend the race (for what my recommendation is worth) and put it on to your top 5 races to do on your doorstep list (if you have such a list).
Lots of Harriers doing the 1/2 marathon route, heard John Sinclaire's name mentioned over the speaker as I was basking in a shower, no idea what he won, or maybe he had lost his car keys and somebody had found them, we shall await the results.
Results from SportIdent:

Half Marathon
1    90.25  Quentin Lewis, Baildon
10  101:01  Jonathan Sinclair
22  109.13  Sally Malir  2nd lady
49  119.11  Diane Haggar
50  119.14  Nigel Tapper
74  126.00  Andrew Wilson
82  127.09  Keith Wood
106 131.22  Helen Horton
107 131.24  Eric Hawthorn
113 132.53  Sue Bickerdike

Marathon
1   3h05.31  Panos Aristotelous, Leeds
28= 3h47.18  Ewan Welsh
28= 3h47.18  Mike Baldwin

Rugger Ramble
9   5h49:35  Amanda Parnaby


Rugger Ramble, Sat 6 June
Amanda Panaby reports ... same route as the Wharfedale Off Road Marathon but setting off 2 hours earlier at 8.30 am. Wind and rain was the order of the day, finished in 6 hrs 13 min 55 secs.
The Bradford Marathon Launch
From Chris Matthews..... as part of her role on the Bradford Athletics Network Shirley requested a representative from the club to attend the launch of the Bradford Marathon, I was eager to find out the details of the marathon so attended the event last Thursday afternoon in Centenary Square, Bradford. There was a representative from each of the Bradford Running clubs along with children from Greengates school, players from Bradford Bulls, Keighley Cougars, Bradford City, Councillor Kris Hopkins, and elite runner Lisa Wilkinson. Photos were taken of various groups and appeared in last Friday's Telegraph and Argus.
On October 18th 2009 there will be a 10 mile road race involving 2 loops of 5 miles from Centenary Square,1st loop out to Lister Park and back then out to Bowling Park finishing back at Centenary Square. The Marathon is proposed for October 2010 and will involve running 5 loops, each 5 miles, and running out and back to 5 different Bradford Parks,in reference to the Olympic circles! Runners can partake in a 5, 10, 15, 20 or 26 miles race on the day.
HDSRL #3, Beckwithshaw, Thu 4 June
The ladies are back! with good wins in the ladies team and lady vets team competitions. The SuperVets had a good win, and we were 4th in the main team competition (could still do a little better ...). Full results, and photos, on www.harrogate-league.org.uk.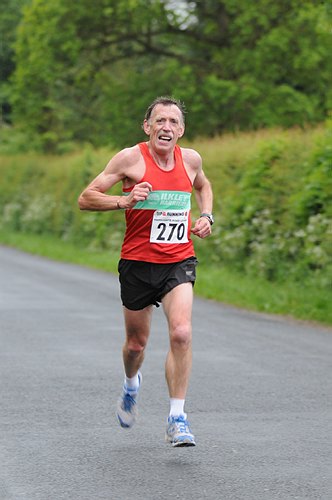 1    32.24  IAN FISHER, OTLEY AC
9    35.55  JACK WOOD
26   37.44  NICK RICHARDSON
29   38.04  RICHARD JOEL
32   38.31  PAUL O'LOONEY
41   39.02  SALLY MORLEY
42   39.06  KEVIN GOOCH
53   39.52  HENRY HEAVISIDES
55   39.59  DAVE JEPSON
63   40.32  SIMON CHAPMAN
73   41.17  NEIL CHAPMAN
79   41.46  KAYE PEARCE
97   42.58  JANE BRYANT
98   42.59  ANDREW SHELDON
100  43.03  ALISON BENNETT
104  43.13  GRAHAM ARTHUR
111  43.35  JENNY DYBECK
118  44.00  KEITH WOOD
121  44.03  CAROLINE BELL
130  44.36  PETER SHIELDS
153  46.20  VAL KERR
167  48.15  JOHN MARSHALL
176  49.04  JIM TOWERS
184  49.41  KAREN LAMBE
189  49.56  ANDY WOLFENDEN
192  50.04  COLIN LUGTON
201  51.25  ROBERT PAYNE
203  51.34  JANET GRACE
204  51.38  PAUL SUGDEN
205  51.39  SHEENA PICKERSGILL
206  52.00  ERIC MONTEIRO
229  54.31  ANDREW BENNETT
235  55.21  ADELE MITCHELL
255  58.55  MANDY CHAPMAN
257  59.20  SUE VERSPYCK
258  59.21  DAVID MILLSON
259  59.26  PATRICK GIBBONS
264  60.37  HEATHER DUKE
265  63.57  SUSAN LUGTON



Chevin fell race, Wed 3 June

1   17:35  Graham Pearce, Pudsey & Bramley  
2   17:50  Tom Adams
6   19:07  Dave Wilby
11  19:52  Jim Ryder
16  20:24  Ian Rowbottam
38  22:00  Nick Pearce
43  22:31  Mike Baldwin
49  23:10  Bob Hamilton
52  23:26  Norman Bush
64  24:09  Michael Waterhouse
65  24:21  Alison Weston
67  24:25  Kelly Harrison
77  25:13  Keith Wood
84  26:01  Jim Towers
95  27:18  Sue Morley 
99  27:41  Bob Payne
101 28:41  Sue Bickerdike
116 36:20  Lyn Eden


---