Kirkstall 10k, Sun 26 Sep 2004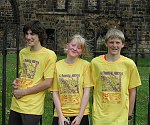 Neil Chapman reports ... Nine harriers, including 3 Junior Harriers taking on their first 10k race, were out tackling this tough hilly race in generally good but breezy conditions. First Harrier home was Jamie Hutchinson just over 40 minutes, followed by Ewan Welsh 41.20 and then Andy Wolfenden having an excellent run in 44.05, with Keith Wood 48ish and Vic Verecondi 49ish. Then came the trio of Junior Harriers with Daniel Roebuck and Simon Chapman both racing to the line in 52.10 with Mary Gibbons outsprinting mum Bernie to finish in 54.00.

Mandy's Photos
Great North Run, Sun 26 Sep 2004
There must have been quite a few Harriers in this, but the only results reported so far are - 388th Mark Iley 1h27:34 and 5505 Sue Bickerdike (with hubby Carl) 12 minutes faster than last year in 1h48 (1h53:07 in the results); 17740 Amanda Parnaby 2h19:32
43rd 3 Peaks Cyclo-Cross Sun 26 Sep 2004
Jason Hemsley and Stefan Macina were 34th and 49th in 3h52:00 and 4h03:35 - the third member of the team Ridley Crosstrax was Steve Bottomley (also seen sometimes at club) 13th in 3h37:05
Heather Dawe was 3rd lady in 4h40:34

Web site
Club Training Changes, 20 Sep 2004
Most people now seem to think it's getting too dark on the moor in the evenings, so they're gravitating back to ILT&SC on Tuedsdays. Pete's Thursday session will be moving down from the fells onto the grass track at Tennis Club this week too. And Monday circuit training is is full swing too. More on the

Training Page.
Harrogate Theatre Race, Sun 19 Sep 2004
A measured 10k, but the undulating course means a PB is unlikely. Mark Iley was 24th in 40:29; Neil Chapman 39th in 42:44; Andy Kitchen 111th in 48.11, and Di Kitchen 114th in 48:19 in a field of over 300 at this new race.
Junior Ilkley Harriers were well represented in the 2.5km Fun Run -

more ...

Harriers Photos
Full results and more photos on the

race web site
Three Shires Fell Race, Sat 18 Sep 2004
AL 12M/4000' We had 82 Ashley Hardwell 2h35:36; 88 Heather Dawe 2h36:34; 113 Kevin Gooch 2h44:34; and 140 Rachael Gooch 3h00:32
The Junior Races were the final counter in the English Junior Fell Championships, and there were four Junior Ilkley Harriers racing ...

more ...
Results on the

Ambleside AC web site
ROM August 2004
The Ilkley Harriers Runner of the Month for August is Jamie Hutchinson -

click here for details.
---
Ilkley Triathlon, Sun 12 Sep 2004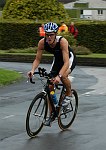 A lower number of Harriers than usual - it seemed especially difficult to get in this year.
Graham Pearce had a fine result, 2nd overall in 56:52 - 8:40 for the 500m swim; 28:30 the fastest 9 mile bike leg despite a puncture a mile out; and 19:42 for the 3 mile run. Andy Wiggans was 49th in 1h11:39 (10:20/38:20/22:59). Eleanor Kitchen led the rest of the family home (9.55 for the 500m swim, 40:20 for the 9 mile cycle, 25:02 for the 3 mile run) in 1h15:17 - 74th overall, first in her class, and first local; Di did 1h19:05 (13:10/40:50/25:05) 95th overall and 2nd in her class; and Andy was 111th with 1h21:22 (13:17/43:50/24:15)

Photos
Full results on the

LBT web site
Yorkshire Off-Road Marathon, Sun 12 Sep 2004
Won in 3h04:55; we had 26 Dominic O'Hooley 4h15:30; 39 Bob Wightman 4h37:19 (30mins quicker than last year); 67 Keith Wood 5h39:27; 68 Barbara Bullock ran 5h39:30; 81 Amanda Parnaby and 82 Bernie Gibbons both 6h10:40; Jason Hemsley won the Half in 1h34:07; and Dennis Ackroyd was 28th in 1h55:02
Robin Hood Half Marathon, Sat 11 Sep 2004
Sue Bickerdike reports ... 1h41:42, overall finish place was 1087, 20th LV35 so quite chuffed. Took over 10 mins off my previous best time for a half marathon. A good days work!
Briscoes Brewery Festival fell race, Sat 11 Sep 2004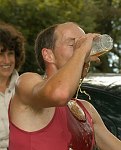 AS, 3.4m/900'/1pt Jason Hemsley was the hero of the race - helping to flag the course, winning the race, and de-flagging the course! This has to be one of the best-value races, with a bottle of special ale from Paul Briscoe, and a pint of same at the finish. Mike Baldwin was 8th at the end of the run but overhauled Iain Gibbons and 2 others in the drinking stage to take 5th place overall and 3rd Vet:
Provisional results:

				1 Jason Hemlsey 20.42 + 23 = 21:05
				5 Mike Baldwin  23.54 + 28 = 24:22
				7 Iain Gibbons  23.34 + 55 = 24:29
				
Ilkley Incline, Wed 8 Sep 2004
The sun shone on the Ilkley Incline again, and there was a record turnout of 32 runners for what is a very hard race - 560' of climb in just one mile. Andy Wolfenden, Bernie Connor, and a host of Harriers volunteers ensured that everything ran smoothly, and everyone enjoyed the informal prizegiving. As well as the obligatory marrows for the winners (thanks Bernie), there were generous cash prizes from the Bicycle Shop Skipton for the first man and first lady, and a good range of other prizes from the Complete Runner Ilkley and Up & Running Leeds. Congratulations to John Heneghan and Sarah Glover who set new records.
---
Circuit Training is back!
Circuit training recommences Mon 6 Sep - get in at the start when everyone is struggling! More on the

Training Page
---
Shelf Moor fell race, Sun 5 Sep 2004
AS, 5.9M 1500' Ilkley Ladies were out in force for this Glossopdale race, the final counter in the English Fell Championships. We had 10 Helen Sedgwick 57:31, 11 Nicky Kime 57:39, 12 Emma Barclay 58:11, 13 Alison Eagle 58:34, 23 Sally Malir 62:02, 25 Jo Foster 63:22, 26 Heather Dawe 64:00, 32 Joyce Marshall 66:51, and 33 Rachael Gooch 67:29. A great team performance, 3rd on the day, should give us the Bronze medal in the Championship.
For the men, we had 66 Jim Ryder 52:50, 113 Ian Marshall 57:27, and 126 Ken Jaquery 60:28
This was a counter in the

Harriers Running League - first in the men's race was Tim Austin in 42:37, first in the ladies race was Sally Newman in 53:22
Leeds Country Way Relay, Sun 5 Sep 2004
Our team finished in about 25th place (winners were Leeds City AC in 6:34:55).

				1  Andy Wolfenden, Keith Wood   1:37	
				2  Barbara and John Bullock     1:38 3:15
				3  Denis Ackroyd, Phil Atkinson
				4  Neil Chapman, Pete Shields   1:32	
				5  Helen Shew, Andy Sarah       1:37 7:58
				6  Philip Judd, Vic Verecondi   1:31 9:29
				

Morgan's photos
---
Spofforth Village Gala 10k, Mon 30 Aug 2004
Ilkley Harriers at this race were Jamie Hutchinson finishing 15th in 42:03; Sue Bickerdike 86th in 53:46; Lou Cartledge 98th n 54:47; and Amanda Parnaby 140th in 63:24
Two Bridges Challenge, Sat 28 Aug 2004
Marathon too short? How about the

Two Bridges Challenge? A new multi-terrain coastal route this year made the race harder than ever. Richard Midgley ran the race in 6h11
Pendleton fell race, Sat 28 Aug 2004
AS 5M/1500' Ewan Welsh was 36th in 46:14; Ed Batty 64th in 52:33. Second claimers Jason Hemsley and Stefan Macina were 4th and 7th respectively in 37:36 and 39:01
WMRT Masters, Sauze d'Oulx (Italy), Sat 28 Aug 2004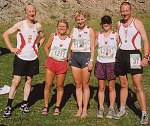 An intrepid band of Harriers made it to the Masters (Veterans) races of the XXth World Mountain Running Trophy at Sauze d'Oulx, in Italy. We expect a full report soon, but results spotted on the web site

www.wmrt2004.org Showed that Geoff Howard was 9th and first Brit in the V60 race in 60:56; Alison Eagle was 11th and first English runner in the LV40 class with 66:44, with Sally Malir 17th in 70:17; Emma Barclay was 17th in the LV35 class in 68:45; and Morgan Williams was 127th in the V40 class with 72:25. Well done to them all!
---
Burnsall, Sat 21 Aug 2004
Neil Chapman reports ... There were nine Harriers out in the 10 mile race, run in warm sunny conditions. Predictably, the first Harrier was Geoff Howard 14th in 63:31, followed by Neil Chapman 20th 65:32, and Dave Jepson having a good run was 22nd in 66:14. They were closely followed by the trio of Ewan Welsh (38) 69:12, Jamie Hutchinson (41) 69:50 and Brian Melea (45) 70:27. Keith Wood (65) ran 76:58, with Vince Gibbons (73) 81:45, and Cath Porritt (75 & 11th lady) 82:05.
The road race, won by Otley's Julian Mawson in 56:29, was a counter in the

Harriers Running League.
By the time the Classic Fell Race had started the weather had changed to torrential rain. Graham Pearce had a good race, having cycled over from Silsden, finishing 11th in 15:57, with 2nd claim Harrier Stefan Macina close behind (14) in 16:21, and Alison Weston was 6th in the ladies race in 22:50.
The Jordan family were out in force in the junior races, all turning in great results - more on the

Junior pages.
Results on

Burnsall Feast web site.
Sedbergh Hils race, Sat 21 Aug 2004
AL 14M/6000' Nicky Kime was 47th and 3rd lady in 3h04
---
ROM July 2004
The Ilkley Harriers Runner of the Month for July is Geoff Howard -

click here for details.
Round Hill Fell Race, Sun 8 Aug 2004
Sunday saw the second running of

Otley AC's fell race over 9M with 1100' of climb. 4th Jamie Hutchinson 68:42; 6th James Lind 69:20; 12th Mike Baldwin 72:07; 14 Ewan Welsh 73:20; 15th Brian Melia 75:14; 18th Dennis Ackroyd 76:08 1st V50; 29 Bob Payne 81:56; 36 Carole Armitstead 89:15; 37 Andy Sumner 90:15; 44 Amanda Parnaby 1h47.47
Askern 10, Sun 8 August 2004
Terry Lonergan reports ...When the going gets tough, the tough get........very hot, very sweaty, very sore and increasingly slower. The undulating course was the same as always but today had become mysteriously "very hilly"; fast flat stretchs seemed never ending as the temperature rose and the wind increased.
Certainly. a day for a prudent "just get round" approach. Even Mr. Fisher was reduced to 55+ minutes!
For myself, despite all, my 67.43 was faster than last year and good enough for 1st V55, 41st. of 338. Andy Wolfenden set out to survive and finish very creditably doing so in 78.07 in the top third of the field.
Borrowdale fell race, Sat 7 Aug 2004
AL 17M/6,500'Geoff Howard reports ... Harriersí results at a hot and sunny Borrowdale were: Dave Cheesewright 75th 3h 47m 15s; Geoff Howard 112th 3h 59m 58s (1st V.60); Jim Ryder 158th 4h 14m 51s; Alison Eagle 210th 4h 28m 00s; Nicky Kime 228th 4h 34m 17s; Ashley Hardwell 231st 4h 35m 17s; Jo Foster 266th 4h 47m 38s; Ian Marshall 302nd 5h 00m 54s; Peter Sibley 369th 5h 28m 45s; Joyce Marshall 372nd 5h 30m 50s. A huge field for a Lakeland AL race (473) saw Simon Booth (Borrowdale) lead them home in 2h 50m 37s. A great day to be out for the many spectators and the drinks providing supporters (thanks Morgan).
Well done to Geoff - this run gives him the British fell championship as well as the English title for his class.
---
Harrogate 10k, Sun 1 Aug 2004
Terry Lonergan reports ... Any Ilkley Harriers going to Harrogate hoping for a nice flat fast course based on the Stray were sorely disappointed. Instead they encountered a testing, undulating 2 lap course. With positions still to be confirmed, 47th 38.25 Terry Lonergan (2nd O/55); 57th 38.40 John Spencer; 71st 39.16 Jamie Hutchinson; 106th 40.53 Catherine Wolfenden (6th); 110th 40.57 Iain Gibbons; 124th 41.26 Nick Richardson; 424th 50.24 Cath Porritt. 763 finished.
Results on

HHAC's web site.
Sale 10M, Sun 1 Aug 2004
Geoff Howard reports ... Despite the hot weather, a 9.30 start, the shade provided by the trees of Wythenshawe Park and a gentle breeze all helped to make the Sale 10 mile road race tolerable. In a field of about 200 Matt Shaw of Tipton Harriers was first in 50m 46s and Geoff Howard was 26th in 61m 44s (1st v.60).
The website

www.veterans10mile.org.uk suggests that 61m 44s is the third fastest UK ten mile by an over 60 this year. It is a really useful website for all vets wanting to benchmark: giving current performances up to 15 July, previous years and all time (recent years) 10 mile performances.
Burton Leonard 10K, Sun 25 July 2004
Sue Bickerdoke reports ... I found it a tough course - undulating, mixed surface and basically uphill from 3 miles (even though the first 3 must have been downhill - how quickly we forget the easy descents!), disappointing 50min 25-30ish secs. Still, well attended and well marshalled with a tough 2 mile(ish) fun run for the kids (thought it might make a good warm-up but didnt realise that it was going to be so hilly!). Once again must salute the Black Sheep Brewery series - many out from Otley and Swaledale, but again I was the lone Ilkley Harrier, such a shame for such a nice series of runs. Unofficially I was around 12th lady back.
Jack and Jill fell race, Sun 25 July 2004
Geoff Howard reports ... As the Tour de France was finishing in Paris, Geoff Howard and son Paul celebrated the first anniversary of the latterís shadow riding of that event (book Riding High now out in paperback) by joining 173 other competitors in the Jack and Jill Fell Race over a 5.5 mile 1,100 ft course named after two windmills on the South Downs. The winnerís time was 33:06. Paul came 25th in 41:45 showing how effective cross training can be with Geoff 7th (1st v.50) in 38:09
Corn Dolly Folly, Sat 24 July 2004
Amanada Parnaby and Barbara Bullock ran this 27 mile race over a hilly part of the Yorkshire Wolds in 6h28
---
HRL Handicap, Ripon, Wed 21 July 3004
There was the best turnout for years at the HRL Handicap race, with 142 runners including 24 Harriers. Richard Gray just missed out on a prize, with 4th place in the handicap race.
And afterwards the ladies were collecting the silverware: first ladies team (for the fifth year), first lady vets team, and Alison Bennett is showing that running makes you younger - after winning the Lady Vet 40 trophy two years in a row, this year she beat all the lady vet 35's to take that trophy.
Full results and photos on the

HRL web site.

				4	45:52	RICHARD GRAY
				19	43:04	PHIL HIRST
				20	44:05	KEITH WOOD
				31	47:00	SUZANNE BICKERDIKE
				35	50:03	ELAINE COSSINS
				39	41:08	PETER SHIELDS
				44	45:22	VINCE GIBBONS
				52	44:05	JOHN WOODWARD
				57	56:41	HEATHER DUKE
				68	55:52	JULIE RATCLIFF
				71	40:56	JAMIE HUTCHINSON
				73	42:01	PETER MURRAY
				76	39:03	DAVID JEPSON
				79	38:38	NEIL CHAPMAN
				90	47:59	DIANE HAGGAR
				95	45:04	ELIZABETH MCCANN
				108	43:53	ANDY WEBSTER
				114		BERNIE GIBBONS
				115		BRIAN SWEET
				116		MARGOT DALE
				117		ALISON BENNETT
				120		RICHARD MIDGLEY
				129		AMANDA PARNABY
				136		MANDY CHAPMAN
				139		DAISY HARTLEY
				
Fell Champs update, 22 July 2004
Geoff Howard's position in the V60 English Championships is now unassailable, and he's looking good in the British too with the long races to go. Helen is our leading lady in the English Championships, 7th, and Alison Eagle is 6th Lady Vet40 - more on our

Fell Champs page.
---
Kentmere Horseshoe fell race, Sun 18 July 2004
AM 11.9M/3300', British and English Championships counter, and also a counter in the

Harriers Running League.
Geoff Howard reports ... The Kentmere Fell Race results in a field of 435 are: Winner Simon Bailey (Mercia) 1h 22m 36s (new record); Jim Ryder 89 in 1h 45m 35s; Geoff Howard 103 I 1h 46m 49s (1st o.60); Roy Ruddle 141 in 1h 49m 13s; Mike Baldwin 158 in 1h 51m 26s; Helen Sedgewick 183 in 1h 54m 27s; Alison Eagle 201 in 1h 56m 22s; Nicky Kime 262 in 2h. 3m 41s; Sally Malir 270 in 2h 4s 30s; Ian Marshall 272 in 2h 4m 38s; James Lind 274 in 2h 4m 46s; Jo Foster 297 in 2h 8m 38s; Joyce Marshall 355 in 2h 18m 56s; Peter Sibley 380 in 2h 24m 16s; Andy Sumner 402 in 2h 29m 39s. Second claim Harriers positions were Stefan Macina 75 in 1h 43m 31s and Kirstin Bailey 219 in 1h 58m 50s. It is thought that Ilkley Ladies team was second to Bingley.
Results on

Sportident web site.
Eccup 10 mile road race, Sun 18 July 2004
Neil Chapman reports .. Five Harriers out for this race, which incorporated the Yorkshire Vets 10 mile championship, over an enjoyable course, but the warm temperatures were more suited to the spectators than the runners. First Harrier was 64 Neil Chapman 66:05, with 81 Dave Jepson 68:09, 129 Pete Shields 72:21, 161 Andy Wolfenden 74:46 and 436 Amanda Parnaby 99:36
Results on

Abbey Runners' web site.
Ingleborough Fell Race, Sat 17 Kuly 2004
7M/2000' Dennis Ackroyd had a time of 68min 28 sec
Washburn Valley Relays, Fri 16 July 2004
Ilkley fielded 6 teams in this event organised by

Otley AC, with 20 teams from half a dozen clubs. It was a lovely evening with a friendly atmosphere at the central changeover area and pleasant running (some seemed reluctant to finish ..). Our "Fast Boys" team finished 4th, we believe.
Leg
Miles
Fast Boys
Keith's Team
Fat Boys
Up & Under
Mixed
Ladies
1
3.5

Ian Marshall

23.56

Keith Wood

32.04

Richard Gray

28.16

Bob Payne

26.54

Amanda Parnaby

35.12

Janet Souyave

32.35

2
4.3

Andy Sumner

30.54

Andy Webster

29.10

Roger Pyle

35.16

Brian Sweet

39.59

Bernie Gibbons

35.25

Jane Coupe

55.12

3
3.7

Roy Ruddle

20.25

Paul Wood

23.05

Dave Ibbotson

23.41

Russel Mines

30.16

Ashley Hardwell

25.29

Heather Duke

28.42

4
4.4

Adrian Hall

25.21

Pete Shields

27.33

Bernie Connor

35.43

Nick Richardson

26.50

Barbara Bullock

32.48

Mandy Chapman

tbc

5
3.4

Neil Chapman

20.38

Jamie Hutchinson

21.32

Andy Sarah

26.19

Dan Roebuck

25.21

Helen Shew

26.20

Ros Leach

tbc
Stirton fell race, Wed 14 July 2004
BS 5.5M/800' 16 Mike Baldwin 46:28; 25 James Lind 48:39; 28 Ewan Welsh 49:18; 32 Jamie Hutchinson 49:32; 49 Dennis Ackroyd 52:45
Results from

KCAC's web site.
Wharmton Dash fell race, Sun 11 July 2004
Ian Marshall reports ... Wharmton Dash starts from the showground of Saddleworth Country Show in deepest Lancashire (although part of Yorkshire pre-1974). Much of the course is visible from the show field marked by bright orange markers, rising to the transmitter on the summit of Wharmton Hill. Its 2 miles and 600ft. ascent includes 1 river bridge, 2 canal bridges, 2 railway bridges, 3 road crossings and the piece de resistance - a short SWIM across the River Tame to regain the show field!
Thirty three runners took part and were cheered on by Dave and Eileen Woodhead near the top and by bemused show goers as the runners demonstrated their breaststroke in soggy running shoes before dripping in to the finish.
I was pleased to finish 8th in 20.21 having trailed the leading pack on the steep ascent, gaining one place before the top and another on the descent. It was worth dragging the family along (they cycled the canal towpath while I was running) to enjoy the other attractions of the show afterwards. A free t-shirt, energy drink and entry to the show all for £3 was a bargain.
---
Yorkshire Vets Association Relays, Esholt, Sun 11 July 2004
Andy Wolfenden reports .. It is good that we managed to get strong teams into this event which attracts the top Yorkshire athletic clubs. It shows us exactly where we stand in the pecking order, and helps to attract athletes to the club.
All our athletes did us proud, they gave their all and put in impressive times.
Over 80 teams took part in all categories, 4 runners in the 40s, 3 in the other categories. Each runner running the same 2.5 mile leg with a stiff little climb just before the run in.
Men's Vet 40s : Ilkley 14th out of 25 teams
1. Dave Jepson 14.30
2. Neil Chapman 14.42
3. Mike Baldwin 15.04
4. Billy Kerr 14.10
Aggregate time 58.26
Men's Vet 50s: Ilkley 12th out of 19 teams
1. Pete Shields 15.38
2. Terry Lonergan 15.38
3. Ken Souyave 15.13
Aggregate time 46.29
Everyone enjoyed a well organised race, and we will certainly be looking to enter similar events in the future. Thanks once again to everyone who answered the rallying call.

Andy Sumner's photos.
Melantee fell race, Sat 10 July 2004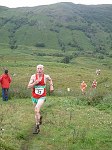 AS 3.5M/1500', British Championship counter .. Geoff Howard reports ... Kirsten Bailey (2nd Claim Harrier) and Geoff Howard travelled to Fort William on Saturday for the third in the series of six British Fell Championship races. In the separate ladiesí and menís races Kirsten came in 10th 40m 24s (Tracey Brindle of Carnethy 1st in 34m 12s) and Geoff came in 1st vet 60 in 36m 40s (Simon Bailey of Mercia 1st overall in 27m 56s). The route was soft underfoot with 1.5 miles flat and 1.5 miles very steep ascent and descent.
Postscript: the results on the

FRA web site show that Geoff has now broken into the Vet 40 rankings, is 5th Vet 50, and has twice as many points as his nearest competitor on Vet60 .. SuperVet!
More on the

Scottish Hill Runners web site.
Harrogate Road League, Race 5, Richmond, Thu 8 July 2004
There was a good turnout of Harriers at Richmond in the far North for a great race, and a hilly one. The gallant travellers succesfully defended our team placings: so that in the series we finished 3rd team, 1st Ladies Team, 1st Lady Vets teams, 3rd Vets, and 3rd in the Elite team competition. The final race in the League is the handicap race at Ripon - a lovely course and a good night out with the League presentation after, so please come along for your only chance to beat Ian Fisher!

				1	27.28	IAN FISHER      Otley AC	
				29	33.28	DAVID JEPSON    V40
				35	33.53	NEIL CHAPMAN    V45
				47	34.42	JAMIE HUTCHINSON	
				49	34.53	ALISON BENNETT  LV40
				68	37.16	PETER SHIELDS   V55
				74	38.25	JOYCE MARSHALL  LV40
				75	38.25	KEITH WOOD      V40
				95	40.20	LINDA WRIGHT    LV40
				114	42.12	RICHARD MIDGLEY V50
				120	43.04	HEATHER MAUD    LV40
				135	44.43	ELAINE COSSINS  LV35
				146	47.57	JULIE RATCLIFF  LV45
				157	50.00	AMANDA PARNABY  LV45
				162	52.01	MANDY CHAPMAN   LV40
				163	52.23	BRIAN SWEET     V70
				
Full results and photos on the

HRL web site.
Danefield Relays, Tue 6 July 2004
We had 4 teams in this short but tough 3*3 mile relay. In 7th place we had Jim Ryder 19:36 (5th on his leg); Ian Marshall 21:33; and Neil Chapman 22:32. In 17th we had Jamie Hutchinson 21:04 (12th on his leg); Dennis Ackroyd 23:52; and Morgan Williams dragooned into running in his cycling kit 24:28. They were chased in by our ladies team 18th overall and 1st ladies team: Helen Sedgwick 22:10 (18th); Alison Eagle 23:02 (16th team place); and Joyce Marshall 24:51. It was great to see a Junior Harriers team too, in 35th place and 2nd juniors team we had Simon 28:28; Daniel 25:52; and James 24:49
Thanks to Alison for these results, more on the

Fellandale web site.

Andy Sumner's photos.
---
Skipton Tough 10, Sun 4 July 2004
Neil Chapman reports ... Four Harriers were out in this testing ten miler, which attracted 144 runners, all having done the Otley 10 a few days earlier. In very wet conditions the race was won by Paul Muller from Horwich in 57:26 with first Harrier Neil Chapman, 16th in 66:49. Martin Heath, completing his 2nd ten mile race in four days, not having raced for over 12 months, had a good result 82nd in 80:02, with Linda Wright 93rd and 8th lady in 83:42 and Amanda Parnaby 133rd in 98:34. Second claim Harrier, Antonio Cardinale was 92nd in 83:03. As tough as the race was, all were agreed, this was an excellent race with superb scenery and good facilities, definitely one for the diary next year.
Two of our Junior Harriers were competing in the 2.5k Skipton Fun Run, (but not much fun in torrential rain), with Dan Roebuck having a good run finishing 5th and Simon Chapman only 20 seconds or so behind, finishing 7th.
Blisco Dash, Sat 3 July 2004
5M/2000' AS This was the Inter-Counties Championship.
The Yorkshire Ladies were 2nd to Cumbria, with Alison Eagle flying in 5th in 51:42 and Helen Sedgwick 6th in 51:53 mins
(1 Louise Sharp 47:25 (3 times winner); 2 Nickie Davies 49:05; 3 Sharon Taylor 49:44
The Yorkshire Men were just beaten by Cumbria, 12 points to 11, despite having 1st (Ian Holmes, 37:27) and 3rd (Rob Jebb) runners.
Cambrian Way Relay, 1-3 July 2004
On July 1-3, Roy Ruddle took part in an 11-person relay that ran the length of the Cambrian Way - a mountainous traverse from Conway to Cardiff totalling approximately 309 miles and 71,000 feet of ascent. Total time was 65 hrs 54 mins, despite the poor weather. Roy's contribution was a mere 7 hours, running over the Carneddau and part of the Molwyns onthe first night/day. The rest of the team are based in South Wales/Bristol.
ROM June 2004
The Ilkley Harriers Runner of the Month for June is shared by Elizabeth McCann and Alison Eagle -

click here for details.
News Oct-Dec
|
News Apr-June