Horsforth 10k, Sun 29 Sep 2002
Results hot off Horsforth Harriers web site

49	Neil Chapman		38.56 
213	Victoria Wright		46.09 
253	Linda Wright		47.52 
302	Rob Wills		49.53 
436	Jane Cullingworth	56.06 

St Gemmas Hospice 5M, Sun 29 Sep 2002
Amanda Parnaby did this Roundhay Park race in 45 minutes
Three Peaks Cyco-Cross, Sun 29 Sep
A great result from 2nd-claim Harrier Stefan Macina, 26th in 3h33. Jason Hemsley (Otley) also completed, but had some mechanical problems. Lots of other fell-runners in there - Rob Jebb won it, Stephen Bottomley, etc.
Click for results, on ukresults.net
Thieveley Pike, Sat 28 Sep 2002
AS 4M/1000' Another good turnout of Harriers, at this the final event in the English Fell Championships.
Andrea won the Ladies race in a new course record of 27.13. With that win, she will become the English Fell Champion (to add to her British Fell Champion title). We had a great ladies team backing Andrea, with Emma Barclay 11th in 31.34, Alison Weston 15th in 32.25, Sally Malir 18th in 32.46, and Alison Crane 24th in 33.55, all in the top half of the field, and first ladies team!
Next it was the men's race. Nick Pearce led us home - 81st in 27.51, then Mark Iley and Mike Baldwin, Geoff Howard, Norman Bush (who clinched 2nd Vet 60 in the Championship with this run), Iain Mann, Ian Marshall, Mark Priestley, Paul Wood, Phil Chappell, and Dave Ibbotson.
Impressions of the race ... a big field, two steep hands-on-knees climbs, and a very long brain-in-neutral descent - a classic race!
Click here for Graham's photos
---
Ilkley Triathlon, Sun 22 Sep 2002
A great day out! Thanks to Leeds-Bradford Tri Club for this superbly organised event - swim 500m, Bike 9M (Carters Lane ascent/Curly Hill descent 3 times), Run 3M (Carters Lane/Curly Hill). Harriers results are:

                Pos Total    Swim  Bike  Run
(Winner               56.02  7.08 29.45 19.09)
Jason Hemsley    11 1.01.06  9.42 31.58 19.26
Stefan Macina    15 1.02.35 10.05 33.07 19.23
Andy Wade        17 1.03.05  8.17 35.36 19.12
Mike Baldwin     32 1.06.45 10.41 35.19 20.45
Paul Wood        92 1.14.15 12.12 38.40 23.23
Jane Leather    100 1.14.52 10.33 39.56 24.23
Neil Chapman    116 1.15.39 13.50 40.21 21.28
Susie Jollie   =138 1.17.40 10.47 40.56 25.57
Keith Wood     =138 1.17.40 11.07 43.02 23.31
Victoria Wright 161 1.20.22  9.02 48.01 23.19
Simon O'Hara    214 1.30.09  9.56 47.57 32.16
Claire Macina   218 1.30.53  8.36 48.59 33.18
Andrew Wright   220 1.31.35 12.24 53.55 25.16
256 finishers

---
Kirkstall Abbey 10k, Sun 22 Sep 2002
A popular local race. Billy Kerr was 10th in 36.53; Neil Chapman ran this as a warm-up for the Triathlon (!) and was 30th in 39.14; David Jepson was 53rd in 40.23; John Woodward 92nd in 42.17; John Coen 119th in 44.11; and Caroline Howard 120th in 44.15. Linda Wright had a good run with 48.20; Amanda Parnaby ran about 57m.
Results and more photos at: Kirkstall Harriers' web site
Three Shires race, Sat 21 Sep 2002
AL, 12M with 4000' of climb. Roy Ruddle was 61st in 2h31; Alison Weston was 101st and 4th lady in 2h40
ROM August 2002
Alison Weston is the Booths Ilkley Harriers Runner of the Month, click here for details.
---
Autumn training regime begins here, Sun 15 Sep 2002
With the drastic reduction in evening daylight seen in the last week, all organised evening training will now be away from the fells. See the training page for more details.
Summary:
Mon - circuit training
Tue - club road runs from ILT&SC
Thu - grass track training at ILT&SC with Pete; tartan track training at Keighley with Andy
Loch Lomond Adventure race, Sun 15 Sep 2002
Andrea Priestley ran in the this race, which consisted of 5 legs - swimming, kayak, fell race, mountain bike and trail race - with teams from the home countries plus a European team. Andrea won the fell race. England's men came second overall to Scotland despite Simon Booth winning the fell race. The ladies won.
The fell race was 3 miles up and down Connich Hill, tailor made for TV - apparently it will be shown on Channel 4 later in the year.
Briscoes Brewery Festival Fell Race, Sat 14 Sep 2002
AS 3.5M/800' With a change of venue from that advertised to a Danefield-Relay type course with its lung-bursting, gut-busting finish, our Harriers made the best of the extra post-race challenge - to drink a pint of Briscoe's real ale immediately after finishing. Apparently Nick Pearce (22.14 run, 0,57 drink) made up 3 places to 7th, Mike Baldwin (13th, 22.53/0.48) certainly didn't lose any; and Morgan Williams (29th, 27.03/1.16) overhauled the first lady.
Results on Valley Striders' web site
---
Thursday Track Training from Sep 19 2002
Speed/endurance track training
Location:- Greenhead School, Green Head Road, High Utley, Keighley, BD20
Click here for streetmap map
Directions:- from Skipton/Ilkley: from the roundabout at the end of the dual carriageway turn right, at the next roundabout turn right on to Skipton Road and turn next left into Green Head Lane. The track is on the left after about 200 yards.
Facilities:- 400m floodlit tartan track with changing rooms and showers
Coach:- Andy Wolfenden
Kit:- Road shoes or spikes if you prefer. Please bring a stop watch
There is a small fee for use of the track
Time and duration of session:- 7pm start, 1hr to 1hr15mins
Info on session:- e-mail Andy at wolfendena@supanet.com and he will send you a file containing a copy of the programme
---
Beamsley Beacon fell race, Tue 10 Sep 2002
A good turnout of Harriers at this friendly local race - over half the field. Jason Hemsley retained his title from the last running of the race in 2000, and Kirstin Bailey won the Ladies title, with Emma Barclay and Alison Weston 2nd and 3rd ladies.
Official results soon on Wharfedale Harriers' web site, but interim results from Bob below ...
Click here for our photos

1  Jason Hemsley Pudsey & Bramley  38.16
2  Andy Robertshaw Otley AC  39.21
3  Robert Hamilton Wharfedale Harriers V45 39.59
4  Stefan Macina Pudsey & Bramley  41.00
5  Mark Iley Ilkley Harriers V40 41.18
6  Nick Pearce Ilkley Harriers V45 42.11
7  Jonnie Butler Keighley & Craven V45 42.46
8  Mike Baldwin Ilkley Harriers V45 43.11
9  Kirstin Bailey Bingley Harriers L 46.50
10 Terry Lonergan Ilkley Harriers V50 46.51
11 Graham Breeze Skyrac AC V55 47.11
12 John Forsyth Skyrac AC V45 47.38
13 Emma Barclay Ilkley Harriers L 47.46
14 Phil Chappell Ilkley Harriers  47.47
15 Dennis Ackroyd Ilkley Harriers V50 48.21
16 Dave Ibbotson Ilkley Harriers V40 48.48
17 Alison Weston Ilkley Harriers L 49.09
18 Malcolm Coles Skyrac AC V60 50.29
19 Keith Wood Ilkley Harriers V40 50.47
20 Morgan Williams Ilkley Harriers  50.59
21 Ray Hawksby Otley AC V45 57.59
22 Bernie Connor Ilkley Harriers V40 67.13
23 Paul Buckley Unattached V50 71.56

---
Circuit Training, from 9 Sep 2002
Circuit training is BACK from 9th September. Same format as last year: warmup starts at 6.30 prompt, then one hour of really hard work.
More details on the Training page.
NB All Mondays in September are at the Grammar School gym.
---
Great Langdale Half Marathon, Sun 8 sep 2002
A bit hilly! Lloyd Best and Karen Page both finished in 1hour 58 min 45 sec
Glasgow Half Marathon, Sun 8 Sep 2002
And Margot Dale ran the Glasgow Half Marathon in 1h57m in terrible weather, 8 minutes faster than last year
Ben Nevis race, Sat 7 Sep 2002
Andrea Priestley won the Ben Nevis (AM, 10m/4400'). She was 38th overall in 1.52.55 (The race was won by Andy Peace.) The conditions were poor on the descent (very slippery) but we think this is the fastest ladies' time for some years - the next closest appears to be Carol Greenwood in 1992 and Tracy Ambler last year.
Grizedale Horseshoe, Sat 7 Sep 2002
AM, 10m/5000' Jane Leather was 3rd lady in 2h36
---
Inaugural Ilkley Incline, Wed 4 Sep 2002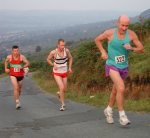 Or is it the "Marrow Mile"? Or the "Midgey Murder Mile"?
Whatever, this 1-mile uphill race with 560' of climb was enjoyed by all the runners who took part. Some challenging records have been set, and now we're looking forward to giving the race a higher profile next year.
Click here for the race web page
---
12th Leeds Country Way Relay, Sun 1 Sep 2002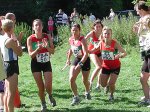 Teams of twelve, running in pairs to cover the 60-odd miles of the Leeds Country Way in 6 legs. As last time, in 2000 Ilkley fielded two teams, one men's and one ladies'. All the teams enjoyed 'wall to wall sunshine'. There was one moment of drama when the ladies just beat the Leg 5 mass start, photo right.
Official times are:

Ilkley Harriers Ladies
1 Bridget Doherty and Janet Hebbert  1:54:02 (37)
2 Joyce Marshall and Rachael Gooch   1:34:08 (22)
3 Jane Bryant and Karen Page         1:34:04 (26)
4 Cath Wolfenden and Jane Leather    1:41:26 (25)
5 Sally Malir and Julie Harvey       1:19:23 (18)
6 Heather Duke and Amanda Parnaby    1:45:12 (38)
30th overall, 4th Ladies team in 9:48:15

Ilkley Harriers 'A'
1 Ian Marshall and Phil Chappell     1:27:02 (16)
2 Pete Shields and Neil Chapman      1:26:33 (13)
3 Dennis Ackroyd and Lloyd Best      1:22:35 (14)
4 Nick Pearce and Mike Baldwin       1:32:30 (16)
5 Andy Sarah and Norman Blackburn    1:34:21 (34)
6 Dave Ibbotson and Keith Wood       1:16:38 (18)
17th overall in 8:39:39

Bradley Fell Race, Sun 1 Sep 2002
BS, 3.5M/750' Mark Iley was 9th in 28.02; and Norman Bush 12th in 28.56
---
Kilnsey Show, Tue 27 Aug 2002
Second-claim Harrier Kirstin Bailey was first lady in 11.30; Norman Bush ran about the same time; and Dennis Ackroyd ran 13m.
Hebden Sports, Mon 26 Aug 2002
Dave Matthews 15m, Jane Leather 16m, Bernie Connor 18m
And Bernie, partnered with Wharfedale Harriers' Bob Hamilton, finished 2nd in the egg-throwing competition.
Two Bridges Run, Sat 24 Aug 2002
Richard Midgley ran this race, 35.5 miles, in 5h24 for 37th place - he was one of the 61 finishers who beat the cut-off time of 6.5 hours.
Burnsall, Sat 24 Aug 2002
The Burnsall Feast includes both a fell race and a 10 mile road race.
The road race was won by Ian Fisher; with Andy Wade the first Harrier 10th in 60.47; then Neil Chapman who ran the race in 66.05 then ran home to Ilkley!; then David Ibbotson in 76:20, It was a rainy afternoon, with a tough undulating course around Hebden, Grassington, Linton and Thorpe.
Nick Pearce ran in the fell race, 1.5 miles with 900' of climb, and finished in 18 minutes.
---
ROM July 2002
Adrian Hall and Eddie Winslow share the award for the Booths Ilkley Harriers Runner of the Month, click here for details.
---
Sedbergh Hills fell race, Sun 18 Aug 2002
AL, 14 miles with 6000' of climb. A good turnout at the penultimate race in the English Championships. Andrea Priestley finished first lady, 36th overall, and set a new ladies' record of 2h28 (the old record had stood for 14 years).
Also running well were Nick Pearce 57th in 2h35; Jim Ryder 103rd in 2h49; Mike Baldwin 117th in 2h55; Geoff Howard 125th in 2h59 and Alison Weston 126th and 8th lady also in 2h59. Pete Shields was 144th in 3h04; then Rachael Gooch 193rd in 3h21; Iain Mann 194th in 3h21; Norman Bush 200th in 3h26; James Lind 202nd in 3h26; Jane Leather 209th in 3h28; and Emma Barclay 211th in 3h29. We were 3rd ladies team on the day, 7th Vet and 5th Vet-50 team.
Full results on Kendal AC's web site.
8th Pheonix Long 0, sat 17 Aug 2002
Even further North, Shirley Wood was running in the Pheonix Long O (navigational) event in the Cheviots. In the 'C' class she had 19km with 1200m of climb, over rough terrain in very hot conditions. Her 4h16 was good for 15th place overall, and 4th lady. Unfortunately our tent collapsed so we had to retreat home, missing the second day.
Pheonix Long-O
---
Lakes 5-Day Orienteering, 4-8 Aug 2002
Orienteering is navigating with a map around a course in the shortest possible time - herein lies the link with running. There are a few orienteers in Ilkley Harriers, and most of them were at this series of 5 races over fabulous Lake District terrain. Top result was from Joyce Marshall, 3rd in a very competitive class, with Shirley Wood struggling this time in 15th place and Lindsey King 21st. Ian Marshall was 31st on his course, with Rob King 43rd (despite detours to 'bag some tops' not actually on his route).
Click for official web site
---
Borrowdale Fell Race, Sat 3 Aug 2002
AL, 17m/6500' Alison Weston continued her excellent form on the fells coming 2nd lady in 4h14, and 43rd place overall. Geoff Howard was 61st in 4h35, and Iain Mann in his first long Lakeland fell race did a commendable 5h45
Y Garn, Sat 3 Aug 2002
No Harriers at all at this event. But it is of interest because it is the last race in the British Fell Championships. Kendal's Louise Sharp ran and won the ladies' race, which finally brings her level with Andrea Priestley on Championship points, so they will apparently share the title (who thinks there should be a race-off? I know who I'd bet my shirt on!)
Click for results link
Indian Queens' Half Marathon, Sat 3 Aug 2002
Our intrepid fixtures secretary found this strangely-titled race whils on holiday in deepest Cornwall. Over a tough and hilly course, and on a hot day, Dave Ibbotson ran a creditable 1h52. This despite sunburnt feet, being buzzed by buzzards, and some confusion between pasta-loading and pasty-loading.
---
Snowdon International race, Sat 27 July 2002
AM 10M/3250' Won by Tim Davies in 1:07:11; Nick Pearce was 57th and 4th Vet in 1:23:38; and Jane Leather had a great run to finish 256th in 1:50:45. Second-claim Harrier Jason Hemsley was 20th in 1:15:49
ACE Race #3, 27-28 July 2002
Eddie Winslow and Adrian Hall competed in separate categories in the third 2 day ACE race held around Wimbleball Lake, Exmoor. Competition was intense in this British Adventure Racing Championship qualifier. Eddie was out to defend his series placing. Meanwhile Adrian together with Fiona Paterson competed in his first ACE race as a mixed pair.
Beginning with a 1 hour ride to the start of the event, teams set off through the forest on a 3 hour score type running section. An hour later and with the temperature increasing, the 5 hour mountain bike stage began. The highlight (?) was cycling up Dunkery Hill in blazing sunshine before a bone rattling descent down a "bridleway". A much needed 3 hour rest passed before the beginning of a 90 minute night navigation stage started at 10pm.
The second day dawned even hotter with a 2 hour kayaking stage on Wimbleball Lake immediately followed by a 1hr 40 minute trail race.
The final results were 4th in male solos for Eddie and 7th in the mixed pair for Adrian and Fiona.
Click for www.aceraces.com
ROM June 2002
Victoria Wright is the Booths Ilkley Harriers Runner of the Month, click here for details.
Fell Running Grand Prix, Italy, Sun 21 July 2002
Andrea Piestley finished 6th in 36.36 in the 2nd WMRA Grand Prix race, second Brit behind Angela Mudge.
Click for WMRA site
Kentmere Horseshoe, Sun 21 July 2002
AM 11.9M, 3300'. Mike Baldwin ran 1.56.43; Alison Weston 2.02.47 (2nd lady); Emma Barclay 2.07.27 (4th lady); and Ewan Welsh 2.11.19
Nidd Vale Circuit, Sun 21 July 2002
Amanda Parnaby succesfully completed the 26 mile (or further) Nidd Vale Circuit, a navigational cross-country run, in 7h16m.
Jack & Jill Challenge, Sun 21 July 2002
BS, 5.5M/1100' 1st James Baker Chichester 32:16; 20th Geoff Howard 37:56 (3rd Vet 50); 37th Paul Howard 41:22; 42nd Graham Hughes 42:05 (ex Ilkley now Mercia); 56th Caroline Howard 44.20 (7th Lady)
Salomon X-Adventure,Sat 20 July 2002
In the final 8 hour race in the Salomon X-Adventure GB Series held in Kielder Forest Eddie Winslow and Adrian Hall, together with Thorlene Egerton, raced to third place in a competitive field. The event started with a 10 mile fell run followed immediately by a long mountain bike through the forest. After a brief section of rope work the team continued on mountain bikes to the Canadian canoes. With the weather threatening to close in, an impressive hour long paddle on Kielder Water (greatly assisted by Thor's ability to steer) put the team in a strong position into the final bike section where they took their tally to 24 checkpoints out of a maximum of 27 before racing back to the finish at Kielder Castle in 7 hours and 45 minutes. A good result following 5th position in the last two races.
Ingleborough Fell Race, Sat 20 July 2002
AM, 7M, 2000'. Winner John Taylor (Bingley) 47.09. Nick Pearce enjoyed a good run, 16th in 54,24; closely followed by Jim Ryder 19th in 54.52 and Mark Iley 22nd in 55.39. James Lind was 60th in 60.15; Ian Marshall 76th in ~61.30; Steve Cockerham 104th in 66.25; Andy Wolfenden ran 70.07. Keith Wood time tbc
HRL Handicap, Ripon, 17 July 2002
A select band made it to the final event in the Harrogate League, the Handicap Race. From the results it looks like the handicapper didn't smile on them too favorably (oops), but it was a little more cheerful at the League Prizegiving afterwards where we picked up trophies for:
First Ladies Team
First Lady Veterans Team
Champion Lady Vet/35 - Julie Harvey
Champion Lady Vet/40 - Alison Bennett
Well done to them all!

Harriers' results in the Handicap Race (9.2km)
        Gross
Posn    Time                    Hcap 
28	62.23	IAN MARSHALL	08:30
39	62.47	AMANDA PARNABY	22:30
41	62.48	JOANNA SIMPSON	22:30
49	62.56	NEIL CHAPMAN	07:00
51	62.59	RICHARD GRAY	12:30
54	63.03	JEFF PAGET	08:30
58	63.09	ALISON BENNETT	10:00
59	63.10	LLOYD BEST	10:00
62	63.13	MARK ILEY	04:30
71	63.39	JIM SIMPSON	13:30
73	63.47	RICHARD MIDGLEY	14:30
77	63.57	VIC VERECONDI	16:30
78	64.14	JOHN WOODWARD	10:00
80	64.27	STEVE FLETCHER	20:30
90	65.50	BRIDGET DOHERTY	14:00
(Net Time = Gross Time + 32 - Hcap !)

Click here for Harriers' photos
Click for www.harrogate-league.co.uk, official site with full results and more photos
---
Ripon Triathlon, Sun 14 July 2002
In an otherwise quiet weekend for racing, Tim Ashelford had a great 6th place in the Ripon Triathlon: Swim 1.5km in 21.44; Bike 41km in 1.05.50; Run 10km in 36.45
---
HRL Handicap, Ripon, 17 July 2002
Harriers' Start Times: (removed 18 July)
Click for www.harrogate-league.co.uk, official site with details and full list
Stoodley Pike fell race, Tue 9 July 2002
BS, 3.5M/700'. Won by Bingley's John Tylor in 17.57 with Jason Hemsley 5th in 19.26, first first-claim Harrier was Ian Marshall 45th in 23.29; with Emma Barclay 50th in 23.57 (close behind first lady Jo Smith 23.45).
---
SLMM, 6/7 July 2002
Quick report - Shirley Wood and Anna Liuba were 45th in 7h09 and Alison and Graham Weston were 49th in 7h22 in the Carrock Fell class of the Saunders Lakeland Mountain Marathon, 31km over 2 days
Click here for Harriers' photos
Harrogate 10k, Sun 7 July 2002
A rather heavier version of Andy Wade turned up for the race (due to triathlon training) and recorded a personal worst of 36.17 finishing in 10th position in a field of around 360. Mark Iley was 21st in 37.53 and Amanda Parnaby 293rd in 56.31 The race was won in 32.17
Results on Harrogate's website
Skipton 10k, Sun 7 July 2002
In a race ran in bright and warm conditions we had:

55  Neil Chapman 38.57 
125 Andy Wolfenden 44.56 
127 Martin Heath 46.20 
154 Victoria Wright 46.38 
174 Linda Wright 48.02 
199 Andrew Wright 50.24
225 Susan Kennedy 52.13 
226 Bernie Gibbons 52.17 
237 Elaine Ibbotson 53.37 
268 Jane Cullingham 57.37?
294 Helen Sturges 64.17

Daniel, Frances and Joseph Ibbotson all ran well in the 2.5K Fun run, as did the Kennedy children Thomas, George, and Isobel.
Pudsey 10k, Sun 7 July 2002
And in yet another10k, over a 'scenic' course at Pudsey, Margot Dale ran 58 minutes to pick up the prize for 1st lady Vet-50
Skiddaw fell race, Sun 7 July 2002
Pete Shields ran the Skiddaw fell race, 9m and 2700', and was 64th and 4th Vet-50 in 1h28.19
Danefield Relays, Wed 3 July 2002
A fantastic turn out at these relays so firstly well done to the two organisers, Dennis Ackroyd and Alison Bennett. We do not know the official finishing times or positions, but here are the unofficial ones (thanks Phil)!

Open Team: Ewan Welsh (21.57), Graham Pearce (21.13?), Jim Ryder (20.07?).
Total time 1.03.17.
Open Team: Lloyd Best (22.41), Mark Iley (20.15), Yemi Adeleke (21.50).
Total time 1.04.46.
V50 Team : Pete Shields (21.33), Geoff Howard (21.26), Terry Lonergan (22.05).
Total time 1.05.04 (1st V50 team)
Ladies Open: Alison Weston (22.49), Cath Wolfenden (23.33), Emma Barclay (23.00).
Total time 1.09.22.(1st ladies team)
Open Team: Morgan Williams (24.53), Ian Marshall (22.35), Dave Ibbotson (23.14).
Total time 1.10.42.
V40 Team: Ashley Hardwell (24.33), Keith Wood (24.10), Neil Chapman (23.04).
Total time 1.11.47.
Ladies Open: Alison Crane (24.38), Karen Page (25.19), Jane Leather (25.27).
Total time 1.15.24.
V50 Team: Peter Ellis (26.21), Eric Philipson (26.12), Dennis Ackroyd (24.14).
Total time 1.16.47.
V40 Ladies: Janet Hebbert (30.56), Joyce Marshall (25.14), Linda Iball (29.08).
Total time 1.25.18.
A couple of other Harriers ran, Andy kitchen (25.22) and Anna Liuba (26.45).
Results soon on Fellandale's web site
British Fell Champs
The results after Eildon have now appeared on the FRA's web site - click here to see the updated Ilkley positions on our Fell Championships page.
HRL #5, Swaledale, 2 July 2002
Another good turnout for another distant midweek event - 18 Harriers. Harrogate beat us on the day in the Ladies and Lady Vets, but we retained our overall lead in both. We Are The Champions!
But in the main team competition Otley squeezed us out to 4th, and in the Vets we slipped down to 4th overall - shame to miss out on possible 3rd places in both. Next year ...


1	26.08	IAN FISHER OTLEY AC
18	30.33	MARK ILEY
19	30.34	DOMINIC O'HOOLEY
37	32.19	JOHN KENNEDY
44	33.02	PHIL CHAPPELL
49	33.31	NEIL CHAPMAN
62	34.32	ALISON BENNETT
63	34.54	STEVE COCKERHAM
66	35.11	DAVE IBBOTSON
74	36.12	JULIE HARVEY
79	36.48	ANDY WOLFENDEN
82	37.10	ALISON CRANE
87	37.41	RICHARD GRAY
93	38.20	VICTORIA WRIGHT
103	39.14	RICHARD MIDGLEY
105	39.31	LINDA WRIGHT
110	39.58	VIC VERECONDI
114	40.37	ANDREW WRIGHT
124	43.33	SUSAN KENNEDY

Click here for Harriers' photos
Click for www.harrogate-league.co.uk, official site with full results
News Oct-Dec
|
News Apr-June