Millennium Way Relay, Sun 30 June 2002
We fielded 2 teams (amongst 20) in the inaugural running of this event, 5 legs of 7.5-10 miles run in pairs. Our men's team got off to a great start with Jim Ryder and Mark Iley finishing 3rd, just a few minutes behind Abbey Runners, in 1h21.41. Phil Chappell and Iain Mann gained the lead at one stage, and held on for a good 3rd place by the end of the leg in 1h24.56. Lloyd Best and Richard Gray carried the baton on to Silsden where they handed over to Neil Chapman and Morgan Williams in 4th place, 1h13.55.
Neil and Morgan ran on to White Wells in 1h24.02; and Ian Marshall and Rob Pawson ran the final leg to Bingley in 1h27.11. Overall, the men's team finished 6th in 6h51.40, less than a minute behind Pudsey Pacers and only 25 minutes down on the winners, Wakefield.
Our ladies team ran the men very close on many of the legs, to finish 10th overall and winning the Ladies team prize. They got off to a strong start with Alison Bennett and Cath Wolfenden, 1h33.05. On Leg 2 we saw the welcome return to racing of Sally Malir, and with Julie Harvey she ran a strong leg only slightly less fast than Phil and Iain (1h26.07) and finishing a very creditable 9th overall. Shirley Wood and Karen Page made short work of leg 3 (but too much road, said Shirley) - 1h18.42. Emma Barclay was a valuable late substitute on leg 4, running well with Joyce Marshall - 1h36.39. And Alison Crane and Jane Leather stormed the last leg in 1h30.13
Click here for Harriers' photos
Thanks to St Bedes for a well-organised and very enjoyable race, check St Bedes web site for full results sometime soon.
Settle Hills Race, Sun 30 June 2002
Just 2 Harriers in this 7M race with 1750' of climb: Geoff Howard was 16th in 59.48 and Ewan Welsh 39th in 67.15
Harewood House Dash 10k, Sun 30 June 2002
Over a slightly shortened course John Woodward was 34th in 39.39; Anthony Swanepoel 57th in 41.49; Victoria Wright ran 43.52 (8th lady); Linda Wright 46.09; Andrew Wright 92nd in 47.30; Claire Sullivan 49.03; Gemma Milburn 51.18; Jane Cullingworth 52.05; Amanda Parnaby ran 53.33; and Bernie Baldwin 55.49
Bingley's web site for full results.
Dockray Helvellyn Race, Sat 29 June 2002
Alison Weston reports ...21M, 5,500' climb. A very friendly, low key event with no marshals or flagging but electronic punching at inconspicuous controls. There were probably only around 50 runners. I took 3hrs 34 and came in 1st lady with Wendy Dodds (we'd ran such a lot of the way together that it didn't feel right to have a last 100m sprint at the end!). Anna Liuba and Ashley Hardwell stayed together and had a good run in 4hr 17 (Anna 5th lady).
Salomon X Adventure race, Sat 29 June 2002
Eddie Winslow and Adrian Hall were 5th team in Saturday's Salomon X Adventure race in a strong field (42 teams). In 8 hours they managed over 100kms of mountain biking, some abseiling and 3km of canoeing around Edale.
---
ROM May 2002
Vic Verecondi is the Booths Ilkley Harriers Runner of the Month, click here for details.
Otley 10M, Wed 26 June 2002
A good turnout for this, a counter in the Harriers Running League.

1 Ian Fisher Otley AC 53.40
13 Dominic O'Hooley 61.03
18 Nick Pearce 61.57 (4th Vet-45)
65 Mike Baldwin 67.47
67 Neil Chapman 67.59
81 Ian Marshall 69.11
102 Rob Pawson 72.47
138 Rebecca O'Hooley 76.28 16th lady
142 John Kennedy 76.58
144 Andy Wolfenden 77.14
158 Antony Swanepoel 78.34
211 Eugene Doherty 89.32

www.otleyac.co.uk, for full results and photos
Dick Hudson's Fell Race, Tue 25 June 2002
A good turnout of Harriers for the inaugural race. We were well-represented in the prizes (we were well-represented at the pub afterwards ...).

1	ROBIN LAWRENCE (BINGLEY) 45.23
6	JIM RYDER	48.51
9	MARK ILEY	49.24
10	BILLY KERR	50.12 1st Vet-45
15	MIKE BALDWIN	51.39
20	DAVE CHEESEWRIGHT 52.06
24	GRAHAM PEARCE	53.14
27	NORMAN BUSH	53.58 1st Vet-60
28	IAIN MANN	54.22
29	EWAN WELSH	54.29
34	EMMA BARCLAY	55.22 1st Lady
41	ALISON WESTON	56.52
43	DENNIS ACKROYD	57.26
44	ASHLEY HARDWELL	57.38
46	ALISON BENNETT	58.01 1st Lady Vet-40
49	JANE LEATHER	58.38
53	ALISON CRANE	60.31
59	RACHEL GOOCH	62.26 1st Lady Vet-45
61	JOYCE MARSHALL	63.20
70	SHIRLEY WOOD	73.41

---
Eildon Hills race, Sat 22 June 2002
9 Ilkley Harriers (a Mens and a Ladies team), plus supporters, travelled to fair Melrose for the Eildon Two Hills race, 4.5M with 1500' of climb, and a counter in the British Fell Championship.
The ladies raced first, and despite a stomach bug Andrea Priestley dragged them around the Gala field and up onto the fell. Straining to see the race from below, it seemed that Louise Sharp - with whom Andrea is neck and neck in the British Championship - seemed to take the lead up the hill. But Andrea ran in for a final lap of Melrose Rugby Club with Sara Carson on her heels and Louise back in 4th place. Andrea's time was 32.39. This win should put Andrea into the lead in the British Fell Champs, but if Louise wins the final race at Y Garn then they will share the Championship. In either case, Ilkley Harriers has a British Fell Champion!
Our ladies team consisted of Andrea, and Alison Weston and Emma Barclay who both finished well up in the quality field: Alison was 16th in 36.06, and Emma 18th in 38.15. We reckon that made us third team on the day, missing 2nd by just one point! Shirley Wood ran well too, 51st in 47.29
In the men's race, Jim Ryder was first male Harrier home in 77th place 33.13 (the race was won by Lochaber's John Brooks in 26.51, beating Ian Holmes). Mike Baldwin was 92nd in 33.34; Geoff Howard 94th in 33.46; Ewan Welsh 124th in 36.46; and Paul Wood 128th in 37.09
Many of us stayed up for the weekend, and enjoyed a social meal on Saturday evening - thanks to Ewan for organising an enjoyable weekend.
Click here for photos
Blackpool Marathon, Sun 23 June 2002
Suzanne Akeroyd recorded a good time of 3h25, considering the windy conditions, as did Richard Midgley with 3h45
Reservoir Bogs, Sun June 23 2002
Ian Marshall was 31st in 70:20 in this 8M navigational(?) race,
results and more on Ogden Water web site.
---
LAMM, 15-16 June 2002
Some of the hardier Harriers competed in the Lowe Alpine Mountain Marathon at "Braes of Balquhidde" at the weekend. We had two teams in the 'B' class, Rob King and his partner were 40th team in 13h44m over the two days; and from the results it looks like Ashley Hardwell and Anna Liuba missed a few controls in the terrible weather conditions.
"The low cloudbase and torrential downpours meant that views over Loch Lomond were limited, but most were too busy trying to keep their footing on the slippery ground to notice."
More on www.lamm.co.uk, and
www.sleepmonsters.com
Glenrothes 10k, Sun 16 June 2002
Andrea Priestley came second - behind a Scottish international roadrunner - in 37.04 (PB).
Daughter Megan did the 5km fun run in 35 minutes
Buckden Pike Fell Race, Sat 15 June 2002
AS, 4M, 1500'. Good packing from the Harriers:

14th Nick Pearce 39.40;
17th Mike Baldwin 41.42;
19th Geoff Howard 42.04 (2nd o-50); 
22nd Norman Bush 42.44 (1st o-60);
57th Jane Leather 51.11 (4th lady);
59th Steve Cockerham 51.30

The race was won by Ian Holmes in 32.12; and 2nd-claim Harriers Jason Hemsley and Stefan Macina were in the top 10: Jason was 5th in 36.23 and Stefan was 8th in 36.58
Click for www.bingleyharriersco.uk, full results
---
HRL #4, Thirsk, 13 June 2002
A good turnout for this distant event, with 21 Harriers. Again we were first in the Ladies, but beaten on the night by Harrogate Lady Vets. Great results in the Main team event (2nd), Vets (3rd), and Elite (5th)

1	25.34	IAN FISHER (OTLEY AC)
7	28.13	TIM ASHELFORD
16	29.00	DOMINIC O'HOOLEY
22	29.52	NICK PEARCE
25	30.04	MARK ILEY
32	30.52	TERRY LONERGAN
49	32.05	KIRSTIN BAILEY
51	32.13	NEIL CHAPMAN
55	32.24	MIKE BALDWIN
58	32.29	JEAN UNIACKE
61	32.39	PHIL CHAPPELL
65	33.00	JEFF PAGET
69	33.27	STEVE COCKERHAM
76	34.04	DAVE IBBOTSON
80	34.32	LLOYD BEST
84	34.57	SUZANNE AKEROYD
99	36.07	ANDY WOLFENDEN
108	37.50	VICTORIA WRIGHT
109	37.57	BRIDGET DOHERTY
121	38.48	LINDA WRIGHT
122	38.59	RICHARD MIDGLEY
144	45.43	AMANDA PARNABY

Click here for Harriers' photos
Click for www.harrogate-league.co.uk, official site with full results
Badger Stone Relays, Wed 12 June 2002
We fielded 9 teams, 5 Men's and 4 Ladies', and won the Ladies and Lady Vets team prizes.
10th (Vet 40) Mike Baldwin 19.07; Ashley Hardwell 21.15; Nick Pearce 19.04 (59.26)
11th Jim Ryder 18.34; Iain Mann 20.02; Geoff Howard 21.38 (60.14)
13th Morgan Williams 22.30; Dave Cheesewright 19.07; Ewan Welsh 20.35 (62.12)
15th Norman Bush 20.29; Lloyd Best 23.12; James Lind 20.09 (63.50)
18th Alison Bennett 22.01; Emma Barclay 21.39; Alison Weston 21.48 (65.28)
26th (Vet 40) Alison Crane 22.35; Rachael Gooch 24.07; Joyce Marshall 24.08 (70.50)
27th Jo Foster 24.13; Shirley Wood 26.09; Jane Leather 22.59 (73.21)
29th Anna Liuba 24.14; Karen Page 26.09; Claire Cheesewright 23.10 (73.33)
31st Vic Verecondi 29.50; Alex Hirst 23.28; Phil Hirst 24.26 (77.44)
Thank you to the many supporters, and to John and Jo for organising teams.
Full results on Wharfedale Harriers' web site.
Click here for Emily's super photos.
---
Vic's Birthday BBQ, Sun 9 June 2002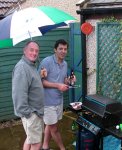 Vic's birthday was duly celebrated in Aussie style with a 'Barbi', but alas with English-style rain. Many of those present had enjoyed a long, soggy Sunday run on the moors above Embsay and Eastby and thoroughly deserved the excellent tucker. Thanks to Vic and family.
Yetholm Hill Race
Andrea Priestley was first lady, and 5th overall, in this Scottish race - 8 miles and 2400' ascent. With a time of 77.42 she only narrowly missed the record (77.03 set 2 years ago in a Scottish Champs race) - a good time given the atrocious conditions.
---
Chevin Fell Race, Wed 5 June 2002
3.5M and 900', AS. 17th Nick Pearce Vet 40 21.25; 20th Dominic O'Hooley 21.46; 25th Mike Baldwin Vet 40 22.05; 36th Paul Brennan Vet 40; 37th Norman Bush Vet 60 23.18; 45th Ian Marshall 23.41; 70th Vicky Wright 26.44; 77th Linda Wright Vet 40 29.12; 86th Amanda Parnaby Vet 40 32.04.
Second-claim member Jason Hemsley was 3rd in 18.53 (and also won the shield for first local runner for the third consecutive year). The race was won by Greg Hull in 18.30
Thanks to Skyrac's Graham Breeze for these results.
---
Adventure racing, 1/2 June 2002
Eddie Winslow and Adrian Hall took part in the Salomon, X-Adventure GB Series 1 day adventure race at Machynlleth, Wales. A maximum of eight hours was allowed for this score competition based mainly on mountain biking with abseiling, canoeing, canyoning and running stages. Thirty one mixed teams of three set off and Team "Ont Moor" (Eddie, Adrian, and Astrid Wheatcroft) came 5th after 46 miles of biking with 280 points in 7hr 46mins.
The result was mainly a result of Eddie's superb navigation and route choice. A few teams dropped out with heat exhaustion and dehydration - it was a tad hot! Strangely, some teams came in about 2 hours late and accumulated nearly 2000 penalty points! (only 10 teams finished with a positive number of points).
Eddie and Adrian's team were only beaten by four professionally sponsored teams- not bad for their first event in this series. They are doing the next two events in the Peak District and the north east.
Check out SleepMonsters.com Adventure Racing web site.
Duddon Valley fell race, Sat 1 June 2002
11 first-claim Ilkley Harriers (a Mens, a Ladies and a Men's Vet teams) competed in the Duddon Valley British and English Championships' fell race in the Lake District. Championship rules require individuals and teams to compete in at least one long category A race such as Duddon (20 miles with 6,000 feet of ascent). Although the hot windless conditions suited navigation and mobility they also presented a high risk of dehydration and cramp.
Mike Baldwin also discovered a third risk in the form of grassy slopes, wet from the recent rain, resulting in a slip, his scalp being gashed by a rock and enforced retiral from the race. Fortunately after teatment he declared himself to be OK. The Harriers' performance of the day was that of Alison Weston, coming in seventh lady, with all the other Harriers' completing this very demanding event which had a record entry: Geoff Howard 93rd (3hr 58min 03secs); Nick Pearce 102nd (4:02:26); Alison Weston 103rd (4:03:56); Jim Ryder 123rd (4:12:04); Dominic O'Hooley 136th (4:19:39); Mark Iley 150th (4:28:12); Rachael Gooch 165th (4:38:38); Ashley Hardwell 168th (4:39:23); Jane Leather 184th (5:09:54); and Anna Luiba 185th (5:09:59).
Second claim Harrier Jason Hemsley came in 24th for Pudsey & Bramley (3:21:01) with Simon Booth of Borrowdale the race winner (2:49:05) and Louise Sharp of Keswick first lady (3:28:46).
Click here for Graham's photos

---
WMRA GP Event 1, 29 May 2002
Andrea Priestley was selected to run for GB in the first event in the World Mountain Running Association's Grand Prix 2002 at Grabs, Switzerland. In an uphill race with a fair bit of road running Andrea was 9th in 56.55.
Click for WMRA site
---
Barnoldswick Duathlon, Sun 26th May 2002
Tim Ashelford was 3rd in 1h.48 min (3m run, 22m bike, 3 mile run in cold wet conditions).
White Wells fell race, Sat 25 May 2002
There can't be many tougher 3.5 mile races than this in the calendar. This is only the second running of this race, and it attracted a good field as it was the Yorkshire Championships. The race was run in bright and breezy conditions. Perhaps unusually for a fell race there was great spectator support, at White Wells. The race was won by Bingley's John Taylor in 27.54
There were good runs from all the Harriers competing: Jim Ryder 9th in 31.22; Andy Wade making a rare appearance on the fells 14th in 33.00; Dave Cheesewright 15th in 33.05; Mike Baldwin 18th in 33.12 (1st Vet45); Ewan Welsh 28th in 34.41; Iain Mann 30th in 34.49; Emma Barclay 31st and 2nd lady in 34.52; Pete Shields 39th in 35.43; Alison Weston 46th in 36.21 (4th lady); Ashley Hardwell 49th in 46.33; Johanne Kerr 56th in 38.15; Alison Crane 60th in 39.02; and then Morgan Williams 63rd in 39.21; Steve Cockerham 64th in 29.25 and Clare Cheesewright 65th in 39.26.
Second-claim Harriers Jason Hemsley and Stefan Macina and Kirstin Bailey were well to the fore: 2nd in 28.54; 4th in 29.15; and 23rd and first lady in 34.09
Click here for Graham's photos
---
HRL #3, Starbeck, 22 May 2002
A good turnout again, with 39 Harriers. Again we were first in the Ladies and Lady Vets team events, and enjoyed good placings in the Main team event (4th), Vets (3rd), and Elite (4th)

Posn	Time 	 
1	29.55	IAN FISHER, OTLEY AC 
9	32.59	TIM ASHELFORD 
11	33.28	JASON HEMSLEY 
15	34.11	DOMINIC O'HOOLEY 
23	34.46	MARK ILEY 
26	35.00	NICK PEARCE 
40	36.08	TERRY LONERGAN 
53	37.19	JOHN KENNEDY 
56	37.44	NEIL CHAPMAN 
62	38.13	MIKE BALDWIN 
63	38.23	JEFF PAGET 
72	39.13	PHIL CHAPPELL 
78	39.46	PHIL HIRST 
82		JOHN WOODWARD 
86	40.24	CATH WOLFENDEN 
87		DAVE IBBOTSON 
88		LLOYD BEST 
89		JULIE HARVEY 
90	40.50	ALISON BENNETT 
91		STEVE COCKERHAM 
92		SUZANNE AKEROYD 
101	41.27	REBECCA O'HOOLEY 
110	42.24	ANDY WOLFENDEN 
112	42.52	ALISON CRANE 
113	42.57	RICHARD GRAY 
114	43.02	CLARE CHEESEWRIGHT 
119	43.58	KAREN PAGE 
126	44.38	LINDA WRIGHT 
127	44.39	BRIDGET DOHERTY 
129	44.44	RICHARD MIDGLEY 
136	45.29	VINCE GIBBONS 
139	46.07	HEATHER MAUD 
148	48.04	VIC VERECONDI 
149	48.14	JANET SOUYAVE 
159	51.44	STEVE FLETCHER 
162	52.44	JANE CULLINGWORTH 
163	52.54	JOANNA SIMPSON 
166	53.41	HEATHER DUKE 
167	53.46	AMANDA PARNABY 
170	55.04	BERNIE BALDWIN 

Click for www.harrogate-league.co.uk, official site with photos and full results
---
New Fell Championships page
Track how Harriers are getting on in the British and English Fell Championships on this new page
Click here to see it
---
Saddleworth fell race, 19 May 2002
What a perfect race - short and sweet (AS, 3 miles, 950' climb); lovely terrain; lots of runnable bits; a quality field as this was the third counting race in the English fell championships; good organisation; and all on a lovely day.
The ladies' race was run first, allowing us all to do some spectating. Every Ilkley Harrier who ran counted (thanks for running Pete!) Our ladies team were 7th (Emma Barclay 12th 26.07, Alison Weston 16th 27.04, and Joanna Foster 38th 30.53); and our men's team were about 14th (Jim Ryder 80th 23.44, Nick Pearce 85th 23.51; Norman Bush 116th 25.14, Paul Wood 140th 26.53, and Pete Shields 144th in 27.10). Sadly we were one runner short of a male vets' team.
(After the previous 2 races in the English Champs, we were 3rd in the ladies team event, 10th in the male Vet-40 event, and 7th in the male Vet-50 event).
Click here for Harriers photos
Click for official race site with more details and full results
Fairfield
Jane Leather, Mike Baldwin (1h42), and Steve Cockerham (1h57) all ran in the longer Fairfield Horseshoe fell race (9M, 3000')
Goat Fell (Isle of Arran)
On home turf (granite?), Ewan Welsh ran well in this 8M, 2900' scottish fell race to finish 34th out of 89 in 1h44. This despite freezing fog, no visibility, a slippery rock descent (why do we do it?)
Thirsk 10 Mile road race
Two Harriers in this, Terry Lonergan was 38th and 1st Vet-50 in 62.12; and Andy Wolfenden ran 1h16:20
Sandal Castle 10km
Andy Wade finished in 10th place in 35.42 - a great time, especially considering that the race was 90% off road
---
Jack Bloor Races, 14 May 2002
A good turnout of 24 Harriers in the 104-strong field (and plenty of Harriers helping too).
Mark Iley was 17th in 47:00; Nick Pearce 19th in 47:41; Tim Ashelford 22nd in 48:16; Dave Cheesewright 30th in 49:50; Norman Bush 40th in 52:42; Ian Marshall 46th in 53:37; Roy Ruddle 49th in 54:43; Ashley Hardwell 51st in 55:07; Dave Ibbotson 53rd in 55:12; Alison Weston 54th and 3rd lady in 55:17; Neil Chapman 55th in 55:19; Yemi Adeleke 60th in 56:32; Tony Thornley 61st in 56:33; Robert Wightman 62nd in 56:35; Rachael Gooch 67th in 57:48; Paul Brennan 70th in 58:04; Clare Cheesewright 80th in 59:16; Morgan Williams 83rd in 59:23; Andy Wiggans 86th in 59:55; Rob King 87th in 61:18; Eugene Doherty 88th in 61:42; Bridget Doherty 96th in 68:25; Steve Cockerham 99th in 74:14 (started 10 mins late!); Linda Iball 102nd in 81:34
Ilkley were 2nd team.
Links:
---
Leeds Marathon, and 1/2 Marathon, Sun 12 May 2002
Neil Chapman continued his run of marathons with a good time of 3h18:46, and Christine Porritt ran 4h16
In the Half Marathon, Mark Iley was 40th in 1h23:01; Suzanne Akeroyd ran 1h37; Keith Wood 1h47; and Amanda Parnaby 2h08
Knaresborough 10k, Sun 12 May 2002
Andy Wade overcame an undulating and confusing course to finish 2nd in 38:22
Knockdhu Classic, Sat 11 May 2002
Andrea Priestley won an England vest in this international race, over 4.7 miles with 1470' of climb. And she celebrated that by winning the race! Her 41:51 was good enough for 35th place overall in the mixed international field, and she helped England to win the team prize, Fan-tas-tic!
Results on tthe www.nifra.org.uk site
---
John Carr 5k race series, race #1, Wed 8 May 2002
Ian Marshall was the lone Ilkley runner, 80th in 19.34
---
HRL #2, Harlow Carr, 7 May 2002
A good turnout of 35 Harriers. Again we were first in the Ladies and Lady Vets team events, and enjoyed good placings in the Main team event (2nd), Vets (4th), and Elite (5th)

Posn	Time 
1	26.35	IAN FISHER Otley AC 
2	27.02	ALAN STIMPSON HH AC 
5	29.10	TIM ASHELFORD 
15	30.22	JASON HEMSLEY 
19	30.36	DOMINIC O'HOOLEY 
31	31.41	MARK ILEY 
33	31.48	NICK PEARCE 
36	32.09	TERRY LONERGAN 
50	33.07	JOHN KENNEDY 
51	33.07	MIKE BALDWIN 
53	33.14	NEIL CHAPMAN 
59	33.37	ANDREW THORPE 
70	34.42	IAN MANN 
80	35.35	JEFF PAGET 
84	35.55	JULIE HARVEY 
87	36.12	DAVE IBBOTSON 
88	36.15	STEVE COCKERHAM 
92	36.26	HELEN WINDASS 
95	36.30	PHIL CHAPPELL 
103	37.06	ALISON BENNETT 
105	37.18	PHIL HIRST 
107	37.23	EUGENE DOHERTY 
120	38.21	RICHARD GRAY 
124	38.37	ANDY WOLFENDEN 
130	39.41	JANE LEATHER 
135	40.07	LINDA WRIGHT 
138	40.20	BRIDGET DOHERTY 
139	40.21	RICHARD MIDGLEY 
144	40.51	KAREN PAGE 
150	41.28	HEATHER MAUD 
156	42.30	VIC VERECONDI 
160	43.00	JANET SOUYAVE 
168	44.44	SUSAN KENNEDY 
172	45.57	STEVE FLETCHER 
177	47.03	JANE CULLINGWORTH 
181	47.31	MANDY CHAPMAN 
182	48.22	AMANDA PARNABY 

Click here for Harriers photos
Click for www.harrogate-league.co.uk, official site with more photos and full results
---
ROM April 2002
Suzanne Akeroyd is the Booths Ilkley Harriers Runner of the Month, click here for details.
---
Tadcaster 10, 5 May 2002
In a field of 420 runners, Neil Chapman was 54th in 64:15; John Woodward 146th in 71:56; and Andy Wolfenden 199th in 76:10 (a PB by 10 s).
Click for www.tadcasterharriers.org.uk, with full results
---
Coniston fell race, 4 May 2002
There was a top class field for this 9 mile AM fell race with 3,500' of climb, as it was a counter in both the English and the British Fell Championships. And there was a great turnout of Harriers. On a fantastic sunny day, Bingley's Ian Holmes was first home in 1:06:02. First Lady (and first Harrier, in 64th place overall) was Andrea Priestley in a storming 1:21:01 (just 10s outside the record!) and that placing takes her into the lead in both the English and British Fell Championships.
Next Harrier was Nick Pearce 115th in 1:25:49; then Mark Iley 123rd in 1:26:44; Jim Ryder 168th in 1:33:10; Geoff Howard 177th in 1:34:35; Alison Weston 194th and 13th lady in 1:36:03; 244th Emma Barclay 1:39:57 (19th lady, and helping us to a good team place); 277th Norman Bush in 1:44:29; 289th Rachael Gooch in 1:46:08; 296th Jane Leather 1:47:33; 314th Joyce Marshall in 1:49:45; 318th Ian Marshall 1:49:56; and Jo Foster 364th in 1:58:45. Over 400 ran, with a record ladies field.
Other friends seen included Jason Hemsley well to the fore; Malcolm Pickering (just behind Nick?); Kirstin Bailey 157th in 1:31:22; Helen Johnson chasing Kirstin hard (and just pipping Kirstin on the line).
Click here for photos

---
Sheffield Marathon, and Half-M, Sun 28 April 2002
Neil Chapman and Keith Wood battled against the weather to finish in 3:25 and 3:36 respectively; while in the Half Marathon Billy Kerr ran 1:20:30 and Ewan Welsh 1:30
Three Peaks Race
One of the toughest races in the fell calendar, over 24 miles with 4500' of climb taking in Pen-y-ghent, Whernside, and Ingleborough Hill, it was even more so this year with "absolutely awful" weather. Mike Baldwin finished 48th in 3:59 - a magnificent result and his top-50 place getting him automatic entry for next year. Pete Shields was next Harrier, 94th in 4:19:34; Nick Pearce was 101st in 4:22:45; Dennis Ackroyd was 144th in 4:43:35; and Anna Liuba 185th in 5:08:12.
Click for www.threepeaksrace.org.uk, official site with full results
---
HRL Race #1, Tue 23 April
What a great event for Ilkley Harriers! There was a huge turnout of Harriers, some great results, and smooth organisation at the first event in the Harrogate and District Summer Road Race League, 2002.
We had 62 Harriers running - contributing to a record 220-strong field
There were superb individual and team results from Ilkley ...
Thanks to Billy Kerr and Bridget Doherty for marshalling the teams.
Due to the hard work of Bernie Connor and all his volunteers the event ran very smoothly, and has got this year's HRL off to a great start.
And ILT&SC proved to be a great venue.
Well done, Harriers!
Click here for Harriers photos
Click for www.harrogate-league.co.uk, official site with full results
Harriers' results
Team: 1st Ladies, 1st Lady vets, 3rd Main team, 3rd Male Vets, 4th Elite (9 teams)

1	24.31	ALAN STIMPSON HHAC 
2	25.06	IAN FISHER Otley AC 
9	26.51	TIM ASHELFORD 
14	27.16	BILLY KERR 
23	28.03	JIM RYDER 
26	28.19	NICK PEARCE 
38	29.20   TERRY LONERGAN 
46	30.00	NEIL CHAPMAN 
48	30.02	MIKE BALDWIN 
49	30.03	BEN RICKABY 
50	30.05	CLIVE SMITH 
53	30.20	ANDREW THORPE 
56		JOHN KENNEDY 
70		EWAN WELSH 
71		GEOFF HOWARD 
73		JEAN UNIACKE 
80	31.30	KIRSTIN BAILEY 
84	31.52	PHIL HIRST 
87		IAN MARSHALL 
88		JUSTIN OLDHAM 
96		PHIL CHAPPELL 
97	32.46	DAVE IBBOTSON 
100		JEFF PAGET 
102		EUGENE DOHERTY 
103		JULIE HARVEY 
104		KEITH WOOD 
106		ALISON BENNETT 
107		JOHN WOODWARD 
111		STEVE COCKERHAM 
119		EMMA BARCLAY 
123	34.16	ANTHONY SWANEPOEL 
124		SUZANNE AKEROYD 
130		ANDREW KITCHEN 
137		JOYCE MARSHALL 
141		JANE LEATHER 
147	36.54	LINDA WRIGHT 
151		DIANNE KITCHEN 
152		ROB KING 
153		RACHAEL GOOCH 
166		BRIDGET DOHERTY 
167		ANDREW WRIGHT 
169		RORY KIRWAN 
172		MORGAN WILLIAMS 
175	37.56	HEATHER MAUD 
176		JUDITH SMART 
179		KAREN PAGE 
182	39.00	ANDY SARAH 
183		VINCE GIBBONS 
184	39.28	VIC VERECONDI 
185		PHIL MCPHAIL 
188		JANET HEBBERT 
190		SUSAN KENNEDY 
192		GRAHAM MAUD 
193		JANET SOUYAVE 
195		ANDREW MERRICK 
196		LIS MERRICK 
199		ELAINE IBBOTSON 
206	43.09	JANE CULLINGWORTH 
210	44.00	AMANDA PARNABY 
212	44.15	JILL COOKE 
213	44.28	MANDY CHAPMAN 
214	44.54	JOANNA SIMPSON 
215	45.01	BERNIE BALDWIN 
217	45.14	HEATHER DUKE 

---
Rothwell 10km, Sun 21 April 2002
Andy Wade recorded a fine 17th place in 34:35.
---
Anniversary Waltz, Sat 20 Apr 2002
4 Harriers ran in this 11.25M AM fell race, with 3600' of climb. Emma Barclay was 3rd lady in 2:10:01; Rachael Gooch was 10th lady, 10 minutes faster than 2000 in 2:24:31; Joyce Marshall was 13th lady in 2:31:07; and Kevin Gooch was out about 3 hours after a "minor navigational error".
---
Harriers on air, Sun 28 April
BBC Radio Leeds will be airing a documentary on Ilkley Moor at 12:05 (after the lunchtime news) on Sunday 28 April. This includes interviews taped at our fell race on Feb 24th. Worth a listen ..
---
Flora London Marathon, Sun 14 April 2002
Hot News from Dave Ibbotson travelling home on the M1, updated from www.thetimes.co.uk ... some great results from Harriers:
Neil Chapman 1964th in 3:09:16 (great result for this race); Suzanne Akeroyd 2568th in 3:14:10 (PB of 6 mins on last year); Keith Wood 2896th in 3:17:47 (PB 20 mins); Paul Howard 3350th in 3:20:49, Caroline Howard 3795th in 3:23:54; Richard Midgely ~6650th in 3:39:38; Dave Ibbotson 6732nd in 3:40:00 (PB, and 20 mins quicker than his last London); Andy Webster 7787nd in 3:44:30 (PB 23 mins); and Michael and Mariola Booth ran together, Mariola finishing 22565th in 4:41:54 and Michael 22604th in 4:42:03.
Fastest local runner? Probably Otley's Ian Fisher 26th in 2:22:07
Click for www.london-marathon.co.uk, official site
---
Spelga Skyline, Sat 13 Apr 2002
Ilkley Harriers fielded a ladies team in this 13 Mile AL fell race with 6500' of climb in the Mourne Mountains. This was the second counter in the British Fell Championships. Andrea Priestley was 2nd lady, 42nd overall, in 2:58:32 (just a few minutes behind Keswick's Louise Sharp who ran 2:53:48); Alison Weston was 15th lady, 94th overall in 3:40:41; Shirley Wood was 116th in 4:33:28; and Susie Jollie was 117th in 4:33:46.
They were 5th ladies team on the day. Well done to them all!
More results on
www.nifra.org.uk
---
Baildon Boundary Way, Sun 7 Apr 2002
A good turn-out for this multi-terrain half-marathon, won in 79 minutes. Official results are not yet available, but approximate times are: Mark Iley 1h32:59; Mike Baldwin 1h33:39; Geoff Howard 1h35:09; Clive Smith 1h41:48; Julie Harvey 1h45:05; Keith Wood 1h50:28; Linda Wright 1h56:09; Victoria Wright 1h58:03; Andy Sarah 2h8:38; Susie Jollie 2h8:53; Andrew Wright 2h11:27; Amanda Parnaby 2h17:28; Claire Macina 2h33:25
Results on Baildon Runners web site
Wakefield Hospice 10km
Andy Wade finished 13th in 34.38
Blubberhouses fell race
Nick Pearce was a close 2nd in this local 25-mile race, in 3h17. Pete Shields was first Vet-50 in 3h41; and Vet-60 Christine Porritt was 3rd lady in 4h52
Pendle Fell Race, Sat 6 Apr 2002
Dennis Ackroyd ran 44:57, and Norman Bush also ran.
Great Lakeland 3 Day Mountain Marathon
Roy Ruddle was 8th equal in Jo Faulkner's GL3D, with a time of 17:27 (that's 17 hrs! it was a 3 day solo mountain marathon in the Lakes last w/e, covering 60-odd miles and about 24000 ft of ascent). Blazing sunshine for the whole event!
ROM March 2002
Andrea Priestley is the Booths Ilkley Harriers Runner of the Month, click here for details.
News July-Sep
|
News Jan-Mar