Ilkley Harriers news archive 2020
lkley Incline Time Trial, Sun 27 Sep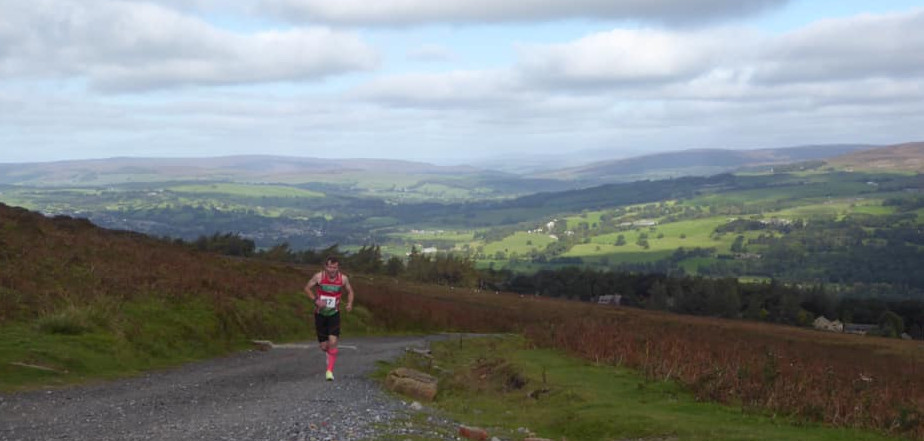 From Dan McKeown... Sunday saw our annual Ilkley Incline race re-imagined as a socially distanced time trial for club members only. Runners ascended the hill with no company save their own thoughts, the morning birdsong, and the occasional errant 4x4.
(In order to be extra Covid-compliant, I pre-added safety pins to all the race numbers on the eve of the race to prevent germs being passed via the communal safety pin pot. Not only was this a particularly prosaic use of a Saturday evening - even in the age of Covid - but it probably sets an unfortunate precedent for future events.)
We had a great turnout on the morning with over 40 Harriers taking part and a lot of red and green vests getting their first outing in a while. Steve and Gaenor sent the runners off every minute, and Neil and I awaited them at the top with our timing sheets and a few choice words of encouragement.
Not that the runners needed it - despite the unfamiliar format, we were treated to some very quick times, with the final runner of the day, Nathan Edmondson, delivering a stellar 7:05 to unseat long-time leader Oli Murphy (7:31). Dan Dry (third overall) and Nathan Coy (fourth) also went inside eight minutes.
Jane McCarthy took the ladies' race in fine style, almost making up the gap on second-placed runner Fay Walsh who started a minute ahead of her. Fay edged out Catherine Crawley by a bare second, with Catherine taking third.
We're a bit up in the air on prizes at the moment; hopefully we'll sort out the how, what, where and when (and possibly even the why) in the next few days. In the meantime, pinning on a number and seeing some friendly faces doesn't seem like a bad reward in itself.
Many thanks to everyone who came out and took part, and especially to Steve, Gaenor and Neil for marshalling on the day, Hilda, Jonathan and Petra for other work behind the scenes in the lead-up to the race, and to Oli for some great snaps, which are on the club members' FB page.

1   Nathan Edmondson  7:05
2   Oli Murphy  7:31  
3   Dan Dry   7:34  
4   Nathan Coy  7:47  (first MU23)
5   Jon Denniss  8:10  
6   Steven Gott  8:17  (first MV40)
7   Istvan Jacso  8:21  
8   Jeff Green  8:29  (first MV50)
9   Michael Abrams-Cohen 8:34  
10  Steven Bysouth  8:42  
11  Rob Cunningham  8:50  
12  Nick Kealey  8:51  
13  Jim Ryder  9:04  
14  Dan McKeown  9:16  
15  Peter Shelley  9:17  
16  Jonathan Turner  9:32  
17  Forrest Hamilton  9:37  
18  John Hayes  9:57  
19  Colin Williams  10:05  
20  Jane McCarthy  10:08  (first FV40)
21  Matt Snow  10:22  
22  Richard Joel  10:25  
23  David Singleton  10:28  
24  Tim Johnson  10:29  
25  Mike Williams  10:37  (first MV60)
26  Robert Hamilton  10:43  
27  Michael Ho  10:46  
28  Tom Lambe  10:49  
29  Duncan Cooper  10:55  
30  Fay Walsh  10:56  (first FOPEN)
31  Catherine Crawley  10:57  
32  Justin Pierce  11:17  
33  Zoe Donnely  12:10  
34  Jane Bryant  12:23  (first FV50)
35  Tom Lally   12:26  
36  Phil Chappell  12:30  
37  Alison Weston  12:43  
38  Jean Sullivan  12:57  
39  Clare Boyle  13:05  
40  Hilda Coulsey  13:21  (first FV60)
41  Dawn Turner  14:37  
42  Jacqui Weston  16:01

The Southern Fells, Fri 25 Sep
From Steve Turland... Last Friday I finished the challenge of running the 214 Wainwrights in the Lakes by doing a "book a day" solo and unsupported. I'd saved the Southern Fells until last as it was notably harder than all of the other books - covering the Coniston Fells, the Scafell Range, Bowfell, Crinkle Crags and various others in between. In the end it turned out to be broadly equivalent to a Bob Graham in terms of distance and height, and took me just short of 26 hours. Around 12 hours had to be in the dark, but on the plus side, with a 4am start, I managed to catch two sunrises in one run.
Thoroughly enjoyed doing these books as single outings - been a great alternative whilst most races have been cancelled. Got to parts of the Lakes I'd never been to before and seen some great views and amazing sunsets/sunrises. This was my final tally.

Great Owl GPX Grand Prix
From Jeff Green ...
Race #1 The Roundhay Rumble (6.2k)
The Great Owl GPX Grand Prix is a series of 12 time trials which can be run at any time from when the race opens until 06th December:
- Course lengths range from 4.5k to 45k.
- Your best 5 scores count towards the overall result.
- Enter and pay what you like through RaceBest.
- Download the GPX file and route description, run a recce if you like, then go for it and submit your time.
It's like Dan's weekly segment time trials but with longer routes - even the on-line form will be familiar to those who've submitted a segment effort. The only thing missing is the entertaining weekly write-up, but I guess you can't have everything!
Attempt 1 on 9th Sep. Time: 28:34
Full of enthusiasm, but short of time, I decided to have a crack at the Roundhay route without a recce and rely on the fairly primitive navigation functionality that my watch provides. Conditions were pretty good, but I took a couple of wrong turns and had to double back, which probably cost me around 90s. Getting home, and re-reading the rules before submitting my route and time, I realised that you had to enter before running (fair enough), so my scrappy attempt wouldn't count anyway!
Attempt 2 on 19th Sep. Time: 07:30
Perfect conditions for runners and, as it happens, for mountain-bikers. Coming round a corner in the woods I collided head-on with one coming full-speed in the opposite direction. I suffered a few scratches and a bloody knee, but neither of us was seriously injured - I was more shaken up than anything else. The rider was very apologetic and helped me find my glasses which were lying some distance away in the undergrowth!
Attempt 3 on 23rd Sep. Time: 27:07
Heavy rain all day meant that by the time of my evening effort the trails were muddy and a bit slippery in places, but everything else went to plan. I even ran a slightly faster average pace than my first attempt - third time lucky!
Recceing already underway for my next route, The Dick Double: visit Ilkley Moor and Baildon Moor trig points, starting and finishing from Dick Hudson's - any route you like.
Further info
Entries
Results so far
Podium 10k, Sat 19 Sep
From Sally Armitage ... This race consisted of 9.5 laps of the Steven Burke Cycle track in Barrowford. The race was run in 5 heats, sub 40, sub 37:30, sub 34:30, sub 32:00 and sub 30 minutes. Each heat had a maximum of 20 runners. It was really well organised, there were no spectators and social distancing rules were in place.
Myself and Cam Reilly were the only Harriers to attend. I had a difficult run and was a bit disappointed. I even started making involuntary groaning noises on the final lap which I've NEVER done before... Cam Reilly however flew round at the speed of light for a fantastic personal best of 32:16
Results ...

Sub 32 heat
(1 30:41 Tom Higgs, South London Harriers) 
14 32:16 Cam Reilly 
15 ran

Sub 40 heat
(1 32:18 Matthew Watson, unattached)
10 39:52 Sally Armitage 
13 ran

Wainwright Challenge - The Eastern Fells, Wed 16 Sep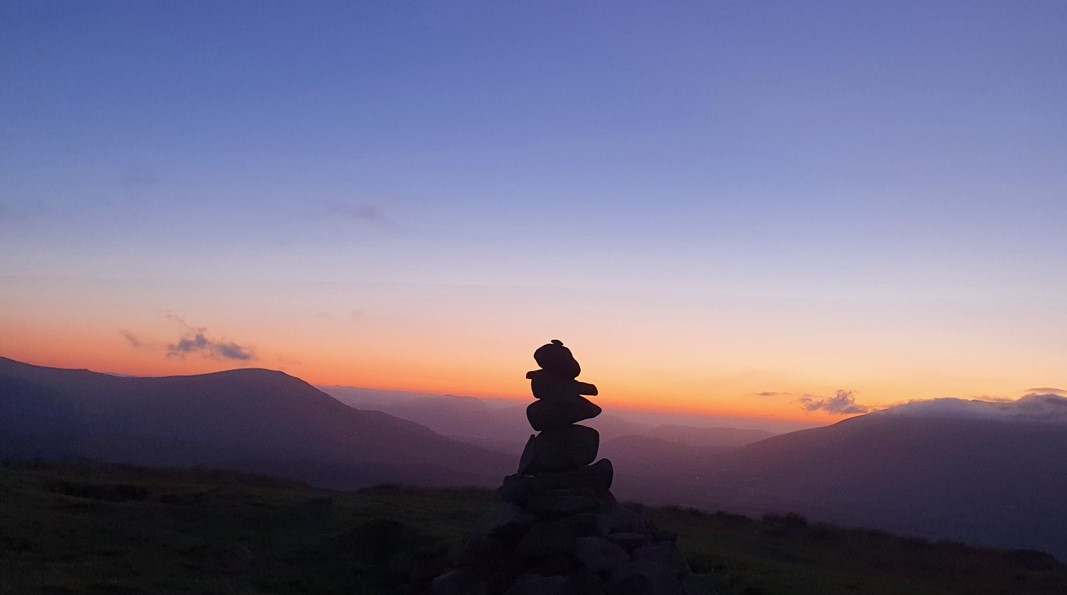 From Steve Turland... As part of my lockdown plan to run all the Wainwrights, last week I managed to get round all of the Eastern Fells in the Lakes. 35 Wainwrights, but basically the Fairfield Horseshoe, Helvellyn Ridge plus a handful of other tops and outliers. Was in the mist for much of the day, which made the navigation difficult at times and a fair amount was in the dark given the time of year. But managed to catch a great sunset on Great Mell Fell. Pleased to get round in just over 19 hours, clocking 57 miles and 18,000ft of ascent. One more book to go - the Southern Fells. Hoping to get it done in the next couple of weeks - just waiting for a 24hr weather window.