Ilkley Harriers news archive 2020
Hardmoors 110, 22/23 Aug
From Andrew Merrick ... And finally ... my first running event of the year, taking place on the Cleveland Way over 110 miles and 6000m of ascent. It was initially scheduled for the end of May but was delayed until last weekend for obvious reasons. I can report that, overall, navigation was pretty straightforward, with the occasional aid of the GPX file. I made a couple of small errors at forks in the path and when following a couple of people, but noticed pretty quickly ... and I had at least remembered to recharge my watch in daylight during periods where the path was obvious so I had a fully charged watch by the time I got to the night sections.
Covid restrictions resulted in runners being set off in pods of six at 3 minute intervals and all the check points/feed stations being outdoors with a limited range of supplies, and no hot drinks or food. The emphasis from the Hardmoors team has also been on runners having a support crew - they require serious race experience before letting you run unsupported - but it was even more important under these conditions. Entertainingly the organisers specify compulsory check points for the support crew!
The kindest description of the weather would be blustery and showery - with the wind initially blowing from behind but it didn't seem to take long to change direction.... (it was probably us that changed direction!). As I was running I was reminded of having left my washing out on Thursday night!!.... for much of Friday just as the strong wind was drying it again, another shower appeared. I felt in the same state of wind blown dampness for much of Saturday - it stopped raining about 10pm - with the rain showers ranging from refreshing to beyond unpleasant.
It was actually my first time having a support crew, I did at least have an insight into how tough it is having supported an ultra friend in challenging conditions in Wales earlier in the year (storm Ciara weekend I think)... The support team (my daughter Sophie and Lis) did an outstanding job - getting to all our planned spots on time (I had declared myself as an unsupported runner to avoid Lis and Soph having to do the compulsory overnight check points but as it turns out.....) which made for very speedy pit stops. Early on in the race, I simply swapped empty soft flasks for full ones, grabbed a (peeled) banana and was on my way... Later on, as tea and hot food was required, my best buy of the year - a car kettle - proved its worth!
Releasing runners in pods of six, after our pre-registration temperature check and tracker fitting, made for an interesting dynamic - do I try to stay in my pod, or try to catch up the next one as that spread out in front of us? I was guilty of the latter approach with the help of a strong supporting breeze at least initially so was travelling more quickly than I had intended. Similarly with no indoor feed stations, support was much more distributed along the course which also made running in groups more challenging as runners stopped in different places for different amounts of time. Fortunately, overnight I was lucky to find people travelling at a similar pace so I ended up with company for all of the night sections. It was hard work - with two or three of you travelling at a similar speed, there is no let-up, not least on the climbs, but certainly better that way.
Our pod set off at 8:33 on Saturday morning from a sunny if windy Filey Brigg, and my progress was reasonably smooth up the coast until Saltburn about 50 miles away, and still not half way, before beginning to head inland. Over this section the biggest challenges were a significant number of steps, trying to avoid getting sand in my shoes across various beaches (at least the tide was out), and weaving through a very busy Whitby amongst a number of other coastal towns, all of which were closer to sea level than most of the Cleveland Way.... hence the steps.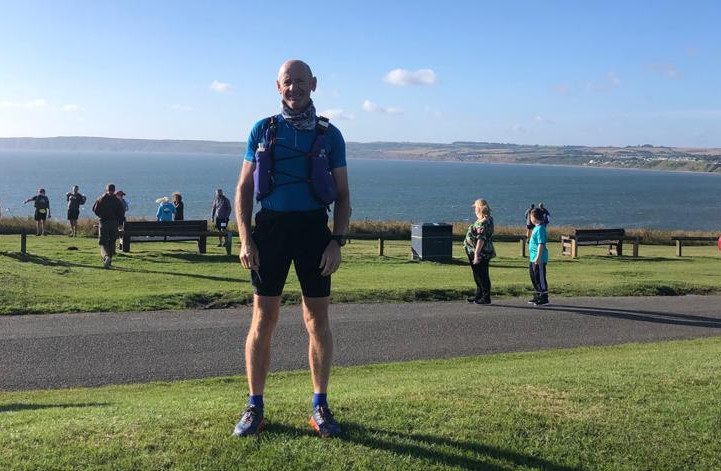 I wasn't expecting to make it to the summit of Roseberry Topping by daylight, and I wasn't wrong! A challenging climb - the inland section of the Cleveland Way specialises in uneven, slippery-when-damp, stone steps on the uphill and downhill sections along much of its length. Topping Roseberry was made more challenging mentally since it was an out and back section of the route, exacerbated by the significant downhill that preceded it, which gave us a further uphill to look forward to on the way back.
Once I escaped from the Roseberry loop, it was at least downhill to the next feed station. I worked hard to force a pasta pot down and was clearly looking (and feeling) so rough at that point that Lis & Soph offered to meet me at the next checkpoint 14 miles further on, and at the second time of asking I said yes despite my intention to let them sleep at this point. A long overnight slog over the moor followed a climb up from Kildale but at least the group (2-4 of us) continued to move at a reasonable pace. I was feeling better by the time we got to the next checkpoint, just as well, since we had the "three sisters" to look forward to (I counted five) - some challenging short steep climbs up some more uneven slippery steps. Happily I had caught up my Geordie running buddy, after a double cup of tea stop, on the first sister so more route marching was the order of the night. I had also made a surprisingly sensible decision to grab my poles for this leg, which helped on both the ups and downs. And finally we made it to Osmotherly, where Lis and Soph were staying - they did at least get some sleep to make me feel less guilty... They had found the ideal parking spot in the centre of Osmotherly where I stopped for more tea and a porridge pot (more successful than the pasta pot) and parted company with John the Geordie who carried on to the race check point which was two miles further on (uphill) from the town itself.
Feeling slightly refreshed and knowing the next two miles from a previous outing I cracked on in full route march mode, feeling happy with my progress until I got to within sight of Sutton Bank. I underestimated quite badly how long I had to go to finish this penultimate leg and was feeling slightly dispirited as John cruised past as we finally reached the descent to the car park at the bottom of the Bank. I had planned a short stop here and forced myself to have a quick cuppa before climbing the steps back out of Sutton Bank. At this point, 101 miles in, there were about 9 to go, and it was a section I knew, which was helpful. I promised myself as soon as I escaped from the top of the bank, I would try to run at least some of the last leg - I felt I owed it to my support team given the effort they had put in. Once that message got from my mind to my body it seemed to get the hang of it although I was overtaken by a gang of about 6 runners, 5 of whom I think were supporting (support runners are allowed from Runswick Bay onwards). However I managed to keep them in my sight for a few miles, only tripping over once in the process, and saw Geordie John one more time as I cruised past him. One more steady uphill and then pretty much downhill to the finish, with just one more set of steps either side of a stream to allow some coastal (step) reminiscing on the run to the outskirts of Helmsley, where Soph was waiting to guide me to the finish.
My feet finished in better shape than most ultras I have done (which certainly helped with running the last leg) due to a combination of a strategically placed blister prevention patch (thanks for that tip Sharon & Helen), foot cream (thanks Brian), and less long wet grass than on most recent events - I realised the latter is much more likely to create wet feet than rain. Two lost toe nails and two falls were both about average for my ultra adventures....
I finished at just after 11am about 26 ? hours after I had started and in plenty of time for Sunday lunch at the Black Swan, having stayed long enough at the finish to drink my first beer, be given a first V50 trophy, cheer in Geordie John, and change in the car park. My watch refused to tell me the estimated calorie burn - I think it only goes up to four figures....
A challenging race with tough under foot conditions which has a reputation for being a little hard core but with reasonably well spaced checkpoints, and some beautiful cliff top scenery, and lovely views from the top of Sutton bank. I would recommend as a relatively local challenge but be ready for the steps and the stony, slippery climbs! I would also recommend a support crew!!
On which note, a massive thank you to Lis and Sophie without whom I simply would not have finished.
Wainwright Challenge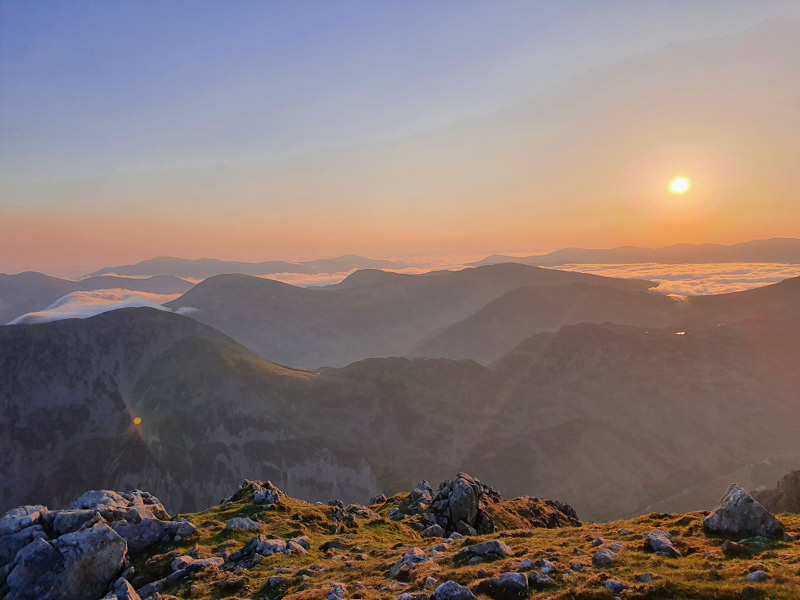 From Steve Turland ...At the start of lockdown when all races started getting cancelled I set myself the challenge of running all of the 214 Wainwrights in the Lake District by doing a "book a day" (Wainwright organised all the mountains in the Lakes by geographic area into 7 books).
So far I've completed 5 of the books, with the latest at the weekend. Two more books to go over the next 3 or 4 weeks. Each outing has been solo (apart from a couple of sections) and unsupported, which means carrying a full pack, but it keeps the logistics more straightforward.
It's been great fun planning the routes, seen some amazing views and have found parts of the Lakes I've never been to before. The smaller outliers are probably the harder ones to reach! I've actually not missed racing at all - enjoyed every single minute (apart from a few dark moments).
This is my progress so far. Will report again soon ...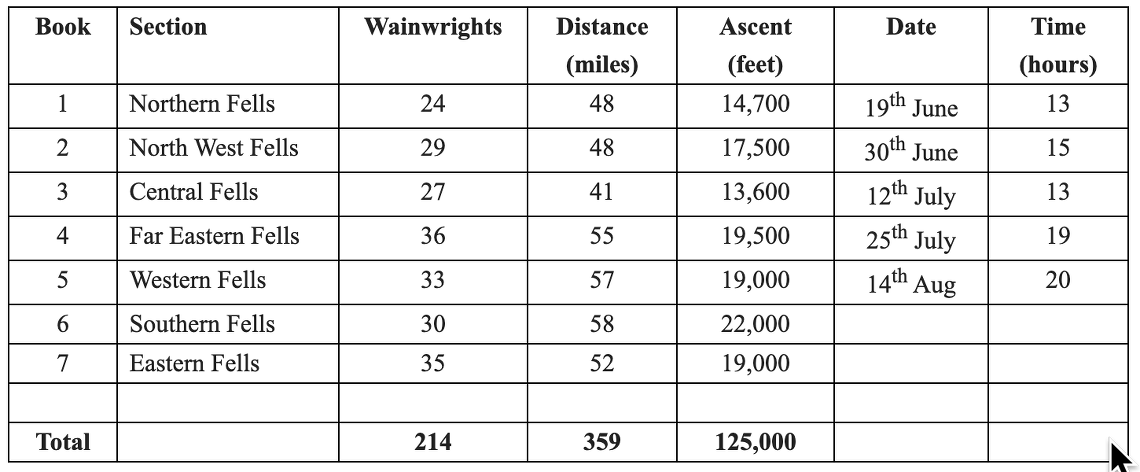 Lowther Lakeland Fell & Trail Run, Sun 9 Aug
From Bob Hamilton ... Forrest discovered a few weeks back that this long-standing fixture had secured permissions from UK Athletics and the FRA to go ahead. Having joined the Harriers at the end of last year and having only had the chance to wear the club vest the once since then, he was keen to enter and show the old man just how well the lockdown training had gone. At 13 miles and 1,400 ft of climb, it was definitely more of a trail race than a fell race, but there were a few steep climbs and even a river crossing. The scenery was entirely new to me and very beautiful. Strict Covid protocols were in place, runners being set off at five minute intervals, six at a time. It made for a rather lonely race for me. After running the first mile with my son, I wisely let him go and then saw only six other runners all the way around the course, overtaking four and being overtaken by two. But a race is a race and it was good to be able to talk to a few old friends afterwards and kind of remember what it used to be like. Much respect and many thanks to the organiser, Martin Stone, for being bold enough to jump through all the hoops necessary to make this event happen. The consensus was that it was a great success.
For the record ...

(1  1:19:54, Chris Holdsworth, CVFR)
60  1:55:21 Forrest Hamilton
103 2:06:43 Bob Hamilton
234 finished

Podium 5k, Sat 8 Aug
From Mike Abrams-Cohen ... "the first race since lockdown was hotly anticipated, so much so that all 6 races were sold out in 1 minute and 24 seconds. In the elite race Marc Scott and Alex Yee both went under the previous British Road 5k record and were also notably within a few seconds of the European record (held by Jimmy Gressier, I think).
In the "equally" anticipated 'D' race, Mike AC ran 18:20 to secure 17th place out of 22, in another stellar field with the winning runners well below 17 minutes.
The standard in all the races was stacked and it was great to see such high quality racing. I look forward to the race scene opening up in future months.
Results
Booking of training sessions for members from 1st August
All members will have received an info email and this updated information and booking link is on the Training page.