Ilkley Harriers news archive 2016
Ilkley Harriers of the Month, November
Runner of the month:
Lucy Williamson
for sub-40 minute 10K PB at Abbey Dash
Other nominations were:
Ewan Welsh for getting back to racing and good results at Burley Moor, Shepherd's Skyline and Glentress 21K
Jack Wood for wins at Guy Fawkes and Pendle
Tim Ashelford for excellent 3rd V50 in WYXC series and for performance at Burley Moor Run.
Volunteer of the month:
Shirley Wood
for organizing the Santa Run
Other nominations were:
Dan Wilkinson for setting up and doing the monthly e-newsletter
More Harriers of the Month ...
PECO XC, Sun 27 Nov

Men
(1  25:30 Nathan Marsh, Leeds Uni)
41  29:00 Tim Ashelford
132 31:55 Steve Coy
164 32:55 Steve Murray
179 33:16 Ben Joynson
217 34:20 Robert Rudding
304 37:02 Neil Bloor
307 37:04 Andrew Jackson
316 37:28 Geoffrey White
433 41:10 Peter Lewis
496 finished

Women
(1  29:30 Zanthe Wray, Hallamshire)
18  33:35 Ellie Kitchen
88  38:48 Adela reperecki
136 40:42 Val Kerr
174 42:17 Gaenor Coy
243 45:46 Jacqui Weston
276 47:40 Kate Lofthouse
316 49:44 Sal Wright
379 65:20 Clare Shouler
381 finished

This was a counter in the Ilkley Harriers Race League (calcs later).
parkruns, Sat 26 Nov
From Petra Bijsterveld ... Results ...

Bradford Lister Park
(1  17:23 Will Kerr, Saltaire Striders)
50  24:12 Sarah Haines
285 ran

Harrogate Stray
(1  17:52 Zeynu Bedru, Harrogate Harriers)
71  23:38 Phil Hirst
307 ran

Roundhay
(1  17:37 Michael Vargas, Hyde Park Harriers)
31  21:10 Tom Worboys
258 ran

Burnley
(1  17:19 Duncan Coombs, Cambridge and Coleridge AC)
41  22:54 Lucy Haines
244 ran

Ormeau
(1  19:04 Matthew Lennon, U/A)
5   19:34 Adam Bennett
272 ran

Fountains Abbey
(1  16:03 Ben Pease, Ripon Runners)
52  22:56 Geoff Howard
244 ran

Keswick
(1  17:45 unknown)
21  22:27 Nina Pearce (junior) 2nd F
113 ran

Santa Fun Run, Sun 20 Nov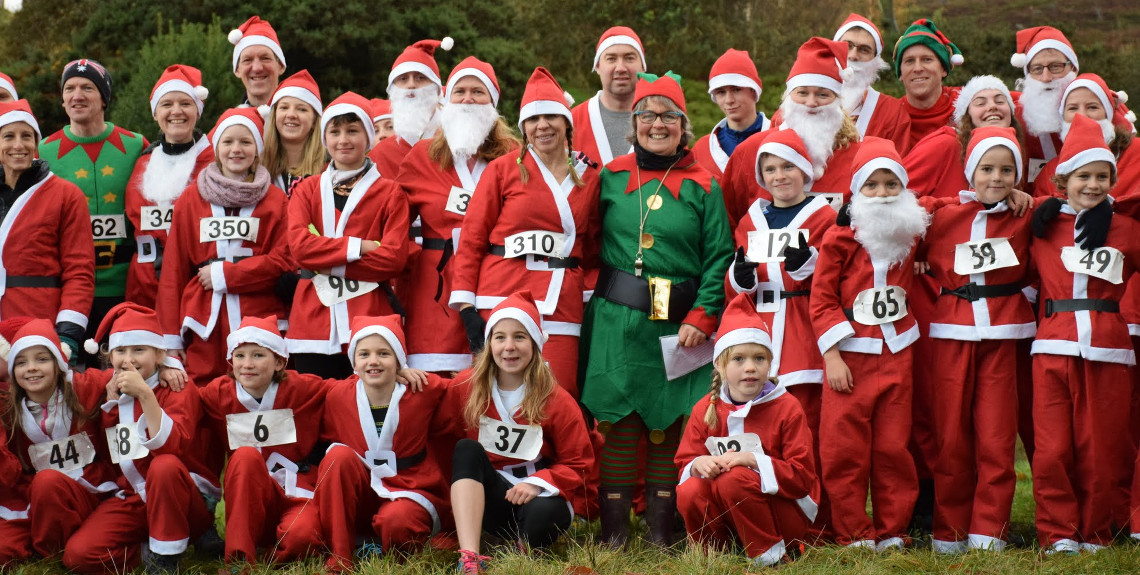 The junior section organised this fun event to raise money for the new athletics facilities. There was a 3k race, and a 1 mile fun run, wth over 130 people running on Ilkley Moor in Santa suits! And there were-mince pies and other fabulous treats after and spot prizes.
Results on the junior website
WYXC, Spenborough, Sun 20 Nov
Results below, well done to Tom Adams on another good win.

Senior Women
(1  19:43 Charlene Thomas, Wakefield DHAC)
12  22:16 Jemima Elgood
18  22:38 Sarah Pickering
46  24:35 Sally Malir
63  26:17 Anna Nolan
70  27:00 Tracey Watson
74  27:45 Elizabeth Westhead
80  28:15 Jane Bryant
89  30:05 Gaenor Coy
92  30:28 Petra Bijsterveld
100 32:56 Anna Pickering
102 33:43 Jacqui Weston
105 ran

Senior Men
1   30:51 Tom Adams
51  37:01 Tim Ashelford
93  40:05 Mark Iley
97  40:18 Steve Murray
100 40:40 Mark Summerson
102 41:05 Steve Coy
108 41:57 Malcolm Pickering
113 42:28 Robert Budding
117 43:00 Adrian Bastow
149 ran

Glentress 21K Trail Race, Sun 20 Nov
From Ewan Welsh ... I ventured up to Peebles in the Scottish Borders to combine a visit to the old brother's abode with the Glentress Trail ? marathon. This is an area I've ran in and around since the late 80's so it was with much joy to find a trail race being run in familiar territory.
Glentress has evolved over the years into an epicentre of mountain biking, although it's place where mountain biking, running and walking all co-exist, so you don't have to be a mountain biker (I personally don't do the mountain bike thing) to embrace the area.
For the morning, the Trail race enjoyed utilising a degree of the mountain bike trails though. Conditions were calm but a bit fresh (in the minus I heard some people declare) , morning mist remained in place throughout, the route utilised all aspects that Glentress has to offer, with an overall descent of over 2000ft, consisting of steep walking trails , undulating single track through deepest darkest wood ("Spooky Woods" as it's known locally) , hilly forest roads, switchback accents and descents on the mountain bike trails, the last 3k descended through a slalom of trees , by that time the field was fairly spread out so you would only sense flitting glimpses of a fellow runner mysteriously moving between the mist covered trees on one of the switchbacks, created quite an unusual ambience during the race. I found myself moving with a flare I haven't had since a bull chased me back in 92'. Next time I may take my imaginary Native American Shaman for spiritual guidance. There was also a 20 metre incline to the finish line, thankfully I was on my own so my dignity remained in place by not having to face any sprinting diehard up the final 20 metres !
As a side note, a 10K night torch trail race had also been held on the Saturday evening.
They are running 10K, 1/2m and Full Marathon trail races in February in Glentress, it's ideal race location given the facilities in place, large spacious cafe, accommodation from camping through to lodges, and just a mile or so from Peebles (so you can enjoy a decent curry as well).
Oh, almost forgot, race results ...
Winning time was 1.30.39
I was 55th in 1.58.49
259 finished
Full Tour of Pendle, Sat 19 Nov

1   2:39:30 Jack Wood
21  3:01:06 Paul Carman
33  3:07:06 Ben Sheppard
41  3:09:44 Steve Turland
82  3:20:51 Jane McCarthy
94  3:23:13 Dick Waddington
114 3:27:06 Iain Gibbons
235 3:58:33 Steve Weston
238 3:59:11 Chantal Busby
249 4:03:38 Paul Calderbank
274 4:12:04 Martyn Stocker
330 finished
Ilkley were 2nd team

Kendal Mountain Festival Trail Race, Sat 19 Nov
From Robin Nicholson ... I finished 39th in the Men from 275 runners (Time: 46:52.3). 42nd overall with a total number of racers 459. Results
parkruns, Sat 19 Nov
From Petra Bijsterveld ... Results ...

Workington
(1  17:17 Joseph Dugdale, Cumberland Fell Runners)
30  24:30 Andrew Wilson
81 ran

Penrhyn
(1  18:29 David Withers, Southville Running Club)
6   19:58 Lucy Williamson 1st F
165 ran

Bramley
(1  19:31 Ross Jordinson, Farsley Flyers)
6   21:36 Tom Worboys
116 ran

Skipton Aireville Park
(1  18:15 Matt Bainbridge, U/A)
2   18:48 Oscar Stapleton (junior)
33  23:57 Daniel Fazackerley (junior)
147 ran

Run in the Dark 10k, Wed 16 Nov
From Alison Bennett ... Adam Bennett was 31st/1150 runners at the Stormont, (Belfast) Run in the Dark 10k in a time of 41:20. All the runners wore flashing armbands which made it quite a spectacle.
Ilkley Harriers Race League update
From Jane McCarthy ... update with just 2 races to go. Want points? Time to declare your wildcard race! There are just 2 races in the 2016League left to go - the PECO XC Temple Newsam (27/11) and The Stoop (18/12). The League has now been updated for the Bronte Way, Guy Fawkes 10, Abbey Dash and the Burley Moor Run, and there have been changes in both individual and overall League placings.
In the Fell League, Jack Wood surely has an insurmountable lead with 389 points from 4 races. But second place is wide open - with The Stoop still to come Paul Carman has a race in hand. Mary Gibbons and Jann Smith are the leading ladies in 6th and 9th place respectively.
In the Trail League Adela Reperecki has taken first place (365 points) after an excellent Burley Moor Run last weekend. She has taken the lead from last year's overall League winner Michael Duffield (348 points) and Hilda Coulsey and Peter Lewis, both on 326 points. With just the PECO left to race, a late contender for Trail champion could be Nick Pearce, with a race in hand - a maximum of 4 races counting towards individual league placings.
In Road, we have our winner confirmed as Lucy Williamson (Well Done Lucy!) with a superb sub-40 minute 10K PB at the Abbey Dash taking her 4 race total points to 347.
In the Overall League, with 2 races remaining, it is close at the top - Steve Murray with some excellent recent results, including his wildcard entry, in second place with a race in hand. But Lucy could improve her fell average if she runs The Stoop, where the final League placings will be decided. Don't forget to claim your wildcard entry. Prizes for the top 10 finishers in the overall League!
Finally, there is another set of our favourite races for the 2017 League.
Latest tables and 2007 events on the Ilkley Harriers Race League page
Wadsworth Half Trog, Sun 13 Nov
From Steve Turland ... Very wet conditions underfoot for this 9.5 mile bogfest. Results ...

(1 1:14:03 Sam Watson, Wharfedale)
8  1:21:05 Steve Turland                               
18 1:26:34 Jamie Hutchinson                      

Burley Moor run, Sat 12 Nov

(     47:24 Phil Livermore, North Leeds Fell Runners)
4     49:17 Tim Ashelford 
5     49:23 Ben Sheppard
8     49:55 Paul Carman
10    50:39 Dave Wilby
15    51:38 Michael Lomas
16    51:48 Jemima Elgood  First lady
20    52:46 Robin Nicholson
22    52:53 Dave Robson
23    53:16 David Foyston
26    53:36 Richard Joel
32    54:36 Pauline Munro
33    54:37 Ben Joynson
35    54:50 Dick Waddington
36    54:56 Jane Mccarthy
41    55:37 Michael Duffield
42    55:44 Mark Summerson
54    57:36 Martyn Stocker
55    57:38 Steve Murray
62    58:31 Adrian Bastow
66    59:00 Ewan Welsh
67    59:16 Duncan Cooper
69    59:27 Paddy Hagan
70  1:00:27 Robert Budding
71  1:00:41 Paul Langan
77  1:01:59 Paul Stephens
90  1:04:39 Alison Weston
94  1:05:15 James Mellor
99  1:05:51 Adela Reperecki
108 1:07:46 Richard Morris
109 1:08:01 Geoffrey White
112 1:08:26 Sarah Edwards
120 1:10:45 Peter Lewis
127 1:15:36 Stephanie Fox
136 1:17:37 Janet Carrier
144 1:23:02 Laura Dawes
149 1:26:42 Sally Wright
155 1:51:04 Val Kerr (Sweeper)
155 ran

This was a counter in the Ilkley Harriers Race League.
Harriers vs. Cyclists, Sat 12 Nov
Results ..., Tom Adams won, beating the first cyclist Rob Jebb, and setting a course record.

1   34:03 Tom Adams
194 56:29 Chris Oxlade
239 71:05 John Pickering
245 finished

Guy Fawkes 10 mile, Sun 6 Nov
From Hilda Coulsey... A cold wet morning greeted us at the start at Ripley. Jack Wood underlined his great form by taking this road race by storm. Not the usual high numbers of Harriers, perhaps tempted more by the shorter Abbey Dash :). Good times though by those who did run, I struggled and was glad to be greeted at the end with the usual generous chocolate bar selection.
Results ...

1     56:08 Jack Wood 
126 1:13:33 Dave Robson 
146 1:14:30 Steve Murray 
340 1:24:13 Jean Sullivan
532 1:33:26 Dave Ladell
617 1:38:11 Hilda Coulsey
816 finished

This was a Ilkley Harriers Race League counter.
Abbey Dash 10k, Sun 6 Nov
From Steph Fox... Thousands of keen runners turned out to enjoy the annual dash to Kirstall Abbey and back into the centre of Leeds. They were joined by a fair few Ilkley Harriers this morning too. Because there are so many runners, it is difficult to spot the red and green Harrier vest in between the sea of many racing tops. The weather clung onto its autumnal chilly temperature, and the slight drizzle and biting wind as the race commenced made for a bit of a miserable start. However once the race pressed on, the chill was forgotten and the only focus was firmly set on finishing the race. Some great times and positions by the Harriers. I was glad to finish and enjoy the warmth of the finisher's t shirt, and the sweetness of the chocolate lion bar.
Results ...

(1   29:12 Jonny Mellor, Liverpool)
270  36:10 Oscar Stapleton
363  37:36 Pauline Munro 2nd L45
549  39:28 Andrew Overend
629  40:03 Kate Archer
639  39:50 Lucy Williamson  PB 1:36
686  40:32 Jane McCarthy
803  41:34 Mike Helme
840  41:57 Rhys Jones
906  42:13 David Jepson
1297 44:42 Harry Sime
1623 45:55 Richard Morris
1755 46:37 Samuel Burton
1918 47:30 Stephanie Fox
1980 47:44 David Ibbotson
2134 48:43 Sarah Hayes
2170 48:58 Eric Hawthorn
2722 51:00 David Green
3041 47:13 James Mellor
3069 52:51 Julie Elmes
3534 56:00 Sheena Pickersgill
3616 52:39 Melanie Edwards
4223 56:57 Jen Carne
4597 55:41 Sally Lynch
4743 56:47 Sue Williamson
4754 52:56 Catriona Hawthorn
5671 59:39 Elaine Ibbotson
6110 62:21 Harriet Jackson
6113 62:21 Andrew Jackson
8633 finished

This was a Ilkley Harriers Race League counter.
Derwentwater 10, Sun 6 Nov
From Dick Waddington... A beautiful 10-miler around one of the prettiest lakes in the Lake District in full autumn color. What could be better? Well it would have been better if it wasn't snowing as Helen and I trotted to registration (to keep warm). Blencathra and Skiddaw looked impressive in white as it cleared just before we set off. The course is good, leading you in slightly down hill at first, then with bigger and bigger lumps until mile 6, when a big lump gives impressive views on the lake. Fast descending and more lumps lead to relief at the end. This was my first 10-miler, so I'll take a PB!
Results ...

(1    53:31 Russ Best)
77  1:09:19 Dick Waddington 
243 1:23:38 Helen Waddington 
476 ran

Peak Raid 3, Glossop, Sun 6 Nov
From Mary Gibbons ... I enjoyed this self navigating course in mist and first snow of the winter! The idea was to reach 15 check points within three hours, after which you lose 50 points per minute. I reached seven, with just 11 minutes to spare.
Beautiful and wild moorland but tough terrain. It was an almost featureless landscape once on the tops in snow. I can see why Dark Peak pick up so many prizes if they train there...
Results ...

(1 2:48:15 500 points Jonny Malley, Ambleside)
70 2:49:12 230 points Mary Gibbons
112 finished

Shepherd's Skyline fell race, Sat 5 Nov
From Ewan Welsh ... Kelly Wilby, Mike Baldwin and Ewan Welsh, all making a return to a bit of racing, ran the Shepherds Skyline fell race on Saturday, and a fine fresh day it was as well. 300 souls embraced the day.
Results ...

(1  44:04 Thomas Corrigan, Barlick Fell Runners)
123 63:32 Ewan Welsh   
145 64:29 Mike Baldwin 
213 74:57 Kelly Wilby      

Robin Hood duathlon, Sat 5 Nov
From Jamie Hutchinson... I ventured south and to Sherwood forest for a sprint distance off-road duathlon consisting of 5k run/16k bike/3.5k run.
These shorter races are a matter of how long can you keep up a good fast pace. I had a reasonable start over the first run and opted for super fast transition by not changing into my cycling shoes. This was a mistake as I bounced round the course on my cross bike trying to maintain contact with the pedals! The second run was just a matter of holding on. I finished in 85mins 30 seconds and 21st overall - the race was won by James Spilsbury in 74:37.
parkruns, Sat 5 Nov
From Petra Bijsterveld ... Results ...

Woodhouse Moor Leeds
(1  16:32 Matthew Crehan, St Helens Sutton AC)
31  20:39 Tom Worboys
53  21:52 Harry Stead (junior)
443 ran

Bradford Lister Park
(1  17:30 Josh Tighe, Salford Harriers)
17  21:31 Theo Clay (junior)
51  24:01 Pete Shields
241 31:07 Abigail Bailey
372 ran

Pontefract
(1  18:03 Paul Dodd, Barnsley Harriers)
82  27:53 Emma Curran
184 ran

Harrogate
(1  18:04 Simon Bennett, Hartlepool Burn Road Harriers)
68  23:58 Geoff Howard
358 ran

Skipton
(1  18:37 Sebastian Segger-Staveley, Settle Harriers)
105 28:48 Jennifer Carne
192 ran

---