Ilkley Harriers news archive 2015
Ilkley Harriers of the Month, February
Duncan Cooper
Ilkley Moor fell race organisation
Other nominations were:
Steve Weston, - Ilkley Moor fell race organisation
Chris Oxlade - Ilkley Moor fell race organisation
Jane McCarthy - Junior Ilkley Moor fell race organisation
Shirley Wood - Ilkley Moor fell race organisation
Petra Bijsterveld - Twitter and Tuesdays
Jack Cummings - Ilkley Moor FR and training
Jane McCarthy - Rombalds Stride
Dan Wilkinson - Rombalds stride and Ilkley Moor FR
Sarah Edwards - Ilkley Moor FR
Jack Wood - Wadsworth Trog and Peco XC
Sally Malir - Dewsbury and Liversedge
Outi Kamarainen - Rombalds Stride result
Matt Newell
Dewsbury 10 and training
More Harriers of the Month ...
High Cup Nick, 9m/1500ft, Sat 28 Feb
From Dave Wilby ... Myself & David Chandler travelled up to the Pennine outpost of Dufton on Saturday for this cracking race, taking in the valley of High Cup Ghyll and the spectacular rocky outcrops of High Cup Nick. The outward leg saw a fast road start before the bogs, the tussocks, and then the tussocky bogs took over. After the initial twists and turns, the main valley opened up affording some breathtaking views, and at the end of it we were faced with a very steep and greasy scramble out of the valley. After being sheltered to this point, the fact the stream was moving uphill quicker than we were indicated what awaited us on top. Struggling to move at first as legs adjusted to the change in gradient and the wind did it's best to impede us, the run back was eventually aided by a very fast downhill blast of 2 or 3 miles, before a final leg sapping mile across the intake fields. A great early season outing in the less travelled Northern Pennines, I'll definitely be back to do more around the area. The race was popular with over 200 finishers, and very competitive at the top end including a trimming of the record by Ricky Lightfoot.

(1 1:01:03 Ricky Lightfoot)
20 1:12:53 Dave Wilby
74 1:24:09 David Chandler

Midgley Moor, Sat 28 Feb

(1 39:33 Shaun Godsman, CVFR)
181 1:11:30 Sue Morley
191 finished

Chevin Chiller, Sat 28 Feb

(1 27:11 Peter Persico, Abbey Runners)
3  40:14 Michael Lomas
34 finished
(+48 in the short race)

Podium 5k, Sat 28 Feb
Alison Newell reports ... There were 4 Harriers taking part in the Podium 5k race on a windy Saturday night. The races are held on a very fast, flat course around the outdoor cycle track in Nelson. The "A" Race features some top athletes and was won by Chris Livesey of Preston Harriers in a very impressive 14.54. In the B Race, Matt Newell finished 6th in 17.23, with Mark Iley 24th in 18.49, Steve Newell 30th in 19.32 followed in 32nd by an impressive 19.45 from Lucy Williamson. The next race is at 6 pm on Saturday 14th March. Worth a go if you're after a PB for 5km.
parkruns, Sat 28 Feb
Petra Bijsterveld reports... A number of excellent results this week: junior Oscar Stapleton is going from strength to strength and achieved a PB of 19:04 this week at Preston. Geoff Howard and Norman Bush continue to have excellent parkruns every week and both have an age grading greater than 80%! In that sense they are equaling Tom Adams, who had an emphatic win at Bradford, 2 minutes clear of no. 2. Yours truly had only just started her second lap when Tom glided past in what looked like an effortless jog.
Results ...

Preston
(1  17:09 Jason Parker, Preston Harriers)
7   19:04 Oscar Stapleton (junior) PB
228 ran

Bradford Lister Park
1   15:53 Tom Adams
157 27:05 Petra Bijsterveld
434 41:29 Abbie Reynier (junior)
469 ran

Harrogate Stray
(1  17:14 Aidan Adams, Leeds City AC)
20  20:38 Michael Lomas
233 28:52 Eve Whittaker (junior)
234 28:52 Helene Whittaker
320 ran

Skipton Aireville Park
(1  18:22 Scott Bairstow, Keighley and Craven AC)
24  22:37 Geoff Howard
34  23:25 Tom Worboys
144 ran

Fountains Abbey
(1  17:04 Reece Dalton, Ripon Runners)
59  23:27 Norman Bush
252 ran


Wharfedale Primary Schools XC, Sat 28 Feb
Over 500 youngsters racing at All Saints' school event, results on the junior pages
Ilkley Moor fell race, Sun 22 Feb
A grand turnout for this race, now in its 26th year, with Mercia's Simon Bailey having a storming run to finish 7 seconds ahead of Tom Adams. Ilkley had second team and first ladies' team. Many thanks to all the organisers and helpers. 180+ runners in the junior races too. Results and photos on our fell race page.

(1  36:52 Simon Bailey, Mercia FR)
2   36:59 Tom Adams
11  42:58 Dan Wilkinson
12  43:36 Dave Wilby
21  45:22 Ben Sheppard
22  45:26 Gavin Lamb
36  47:02 Jack Cummings
39  47:26 Jim Ryder
43  48:27 Jamie Hutchinson
59  50:47 Adam Bennett
60  50:49 Alistair Barlow
64  51:03 Jonathan Whitaker
66  51:13 Richard Joel
83  53:21 Kate Archer
89  53:52 Ben Joynson
94  54:49 Helene Whitaker
95  54:55 David Chandler
99  55:14 Mike Baldwin
100 55:15 Alison Weston
101 55:19 Jann Smith
102 55:22 David Robson
113 56:15 Paddy Hagan
115 56:21 Sarah Edwards
129 57:45 Lucy Williamson
141 59:18 Andrew Sheldon
148 60:14 Phil Hirst
188 66:50 Peter Lewis
200 68:21 Nicky Hopwood
205 69:47 Anna Barlow
212 71:09 David Green
217 72:00 Sue Morley
235 82:38 Sophie Brown
238 finished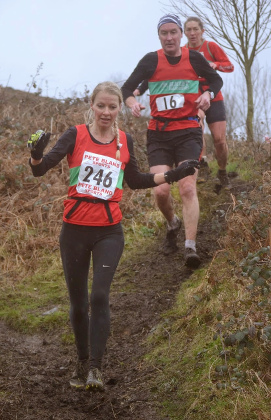 This was a counter in the Ilkley Harriers Race League.
Pocklington Snake Lane 10, Sun 22 Feb
Rob Cunningham was 120th in 64:47, out of 963 finishers with New Marske's Russ Best best of them all in 51:14
National XC, Sat 21 Feb
Well done to Georgia Malir 11th in her race, the Ilkley laduies team, Steve Coy our sole male senior runner, and the 10 juniors who travelled down to Hampstead Heath! Results ...

Junior women
(1 22:48 rebecca Murray, Bedford & County)
11 24:03 Georgia Malir
130 finished

Senior women
(1 30:07 Lillian Partrifge, Aldershot)
139 36:35 Sally Morley
228 39:14 Sally Malir
681 50:20 Gaenor Coy
786 55:01 Julie Elmes
865 finished
64th team out of 93

parkruns, Sat 21 Feb
Petra Bijsterveld reports... Results ...

Cardiff
(1  15:42 Carwyn Jones, Cardiff AAC)
93  20:46 Michael Lomas
662 ran

York
(1  16:30 Tom Charlton, Tyne Bridge Harriers)
20  19:40 Adam Bennett
412 ran

Bradford Lister Park
(1  17:27 Tom Collinge, Queensbury RC)
241 30:11 Paul O'Looney
449 41:18 Abbie Reynier (junior)
480 ran

Harrogate Stray
(1  18:19 Adam Breaks, U/A)
147 26:03 Karen Lambe
157 26:14 Eric Morley
367 ran

Skipton Aireville Park
(1  17:48 Lee Athersmith, RAF AC)
3   20:08 Oscar Stapleton (junior)
24  22:48 Will Worboys
41  24:16 Chris Cunningham
76  27:27 John Brown
135 ran

Fountains Abbey
(1  17:24 Steve Middleton, Thirsk and Sowerby Harriers)
51  23:14 Norman Bush
247 ran

Liversedge Half Marathon, Sun 15 Feb

(1  1:15:33 Kevin Ogden, Spen AC)
50  1:28:30 Sally Malir
100 1:34:52 Kate Archer
485 ran

parkruns, Sat 14 Feb
Petra Bijsterveld reports... Results ...

Leeds Woodhouse Moor
(1  16:35 James Kovacs, Salford Harriers)
145 23:53 John Marshall
466 ran

Bradford Lister Park
(1  17:39 Unknown)
82  24:27 Stephanie Fox
142 26:29 Petra Bijsterveld
464 ran

Harrogate Stray
(1  18:36 Louis Maurice, Harrogate Harriers)
28  21:35 Neil Thurston
296 ran

Skipton Aireville Park
(1  19:27 Scott Henderson, Hyde Park Harriers)
6   21:19 Malcolm Pickering
95  30:49 Anna Pickering (junior)
127 ran

Fountains Abbey
(1  16:43 Reece Dalton, Ripon Runners)
47  23:08 Norman Bush
231 ran

Harewood House Half Marathon, Sun 8 Feb
From Jonathan Sinclair ... Off road race organised by the British Heart Foundation. Wonderful running though undulating fields and woods of the Harewood estate - weather and views were great. Didn't see any other Harriers (although the results don't appear to give full club detail). Recommend it for next year. Results ...

(1 1:23:26 Chris Singleton, Trademark AC)  
24 1:28:38 Jonathan Sinclair 1st V 50
829 finished

Peco XC, Sun 8 Feb
From Petra on Facebook ... Stunning Sunday morning at the PECO XC, lots of Harriers running. I believe Jack Wood came 2nd which is amazing as the 19 mile Wadsworth Trog (where he came 3rd) was only yesterday. Results ...

Men
(1  23:37 Linton Taylor, Leeds Uni)
2   23:58 Jack Wood
28  26:31 Steve Coy
104 29:24 Mark Iley
133 30:22 Ben Joynson
197 32:40 Phil Hirst
283 37:54 Geoffrey White
297 39:17 Eric Morley
320 42:08 Don MacRae
332 finished
7th team in First Division

Ladies
(1  28:12 Myra Jones, Valley Striders)
38  33:41 Nicky Hopwood
56  35:03 Caroline Craske
81  36:57 Allison Ricci
107 38:30 Gaenor Coy
119 39:07 Petra Bijsterveld
133 39:54 Julie Elmes
191 45:50 Emma O'Looney
192 46:05 Christine Reilly
211 49:47 Claire Shouler
215 finished
5th team in First Division




Rombalds Stride, Sat 7 Feb
Dan Wilkinson reports ... Harriers were out in force for this year's Rombalds Stride. Conditions were fantastic given the recent storms and snow, we had a calm mild day and the ground was quite firm. Of course this means one thing - fast times. I joined the leading group but couldn't quite keep pace, and as has been the case in previous years Graham Pearce won in 2:38 but only because talented youngster Frank Beresford got lost on the Chevin and came second! More amusing considering he is an Otley runner and had recced that section just the day before! I managed to finish 4th in 2:45, 18 mins quicker than 2014 and Jane McCarthy continued her purple patch finishing First Lady in a fantastic 3:05. Lots of Harriers set PBs including Dick Waddington, John Hayes and Ben Sheppard all under 3:10 and improving over last year.
From Paul Stephens ... A superb day as Dan says, and another excellently organised Rombalds Stride. great to see so many Harriers at the start and finish. I didn't see many on the way round which means I didn't get overtaken but on the other hand I didn't catch people either. I felt quite strong at the finish, but those who saw me in the hall afterwards might have thought otherwise. For the first time ever I didn't manage the pie and peas. And given that this was my 20th Rombalds, I'm a tad annoyed. I was however pleased with my time - exactly the same as last year (3.54), and even given the fast times I'm quite satisfied. When I see my position, I may be less so, but whatever, it was a good day out and I'm feeling ok today.

(1  2:38:38 Graham Pearce, P&B)
4   2:45:15 Dan Wilkinson PB
14  3:02:55 Ben Sheppard
17  3:05:57 Jane McCarthy First Lady
18  3:06:15 Dick Waddington
22  3:08:49 John Hayes
19  3:15:21 Jann Smith PB 3rd lady
41  3:21:43 Duncan Cooper
44  3:22:54 Rob Cunningham
48  3:26:55 Michael Lomas
60  3:32:54 Outi Kamarainen
66  3:36:32 Andrew Merrick
83  3:44:41 Mike Baldwin
105 3:54:05 Paul Stephens
114 3:57:10 Ewan Welsh
119 4:00:12 Elle Bradley
133 4:06:24 Adela Reperecki
159 4:19:54 Sarah Edwards
161 4:20:24 Sarah Hayes
166 4:22:13 Lynn Donohue PB 20 mins
178 4:26:20 Gavin Burgess
221 4:54:43 Dave Ibbotson
315 6:30:05 Amanda Parnaby
Any more?
467 finished incl. walkers

Wadsworth Trog, Sat 7 Feb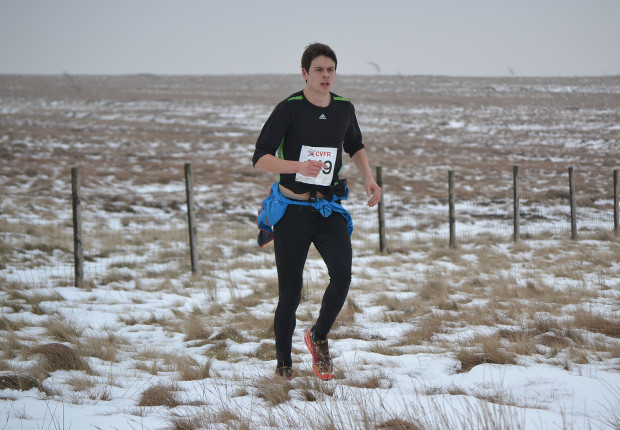 From Dave Woodhead ... Jack Wood finished 3rd in 2:39:35, winner was Karl Gray of Calder Valley in 2:27:24 on the new course.
From Jack ... Following advice from Captain Will, I travelled to Hebden Bridge for the Wadsworth Trog (aka The Beast) in preparation for this year's Three Peaks. The route was a figure of 8 on the frozen Wadsworth Moor with a number of steep climbs. I was on my own in fourth for most of the first half, but put in an extra effort to catch and follow the guy in front so I knew where I was going. I got ahead but then made a mistake, thankfully managing to overtake him again for third place. It was nice to sit down and eat soup and cake afterwards! Results ...

(1 2:27:24 Karl Gray, CVFR)
3  2:39:35 Jack Wood
153 finished

parkruns, Sat 7 Feb
Petra Bijsterveld reports... A win for Ruaridh Mon-Williams at Skipton on his first visit there, well clear (36 seconds) of the rest of the field. Another youngster Dan Hayes ran well and finished in 6th position. Results ...

Harrogate Stray
(1  18:46 Tim Crossland, Leeds City AC)
130 27:12 Julie Elmes
257 ran

Skipton Aireville Park
1   17:56 Ruaridh Mon-Williams
6   19:36 Dan Hayes
170 ran

Fountains Abbey
(1  17:52 Alex Fawcett, Ripon Runners)
36  22:48 Norman Bush
210 ran

Wharfedale Primary Schools XC, Sat 7 Feb
There were over 500 children racing at Ashlands PS this morning, full results on our junior pages
Ilkley Harriers Race League update
From Martin Wright ... Tom Adams is top of the table after winning the only race so far this year. I suspect it'll take a wildcard to knock him off that position before May. League results after the first race
Let's have lots of Harriers doing the League thus year! Read about it on the League page.
Dewsbury 10K, Sun 1 Feb
Steph Fox reports ... 11 Harriers turned out for an early 9am start in Dewsbury. After an eventful week of snow storms, frost and winds, we welcomed the ice-free route with a step in our stride. The flat-ish route out of Dewsbury and back again isn't the most inspiring and there was a deceptively cheeky wind on the way out which may have slowed the disheartened. However with a slight downhill return and no wind in the air, chilling the cheeks, this ensured there were a couple of PB'S to be enjoyed.
Helen Waddington and Steph Fox were happy to report PB'S and Petra Bjisterveld knocked fabulously over 2 minutes of her previous 10K time.
From Helen ... Really pleased to get a PB of 46.11 today - all thanks to Neil Saturday and Jane's Thursday sessions! And Steve adds .... thanks to Pete Shields and the Wednesday evening gang for speeding me up!
From Petra Bijsterveld ... Results ...

(1  31:02 Mohammad Abu Rezeq, Altrincham and District AC)  
45  35:35 Matt Newell PB
121 37:48 Rob Cunningham
185 39:40 Steve Newell PB
208 40:10 Sally Malir 1st F50
277 41:43 Caz Farrow
299 42:11 Kate Archer
323 42:52 Adrian Bastow
489 46:11 Helen Waddington PB
536 47:23 Stephanie Fox PB
703 51:30 Petra Bijsterveld PB
731 52:51 Hilda Coulsey
1075 finished


---