Ilkley Harriers news archive 2014
Ilkley Harriers of the Month, August
Gavin Lamb
Burnsall
Other nominations were:
Steve Turland - Burnsall
Paul Wood
website
More Harriers of the Month ...
Wetherby 10k, Sun 31 Aug

(1  32:49 Andrew Grant, Harrogate) 
270 48:22 Chris Cuningham
307 49:30 Christine Cox
495 56:33 Jacqui Weston
542 58:17 Julie Elmes
625 59:54 Sally	Wright
863 finishers

Junior Home Fell Trials, Sun 31 Aug
Some super results from Ilkley's U17's ... Preliminary results
Blackshaw Head, Sat 30 Aug

(1 36:40 Alex Whittern, CVFR)
13 42:47 Ian Rowbotham  1st V50
114 finished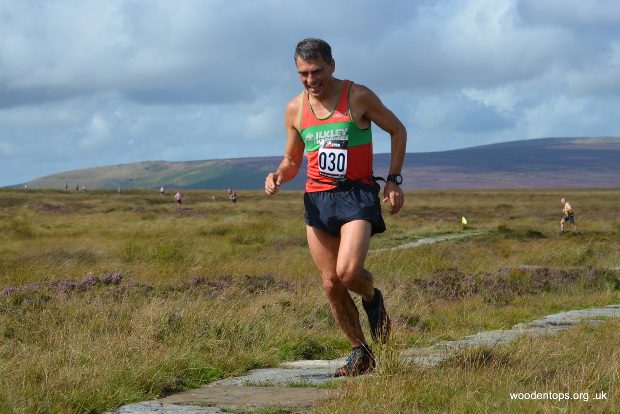 Pendle 3 Peaks, Sat 30 Aug
From Jamie Hutchinson ... starting from Barley 9m miles and 2500 ft height gain! I ran well for the first few miles but then dropped a few places over the 2nd half of the race. Flagged to first control and then a little bit of navigation needed, which resulted in a bit of head scratching for the leaders. Great conditions for running and really enjoyable race. I finished in 11th and 1 hour 33 mins - the race was won by Richard Pattinson in 1 hour 25 mins. I managed 1st in my category (albeit 3 M45s beat me!)
parkruns, Sat 30 Aug
From Petra ...Quite a few Harriers out parkrunning this Saturday. The Schneiders made Skipton parkrun a family affair with David coming first, followed hot on the heels by brother Jonathan in 4th place, and Fiona also running a brilliant time on this hilly (by parkrun standards) course.
It is Skipton parkrun's first anniversary next Saturday and it would be great if a few Harriers wanted to join them for the run and a small celebration in the park afterwards.
Results ...

Leeds Woodhouse Moor
(1  17:16 Rashaad Jorden, U/A)
39  20:54 Michael Duffield
155 25:43 Harry Stead (junior)
359 ran

Bradford Lister Park
(1  18:13 Joe Woodley, Skyrac AC)
35  22:29 Phil Hirst
99  25:31 Samuel Turland (junior)
323 44:29 Katie Turland (junior)
337 ran

Harrogate Stray
(1 17:50 Ben Pye, Wetherby Runners)
19  20:42 Tom Worboys
21  20:52 Oscar Stapleton (junior)
162 27:30 Julie Elmes
308 ran

Hilly Fields, Lewisham
(1  18:29 Laurie Pope, South London Harriers)
3  18:51 Alex Hirst
139 ran

Skipton Aireville Park
1   19:36 David Schneider
4   20:35 Jonathan Schneider
40  26:35 Fiona Schneider
74 ran

Kilnsey Show, Tue 26 Aug

(1 08:07 Rob Hope, P&B)
25 10:55 Steve Turland
42 12:17 Norman Bush
48 12:32 Alison Weston
61 13:30 Chloe Haines
73 finished

Tour of Norland Moor, Sun 24 Aug
Jamie Hutchinson reports ... a 10k trail run round the moor at Copley near Halifax, starting with a pretty tough first half mile or so of climb. I climbed well with the leaders but fell off the pace as the course levelled off. Great views round the moor as a few of us swapped places, before gradual descent back toward Copley followed by a flat last quarter of a mile. I came in 41:26 and 7th. The race was won by Clive Fitzpatrick in 38:38 and 99 ran.
Pendleton Fell Race, Sat 23 Aug
From Jann Smith ... one of the longer fell races this weekend (5m / 457 ft AS) started from Pendleton village at the back of Pendle Hill and took us straight up the back end of Pendle Hill and back down on part of the Full Tour of Pendle race route.

43 48:28  Jann Smith  2nd F40

Burnsall road and fell races, Sat 23 Aug
From Petra Bijsterveld ... A number of Harriers were at the Burnsall Feast for the road and fell races, the road race being a counter in the Ilkley Harriers Race League. Whilst driving there I was almost washed off the road at Bolton Abbey by a monsoon-like cloudburst, but the rain held off for the rest of the afternoon. I had not been to this event before and enjoyed all aspects, the gala with its family fun, running the road race and then watching the junior and senior fell races. The senior fell race was started by 94 year old Bob Newbould who won the race in 1939! Some excellent Harrier results below.
Results: fell, and road.

10 mile road race
(1    54:22 Matt Whitfield, Bristol and West AC)
20  1:04:29 Gavin Lamb
35  1:08:03 David Schneider
36  1:08:05 Mark Iley
58  1:13:56 Jonathan Schneider
63  1:14:13 Ewan Welsh
95  1:23:27 Stephanie Fox
96  1:23:37 Jean Sullivan
103 1:26:19 Stephen Rhodes
105 1:26:36 Hilda Coulsey 1st L60
115 1:29:18 Paul Sugden
132 1:33:32 Petra Bijsterveld
135 1:35:27 Fiona Schneider
146 ran

Senior classic fell race
(1  15:01 Ted Mason, Wharfedale Harriers)
23  19:09 Steve Turland 2nd V45
35  20:37 Richard Joel
49  21:38 Jane McCarthy 2nd L40
58  22:07 Alison Weston
75  23:04 Steven Oxlade
123 finished

Malham show, Sat 23 Aug

(1 18:43 Sam Watson, Wharfedale)
10 24:47 Norman Bush 1st V70
33 finished

Patterdale Dog Day (Fell Race), Sat 23 Aug
Justin Phillips reports ... I scampered up the 900ft climb like a springer spaniel after a tennis ball only to descend like a slobbering Bloodhound en-route to the vets, finishing 16th in 29 minutes 30s. 36 ran and top dog for the day was Inov-8 sponsored Rhys Findlay-Robinson who broke the course record in about 22 minutes (he went on to finish 5th at the Grasmere Guides race on the Sunday). Results
Weasdale Horseshoe Sat 23 Aug
Sue Morley reports ... I ventured to the lovely Howgills for this race of 8 1/2 miles and 2000 feet of climb. In good clear conditions I had a a good view of the scenery and a personal best.

(1  56:29 Gary Priestly, Salford Harriers)
68  96:33 Sue Morley 

parkruns, Sat 23 Aug
From Petra ... Results ...

Bradford Lister Park
(1  17:46 Will Kerr, Saltaire Striders)
14  21:18 Cameron Reilly (junior)
342 ran

Skipton Aireville Park
(1  17:41 Lee Athersmith,Bingley Harriers)
5   21:01 Oscar Stapleton (junior)
6   21:23 Tom Worboys
14  23:04 Hannah Partner
61  28:56 Alex Millar
90 ran

Fountains Abbey
(1  17:28 Mike Appleton, Ripon Runners)
29  21:17 Geoff Howard
211 ran

Sedbergh Hills, Sun 17 Aug
From Dan Wilkinson ... Conditions were tough today for the 2nd long counter for the English Fell Champs, horizontal rain, clag and at one point sleet I think! Most competitors were layering up and I was forced to put hat and gloves on at the top of the calf as the MWIS predicted -5 windchill hit, in mid August! Things were just as tough on the ground with the steep trods reduced to slides and the traverses slimy mud. Of course all this made it more fun and on reflection this was one of the best races I have done. Ged Callan from Bingley featured in my field of vision again as I followed him round, not managing to pass him and finished 55th M in 2:33. The quest for champs points continues... Results ...

(1  2h06:10 Rob Hope, P&B)
57  2h33:33 Dan Wilkinson 
102 2h50:09 Nick Pearce 2nd V60
159 3h03:36 Jann Smith  3rd F45
162 3h04:27 Alison Weston
262 finished

Gargrave Show, Sat 16 Aug
Joanne Williamson, FU17 winner, pictured. And Euan Brennan won the U14 class.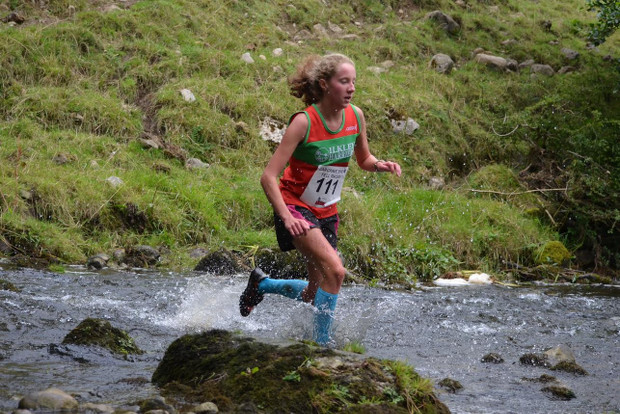 parkruns, Sat 16 Aug

York
(1 16:24 Kim Critchley, York Knavesmire Harriers)
53 20:38 Geoffrey Howard
297 finished

Bradford
(1  17:33 Tom Collinge, U/A)
17  20:11 Sally Malir
26  21:03 Cameron Reilly
99  25:02 Hilda Coulsey
305 36:26 Abbie Reynier
369 finished

Skipton
(1 18:07 Chris Barnes, Blackburn Harriers & AC)
5  20:23 David Schneider
18 22:46 Jonathan Schneider
50 26:55 Fiona Schneider
89 finished

Fountains Abbey
(1 17:14 Toby Osman, Ripon Runners)
15 20:16 Tom Worboys
215 finished

Lanhydrock
(1  17:49 Nick Loewendahl, St Austell)
115 30:43 Harry Stead
170 finished

YVAA Grand Prix, Tue 12 Aug
From Lynn Donohue ... Race 8 of 10 held at Bingley very muddy in places due to the recent heavy rain and a steep uphill start in a farmers field. Rough underfoot and more technical than recent races nice views across Shipley Glen only one harrier racing, next race Tuesday 19 August at West Park Leeds at 7:15pm. Reminder that the cross country champs is on 28 September at Nunroyd Park. Results ...

Ladies race
(1 42:08 Mags Beever, Stainland)
23 52:15 Lynn Donohue
70 finished

Round Hill fell race, Sun 10 Aug
The 12th edition of the Round Hill fell race was the first wet one. Results ...

(1    55:20 Adam Osborne, Leeds)
6   1:00:47 Nick Richardson
11  1:01:31 Ben Sheppard
13  1:01:48 Jamie Hutchinson
26  1:05:42 Nick Pearce
28  1:05:53 Dick Waddington
35  1:06:44 Justin Phillips
38  1:07:43 Paul Calderbank
44  1:09:03 Will Buckton
65  1:13:27 Ben Johnson
79  1:17:45 Brian Mellia
80  1:18:07 Chantel Busby
95  1:22:48 Philip Hurst
111 1:32:23 Sue Morley
114 1:39:55 Sally Wright
117 1:49:40 Petra Bijsterveld
119 1:55:45 Eric Morley
120 1:56:45 Paul Sugden
123 finished


This was a counter in the Ilkley Harriers Race League.
Sedbergh, Sat 9 Aug
From Dave Woodhead ... Ilkley girls at Sedbergh Winder Hill summit finish of British Uphill's and World Trial today.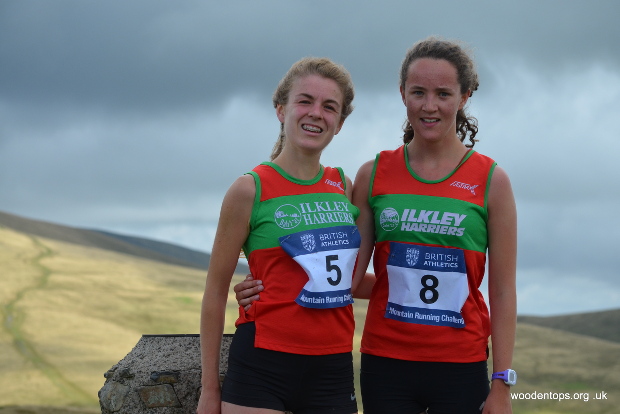 Turner Landscape fell race, Sat 9 Aug
From Will Buckton ... AM 17km/910m. After battling my way to the Lakes through a stream of incompetent drivers I made it to Seathwaite just before the start of the race. After registering I returned to the car to see the race starting without me! I quickly changed into my fell shoes and pinned my number to my vest and set off in pursuit of the runners. I soon caught the back-markers and managed to pick off a few more to finish 31st out of 89. A great route which takes in the summits of Grey Friar, Swirl How, Brim Fell, Coniston Old Man and Dow Crag. A great low key atmosphere with coffee and cakes at the finish, recommended.

(1 1h32:48 James Logue, Calder Valley)
31 1h55:16 Will Buckton
89 finished

Arncliffe Gala, Sat 9 Aug
From Jack Wood ... The latest in my cycle-to-a-BOFRA-race series was Saturday's Arncliffe Gala. Thankfully I had some time before the race to sit in the sun and recover from the hilly Malham road. There were some good junior Harrier performances including Ruaridh Mon-Williams 1st U17 and Euan Brennan 2nd U14. The senior race got started at a fast pace along a track. We then climbed steeply before going along a ridge and back down into the village. Iain Gibbons ran well to finish 20th, two places ahead of me in 22nd. Norman Bush came in 48th. Results ...

(1 10:38 Simon Bailey, Mercia)
20 13:01 Iain Gibbons
22 13:18 Jack Wood
48 15:48 Norman Bush
85 finished

parkruns, Sat 9 Aug
From Petra ... Results ...

Bradford Lister Park
(1  17:36 James Goodall, Eccleshill RR)
32  22:22 David Chandler
38  22:48 Philip Hirst
313 37:56 Abbie Reynier (junior)
365 ran

Harrogate Stray
(1  17:52 Warren Lowcock, U/A)
136 26:54 Petra Bijsterveld
140 27:13 Fiona Schneider
226 ran

Skipton Aireville Park
(1  19:44 John Potter, Bridlington RR)
42  28:05 Alex Millar
77 ran

parkruns, Sat 2 Aug
From Petra ... Quite a number of Harriers out at parkrun this Saturday and some outstanding results, Sally Malir was the 1st woman home at Bradford and Hannah Partner achieved the same feat at Skipton. Steve Weston flew across the Stray to come 7th at Harrogate (his first parkrun) and Alex Hirst continues in fine form in Lewisham coming in 4th. Results ...


Bradford Lister Park
(1  18:02 Paul Clegg, Bingley Harriers)
17  20:35 Sally Malir 1st F
74  24:02 David Chandler
365 39:59 Abbie Reynier (junior)
408 ran

Harrogate Stray
(1  16:50 Richard Ebbage, Ripon Runners)
7   18:21 Steve Weston
146 26:29 Julie Elmes
258 ran

Lewisham Hilly Fields
(1  18:49 Richard Mathie, Imperial College Cross Country & AC)
4   19:26 Alex Hirst
93 ran

Skipton Aireville Park
(1  17:39 Lee Athersmith, Bingley Harriers)
19  23:18 Hannah Partner 1st F
48  29:48 Alex Millar
76 ran

Fountains Abbey
(1  17:35 Mike Appleton, Ripon Runners)
29  22:43 Will Worboys
197 ran

Hellifield Gala fell race, Sat 2 Aug
A good 9th place for Jamie in the senior race, and Juniors running too - see the Woodentops photos

(1 Jimmy Craig, Barlick)
9 Jamie Hutchinson
52 finished


---