Ilkley Harriers PECO XC 2008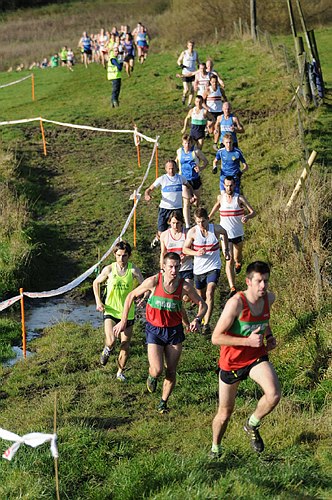 Ilkley Harriers were pleased to welcome you to the first race in the PECO XC League 2008! We hope everyone enjoyed their day at Nell Bank.
This event included the first Junior XC Challenge Race for girls and boys aged 11-16 on the day. 21 Juniors ran, got the t-shirt, and had a great day. Pictures below ...
Photos
We have lots of photos ...
Paul's photos, senior race
Paul's photos, junior race
Brian's photos, senior race
and just a few more.
Date
Start times
Junior XC Challenge 10am
Senior race 11am
Entry fees
Juniors £1
Seniors £2.50
Entry on the day only
Registration opens 9am
Travel and Car Parking
The race venue is the Nell Bank Centre on Denton Road, Ilkley. www.nellbank.com
The Google Map can be used to get travel directions.
Car parking will not be possible at Nell Bank (flooding) so park at Ilkley Swimming Pool/Lido and walk through the woods.
Courses
On farm fields. The going can be 'heavy'. Studded shoes or spikes recommended.
Junior Course 2 miles Google Map
Senior Course 4.5 miles Google Map
Facilities
Under cover Registration and changing area
Toilet blocks (separate Portaloo for muddy-booted runners)
Please note: all playground areas are strictly Out Of Bounds
Food provided by Ilkley Harriers after the race
See Google Map for site layout.
Web Links