This page shows the results of races that Junior Ilkley Harriers have run in, most recent races first. (If we've missed any results, please let us know).
West Yorkshire XC league,Race 4, Nunroyd Park, Sun 7 Dec
Gaenor Coy reports.... Well done to all Junior Harriers who ran on Sunday in the bitterly cold weather and lots of mud for the last WYXC race of the season. Our numbers were just slightly lower due to winter sickness and injuries but still managed teams for 6 out of 8 of the races. Not too sure of the distance but the courses seemed to be a lot longer than previous races with the organisers having to change course routes slightly to accommodate building works in the park. So well done to all on a tough race.
Results
U11 boys: 4th Lewis Carr 8:08, 9th Harrison Oddie 8:27, 25th Theo Clay 9:04, 40th Scott Firth 9:48, 4th Team
U11 girls: 8th Isabella Moran 9:06, 21st Amy Beanlands 9:35, 22nd Charlotte Kenneth 9:36, 30th Robyn Anderson 9:46, 41st Sarah Bradley 10.22, 51st Neve Tennant 10:50, 53rd Evie Dennett 10:58. 3rd Team
U13 boys: 3rd Matthew Kenneth 13:58, 12th Max Bradley 15:00, 36th Ethan Whiteside 16:40, 42nd Tom Jackson 17:08 43rd Harry Firth 17:19. 5th Team
U13 girls: 5th Bethan Morley 11:08, 19th Caitlin Oddie 12:09, 20th Emily Kenneth 12:16, 22nd Ella Shouler-Harris 12:18, 26th Poppy Anderson 12:31, 33rd Bernadette Selman 12:58, 41st Katie Meredith 13:30, 43rd Charlotte Elston 13:38. 3rd Team
U15 boys: 11th Euan Brennan 16:49, 14th Francis Westhead 17:01, 18th George Hardesty 17:17, 19th Cameron Reilly 17:38, 26th Oscar Stapleton 18:18, 34th Harry Barker 19:11. 3rd Team
U15 girls: 30th Georgia Flaxman 17:49, 31st Molly Jeffels 17:53,
U17 ladies: 4th Sarah Pickering 18:23, 6th Lucy Williamson 18:49, 10th Lucy Haines 20:02, 12th Joanne Williamson 20:58, 16th Elizabeth Westhead 22:19. 1st Team
Overall League Team Results
Some great overall team results this year. Medals will be given to all team members who ran in any teams finishing top 3 overall.
U11 boys -3rd Team; U11 girls - 2nd Team; U13 boys – 3rd Team; U13 girls – 6th Team; U15 boys – 4th Team; U15 girls – 8th Team; U17 ladies - 1st Team
Overall Individual Results
Well done to Lewis Carr, Matthew Kenneth, Sarah Pickering and Lucy Williamson on their trophies for finishing in the top 6 overall. The best 3 out of the 4 races count towards individual results.
U11 boys: 4th Lewis Carr, 19th Harrison Oddie, 24th Theo Clay, 26th William Spencer, 43rd Scott Firth.
U11 Girls: 11th Isabella Moran, 18th Charlotte Kenneth, 27th Robyn Anderson, 38th Sarah Bradley, 57th Neve Tennant.
U13 boys: 3rd Matthew Kenneth, 14th Dominic Coy, 36th Reuben Foster, 42nd Tom Jackson, 44th Harry Firth.
U13 girls: 24th Poppy Anderson, 27th Emily Kenneth, 29th Caitlin Oddie, 35th Ella Shouler-Harris, 42nd Katie Meredith, 43rd Bernadette Selman, 46th Charlotte Elston, 70th Jasmin Clay.
U15 boys: 7th Euan Brennan, 19th Francis Westhead, 23rd George Hardesty, 24th Cameron Reilly, 30th Oscar Stapleton, 34th Harry Barker.
U15 girls: 31st Georgia Flaxman, 32nd Molly Jeffels, 33rd Eve Jeffels, 42nd Nea Weston.
U17 ladies: 4th Sarah Pickering, 6th Lucy Williamson, 9th Lucy Jacques, 11th Joanne Williamson, 17th Elizabeth Westhead, 19th Tilly Woodward
Northern Athletics, indoor open meet, EIS, Sat 6 Dec
Harry Maslen competed in the 600m with a time of 1.27.34 and the 60m with 7.41.
PECO League race 1, Leeds, Sun 30 Nov
Results from Gaenor...... Well done to Poppy Anderson who was 3rd girl in the years 7-9 race, Lucy Williamson who was 2nd in Years 10 to 12 girls and George Hardesty who was 2nd in the years 10 to 12 boys race.
West Yorkshire XC league,Race 3,Keighley, Sat 22 Nov
Gaenor Coy reports.... Another brilliant Junior Harrier turn out for the 3rd race of the league at Cliffe Castle in Keighley once again to have teams in all 7 of the 8 competing categories. There were some brilliant individual and team performances on a very muddy course with a very challenging hill.
Well done to all, especially those competing in the league for the first time.
Results
U11 boys: 7th Lewis Carr 6:05, 19th Harrison Oddie 6:27, 25th William Spencer 6:30, 5th Team
U11 girls: 12th Amy Beanlands 6:41, 14th Isabella Moran 6:42, 15th Charlotte Kenneth 6:42, 37th Robyn Anderson 7:12, 38th Sarah Bradley 7:12, 59th Evie Dennett 7:52, 63rd Neve Tennant 7:58. 2nd Team
U13 boys: 4th Matthew Kenneth 8:12, 16th Dominic Coy 8:39, 24th Joe Bramham-Butts 8:57, 26th Reuben Foster 8:58, 39th Ethan Whiteside 9:16, 50th Tom Jackson 9:49, 52nd Harry Firth 9:53. 4th Team
U13 girls: 3rd Bethan Morley, 8:47, 28th Poppy Anderson 9:57, 30th Caitlin Oddie 10:03, 33rd Emily Kenneth 10:12, 39th Katie Meredith 10:21, 40th Rachel Scott 10:24, 43rd Isabel Sowden 10:29, 46th Charlotte Elston 10:39, 70th Yasmin Clay 12:17. 5th Team
U15 boys: 8th Euan Brennan 14:15, 26th Francis Westhead, 27th George Hardesty 15:11, 29th Cameron Reilly 15:13, 38th Harry Barker 16:02, 39th Oscar Stapleton 16:15. 4th Team
U15 girls: 30th Georgia Flaxman 15:35, 35th Molly Jeffels 16:17, 36th Eva Jeffels 16:39, 42nd Nea Weston 18:00. 8th Team
U17 ladies: 4th Sarah Pickering 16:10, 6th Lucy Williamson 16:36, 11th Lucy Jacques 17:50, 12th Joanne Williamson 18:17, 16th Elizabeth Westhead 19:13, 19th Tilly Woodward 20:07. 1st Team
West Yorkshire XC league,Race 2,West Park, Leeds, Sun 2 Nov
Gaenor Coy reports..... Sunday 2nd Nov was the second West Yorkshire Cross Country League race of the season. It took place at West Park in Leeds. Despite the race falling during the half term holidays Ilkley harriers still had a great turn out with, managing once again to have teams in all 7 of the 8 competing categories with particularly good team results from the U11 girls, U13 boys and U17 ladies. Well done to all, especially those competing in the league for the first time.
Results
U11 boys: 4th Lewis Carr 6:19, 20th Nathan Coy 6:48, 29th Theo Clay 6:58, 30th Harrison Oddie 7:01, 38th William Spencer 7:10, 40th Rohan Smith 7:12, 46th Scott Firth 7:26. 6th Team
U11 girls: 12th Isabella Moran 7:08, 14th Phoebe Worrall 7:11, 25th Robyn Anderson 7:28, 28th Sarah Bradley 7:32, 59th Neve tennant 8:22. 3rd Team
U13 boys: 4th Matthew Kenneth 11:04, 6th Max Bradley 11:11, 16th Dominic Coy 11:43, 35th Reuben Foster 12:29, 46th Tom Jackson 12:57, 48th Harry Firth 12:59. 2nd Team
U13 girls: 26th Poppy Anderson 9:31, 33rd Ella Shouler-Harris 9:51, 39th Caitlin Oddie 10:06, 43rd Isabel Sowden 10:13, 47th Katie Meredith 10:17, 50th Bernadette Selman 10:27, 51st Charlotte Elston 10:28, 77th Jasmine Clay 12:10. 9th Team
U15 boys: 7th Euan Brennan 15:02, 23rd George Hardesty 16:00, 29th Oscar Stapleton 16:14, 33rd Cameron Reilly 16:29, 40th Harry Barker 17:05. 4th Team
U15 girls: 28th Georgia Flaxman 16:33, 31st Molly Jeffels 16:42, 34th Eva Jeffels 16:56, 43rd Nea Weston 18:07. 9th Team
U17 ladies: 7th Sarah Pickering 17:05, 11th Lucy Haines 17:33, 13th Lucy Jacques 17:42, 21st Elizabeth Westhead 19:43, 23rd Tilly Woodward 20:26. 3rd Team

West Yorkshire XC league,Race 1,Wakefield, Sun 19 October
Gaenor Coy reports..... Sunday 19th Oct was the first West Yorkshire Cross Country League race of the season. It took place at Thornes Park in Wakefield on a sunny but very blustery day. There was some great running by the 45 Ilkley Harriers juniors, quite a few of whom were running in the Harriers vests for the first time and others stepping up age group and distance. It was great to see so many of you running and with enough athletes for teams in 7 out of the 8 junior categories.
The U11 boys started the day well the securing 1st team win helped by Lewis Carr's 3rd place. The U13 boys followed a strong team performance finishing 2nd team with outstanding running by Max Bradley 3rd and Matthew Kenneth 4th. The U17 girls who had a team for the first time ever secured the 1st team prize with 3 top 10 performances from Sarah Pickering 2nd, Lucy Williamson 7th and Lucy Jacques 9th.
Results
U11 boys: 3rd Lewis Carr 5:27, 13th Nathan Coy 5:45, 18th 5:52 William Spencer, 20th Theo Clay 5:54, 40th Rohan Smith 6:13, 49th Scott Firth 6:27. 1st Team
U11 girls: 16th Charlotte Kenneth 6:04, 22nd Phoebe Worrall 6:13, 28th Robyn Anderson 6:13. 6th Team
U13 boys: 3rd Max Bradley 10:32, 4th Matthew Kenneth 10:41, 12th Dominic Coy 11:02, 25th Robbie Matthews 11:29, 34th Joe Bramham- Butts 11:47, 48th Reuben Foster 12:20, 49th Harry Firth 12:24, 60th Tom Jackson 13:05. 2nd Team
U13 girls: 20th Poppy Anderson 12:32, 28th Emily Kenneth 12:51, 31st Emily Elmes 13:01, 37th Caitlin Oddie 13:19, 45th Rachel Scott 13:52, 46th Charlotte Elston 13:58, 48th Bernadette Selman 14:04, 49th Ella Shouler–Harris 14:06, 52nd Katie Meredith 14:10, 76th Jasmine Clay 16:32. 7th Team
U15 boys: 10th Euan Brennan 15:37, 15th Francis Westhead 15:46, 24th Cameron Reilly 16:28, 26th Oscar Stapleton 16:37, 29th George Hardesty 16:53, 36th Harry Barker 17:27. 5th Team
U15 girls: 29th Georgia Flaxman 16:35, 32nd Molly Jeffels 16:54, 34th Eva Jeffels 17:00, 52nd Nea Weston 19:35. 10th Team
U17 ladies: 2nd Sarah Pickering 16:51, 7th Lucy Williamson 17:53, 9th Lucy Jacques 18:17, 14th Joanne Williamson 19:07, 20th Tilly Woodward 20:17, 21st Elizabeth Westhead 20:21. 1st Team
English Schools Combined Events Finals,Boston,20th & 21st Sept
Harry Maslen (U20) produced four PB's to finish 5th overall in the ESSA combined events final at Boston. His results were: 100m, 11.65 (721), long jump, 6m.04 (595), shot, 11m.20 (558), high jump, 1m.88 (696), 400m, 52.47 (704), He finished day 1 with 3274 points. 110m hurdles, 15.72 (765), discus, 27m.15 (409), pole vault, 3m.30 (431), javelin, 46m.13 (532), 1500m, 4mins, 54.51 (592). He finished with 6003 points.
Yorkshire Combined Events Champs,Cleckheaton,6th & 7th Sept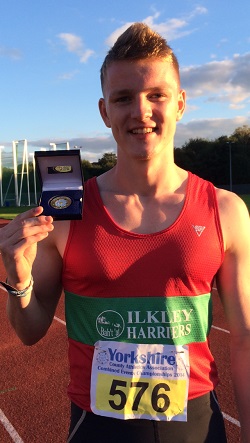 Harry Maslen (U20) competed with distinction in these championships to produce seven PB's and smash the championship points record. His results were: 100m, 11.70 (711), long jump, 6m.33 (659), shot, 11m.09 (549), high jump, 1m.87 (687), 400m, 54.41 (623), He finished day 1 with 3229 points. 110m hurdles, 15.52 (788), discus, 35m.08 (565), pole vault, 3m.32 (436), javelin, 45m.71 (525), 1500m, 4mins, 58.79 (567). His 6110 points was a new championship record.
West Yorkshire T&F Champs, Cleckheaton, 6th & 7th Sept
Lucy Williamson: 1st in 800m, 2mins.30.33; 1st in 1500m, 5mins.08.05; 3rd 300m, 46.82 and 4th in long jump with 4m.07. Camerone Reilly was 3rd in 800m with 2mins.24.23.
Pendle Open T&F meet, Wakefield, Sun 7 Sept
Poppy and Robyn Anderson reports... A sunny and welcoming day lay ahead of us, the track events were about to start and the nerves were building up. First up was Poppy's race -200m U13 girls. She had a good race finishing 5th overall in 33.2, to add to that it was then her 800m race concluding to a 3rd place finishing position and a pb too (2.54.7). Now it was Robyn's turn she was doing: 800m U10 girls for the first time and she was 5th with a time of 3:13.6 so it went well. We enjoyed a sunny day out at the Pendle open. Tilly Woodward (U17) was also competing in the 800m in an Ilkley vest for the first time where she finished 2nd in 2.48.7
Round up of summer BOFRA races
Junior Harrier's name and race attended - if the athlete finished in 1st to 5th place the position is shown)
Lucy Haines (U17): Kettlewell (1st), Hawkswick (1st), Cracoe (1st), Cowling (1st), Kilnsey (1st)
Jemima Elgood (U17): Kettlewell (2nd), Hawkswick (3rd), Cracoe (4th), Kilnsey (2nd)
Joanne Williamson (U17): Arncliffe, Gargrave (4th), Bradley (3rd)
Ruaridh Mon Williams (U17): Cowling, Arncliffe (1st), Reeth (2nd), Bradley (3rd)):
Euan Brennan (U14): Sedbergh Gala (2nd), Kettlewell (1st), Hawkswick (2nd), Kirkby Gala (2nd), Farleton (3rd), Arncliffe (2nd), Gargrave (1st), Reeth (2nd), Bradley (2nd), Bunsall (1st), Embsay (2nd)
Lewis Carr (U12): Sedbergh Gala, Kettlewell, Hawkswick, Cracoe, Cowling, Eshton Moor, Arncliffe, Cray (2nd), Gargrave, Malham (3rd), Reeth, Bunsall, Embsay
Sam Turland (U12): Kettlewell, Hawkswick, Helm Hill, Murder mile, Cracoe, Kilnsey
Poppy Anderson (U12): Cracoe (4th), Cowling (4th), Arncliffe (3rd)
Robyn Anderson (U12): Cracoe, Cowling, Arncliffe
Dylan Carr (U9): Kettlewell, Hawkswick, Cracoe, Cowling, Eshton Moor, Arncliffe (4th), Cray (1st), Gargrave (5th), Malham (5th), Reeth, Bunsall, Embsay
Ivy Cooper (U9): Kettlewell, Embsay, Bradley
Those who did 1 race over the summer: Tilly Melechi (U17) Kettlewell-5th; Jack Cummings (U17) Hawkswick; Max Bradley (U12) Sedbergh-2nd; James Patchett (U12) Hawkswick; Tom Hagan (U12) Hawkswick; Isabel Macina (U12) Embsay; Charlie Macina (U12) Embsay.
Others who did races (too young in some cases): Jonathan Archer (4 races), Nicholas Archer (4 races), Elise Crabtree (1 race), Summer Smith (2 races), Angel Smith (1 race).
West Yorkshire Track & Field league, Wakefield, Sun 3 Aug
Sue Williamson reports....on Sunday Lucy competed in Wakefield along with Cameron Reilly from Ilkley. Cameron was very pleased with a pb in the 800m with a time of 2.22 and Lucy a pb in 1500 5.12 she also competed in the 800.
Hellifield Gala Fell Races, Sat 2 Aug
Sue Williamson reports.... Robyn, Poppy and Joanne all went to Hellifield Gala on Sat 2 August, the afternoon
came out nice and warm ready for some great runs. Robyn came 3rd in the U10,
Poppy 2nd in u12 and Joanne ran with the seniors to come 5th lady 1st u18 girl (although no category for this age)!
The girls had their photographs taken with Adam Thomas celeb from Emmerdale, they then went on to enjoy the
facilities and games at the fair.

York Summer Track & Field League meet 4, Sat 2 Aug
Sue Williamson reports.... Lucy (U17) went to the last York track and field and had a good day having entered the 200m, 2nd with 30.3: longjump, 2nd with 3m.64 and 3000m, 1st with 11mins, 27.2.
Lauren Jackson (U13) ran in the 80m in 11.6 although her result appears with the U13 boys!!

Washburn Valley Relays, Fri 18th July
It was a brilliant relaxed evening with 16 juniors racing in Ilkley colours. All the teams were pretty equal in ability and had the required number in each of the age categories to be competitive. No midges and a great picnic afterwards. There were 10 teams altogether and the Ilkley placings were:
1st Phoebe Worrall (9.16), Robyn Anderson (8.35), Max Bradley (8.22), Robbie Matthews (7.39) Team: 33.52.
2nd Dylan Carr (9.45), Sarah Bradley (10.00), Isabel Sowden (9.16), Cameron Reilly (7.16 => fastest mile of the night) Team: 36.17.
3rd Blossom Sowden (10.25), Lewis Carr (8.45), Poppy Anderson (8.39), Sam Craske (8.40) Team: 36.29.
6th Holly Fox (10.02), Evie Dennett (10.03), Megan Twigger (9.37), Will Craske (8.43) Team: 38.45.
19th Yorkshire Junior fell Champs (round 7 English fell Champs), Kettlewell, Sun 13th July
George Elmes reports... Firstly apologies for the delay in getting this onto the website .
14 JIH's made the relatively short trip up to Kettlewell to compete the both the Yorkshire champs and round 7 of the FRA junior champs. These two events this year were held as part of the Wharfedale TTT series hosted by Bingley Harriers.
The overnight rain had cleared by the morning of the race to be left with a really sunny day in a fantastic setting of Wharfedale
As normal at this standard of racing all courses offered tough challenging and technical running- climbing Langcliffe and then over to hag dyke for the older juniors.
As in normal with the Fell squad at the moment we had some great performances from all topped by Yorkshire podium places for Lewis Carr – 3rd, Lucy Haines – 2nd , Jemima Elgood 3rd and Lucy Williamson 2nd .
Full Results –
U8B Dylan Carr 7th , Max Stead 15th. U10B Lewis Carr 6th (3rd Y), Harry Stead 25th U10G Robyn Anderson 13th, Summer Sky Smith 21st. U12G Poppy Anderson 12th, Emily Elmes 14th. U14G Nea Weston 21st U16G Lucy Haines 2nd (2nd Y) Jemima Elgood (3td Y) Lucy Jacques 8th. U18 Lucy Williamson 4th (2nd Y)
(Y) = Podium Yorkshire position .
Kettlewell proved to be an excellent location for the race with the obligatory stream which a number of the juniors took the opportunity to cool down in. Some enjoying the dip so much that they came back very late soaking wet and nearly missed being presented with their hard won medals!!!. No names but she was 3rd Yorkshire U16. :-)
Some great individual results but the U16 girls really stood out with all of them finishing in the top 8 led by Lucy "jet propelled decender" Haines. (Seriously quick coming off the top).
The Yorkshire championship presentation was finished off in customary fashion by the Woodentops Chocolate throw out (thanks Dave and Eileen!) . Allegedly for the kids, however there appeared to be a number of rather large "kids?" making off with armfuls of chocolate!!! ?
In the FRA championships the U8 and U10 are deemed to be "uncompetitive" and are run as " an introduction to fell running" and do not have points awarded. However to see the two younger age categories run tells a different story – yes they are very friendly and great for all levels of ability to enjoy but there is obviously a real desire to do as well as they can.
Congratulations to all our U8/10s that made a huge contribution this year – Max Stead, Dylan Carr, Robyn Anderson, Harry Stead, Lewis Carr, Lyra Weston, Tom Bramham Butts, Ben Kelt, and Summer- Sky Smith.
The future is certainly looking bright with these guys coming through. Well done to all of them.

Final individual positions in the championships after 7 races –
U12B Joe Bramham Butts 43rd, U12G Poppy Anderson 10th, Emily Elmes 11th , U14B Euan Brennan 4th , Robbie Matthews 31st, U14G Nea Weston 23rd, GU16 Lucy Haines 2nd, Jemima Elgood 6th, Lucy Jacques 7th, Tilly Melechi 24th. GU18 Lucy Williamson 3rd, Joanne Williamson 6th.
The above shows a number of excellent individual performances however just as important is the club result -
At the club awards presentation night in April when I gave an overview of last year's championships I stated that we had our best result ever where we had finished joint 6th out of over 70 clubs ting. A performance for all to be proud of but I challenged ourselves to go one better in 2014.
It's fair to say the objective was smashed. With 21 juniors competing we improved by a massive 190 points to finish 4th! We were only 3 points short of Holmfirth in 3rd and finished 2nd best placed club in Yorkshire. A outstanding achievement with our results improving significantly.
Club final positions 1st Helm Hill 1005,2nd Eden Runners 1000, 3rd Holmfirth Harriers 984, Ilkley Harriers 981, Wharfedale Harriers 938.
I think all our our junior's deserve huge credit for putting on an ilkley vest and mixing it with the very best junior's in the country. I have said it before and I will say it again we are all really proud of the commitment and dedication to perform at this level. (And more importantly clearly enjoy it in spite of some horrendous weather from time to time!!!!)
As always thanks also to parents, grandparents, friends, etc. who have put in a huge amount of effort in supporting the kids and making this championship an extremely enjoyable and rewarding experience during 2014. – It could not happen without your fantastic support.


York Summer Track & Field League meet 3, Sat 12th July
Kate Lofthouse reports.... Just got round to checking results for this meet. It was another sunny day and there were some excellent results all round. U11: Sarah Bradley 10th in 75m 11.9, 8th in shot 4.38; Thomas Dover 3rd in 75m 11.4, 1st in shot 7.47, 6th in long jump 3.45. U13: Emily Dover 4th in 75m 12.4,14th in long jump 3.02m; Max Bradley 2nd in 200m 32.0, 3rd in high jump 1.25, 1st in 1500m 5.23; Robbie Matthews 3rd in 800m 2.35, 3rd in shot 6.21, 5th in long jump 3.54. U15: Jacob Hellewell 3rd in 100m 13.2, 4th in 200m 26.7
English Junior Fell champs Round 6 - Clougha Pike, Sat 21 June
Results: U18 => Lucy Williamson 4th and Joanne Williamson 7th; U16 => Lucy Haines 1st; U14 => Euan Brennan 4th, Robbie Matthews 21st and Nea Weston 21st; U12 => Poppy Anderson 11th; U10 => Lewis Carr 4th, Harry Stead 19th, Robyn Anderson 11th and Lyra Weston 16th; U8 => Dylan Carr 8th and Max Stead 15th.
York Summer Track & Field League meet 2, Sat 8th June
Great to have 10 juniors competing at York - some competing for the first time. And it was SUNNY!!
Results: U11 =>; Robyn Anderson, 8th in 600m, 2.14.6; Caitlin Ramage, 11th in both 75m 12.5 and shot 3.43, 14th long jump 2m.44; Thomas Dover 5th in both 75m 11.7 and shot 5m.45 and 15th in the long jump 2m.67. U13 => Robbie Matthews, 3rd shot, 5m.54, 4th long jump, 3m.75, 5th 800m, 2.38.5. Poppy Anderson, 18th, 150m, 24.0 and 10th, 800m, 2.59.1; Emily Dover, 4th 80m, 12.1 5th high jump, 1m.15 and 23rd long jump, 2m.71; U15 => Roisin Ramage, 2nd shot 10m.25, 6th discus, 18m.54 and 11th long jump, 3m.97; Alexander Ramage, 3rd shot, 6m.46, 5th 100m, 13.3 and 6th long jump, 3m.70; Joe Gardner, 2nd 80m hurdles, 14.0, 3rd in both the 200m, 26.3 and high jump, 1m.50. U20 => Harry Maslen, 1st high jump, 1m.88, 2nd in 200m, 23.1, discus 28m.14 and javelin 42m.41.
English Uphill Races (Round 5 FRA champs), Sat 7 June
From George Elmes ...Despite the well-publicised atrocious weather forecasts 9 JIH's managed to make it across to the Lakes to race in the dramatic setting of the Dudden valley for Round 4 of the English Junior fell champs.
Emily and I joined by Lucy and Joanne Williams took the decision to travel across the night before and camp at the start. On arriving in clear blue skies with no wind we wondered what all the fuss was about?
After going out to eat and spending a pleasant couple of hours in a local pub garden in the company of some other clubs junior's and their parents we returned to the tent for a relaxing night.
All went well until about 4.30am when went were woken by the tent being buffeted by hurricane winds which meant running repairs as the tent was taking a real pounding. (we later found that a number of tents on the site had been damaged) Fortunately the wind dropped at about 7am and was replaced by…………………… driving incessant rain for most of the day. Character building was the expression my dad always used to say! However we were all warm, dry (ish) with the correct kit and much laughter/smiles so all good.
As well as being round 5 of the Junior Fell champs it is also a championship in its own right – the English Uphill champs which awards trophies in its own right.
As normal we had some great performances from all this time led by Lucy Jacques who picked up a trophy for 3rd in the challenging GU16 race and Lucy and Joanne Williamson who picked up trophies for 2nd and 3rd in a very tough GU18 race.
Emily and I climbed up high to just off the summit of Brown pike (which was the finish) to see Jo and Lucy go through in the Clagg on the top. To see them battling up to the finish on top of Brown Pike was inspirational – a fantastic effort.
Full results –
U10G Lyra Weston DNF ( was in top of the hill so unsure of the circumstances – hope all is well Lyra?)
U12G Emily Elmes 11th
U14B Euan Brennan 4th
U14G Nia Weston 20th
U16G Lucy Jacques 3rd, Lucy Haines 4th, Jemima Elgood 8th
U18G Lucy Williamson 2nd, Joanne Williamson 3rd.
As an indication of how tough the conditions were a senior fell race across at Ennerdale on the same day used the short bad weather route due to the conditions. No "wimping out" from the junior's that took on the full route here! On a serious note it was a fantastically well run/flagged/ marshalled event where the organisers at Broughton were constantly reviewing the conditions throughout the day for safety. The terrain and conditions were typical Lake district and they correctly took the right decision in checking kit for all runners at both registration and at the start of each race. With the above in mind It was 100% the right decision to go ahead with the race.
In very demanding conditions all ran well and after taking on the one way climb up retuned down with massive smiles on their faces. The question has to be asked has Neah Weston got the biggest smile of any competitor taking part in a fell race?– she can light up a fellside with her massive smile dispite the tough conditions!!!!!
Typically as we dropped the tent at the end of the day the cloud cleared, the rain stopped and the entire valley was bathed in glorious sunshine!!!!!!
However it was a cracking day in tough condition which from the smiles and laughter was enjoyed by all that took part from Ilkley.
In the club championship you need both 3 girls and 3 boys to score any team championship points . As we had 8 girls running and only one boy (Euan) we did not make any ground up . However we are still 4th in the Club championship with two rounds to go. Big effort required and let's see if we can get a large turnout in the last two championship events.
A massive well done to all that took part.
West Yorkshire Track & Field League, Cleckheaton, Wed 4th June
Malcolm Pickering writes..... Lucy W. and our Sarah made it to the 3rd W.Y T and F meeting. Lucy jumped 4.15 and ran the 1500m in 5:13.8 and Sarah ran 5:04.7.
English Junior Fell champs Round 4 - West Nab
George Elmes reports...... Holmfirth Harriers hosted the 4th round of the Junior English Fell championship at West Nab. This race was last held in 2004 when the Brownlee Brothers were winning the U12 and U14 races. Run over the South Pennine moors and based in the small town of Meltham in the heart of Last of the Summer Wine country it made for a fantastic scenic setting.
All age groups enjoyed varied, challenging courses, with Lucy and Joanne Williamson in the U18s joined by senior athletes for their ascent of West Nab itself.
Again another good turnout of 12 JIH's made the trip across and once again some fantastic performances led by Lucy Wiliamson 2nd U18 girl and Euan Brennan 3rd U14 boy.
Full results -
· BU8 Max Stead 16th
· GU10 Robyn Anderson 16th,
· BU10 Harry Stead 21st
· GU12 Emily Elmes 9th, Poppy Anderson 11th
· BU14 Euan Brennan 3rd, Robbie Mathews 21st.
· GU16 Jemima Elgood 6th, Lucy Jacques 7th, Tilly Melechi 10th
· GU18 Lucy Williamson 2nd, Joanne Williamson 7th
After the GU16 race Tilly Melechi who had chosen to spend her 15th birthday at this race was rewarded by being "serenaded" by the Ilkley fellside choir. Not sure how much of a treat that was Tilly if the Elmes girls previous singing is typical of the quality on the day ! :-) . Happy birthday anyway!
Unfortunately I could not make the race but am reliably informed by Julie and Emily that again it was another really tough course with some really brutal climbs after fighting your way up through knee deep grass, heather, and bracken,before hitting the open moorland. This was confimed by some of the pictures I saw, 45 degree climbs with athletes on hands and knees in some parts. A number of our juniors were quoted as saying it was the most challenging this year and very very technical. Not attending I personally cant confirm this but I do know that the fantasic performances from all that raced on the day took Iikley up to 4th place in the English club championship. (out of 58 Clubs) To my knowledge this is the highest position we have ever been in and every single JIH that has put the red and green vest on and raced at this national level should be proud of their collective performance.
Its a fantastic achievement to be the 4th most successful Junior fell running club in England at present - lets see if we can move JIH into the top 3 club medal places come the end of the championships.
Once again on behalf of all Coaches, Parents and relatives we are all proud of the commitment, enthusiamsm and dedication shown by everyone of you that competed today.
Well done to all.
Yorkshire Track & Field Champs, Cudworth, Sun 18th May
Zoe Judkowski (U17): 2nd and silver medallist, triple jump, 9m.26; Sarah Pickering (U17): 7th, 1500m, 5.03.72. Roisin Ramage (U15) shot, 5th 10m.18 and discus, 7th 21m.19.
Inter Counties Fell Championships, Witton Park, Sun 18th May
Well done to Lucy Haines (U16) competing for Yorkshire who was 5th individually and helped the team to gain gold; Jemima Elgood who as a reserve for Yorkshire ran as IH and was 6th overall - Yorkshire vest next time? Lucy Williamson (U18) running for Yorkshire was 10th and her team came 4th. Ruaridh Mon-Williams (U16) competing for IH was 12th.
LBT Aquathlon, Leeds University, Sun 18th May
Gaenor Coy reports.... Lots of Ilkley Harriers (most disguised under various other club names) competed in the LBT Aquathlon on Sunday 18th May at Leeds University. Well done to all the following who competed:
Tristart (50m swim and 600m run): Helena Coy (3rd girl), Dylan Carr (joint 3rd boy)
Tristar 1 (150m swim and 1200m run): Freya Whiteside, Lewis Carr
Tristar 2 (250m swim and 1800m run): Poppy Anderson, Eliza Hanson, Dominic Coy (1st boy), Ethan Whiteside, Nathan Coy, Joe Bramham Butts
Tristar 3 (400m swim and 3000m run): Olivia Hanson, Ella Shouler-Harris, Cameron Reilly, Sam Craske, Matthew Cogan.
York Summer Track & Field League meet 1, Sat 10th May
Great to have 11 juniors (+ Dexter in the lollipop race) competing at York - most competing for the first time in this discipline. Results: U11 => Sarah Bradley, 7th in both the 600m, 2.18.4 and 75m, 12.6; Robyn Anderson, 8th in both the 600m, 2.19.2 and 75m, 14.3. U13 => Max Bradley, 1st in the 1500m, 5.25.3 and 4th, 200m, 30.3. Robbie Matthews, 8th in the 800m, 2.43.3. Tom Jackson, 7th in the 75m Hurdles, 18.5. Poppy Anderson, 8th, 150m, 24.2 and 9th, 800m, 3.00.9. Georgina Mumby, 4th, 70m hurdles, 16.6 and 2m.74 in the long jump. Lauren Jackson, 5th, 70m hurdles, 16.9 and 2m.62 in the long jump. U15 => Roisin Ramage, 1st, shot 10m.10, 2nd, discus, 21m.39 and 3rd, 100m, 13.9. Cameron Reilly, 4th, 1500m, 4.56.6. U17 => Lucy Williamson, 1st 3000m, 11.35.3, 2nd, long jump, 3m.58 and 3rd, 800m, 2.31.4.
Junior English Fell Championship round 3, Coiners hosted by Calder Valley Fell Runners, Mon 5th May.
George Elmes reports..... With JIH's currently an impressive 5th in the English Club Championships, 16 JIH's travelled across to Mytholmroyd for round 3 of the English Fell looking to maintain our early championship form.
A record number of entries for this championship race meant that all races were very competitive with the cream of England's junior fell runners taking part.
Once again we recorded some great individual results highlights being Lewis Carr 3rd BU10 and Euan Brennan 3rd BU14, however every one of the JIH's that competed deserve a massive "well done" for competing successfully at this level. (And looking like they enjoyed the experience)
The routes were extremely testing for all with a tough lung-busting uphill start and at the top end of allowable distance for championship races. The older runners going right up and taking in large chunks of open exposed moorland. Lucy and Jo W even having to climb right up for the turn at Stoodley Pike. The return for all was a long fast downhill decent covering every possible surface, moor, tracks, woodland and a very fast grassy slope into the finish.
The weather conditions were ideal for running - dry and with sunny spells with a cooling breeze however the very dry underfoot conditions did not tell the full story. Higher on the moors were a number of very wet boggy areas resulting in a number of runners returning looking like they had decided to take in a spot of "bog swimming" instead of running the moor – I saw a number of runners employ this new novel approach to fell running including one of our own. (No names Jo!)
As usual the vocal support from our runners and parents for each others was fantastic to see. A number of parents "support "even going as far as significantly "carbo loading" themselves with cakes and buns from the cake stall prior to their offspring setting off. (Again no names but Kate, Sue and Julie may be able to offer a very comprehensive review of the fare on offer? )
Full results –
BU10 3rd Lewis Carr, 39th Ben Kelt, 46th Tom Bramham Butts.
GU10 21st Robyn Anderson.
BU12 20th Joe Bramham – Butts
GU12 10th Emily Elmes, 11th Poppy Anderson
BU14 3rd Euan Brennan, 31st Robbie Matthews
GU14 28th Nea Weston
GU16 4th Lucy Haines, 7th Jemima Elgood, 8th Lucy Jacques, 9th Tilly Melechi
GU18 6th Lucy Williamson, 7th Joanne Williamson
Well done again to all that competed – some fantastic determination from all that put on an Ilkley vest today and competed. Every one of you is a winner and should be proud of your efforts. Today's results puts JIH 4th in the English Club Championship out of 58 clubs represented.
West Yorkshire Track & Field League, Cleckheaton, Sat 26th April
Robbie Matthews (U13): 800m, 11th, 2.44.20 and Shot, 6th, 5m.39. Lucy Williamson (U17): 800m, 5th, 2.35.56 and 3000m, 1st, 11.18.97 (graded standard 4). Sarah Pickering (U17): 800m, 8th, 2.44.98.
English Junior Fell champs Round 2 - Rivington
Results: U16 => Lucy Jacques 7th girl; U14 => Euan Brennan 3rd; U12 => Joe Bramham Butts 16th, Poppy Anderson 17th girl, Emily Elmes 27th girl; U10 => Robyn Anderson 12th girl, Harry Stead 46th, Tom Bramham Butts 61st.
English Junior Fell champs Round 1 - Pendle
Results: U16 => Lucy Haines (11th and 2nd girl), Jemima Elgood (15th & 3rd girl), Jacques (18th & 3rd girl), Tilly Melechi (25th & 9th girl); U14 => Robbie Matthews 32nd; U12 => Poppy Anderson 8th girl, Emily Elmes 13th girl; U10 => Lewis Carr 4th, Harry Stead 60th, Robyn Anderson 23rd girl; U8 => Max Stead 25th.
National biathlon final, London, Sat 5th April
Lisa Bradley reports .... Just to let you know Max completed his biathlon this weekend in the Queen Elizabeth aquatic centre in London. He got two personal best and won his category 800 m race out of 121 boys. His time was 2.26 which was on Tarmac and a chicane in the car park so not the best conditions as wet and windy too, and his swim in the Olympic pool was 38 sec . It was an amazing day and topped off by Max getting placed third overall! He was thrilled
National sportshall athletics final, Manchester, Sat 5th April
Kate Lofthouse reports .... Sam McKinnon-Evans, Robbie Matthews and Beth Morley had a fantastic experience as part of the West Yorkshire team at the Sports Hall Athletics UK championships in Manchester this weekend. The competition from the eleven participating regional teams was very strong but they all achieved excellent personal performances. Sam was 4th in the vertical jump, only 1cm from a medal. Sam ran strongly in his heat to make the final of the 4 lap race. Robbie achieved 4th position in the speed bounce and had a good run in the obstacle relay. Beth won her heat convincingly in the 6 lap race and also ran well in the obstacle relay team. They should all be very proud of their performances – well done !
National XC Championships, Wollaton Park,Nottingham, Sat 22nd February
Sally Malir reports ... The English National Cross Country Championships was held at the beautiful venue of Wollaton Park in Nottingham. The weather was sunny but very breezy and the course was varied and challenging including log jumps and stream crossings.
There were many records broken, from the number attending the event to record fields of finishers from the 10 races in the programme. There were over 10,000 spectators and entrants at the event and this made for a fantastic atmosphere. The first Ilkley Harrier to race was George Hardesty (U15 Boy) Who finished 282nd in a time of 17:45.
The Junior Women's race was next, Georgia Malir ran well to finish in 8th position in a time of 22:39. This race was won by Georgia Taylor Brown in a time of 21:03 who led from start to finish and had nearly a minute on the chasing pack of which Georgia Malir was part. There was a record number of finishers in this race 134.
In the Under 13 girl's race there was again a record number of finishers, 431, and the Ilkley girls came 47th team. Individual results were 116th Bethan Morley 13:28, 295th Emily Elmes 14:44, 316th Eva Jeffels 14:50, 361st Ella Shouler Harris 15:20 and Alessandra Ricci 402nd in 14:04.
The Ilkley Under 15 Girls finished 25th team being led home by Lucy Haines 94th in 17:46 with Tilly Melechi in 146th position in a time of 18:11, 178th Jemima Elgood 18:27, 296th Georgia Flaxman 20:49, 302nd Molly Jeffels 20:49 and Elizabeth Westhead 311th in 20:54.
The Under 13 Boys race was the last junior race of the day with another record number of entrants, 385. The two Ilkley boys ran brilliantly and gained fantastic finishing positions of 72nd Euan Brennan in 12:11 and Dominic Coy 188th in 13:00
Next were the senior races, the Women's race finished a record number of competitors 708. Ilkley had three women in this event. Sally Morley ran well and came in 54th in 31:49, Allison Ricci 536th in 42:57 and Julie Elmes 641st in 47:08.
Ilkley had two men in the spectacular finale to the day. Stephen Coy was 728th in 47:37 and Will Buckton also ran.
The whole day was very exciting and well organized a fantastic event to take part in, a definite for me next year!
PECO XC race 4, West Park Fields, Sun 16th February
1 Mile race: 16th Nathan Coy (8.07), 17th Poppy Anderson (8.10), 37th Robyn Anderson (9.08).
2 mile race: 7th George Hardesty (13.10), 8th Dom Coy (13.14), 9th Cameron Reilly (13.18), 10th Lucy Williamson (13.21), 22nd Emily Elmes (14.46), 25th Harry Barker (15.04), 29th Joanne Williamson (16.12).
West Yorkshire Sportshall Athletics competition, Sun 9th February
Report from Kate Lofthouse: Everyone did brilliantly today and all the WY teams (U13 B & G and U15 B & G) got through to represent Yorkshire in the national final in April. Sam's performance in the running was outstanding. Robbie and Bethan did very well in their events. Roisin competed well and I believe came 3rd in standing long jump.
Reuben and Tom performed well, contributing to the under 11 boys win for WY.
They all had a great time and really enjoyed the experience.
Northern XC Championships, Knowsley Park, Liverpool, Sat 25th January
Report from Sarah pickering: Well,....sun....,rain,..hail,..., bit of everything really,...(coincidently the rain and hail began at the start of the U15 Girls, as it seem is tradition!!!!). Overall an extremely well organized event me thinks,..... How many races nowadays allow you to run 4km without running round in ever decreasing circles?
Now in no particular order (well kind of): U17 Women, Lucy Williamson(54th) and Joanne Williamson(79th) completed there 5.3km race with the course at its best for underfoot friction! And even then I doubt there was much!!! Really well run guys!!!
Right I dunno about u but it was super exciting hearing them call on the big speaker (Junior Women) ".....and in 2nd Georgia Malir..." Well done Georgia!
There seemed a few from the U13 Girls who were sporting coulouful knee socks, very nice! Although you probably won't be able to tell by the time Bethan Morley(25), Emily Elmes(94), Alessandra Ricci(162) and Ella Shouler Harris(172) had finished racing what colour the socks were! They had all turned a kinda browney....grey.......!19t
U17 Men then churned up the course more so for the U13 Boys....... Euan Brennan(20), Matthew Kenneth(38), Dominic Coy(76) and Robbie Matthews who also ran. Great effort made by all U13 boys, plus you've all got years of this race to come and look forward to!!!!!
And then,......Down came the rain, beautiful (arguable in a wet, muddy, kinda way). Something about running in the rain, just carnt beat it, not realllly! U15 Girls...Jemima Elgood(30), Sarah Pickering(35), Lucy Haines(44), Tilly Melechi(48), Lucy Jacques(65), Eleanor Coones(126), Elizabeth Westhead(137). Team 5th
I reckon Ilkley should invest in super spikes, I mean like nails so we can grip in the muddiest mud, frictionless hills (e.g Yorkshire xc) or we could just keep practicing high knees!!?
Really well done to all the competitors (p.s U13 Girls finished 19th team and U15 Girls finished 5th team!!!) and thankyou to everyone who's supported us!!!, right whats the next one? Bring it......

Soreen Quarry Runs, Haworth, Sun 19th January
An amazing 28 juniors raced at this popular fell race. U8 results (half mile): 21st and 5th girl Katherine Duffield (4.15), 23rd Jonathan Archer (4.18), 26th Francesca Macina (4.32), 34th Summer Sky Smith (4.51), 36th Nicholas Archer (4.55). U10/U12/U14 results (1 mile): 20th Max Bradley (8.04), 31st Emily Elmes (8.27), 47th Tom Jackson (8.50), 52nd Poppy Anderson (8.55), 61st Ella Shouler-Harris (9.06), 72nd Nea Weston (9.26), 79th Oliver Kelt (9.37), 80th Josh Waddington (9.41), 87th Ben Kelt (9.50), 90th Isabel Macina (9.53), 91st Charlotte McCarthy (9.59), 98th Molly Pearson (10.07), 102nd Sarah Bradley (10.20), 120th Lyra Weston (10.52), 125th William Duffield (11.08), 129th Robyn Anderson (11.24), 140th Edward McCarthy (11.46), 146th Angel Smith (12.32).
U16 (2 miles): 5th and 1st girl Jemima Elgood (13.29), 8th and 3rd girl Lucy Haines (13.40), 9th and 1st U18 girl Lucy Williamson (14.00), 10th George Hardesty (14.14), 12th and 4th girl Lucy Jacques (14.51).
PECO XC League race 3, Middleton Park, Sun 12 January
13 juniors made it to the start line for the third PECO XC race in the series at Middleton Park, Leeds. Full results: Years 4-6 (1 mile): 23rd Angus Twigger 9.56, 25th Poppy Anderson 10.02, 47th Molly Pearson 11.21. In the 2 mile race (Years 7-12): 6th George Hardesty 15.52, 10th Lucy Williamson 16.00, 12th Jemima Elgood 16.05, 15th Robbie Matthews 16.24, 17th Lucy Haines 16.37, 23rd Joanne Williamson 17.54, 31st Emily Elmes 18.41, 33rd Harry Barker 19.04, 36th Rebecca Newell 19.16, 42nd Bradley Hardesty 20.38.
Yorkshire XC Championships, Lightwater Valley, Sat 4th January
What a fantastic morning of racing with great individual and team results from the 25 Junior Ilkley Harriers racing. There were 5 team placings - 3rd and 8th U15 Girls, 9th U13 Girls, 4th and 14th U13 Boys.
U13 Girls (9th team): 11th Bethan Morley 11.26, 43rd Emily Elmes 12.48, 45th Eva Jeffels 12.59, 48th Alessandra Ricci 13.06, 59th Ella Shouler-Harris 13.33.
U13 Boys (4th and 14th team): 9th Matthew Kenneth 10.27, 11th Euan Brennan 10.30, 28th Dom Coy 11.02, 36th Robbie Matthews 11.08, 43rd Cameron Reilly 11.38, 44th James Patchett 11.39, 66th Harry Firth 12.27, 80th Reuben Foster 13.19.
U15 Girls (3rd and 8th team): 10th Sarah Pickering 13.40, 17th Tilly Melechi 13.56, 20th Jemima Elgood 14.00, 26th Lucy Haines 14.07, 28th Lucy Jacques 14.26, 43rd Georgia Flaxman 15.37, 59th Elizabeth Westhead 16.55, 60th Ellie Coones 16.56. Molly Jeffels also ran.
U15 Boys: 44th George Hardesty 20.52.
U17 Women: 11th Lucy Williamson 20.59, 28th Joanne Williamson 23.05.
---
Back to Top
|
2013 Results