This page shows the results of races that Junior Ilkley Harriers have run in, most recent races first. (If we've missed any results, please let us know).
Stoop Quarry Runs, Haworth, Sun 22nd December
An amazing 42 juniors raced at this popular fell race. U8 results (half mile): 20th and 5th girl Robyn Anderson (3.58), 24th Tom Bramham Butts (4.07), 31st Jonathan Archer (4.19), 33rd Nicholas Archer (4.20), 37th Felix Weston (4.25), 46th Helena Coy (5.04), 50th Summer Sky Smith (5.14), 58th Lucy Hayes (5.42), 59th Isobel Barlow (5.45), 62nd Francesca Macina (5.54) and 66th Elizabeth Reilly (7.19). U10/U12/U14 results (1 mile): 5th George Hardesty (7.11), 10th Joe Bramham Butts (7.26), 12th and 2nd U14 girl Lucy Jacques (7.34), 13th Robbie Matthews (7.36), 22nd Cameron Reilly (7.53), 28th and 2nd U12 girl Emily Elmes (8.10), 35th Dom Coy (8.22), 42nd Nathan Coy (8.38) 53rd Sam Turland (8.59), 60th Adam Hayes (9.13), 65th Nea Weston (9.18), 67th Poppy Anderson (9.21), 74th Charlie Tiger Smith (9.42), 76th Molly Jeffels (9.45), 83rd Josh Waddington (10.01), 85th Isobel Macina (10.09), 92nd Molly Pearson (9.09), 97th Helena Barlow (10.48), 99th Lyra Weston (10.55), 103rd Oliver Hayes (11.11), 111th Katie Turland (12.03), 112th Georgia Weston (12.04), 115th Eleanor Riley (12.28), 119th Angel Smith (12.52) 120th Olivia Barlow (12.53).
U16 (2 miles): 2nd Ruaridh Mon-Williams (12.32), 5th James Turland (13.43), 1st girl Lucy Haines (13.52), 2nd girl Lucy Williamson (14.04), 6th Dan Hayes (14.21) and 3rd girl Joanne Williamson (16.13).
PECO XC League race 2, Golden Acre Park, Sun 15 December
19 juniors made it to the start line for the second PECO XC race in the series at Golden Acre Park. Some were running in Ilkley colours for the first time (Thomas, Will, Angus, Harry and Rebecca) and they did so with merit. Full results: Years 4-6 (1 mile): 4th Joe Bramham Butts 6.19, 6th Nathan Coy 6.52, 16th Thomas Dover 6.56, Will Spencer 7.01, 25th Angus Twigger 7.15, 27th Poppy Anderson 7.17, 44th Molly Pearson 8.09. In the 2 mile race (Years 7-12): 6th Dom Coy 12.56, 7th Lucy Williamson 12.58, 13th George Hardesty 13.13, 17th Robbie Matthews 13.27, 18th Lucy Haines 13.32, 19th Jemima Elgood 13.35, 21st Cameron Reilly 15.57, 30th Joanne Williamosn 14.33, 31st Elizabeth Westhead 14.41, 34th Emily Elmes 15.16, 36th Harry Barker 15.22, 37th Rebecca Newell 15.24.
West Yorkshire XC League race 4, Nunroyd Park, Sun 1st December
Sally Malir reports....... Sunday 2nd December was the fourth and final race in The West Yorkshire Cross Country Series. Ilkley Junior Harriers made a massive effort to put everything on the line for this last race, this was particularly difficult for most of the Under 15 Girls who had run the day before in The English Schools Cup and returned home late on the Saturday evening. Max Bradley (under 11) had yet another great run coming in 3rd, Catherine Westhead (under 11) also took 3rd both helping the Under11 Boys and Girls teams finish 1st and 2nd respectively. Euan Brennan had another top 3 finish, 3rd, helping the Under13 Boys finish 4th team on the day. The Under 13 Girls were 4th team on the day being led home by Bethan Morley in 6th position. Sarah Pickering was the first of the Under 15 girls home in 6th position with the rest of the team battling on behind her for them to place 3rd team.
U11 Boys: 3rd Max Bradley 6:02, 10th James Patchett 6:27, 11th Joe Bramham-Butts 6:28, 21st Lewis Carr 6:48, 24th Reuben Foster 6:50, 25th Harry Firth 6:54, 26th Tom Jackson 6:59, 28th Nathan Coy 7:02.
U11 Girls: 3rd Catherine Westhead 6:37, 13th Emily Kenneth 7:13, 17th Poppy Anderson 7:18, 19th Katie Meredith 7:20, 20th Caitlin Oddie 7:21, 23rd Isabel Sowden 7:32, 35th Megan Twigger 7:51, 44th Molly Pearson 8:06.
U13 Boys: 3rd Euan Brennan 11:34, 16th Matthew Kenneth 12:15, 21st Dominic Coy 12:34, 27th Cameron Reilly 12:52, 31st Robbie Matthews 13:20
U13 Girls: 6th Bethan Morley 9:20, 18th Emily Elmes 10:03, 21st Eva Jeffles 10:15, 23rd Alessandra Ricci 10:21, 32nd Ella Shouler-Harris 10:34, 49th Rachel Scott 11:22
U15 Boys: 36th George Hardesty 15:38
U15 Girls: 7th Sarah Pickering 12:39, 13th Lucy Haines 13:02, 14th Tilly Melechi 13:11, 21st Lucy Jacques 13:47, 30th Elizabeth Westhead 14:25, 37th Josie Clarke 14:49, 38th Georgia Flaxman 14:52, 39th Ellie Coones 15.20.
U17 Men: 26th Ruaridh Mon-Williams 17:27
U17 Ladies: 4th Lucy Williamson 15:35, 13th Joanne Williamson 16:56
Shirley adds.... Overall we've had our best ever WY XC League series with 4 junior podium team places which is more than any other club in the league (U11 boys and girls gained silver medals and U13 boys and U15 girls gained bronze medals). Additionally our U13 girls gained a 4th place overall. And of the 45 juniors who took part in the league 39 gained individual placings for racing in 3 or more of the events.
U11 girls: 4th Catherine Westhead, 9th Emily Kenneth, 18th Poppy Anderson, 22nd Caitlin Oddie, 23rd Katie Meredith, 27th Isabel Sowden, 28th Charlotte Elston, 36th Megan Twigger, 41st Molly Pearson.
U11 boys: 2nd Max Bradley, 11th James Patchett, 15th Joe Bramham Butts, 24th Reuben Foster, 25th Lewis Carr, 27th Harry Firth, 30th Nathan Coy, 35th Tom Jackson.
U13 girls: 7th Bethan Morley, 18th Emily Elmes, 22nd Sassy Ricci, 24th Eva Jeffels, 33rd Ella Shouler-Harris.
U13 boys: 3rd Euan Brennan, 13th Matthew Kenneth, 20th Dom Coy, 27th Oscar Stapleton, 29th Cameron Reilly, 32nd Robbie Matthews.
U15 girls: 4th Sarah Pickering, 12th Tilly Melechi, 13th Lucy Haines, 18th Lucy Jacques, 22nd Jemima Elgood, 32nd Elizabeth Westhead, 39th Ellie Coones.
U15 boys: 34th George Hardesty
U17 girls: 2nd Lucy Williamson, 8th Joanne Williamson
U17 boys: 17th Ruaridh Mon-Williams
PECO XC League race 1, Temple Newsam, Sun 24 November
13 juniors made it to the start line for the first PECO XC race in the series at Temple Newsam. Some were running in Ilkley colours for the first time (Harrison, Isabel and Bradley) and they did so with merit. Full results:Years 4-6 (1 mile): 16th Nathan Coy 8.41, 19th Poppy Anderson 8.54, 25th Harrison Oddie 9.19, 37th Caitlin Oddie 9.36, 37th Molly Pearson 9.55 and 45th Isabel Macina 10.38. In the 2 mile race (Years 7-12): 7th Dom Coy 12.50, 9th Lucy Williamson 13.02, 10th George Hardesty 13.04, 12th Robbie Matthews 13.06, 20th Bethan Morley 13.59, 24th Joanne Williamosn 14.10 and 30th Bradley Hardesty 15.03.
West Yorkshire XC League race 3, Leeds Met Playing Fields, Sun 17 November
What a fantastic morning of racing with great individual and team results from the 38 Junior Ilkley Harriers racing. There were 5 team placings - 3rd U15 Girls, U11 Boys and U11 Girls and 4th U13 Girls and U13 Boys. This year the team points on every race have been very close so just a few places either way are making a big difference to the overall team positions. Special mention to our athletes with podium places Max Bradley (2nd U11), Catherine Westhead (2nd U11), Euan Brennan (3rd U13) and Lucy Williamson (3rd U17).
U11 Boys (3rd team): 2nd Max Bradley 5:57, 14th James Patchett 6.34, 17th Joe Bramham-Butts 6.40, 22nd Reuben Foster 6.46, 28th Lewis Carr 6.58, 33rd Harry Firth 7.04, 37th Nathan Coy 7.09, 40th Tom Jackson 7.11.
U11 Girls (3rd team): 2nd Catherine Westhead 6.40, 9th Emily Kenneth 7.03, 17th Poppy Anderson 7.19, 23rd Caitlin Oddie 7.32, 26th Katie Meredith 7.33, 28th Isabel Sowden 7.36, 36th Charlotte Elston 7.52, 41st Molly Pearson 7.57.
U13 Girls (4th team): 5th Bethan Morley 12.33, 21st Alessandra Ricci 13.36, 25th Emily Elmes 13.48, 34th Ella Shouler-Harris 14.40.
U13 Boys (4th team): 3rd Euan Brennan 13:03, 13th Matthew Kenneth 13.44, 23rd Dom Coy 14.11, 32nd Oscar Stapleton 14.40, 34th Cameron Reilly 15.01, 39th Robbie Matthews 15.09.
U15 Girls (3rd team): 5th Sarah Pickering 16.38, 7th Tilly Melechi 16.48, 13th Lucy Haines 17.07, 16th Lucy Jacques 17.57, 17th Jemima Elgood 17.58, 31st Elizabeth Westhead 19.27.
U15 Boys: 38th George Hardesty 18:04.
U17 Women: 3rd Lucy Williamson 17.44, 11th Joanne Williamson 19:25.
U17 Men: 21st Ruaridh Mon-Williams 22.22.
West Yorkshire XC League race 2, Bramley, Sat 2 November
What a fantastic morning of racing with great individual and team results from the 42 Junior Ilkley Harriers racing. There were 5 team placings - 1st U13 Boys and U15 Girls; 2nd U11 Girls, 4th U11 Boys and 5th U13 Girls. All juniors helped the team with some brilliant packing in the top half of the field. And our U11 boys and girls were just a few points away from a much higher team finish so that's the target for the next two events. Special mention to Euan Brennan for winning the U13 boys race outright having led from start to finish (and almost missing the finish!) and to Max Bradley, Catherine Westhead, Sarah Pickering and Lucy Williamson for a podium result.
U11 Boys (4th team): 2nd Max Bradley 5:37, 13th James Patchett 6.01, 19th Joe Bramham-Butts 6.13, 20th Lewis Carr 6.14, 24th Harry Firth 6.24, 26th Reuben Foster 6.26, 34th Nathan Coy 6:34.
U11 Girls (2nd team): 3rd Catherine Westhead 6.13, 11th Emily Kenneth 6:36, 15th Poppy Anderson 6:46, 21st Caitlin Oddie 6.58, 23rd Katie Meredith 7.04, 25th Charlotte Elston 7.07, 29th Isabel Sowden 7.16, 34th Molly Pearson 7.21, 36th Megan Twigger 7.23.
U13 Girls (5th team): 13th Emily Elmes 14.03, 19th Alessandra Ricci 14.25, 21st Eva Jeffels 14.34, 25th Bethan Morley 15.00, 31st Evie Malir 15.07, 32nd Ella Shouler-Harris 15.08, 49th Rachel Scott 16.34.
U13 Boys (1st team): 1st Euan Brennan 13:29, 6th Matthew Kenneth 13.42, 15th Dom Coy 14.31, 18th Oscar Stapleton 14.40, 25th Cameron Reilly 14.54, 26th Robbie Matthews 15.00.
U15 Girls (1st team): 2nd Sarah Pickering 14.31, 6th Lucy Haines 14.53, 8th Tilly Melechi 15:15, 14th Lucy Jacques 15:54, 15th Jemima Elgood 15.55, 19th Molly Jeffels 16:15, 22nd Georgia Flaxman 16.23, 34th Elizabeth Westhead 17.46, 35th Ellie Coones 17:49.
U15 Boys: 36th George Hardesty 18:19.
U17 Women: 2nd Lucy Williamson 18.04, 6th Joanne Williamson 19:33.
U17 Men: 11th Ruaridh Mon-Williams 19.44.
West Yorkshire XC League, race 1 Wakefield, Sun 20 October
Sally Malir reports..... Sunday 20th October was the first race in The West Yorkshire Cross Country League . The race was at Thornes Park Wakefield on a Gorgeous sunny day. There were some fantastic results from Ilkley junior harriers with 42 runners and many stepping up to new age groups and longer distances. The racing was off to a blistering start with the Under 11 Boy's race Max Bradley was first overall helping the boys secure first team position. The Under 11 Girls all ran their hearts out and secured 2nd team position. The Under 13 Girls had a big step up in distance and did really well with 6th team position. The same went for the Under 13 Boys who also got 6th team. The Under 15 Girls ran strongly and packed well to gain 4th team.
The other outstanding performance was Lucy Williamson who started the season well to take 3rd position in the Under 17 Women's race.
U11 Boys: 1st Max Bradley 5:03, 8th James Patchett 5:26, 13th Joe Bramham-Butts 5:38, 20th Reuben Foster 5:49, 21st Harry Firth 5:53, 26th Lewis Carr 6:02, 29th Nathan Coy 6:04, 40th Tom Jackson 6:26.
U11 Girls: 5th Catherine Westhead 5:48, 10th Emily Kenneth 6:06, 16th Poppy Anderson 6:21, 20th Charlotte Elston 6:26, 23rd Katie Meredith 6:33, 34th Megan Twigger 6:42, 38th Isabel Sowden 6:45, 47th Caitlin Oddie 6:54, 51st Molly Pearson 6:59.
U13 Girls: 10th Bethan Morley 12:36, 20th Emily Elmes 13:12, 22nd Eva Jeffels 13:22, 32nd Alessandra Ricci 13:46, 57th Ella Shouler- Harris 14:56.
U13 Boys: 4th Euan Brennan 10:29, 15th Matthew Kenneth 11:02, 24th Oscar Stapleton 11:32, 29th Dominic Coy 11:39, 32nd Cameron Reilly 11:43, 43rd Robbie Matthews 12:18.
U15 Girls: 4th Sarah Pickering 13:58, 17th Tilly Melechi 15:15, 18th Lucy Haines 15:19, 20th Lucy Jacques 15:31, 27th Jemima Elgood 16:06, 29th Molly Jeffels 16:22, 36th Elizabeth Westhead 16:54, 44th Ellie Coones 17:23, 46th Josie Clarke 19:22.
U15 Boys: 51st George Hardesty 18:15.
U17 Women: 3rd Lucy Williamson 16:52, 22nd Joanne Williamson 19:02.
U17 Men: 20th Ruaridh Mon-Williams 22:35
Withins Rat Runs, Haworth, Sun 13th October
An amazing 32 juniors raced at this popular fell race. U8 results (half mile): 13th Ben Kelt (3.17), 15th and 1st girl Robyn Anderson (3.20), 27th Tom Bramham Butts (3.49), 29th Ed McCarthy (3.53), 33rd Jonathan Archer (3.58), 40th Summer Sky Smith (4.08), 43rd Nicholas Archer (4.11), 47th Max Stead (4.17), 51st Felix Weston (4.27), 58th Ivy Cooper (4.42) 65th Isobel Barlow (5.16). U10 results (1 mile): 11th Joe Bramham Butts (6.59), 41st Ben Houlihan (8.13), 49th and 4th girl Poppy Anderson (8.22), 71st Charlotte McCarthy (8.58), 79th Molly Pearson (9.09), 81st Oliver Kelt (9.10), 91st Lyra Weston (9.39), 93rd Harry Stead (9.42), 109th Helena Barlow (10.28), 115th Georgia Weston (11.09). U12 results (1 mile): 22nd Robbie Matthews (7.30), 34th and 4th girl Emily Elmes (8.01), 67th Josh Waddington (8.50), 119th Angel Smith (11.19), 120th Livvy Barlow (11.20). U14 results (1 mile): 17th and 2nd girl Lucy Jacques (7.16), 18th George Hardesty (7.17), 23rd and 3rd girl Tilly Melechi (7.32), 56th Charlie Tiger Smith (8.32). U16 (2 miles): 2nd girl Lucy Williamson (13.54) and 3rd girl Joanne Williamson (15.07).
Junior Mountain Running Home International in Aberfoyle,21 September.
Report from Lucy Williamson..... Lucy Williamson made her first appearance for England at the British and Irish Junior Hill Running Championships in Aberfoyle, Scotland on Saturday 21st September. She finished 5th English counter, and 11th all together in the U17 girls' race.
The race started along a fast, slightly downhill trail through the forest to the bottom of the first climb. It then weaved through the trees to a sharp left hand bend which led us along a fast, flat grassy track to the next steep climb, this was then coupled with a slightly downhill track for about 500m before coming up to the last hill of the race which brought us out of the forest and onto the hill, once we reached the top, it was all steadily downhill from there until we reached the bottom and ran back along the flat forest trail towards the finish.
Summer BOFRA results round up
Kirby Gala, Sat 6 July: Charlie Tiger Smith (U14), 13th 20.35 and Angel Smith (U12) 12th girl, 15.08.
Alva Games, Sat 13 July: George Hardesty (U14), 5th 11.33.
Cracoe, Sun 12 July: Lucy Williamson (U17), 3rd girl 31.07; Joanne Williamson (U17), 6th girl 35.43; Charlie Tiger Smith (U14), 21st 16.23; Angel Smith (U12) 52nd; Lewis Carr (U9), 1st 3.06; Summer Skye Smith (U9) 27th 4.29.
Farleton Knott, Sun 5 Aug: Lucy Williamson (U17), 4th girl 26.51; Joanne Williamson (U17), 5th girl 31.49.
Cray Fell , Sun 18 August: Euan Brennan (U14), 1st 13.04; Charlie Tiger Smith (U14) 4th 30.34; Angel Smith (U12) 4th girl 18.27; Summer Skye Smith (U9) 8th 4.59.
Gargrave Show: Lucy Williamson (U17), 1st 15.24; Joanne Williamson (U17), 2nd 17.06; Max Bradley (U12) 1st 6.27; Georgia Weston (U12) 9th girl 10.14; Felix Weston (U9) 12th 9.44.
Halton Gill, Sun 25 August: Lucy Haines (U17) 1st 18.09; Harry Stead (U12) 10th; Max Stead (U9) 13th.
Reeth Show, Mon 26 August: Ruaridh Mon-Williams (U17) 5th 14.38; Lucy Williamson (U17), 2nd girl 16.28; Joanne Williamson (U17), 6th girl 18.38; Josh Waddington (U12) 42nd 13.28.
Kilnsey Show, Tues 27 August: Lucy Haines (U17) 1st girl 10.38; James Patchett (U12) 5th 7.21; Ollie Ogden (U12) 6th 7.34; Hudson Moores (U12) 21st 9.29.
Bradley Family Day (and U17 selection race), Sun 1 September: Ruaridh Mon-Williams (U17) 10th 23.26; Lucy Williamson (U17), 8th girl 27.31; Joanne Williamson (U17), 12th girl 29.49; Max Bradley (U12) 4th 6.23; Sarah Bradley (U9) 4th girl 3.18; Jonathon Archer (U9) 25th 3.41; Nicholas Archer (U9) 32nd 4 mins.
Lothersdale, Sat 14 September: Lewis Carr 30th 14.50 and Dylan Carr 42nd 16.53.
Burnsall, Sun 15 September: Lucy Williamson (U17), 3rd girl 15.21, Joanne Williamson (U17), 4th girl 17.18; Euan Brennan (U14) 4th 8.02; Robbie Matthews (U12) 16th 6.52, Caitlin Oddie (U12) 8th girl 7.46; Lewis Carr (U9) 1st 2.56, Jonathon Archer (U9) 14th 3.35, Dylan Carr (U9) 15th 3.36, Summer Skye Smith (U9) 9th girl 4.54.
Embsay, Sun 22 September: Ruaridh Mon-Williams (U17), 2nd 23.28, Lucy Haines (U17) 1st girl 26.54; Euan Brennan (U14) 4th 12.59; Lewis Carr (U9) 1st 3.54, Dylan Carr (U9) 17th 4.41, Summer Skye Smith (U9) 14th girl 5.40.
Yorkshire Combined Events Championships, Leeds Carnegie, 10/11 August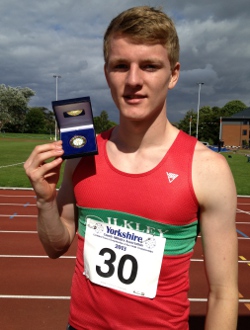 Harry Maslen competed in the U17 Yorkshire Combined Events Championships at Leeds Carnegie over the weekend. He was defending his Yorkshire title from 2012 and did it in fine style. He won 5 events outright: 100m hurdles in 14.02; Long Jump 6m.24; Shot 12m.28; High Jump 1m.87; Javelin 48m.16 and had two second places: 400m 53.17 and 1500m 5mins.01.58 and 6th in the Discus with 24m.86. He improved on all 8 of the events from the previous year with 5 PB's and narrowly missed breaking the Championship points record (only a disappointing 6th place in the discus prevented him from doing this). His final points total was 4897.
West Yorkshire Track & Field meet, Wed 27 July, Wakefield
Sarah Pickering (U15) ran 5.16.29 for 1500m.
York Summer T&F League meet 3, Sat 20 July
Roisin Ramage (U15) came 5th in both the 100m (13.7) and shot (8m.32) and 4th in the Discus (19m.01).
Golden Acre Park Relays, Wed 17th July
A great result from Tilly Melechi (18.33), Iso Hirst (20.55) and Joanne Williamson (19.50) for a team total of 59.13, 50th place overall and 2nd Junior Girls Team. Tilly also ran a fastest leg for a junior girl and now holds the record.
Washburn Valley Relays, Fri 12th July
It was a brilliant relaxed evening with 29 juniors racing in Ilkley colours. All the teams were pretty equal in ability and had the required number in each of the age categories to be competitive. No midges and a great picnic afterwards. There were 14 teams altogether and the Ilkley placings were:
1st Robyn Anderson, Joe Bramham Butts, Francis Westhead, Sarah Pickering.
2nd Sarah Bradley, Max Bradley, Emily Elmes, James Pickering.
3rd Megan Twigger, Catherine Westhead, Bethan Morley, Tom Cross.
5th Tom Bramham Butts & George Morley (both did first leg), Will Craske, Annie Brown, Lucy Jacques.
7th Isabel Macina, Poppy Anderson, Cameron Reilly, Elizabeth Westhead.
10th Ben Morley, Ella Shouler-Harris, Sam Bramham Butts, Ben Clarke.
11th Georgia Weston, Isabel Sowden, Rachel Scott, Sam Craske.
Sam Craske should receive a special mention for finishing heroically (and still smiling) with a piece of stick in his leg!

Langdale, Junior English Championship Fell race, Sun 7 July
George Elmes reports.... 8 juniors made the trip across to the lakes to compete in the final round of the FRA championship in the stunning setting of the Langdale Valley. The event hosted by Ambleside AC is held in conjunction with Langdale Gala, which is a traditional Lake District Fair held in the tiny village of Chapel Stile.
As well as the main event of the FRA junior championship race the fair was a mass of adults and kids enjoying the day with loads of stalls, a variety of games, bouncy castle, food and drink etc etc.
In addition to the above on the playing field a track was laid out with Egg & Spoon races, Sack races and sprints for the kids which a number of our juniors had a crack at.
Whilst the weather made it a fantastic day to be strolling about and enjoying Ice cream, drinks etc it was so hot people were actively trying to find shade to shelter from the scorching sunshine.
Great if you can sit in the shade for a few hours and relax, bit more of a challenge if you have to climb to the top of a fell and plunge back down again!
Prior to race the Ambleside AC website described the race as follows - "This is classic fell running territory, with all that entails. Steep hands-on-knees climbs, fast grassy running over glorious fells, one or two testing rough descents over rocky ground. And a fabulous steep descent: you'll wonder if your legs can keep up with the force of gravity spinning you down the hill. These races should really sort out the contenders."
For me it was yet again a tough technical race with some dogged determination shown by all our juniors to compete successfully at this level. All had very tough climbs from Robyn in the U8's right through to Ruaridh, Lucy & Joanne in the U16's. - All did fantastically well.
After the U8's, U10's & U12's I climbed the huge gully onto the tops to watch the older juniors attempt the same climb whilst racing. The climb out was really steep and technical with everyone having to resort to all fours. With the oppressive heat a significant challenge and to see the determination on the faces of our juniors was inspirational.
At the top I managed to pass water to most of the JIH's as all the competitors certainly looked like they needed it!
All pushed themselves to the limits, and in what encouragingly has been the normal this year all ran terrifically well in very demanding circumstances whilst competing against the cream of Junior Fell runners from across England.
At the end the now traditional swim in the river took place to cool off and rounded off another great day and successful day in the hills.
Full results - U8's: Robyn Anderson 19th (5th Girl); U10's: Poppy Anderson 22nd (5th Girl), Harry Stead 45th; U12's: Emily Elmes 31st (13th Girl); U14's: Nea Weston 39th (15th Girl); U16's: Ruaridh Mon Williams 12th, Lucy Williamson 23rd (6th Girl) Joanne Williamson 28th (11th Girl).
The result ensured that in the Junior Club championship Ilkley finished Joint 6th out of over 70 clubs competing from every part of the country. A fantastic result that every one of the 21 juniors who have represented Ilkley in championship races this season should be immensely proud of.
Final Individual Overall Championship Positions –
Well done to the 4 juniors that managed to compete in all 6 rounds of the Championship, Robyn & Poppy Anderson, Emily Elmes & Lucy Williamson who will be awarded a free FRA Championship Hoodie + T shirt.
And to Ruaridh Mon Williams & Joanne Williamson who will each be awarded the T shirt for over 4 races completed.
These special Hoodies/T shirts are only available to juniors that have competed in the required number of races so are quite rightly much sought after and highly prized.
On Behalf of all at Ilkley, Coaches, helpers, parents, grandparents etc. -
Thanks for a great championship season; we are proud of every one of the 21 that took part in the championship this year. !!!!!
Non Championship
U8G Robyn Anderson (6 races);U8B Max Stead (2), Jonathon Archer (1), Nicolas Archer (1); U10G Poppy Anderson (6), Molly Pearson (1); U10B Harry Stead (3); Max Bradley (1); Joe Branham - Butts (1); Lewis Carr (1).
Championship placings
U12G Emily Elmes 14th (6); U12B Euan Brennan 23rd (2), Robbie Matthews 35th (2).
U14G Lucy Haines 12th (3), Lucy Jacques 17th (3), Tilly Melechi 24th (3), Nea Weston 28th (2).
U14B George Hardesty 37th (1).
U16B Ruaridh Mon- Williams 10th (5).
U16G Lucy Williamson 4th (6), Joanne Williamson 13th (4).
West Yorkshire Track & Field meet, Wed 3 July, Cleckheaton
Sarah Pickering (U15) came 2nd in the 1500m with 5.00.91..
Hawkswick, Junior English Championship Fell race, Sun 30 June
George Elmes reports.... A fantastic and record turnout for a Championship Race (I think?) of 20 JIH's made the relatively short journey up to Hawkswick in the Dales for round 5 of the English Fell Championship. The setting in Littondale was really picturesque with the start on the meadow next to the River Skirfare. The weather was ideal for running with a slight breeze to take of the edge off of the warm sunshine and we all looked forward to a another great days racing for the ever increasing numbers of juniors successfully taking to the fells over the past couple of seasons.
As normal in the championship races the standard of racing was extremely high with some very (very) difficult technical climbing and descending. Some excellent varied techniques to be seen with a number descending on the backsides after having to climb on all fours to reach the cairn on the top of Hawkwick moor. A real challenge that they all passed with flying colours underlined by all the satisfied Ilkley smiles at the finish that showed how much it was enjoyed it. As usual the encouragement for our runners from each other was magnificent to see and certainly spurred their club mates onto greater performances.
Some great efforts from all but stand out performances for Robyn Anderson 4th GU8, Max Bradley 3rd BU10, Euan Brennan 4th BU12, Lucy Williamson 4th U16 girl, and top of the pile Lucy Haines 1st GU14,
Full results – U8's: Jonathan Archer 10th, Robyn Anderson 13th (4th Girl) , Nicholas Archer 19th, Max Stead 28th. U10's: Max Bradley 3rd , Joe Braham-Butts 6th , Lewis Carr 19th, Poppy Anderson 35th (8th Girl) Harry Stead 43rd. U12's: Euan Brennan 4th, Robbie Matthews 33rd, Emily Elmes 44th (15th Girl). U14's: Lucy Haines 11th (1st Girl), George Hardesty 16th, Lucy Jacques 24th (8th Girl), Tilly Melechi 34th (14th Girl) Nea Weston 40th (20th girl). U16's: Ruaridh Mon- Willliams 25th (11th U16 boy), Lucy Williamson 78th (4th girl), Joanne Williamson 109th (11th girl)
The U16 race was was run in the same longer 4m race as the seniors. This included two very steep climbs and descents. Deservedly as the last 3 Ilkley runners to race Ruaridh, Lucy and Joanne received the biggest cheers from the Ilkley crowd as they finished.
A selected few comments from the FRA website underline my point of how the well the juniors performed in their race. "proper fell races", "Challenging races that were enjoyed by all our Juniors", "A good, challenging, technical fell race", "And as ever, astounded by the quality of all the young runners. Well done to all involved in both organizing and participating. Great day out", "That was awesome racing over awesome terrain, well done; hope your legs aren't too sore
I think the last comment from someone who knows a fair bit about racing on the fells sums it up for me, everyone with an Ilkley vest on was a winner today. The day was rounded off with a number of our runners cooling off by having a paddle together in the river in conjunction with demolishing ice creams
The result means that in the junior club championship Ilkley move up a spot to 6th place in the league out of 70 clubs competing. Everyone that has run in the Ilkley vest in a Championship race up to now should be incredibly proud of their efforts. Finally congratulations to Robbie Matthews who was lucky enough to win a pair of Walshes donated by Pete Bland sports in the draw.
Last race in the Championship series is in at Langdale next Sunday – hope that we have another cracking turnout to finish the series in style.
Dash Quadrathon, Sportcity, Sat 29 June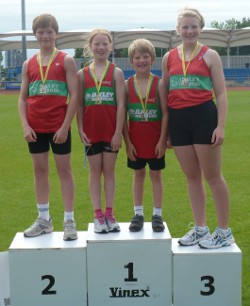 Chris Ramage reports.... It was a really well run event and not too formal/officious. We achieved a 4th (Roisin 3 points off a podium finish), an 8th (Caitlin), 12th (Alexander) and 24th (Fergus), which was all good given they were at the younger end of the each age group (and Fergus 2 years younger) and most importantly enjoyed the experience. I think we would definitely give it another go next year. Harriers cant have had 4 juniors from the same family competing at the same event very often ! (that achievement is a first for Harriers, Shirley)
BOFRA Helm Hill Fell Races, Sun 23 June
U14: 3rd Euan Brennan (9.26).
BOFRA Hawkswick Dash Fell Races, Sun 16 June
U17: 6th & 1st girl Lucy Haines (13.21), 14th & 5th girl Lucy Williamson (16.06), 19th & 9th girl Joanne Williamson (18.43). U14: 5th Euan Brennan (7.51); U12: 20th Robbie Matthews (5.59), 39th and 11th girl Poppy Anderson (6.50). U9: 3rd Lewis Carr (3.54), 11th and 4th girl Robyn Anderson (4.19), 29th & 30th girl Summer Sky Smith (5.45).
York Summer T&F League meet 2, Sat 15 June
Harry Maslen (U17) came 1st in the 100m Hurdles with 14.5 and 4th in the 100m with 12.1 and Sarah Pickering came 1st in the 1500m with 5.17.4.
West Yorkshire Track & Field meet, Wed 12 June
Harry Maslen (U17) came 1st in the 100m Hurdles with 14.27 and Sarah Pickering (U15) came 4th in the 800m with 2.31.87.
BOFRA Kettlewell Fell Races, Sun 9 June
U17: 4th & 1st girl Lucy Haines (15.03), 10th Jack Cummings 16.29, 12th & 5th girl Lucy Williamson (18.28), 17th & 9th girl Joanne Williamson (20.34). U12: 37th and 13th girl Emily Elmes (6.57), 60th & 24th girl Angel Smith (9.25). U9: 1st Lewis Carr (2.18), 19th Jonathan Archer (2.56), 25th Nicholas Archer (3.08), 29th & 10th girl Summer Sky Smith (3.14).
English Uphill only Fell Championships,Sedbergh, Sat 8 June
U16: Ruaridh Mon-Williams 11th (26.08), 21st and 4th girl Lucy Williamson (31.49). U14 : 16th and 3rd girl Lucy Haines (15.16), 27th and 10th girl Lucy Jacques (16.48). U12: 32nd and 12th girl Emily Elmes (12.21). U10: 26th and 6th girl Poppy Anderson (8.06). U8: 14th and 3rd girl Robyn Anderson (3.33).
John Carr series, May
Well done to the following 8 juniors who gained a series placing over the 3 races. Male Youth 1st Francis Westhead 55.50; Female Youth - Ilkley had 1st to 7th placings with Tilly Melechi 1.02.10, Catherine Westhead 1.07.31, Sassy Ricci 1.10.28, Elizabeth Westhead 1.10.48, Ella Shouler-Harris 1.15.33, Harriet Jackson 1.20.03 and Bridget Taylor 1.22.16. Others did just one/two of the races.
Best 2013 times were recorded by: Ruaridh Mon-Williams 17.27, Francis Westhead 18.25, Ed Bickerdike 19.19, Lucy Williamson 19.28, Jacob Hellewell 20.14, Tilly Melechi 20.29, Sam Craske 20.58, Catherine Westhead 22.16, Joanne Williamson 22.32, Elizabeth Westhead 22.58, Sassy Ricci 23.23, Emily Elmes 24.11, Ella Shouler-Harris 24.30, Harriet Jackson 25.24 and Bridget Taylor 27.11.
Yorkshire Track & Field Championships, Cudworth, Sun 26 May
On Sunday Harry Maslen and Rosie Shouler-Harris (both U17) took part in the Yorkshire Track and Field Championships at Cudworth. Harry had a fantastic day with three PB's. He is the Yorkshire champion and gold medallist at High Jump with 1m 85; silver medallist at the 100m Hurdles in 13.83 and was 6th in the 200m with 23.87. Rosie also had a good day gaining a PB in the Discus with 19m.09.
West Yorkshire Track & Field meet, Wed 22 May
Harry Maslen (U17) came 1st in both the 100m Hurdles in 14.29 and the High Jump with 1m.80.
BOFRA Sedbergh Gala fell race, Sat 18 May
Lucy Haines (U17) was 1st in 15.50 and Euan Brennan (U14) was 2nd in 12.40.
York Summer T&F League, Sat 18 May
Evie Malir (U13) was 3rd in the shot with 5m.36, 5th in 70m Hurdles in 15.2 and 8th in the long jump with 3m.47. Rosie Shouler-Harris (U17) was 1st in the long jump with 4m.16 and 6th in the discus with 16m.84. Harry Maslen (U17) was 1st in both the 100m Hurdles in 14.2 and long jump with 5m.76.
Cowpe, Junior English Fell race, Sat 11 May
George Elmes reports...... another strong turnout of 12 Juniors made the trip across to the South West Pennines to compete in Round 3 of the Junior English Championship race hosted by Rossendale Harriers.
In stark contrast to last year's event held at the same venue in warm bright sunshine this year was completely different. The weather was very cold and rain was sheeting down intermittently throughout the day. The RO at the start stating that it was very wet and cold on the tops and the temp was currently around 1 degree with a wind chill factor taking it below zero - a massive difference to last year.
This year they changed the start and finish which was far better for racing but meant for a brutal climb for all straight from the start. Again as it most championship races this year the course was tough and challenging and the competition was extremely high. From my vantage point on the tops it was fantastic to see the determination on the faces of all our Juniors on the long steep climb up to their respective turn points, they should all be proud of their efforts. Encouragingly we had competitors in 5 of the 6 age categories and all performed fantastically well.
Standout performances from Lucy Haines 1st GU14, Ruaridh Mon-Williams 4th BU16 & Lucy Williamson Gu16 4th.
Full Results - GU8 Robyn Anderson 5th; BU8 Max Stead 17th; GU10 Poppy Anderson 7th; BU10 Harry Stead 20th; GU12 Emily Elmes 13th; BU12 Robbie Matthews 21st; GU14 Lucy Haines 1st, Lucy Jacques 6th, Tilly Melechi 10th; BU16 Ruaridh Mon–Williams 4th; GU16 Lucy Williamson 4th, Joanne Williamson 12th.
Special mention to Harry and Max Stead competing at championship level for the first time this year with both having very strong races. Robbie Matthews for a great championship comeback performance after his set back earlier in the year at Rivington and Joanne Williamson for her dogged determination to take on an extremely tough U16 course and record her best performance of the year - a great result.
After the race the now traditional mass picnic on the hill was relocated to the village hall due to the poor weather conditions where all enjoyed some well-deserved refreshment after a tough event.
Another good turnout which means that in the Club Championship after 3 events JIH are currently 7th in the table (out of 63 clubs represented) which is the 3rd highest placed club in Yorkshire.
Again some great performances from all competing at a very high standard – you should all be very proud of your efforts.
West Yorkshire Track & Field meet, Wakefield, Wed 1 May
Harry Maslen (U17) came 4th in the 200m in a time of 23.92. A new PB.
Church Stretton,Junior English Fell race, Sat 27 April
George Elmes reports...... 7 Juniors, parents and friends made the 300 mile round trip to Shropshire this weekend to compete in round 2 of the Junior English Champ Championship Fell race hosted for the first time by Mercia Fell Runners.
Most took the opportunity to make a weekend of it by staying together locally either in a hotel or in the Williamson family case catching up with some friends. In the hotel in Telford we bumped into other Juniors/supporters from Bingley and Scarborough and it was good to chat about what the new venue was likely to have in store and for the adults to take on board some "carbo- loading pre -race spectating refreshment J " Special mention must go out to Ruaridh who showed fantastic commitment by getting the train down and up on the day as a result of other Harriers making a weekend of it and not being able to give him a lift.
From the conversations in the hotel with the guys from Bingley and Scarborough I think most of us were expecting a slightly easier course than normal due to the location of the venue. This was quickly proven to be incorrect. A number of juniors and supporters made the statement that it was the most challenging championship course in all age categories that they had experienced for some time. It was also at the top end of allowed distances with some very long steep climbs offset with some very runnable sections that made it a fantastic test for our juniors that they all came through magnificently
The English Spring weather typically managed the classic 4 seasons in one day to ensure that it kept everyone on their toes. High winds then bright warm sunshine, Horizontal Rain, Hail stones! (Yes Hail stones) alternating constantly during the day. It was also very cold and breezy on the tops at all times.
As normal it was great to hear the support on the course for our juniors from each other either waiting to run or having finished. You could also hear the "shy and reserved" parents and friends from Ilkley's voices echoing loudly across the hills which was fantastic with most managing to stay and support for the whole day where travel arrangements allowed.
All the juniors took on their respective races with fantastic determination and commitment and should be really proud of their individual efforts. As a result we had a great set of performances from all, the most notable being Euan Brennan 2nd in the BU12.
A mention also for Ruaridh, Lucy and Joanne who had to wait right through the day for their race to start. Just as they lined up the weather took a turn for the worse and became really cold and overcast. The RO even advising body cover to be taken. I can only imagine what it was like on the very long climb to the exposed tops and along the ridge – great performances from all 3 of you. Full results:
GU8 Robyn Anderson 5th; GU10 Poppy Anderson 4th; BU12 Euan Brennan 2nd; GU 12 Emily Elmes 14th; BU16 Ruaridh Mon-Williams 10th; GU16 Lucy Williamson 4th, Joanne Williamson 13th.
Whilst the U16 and U18 were out Mercia put on a race for "Tots". This saw the debut of Ilkleys newest running sensation - 2 year old Dexter Anderson. Clearly looking to show his sisters anything you can do I can do better he made a fantastic start to his running career. Some interesting race tactics from the debutant with various stops on the course to point out sheep and trees to attentive spectators made for a classy well-paced debut.
Well done Dexter and look out Farah – this boy is looking good for the future.
Another great event with excellent races full of determination and commitment from all. The growing camaraderie of the fell team is great to see and most importantly all the juniors clearly enjoyed the weekend. Well done to all that made the long trip
Kendal Winter League, Arant Haw, Sun 21st April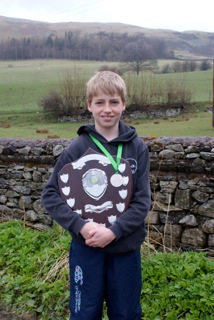 Julie Brennan reports.... Euan won his 6th race of the Kendal Winter League at Arant Haw today, & was later presented with the U12 boys winners trophy, having scored maximum points in the series.
Brilliant series result Euan.
Meanwood Valley Trail race, Sat 20 April
Poppy Anderson (aged 9) reports...... A lovely sunny day, it couldn't have been better, from hailstones last year. I think it put a smile to peoples faces. We didn't have a great junior harrier turnout, 6 people, but we all had great results. All the groups started off together (Years 3 to 12) and it started like a herd of elephants. Robyn was quite scared as she thought all the older ones might have pushed her over. We all did a lap of the field then turned off into the woods. We ran in the woods for a while then turned off into a muddy climb. After that we ran back to the start and finish field and went round it once more to the finish. Meanwhile the older ones had to go round the course again for a second lap. At the finish I received a flake and a dairy milk which I gave to Dexter. Then we watched the adults start, there were loads of them. We cheered on Julie and the other Ilkley Harriers. After that we went to look at the results in the rugby club and found out I came second and so did Robyn. I'm looking forward to my next race!

Provisional results: Year 3 and 4 girls - 2nd Robyn Anderson; Year 5 and 6 boys - 4th Joe Bramham Butts; Year 5 and 6 girls - 2nd Poppy Anderson, 4th Ella Shouler-Harris; Year 9 and 10 girls - 1st Lucy Williamson, 7th Joanne Williamson.
West Yorkshire Track & Field meet, York, Sat 13 April
Harry Maslen (U17) competed in 4 events: coming 1st in both long jump (6m.07) and discus (28m.93); 2nd in the 200m in 24.14 and 3rd in the 100m in 11.85. Roisin Ramage (U15) was 3rd in both the 100m (13.74) and discus (19m.55) and 5th in the 75m Hurdles in 13.94.
Pendle fell race, Sat 6 April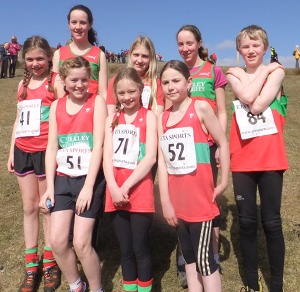 From George Elmes ... An impressive 15 JIH's made the trip across the Pennines for the second weekend in a row to compete in the Junior Pendle Fell race hosted by Clayton Le Moors AC . The race attracted a large field as a result of it being the 2013 Junior Lancashire Championship event. Due to this the standard of racing was really high (it was also both a JIH and BAN league counter) the course was pretty challenging and was a true fell running test. On a gloriously sunny day which was a huge change from the recent wintery conditions we again managed to put out significant numbers in all age categories with some great results from all. Highlights being Robyn Anderson 3rd U8 girl, Tilly Melechi 4th U14 Girl and Lucy Williamson 2nd U16 girl. The support from both our parents and competitors was really great to see and again it would be fair to say that it was "very enthusiastic" and clearly lifted those that were competing. Full results:
U8 - Robyn Anderson 10th (3rd Girl), Tom Bramham Butts 17th. 32 ran
U10 - Poppy Anderson 31st (10th Girl), Joe Bramham Butts 34th, Harry Stead 36th, Molly Pearson 38th (15th Girl) Lyra Weston 46th (20th Girl) 57 ran
U12 - Robbie Matthews 14th, Emily Elmes 41st (14th Girl), Ella Shouler- Harris 60th (24th Girl) 67 ran
U14 –Jacob Hellewell 12th, Tilly Melechi 14th (4th Girl), Nea Weston 36th (17th Girl) 42 ran
U16 – Lucy Williamson 10th (2nd Girl) Joanne Williamson 16th (7th Girl) 17 ran
After the races all that took part came away with a goodie bag which was devoured along with lunch in a mass Ilkley picnic on the side of the hill. I think the JIH's and parents that attended would agree that it was a great event and clearly enjoyed by all. It was also made all the better by both the enthusiasm and commitment from all competing and the relatively tropical conditions (I even had minor sunburn!)
Some fab photos from Graham Weston
English fell Championships, Rivington Pike, Sat 30 March
George Elmes Reports.... Hosted by Horwich RMI Harriers Rivington Pike Fell race is one of the oldest and most historic fell races in the country which was first run in the 1880's.
7 Junior ilkley harriers made the trip across the Pennines to Lancashire to compete on much of the same course of what is widely known as one of the classic "must do" fell races on the fell racing calendar.
This year it was race one of the English junior fell championships and is described on the "pike racers" website as follows - "the classic route represents the ultimate test of speed and stamina and is a true test to road,track,xc and fell runners alike". It would be difficult to disagree with all surfaces track, road and finally fell being raced on. The weather was bright and perfect for racing and all "enjoyed" a very tough long leg burning climb straight from the start. After the respective turns it was a flat out mad dash back down again to the finish.
All gave it 110% on the day and should be fantastically proud of their efforts competing against the best juniors that fell running has to offer from across the whole country. A special mention must go out to Robbie Matthews who has been in excellent form recently. Robbie got into a good position at the start and got away with the leaders. Unfortunately he lost his footing and had his heel clipped at the mad scrum of a first gate. As a result he went over and damaged his knee. Despite valiantly trying a couple of times to continue he finally had to accept that his race was over and had to retire. Better luck next time Robbie - all present from Ilkley felt for you on the day after making the long trip. Full Results:
GU 8 Robyn Anderson 11th, 3rd girl - 35 ran
GU 10 Poppy Anderson 31st, 8th girl, Molly Pearson 37th , 11th girl - 46 ran
GU 12 Emily Elmes 46th, 12th girl - 86 ran
GU 14 Tilly Melechi 35th, 13th girl - 43 ran
GU 16 Lucy Williamson 31st, 6th girl - 41 ran

National XC Championships, Sunderland, Sat 24rd February
What an absolutely fantastic finale to the cross-country season - the National Cross-Country Championships. For the first time a coach was hired to take juniors, parents and supporters to the event which was held at Herrington Park in Sunderland. 23 junior Ilkley Harriers signed up to compete earlier in the year and 23 made it to the start line and raced with enthusiasm, commitment and determination despite the difficult weather and underfoot conditions. The venue provided a real cross-country experience with a couple of inches of snow on the ground, excellent testing hilly courses and a well organised event. There was much excitement for the first race of the day with Georgia Malir running in the U17's having previously won the Northern Champs at the end of January. We could hardly see the runners on the far parts of the course as the snow was coming down heavily but we could see Georgia working extremely hard to stay near the head of the race. Georgia's 13th place overall in a field of 150 runners was a fantastic achievement and one that she should be incredibly proud of. Her achievement over the last two seasons have inspired so many younger juniors so it was fitting that she would lead the way at the Nationals. The next race was the U15 boys where we had 3 runners - Tom Kerr finished in 128th with Ruaridh Mon-Williams hot on his heels in 133rd just 4 secs behind. James Pickering who afterwards said ' it was hard' finished in 209th. The next three races provided us with 3 team placings which is not only impressive but bodes well for the future. By now the underfoot snowy conditions had become deep slippy muddy conditions! Our young U13 girls were out in force with 8 competitors - 3 of these girls are only Year 6 and will find themselves competing at U13 level for a further two years. The team finished in 20th place and was led home by Beth Morley in 166th place followed by Alessandra Ricci (170th), Molly Jeffels (190th), Emily Elmes (207th), Ella Shouler-Harris (219th), Eva Jeffels (223rd), Jess Burgess (228th) and Megan Hayes (235th). By the U15 girls race it had stopped snowing but it was still bitterly cold. Six girls raced and they gained an exceptional 15th team placing. Sarah Pickering had a very good run to finish 60th overall with Lucy Williamson in 86th, Josie Clarke (150th), Ellie Coones (161st), Joanne Williamson (167th) and Elizabeth Westhead (184th). The final junior race of the day was the U13 boys. It was particularly difficult for them because it had been a very long wait for their race and despite being well dressed to compete it was hard to get warm and most of them ran with frozen feet. Despite this the determination to do their best was evident from the gun. Euan Brennan finished in an excellent 57th place with Francis Westhead just 3 seconds behind in 62nd place. Robbie Matthews who is only a Year 6 finished in 151st, Oscar Stapleton (172nd) and Ben Clarke (185th). This gave them an excellent 16th team place. Conditions did take their toll and both Euan and Francis had to be assisted at the end to get warm with Francis ending up wrapped in a space blanket. Everyone ran their very best and it was a pleasure to have been there on the day to witness the racing. Almost everyone who travelled on the coach was still there at the end to cheer Dave Westhead in the senior men's race along the run in to the finish. We definitely had the greatest and loudest supporters out on the courses from start to finish so well done to everyone for making it such a grand day out.
Also here are some photos and some video
U13/U15 Sportshall Athletics West Yorkshire trials, Bradford, Sun 9th Feb
Well done to everyone who attended the trials - especially Roisin Ramage who was selected for the regional team.
EIS Sportshall Athletics Challenge, Sun 3rd February
Milly Websdale reports..... On Sunday 3rd February, myself, Milly Fewlass-Jones, Emily Sturgeon and Jess Bretherick went to the EIS in Sheffield to take part in the Northern athletics indoor challenge. We all had a great time, coming 4th in the 4x100m relay and coming 3rd in the 4x100m over-under relay and proceeding to the final. The 4 of us achieved silver awards in endurance and levels 8-10 in the indoor pentathlon. Overall we had a great day out and we even saw Jessica Ennis!

Northern XC Championships, Liverpool, Sat 26th January
Absolutely fantastic turn out of 16 juniors to this high quality event. Some brilliant individual and team results: U17 women 1st Georgia Malir (20.49); U15 boys 67th Tom Kerr (16.53) and 84th Ruaridh Mon-Williams (17.22); U15 girls (12th team overall) 33rd Lucy Williamson (18.34), 66th Lucy Jacques (20.11), 77th Joanne Williamson (20.33), 96th Elizabeth Westhead (21.33), 102 Ellie Coones (22.00) and 117th Josie Clarke (23.45); U13 boys 26th Francis Westhead (12.26) and 101st Robbie Matthews (14.21); U13 girls (15th team overall) 104th Alessandra Ricci (15.53), 109th Molly Jeffels (16.00), 110 Eva Jeffels (16.02), 111th Ella Shouler-Harris (16.07) and 138th Jess Burgess (18.35).
Soreen Stanbury Splash fell races, Sun 20 January
20 juniors braved the snow and ice to race in the first Haworth fell race of the year. U8 results: 9th Tom Bramham Butts (3.18); 11th (and 3rd girl) Robyn Anderson (3.22); 12th George Morley (3.32); 24th Felix Weston (4.27) and 26th Summer Sky Smith (4.45). In the 1 mile race the results are: 13th (and 4th U12 boy) Robbie Matthews (7.31); 15th (and 2nd U12 girl) Beth Morley (7.32); 16th (and 1st U10 boy) Joe Bramham Butts (7.37); 17th (and 2nd U14 girl) Lucy Jacques (7.39); 38th (and 5th U12 girl) Emily Elmes (8.23); 42nd (and 5th U10 boy) Tom Jackson (8.31); 45th Ben Morley U10 8.36; 51st Nea Weston U14 (8.51); 59th (and 4th U10 girl) Poppy Anderson (9.05); 74th Max Bryant U10 (9.42); 80th Molly Pearson U10 (10.07); 81st Harry Stead U10 (10.09); 87th Lauren Jackson U12 (10.37); 105th Georgia Weston U10 (13.02) and 106th Angel Smith U12 (13.20).
U11 Sportshall Athletics West Yorkshire trials, Bradford, Sun 13th Jan
Well done to everyone who attended the trials - especially Charlie Wilde who was selected for the regional team.
Kendal Winter Fell League Series
Sun 13 Jan, Firbank: Euan Brennan won the U12 race in 5.40.
Sun 20th Jan, Whitestones: Euan Brennan won the U12 race in 6.20.
Sun 27th Jan, Birkrigg: Euan Brennan won the U12 race in 4.52.
Sun 3rd Feb, Helm Hill: Euan Brennan won the U12 race.
Sun 24th Feb, Sedbergh: Euan Brennan won his fifth race and is secured of the overall U12 league title.
Northern Athletics Indoor Championships 2013, EIS Sheffield 12/13 Jan
Roisin Ramage (U15) was 4th in the heats of the 60m in 8.61 and 5th in the shot with 8m.57. A great start as a first year 15.
Yorkshire Cross-Country Champs, Ripon, Sat 5th January
Sally Malir reports... the Yorkshire Cross country Championships 2013 were held at Lightwater Valley, near Ripon on Saturday 5th January. Ilkley Junior Harriers did themselves proud by finishing 22 runners and gaining 5 team positions.
The conditions on the day were great with little wind, no rain! And warm temperatures. The course was pretty testing though with lots of sharp short hills and tussocky grass underfoot. One of the juniors said that it was like being in a Scooby Doo film, running round a deserted theme park, it all added to the fun. There was a fantastic atmosphere with lots of people staying on after their own race to cheer Jonny Brownlee and try to get a photo or autograph opportunity.
As well as a great team spirit and lots of fun there was some fantastic running, a lot of juniors running in an age group that they are very young in and still producing brilliant results. Just to put the icing on the cake we also brought home some medals. The U15 girls were third team on the day receiving bronze medals, and Georgia Malir (U17 women) was 2nd on the day and awarded silver Yorkshire medal and selection to run for Yorkshire at The Inter counties, Birmingham in March. Results are as follows
U13 girls 11th and 18th Team
18th Bethan Morley 9.58, 40th Allessandra Ricci 10.54, 43rd Molly Jeffles 11.01, 50th Eva Jeffles 11.16, 57th Megan Hayes 11.26, 59th Ella Shouler-Harris 11.39, 61st Jess Burgess 12.02.
U13 boys 9th Team
20th Euan Brennan 8.54, 23rd Francis Westhead 9.02, 46th Robbie Matthews 9.52, 64th Oscar Stapleton 10.28.
U15 boys
38th Thomas Kerr 17.18, 61st James Pickering 20.03.
U15 girls 3rd and 11th Team
11th Sarah Pickering 13.01, 14th Lucy Haines 13.18, 15th Lucy Williamson 13.20, 34th Tilly Melechi 14.44, 40th Lucy Jacques 15.18, 41st Joanne Williamson 15.20, 48th Elizabeth Westhead 15.54, 50th Harriet Jackson 15.57.
U17 Women
2nd Georgia Malir 15.31

---
Back to Top
|
2012 Results