This page shows the results of races that Junior Ilkley Harriers have run in, most recent races first. (If we've missed any results, please let us know).
Stoop Fell race, Sun 17th Dec.
A good turnout of 11 juniors at this local fell race. In the U8 race Laura King was 5th (and second girl) in 3.36; Sam Corbett was 12th in 3.59; Helena Carslaw, 19th in 4.36 and Logan Hargreaves-Madhas, 25th in 5 minutes. In the one mile race Callum Carslaw was 28th in 9.10; Sam Wood, 31st in 9.19; Scott Marshall, 44th in 10.03; Georgie Williams, 57th in 10.48; Gemma King, 61st in 10.54 and Odin Hargreaves-Madhas was 62nd in 11.02. In the two mile race our sole runner was Jenny Dybeck, who had an excellent run to finish second girl - we don't have your time yet Jenny.
West Yorkshire Cross-Country, Nunroyd Park, Sun 3 Dec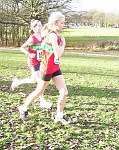 What a great final race to the West Yorkshire series and what a fantastic turnout from the juniors. 19 junior Harries raced in cold, windy conditions over a truely testing muddy Cross-Country course. In the first race of the day our U11 boys won the team competition with Matthew Whitehead in his debut for Ilkley finishing in 3rd place in 7.39, followed by Alexander Woodward, 5th in 8.05; Alasdair Kerr, 10th in 8.43; Jack Cummings, 17th in 8.58 and Tom Bennett, 26th in 11.14. Tom's race has to be the bravest run of the whole series having missed the start, ran a solo race to finish for the team. In the U13 girls race our two finishers were Jessica Holden, 54th in 13.09 and Lily Kitchen, 60th in 13.59. Our U13 Boys team continued their good run with a 4th team placing on the day. Josh Crane finished in 20th place in 12.53, followed by Sam Haggar, 26th in 13.32; Stephen Clarke, 27th in 13.33; Ben Swinton, 28th in 13.35; Adam Swinton, 33rd in 13.57 and Bradley Chapman, 38th in 15.22. The team was rewarded with 3rd place overall in the series and bronze medals - what a brilliant result. Our U15 girls had two runners competing. Jenny Dybeck was 12th in 13.05 and Emily Kerr, 33rd in 14.51. This gave them an overall series placing of 5th. Tom Inglehearn running in his first race for Ilkley ran well in the U15 boys race to finish in 30th place in 18.55. Our two representatives in the U17's ran strongly to conclude a brilliant series of results. Catherine Gibbons was 8th overall in 18.37 and Will Plastow was 17th in 20.25. David Schneider was also racing in the U17 boys race (for Bradford Grammar School) finishing in 25th place in 21.39. Many thanks to all the juniors who have committed themselves to these races and roll on the Yorkshire, Northern and Nationals Championships.
West Yorkshire Cross-Country, Wakefield, Sun 19 November
A good turnout of 15 runners at this third race in the series - one more boy in both the U11 and U13 would have given us team placings in these categories. Our sole girl in the U11 was Georgina Bentley, but once again a fantastic run to finish 22nd out of 47 in a time of 7.42. In the U11 Boys we had 6th, Alex Woodward in 6.44, 19th, Jack Cummings in 7.29 and hot on his heels in 20th, Alasdair Kerr in 7.30. In the U13 girls Ellie Taylor was our only runner, finishing in 18th place out of 54 in 10.56. The U13 Boys had three runners - Sam Haggar was our first counter in 21st place in 14.19, followed by Josh Crane in 23rd place in 14.37 and 28th, Stephen Clarke in 14.51. Our U15 Girls team continue to go from strength to strength with a 4th team placing. Jenny Dybeck finished in 11th place in 14.16, followed by Ruth Kitchen, 20th in 14.55, 31st, Brittany Dawson in 15.50, 36th, Louisa Clark in 16.23 and in 38th place, Emily Kerr in 17.03. Finally our two counters in the U17 races were Will Plastow in 18th place in 18.41 and an excellent 9th place for Catherine Gibbons in 16.37. Well done to everyone.
Halloween Howler, Kildwick, Sun 29 October
Well done to the U8's and U10's who took a lot of the leading places in this race. In the U8's Ben Cheetham was first in 3.40, Rose Hagan, 2nd in 3.42, Sarah Elliott, 4th in 4.12 and Billy and Tom Hagan, 6th and 14th respectively in 4.20 and 6.23. In the U10's George Clough was 2nd in 6.22 followed by Curtis Tiplady, 3rd in 6.30 and Georgie Williams, 7th in 7.21.
West Yorkshire Cross-Country, Leeds. Sun 29th October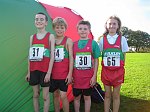 Well done to the 19 juniors who raced in this event. In the U11 boys our 3 runners were Sam Gate in his first race for us finishing really well in 14th place in 5.40, closely followed by Jack Cummings in 15th in 5.42. Tom Bennett in his first West Yorkshire was 28th in 6.13. For the girls we had Georgina Bentley (again in her first race for us) finishing in a fantastic 14th place (out of 43) in 7.34. In the U13 girls our two runners were Ellie Taylor in 23rd place in 10.48 with Lily Kitchen in 49th place in 12.44. The U13 boys continue their good start to this series by finishing as 3rd team on the day. Again the team was led home by Josh Crane in 18th place in 11.41, followed by 24th, Ben Swinton in 12.02, 25th, Sam Haggar in 12.08, 27th Sam Rowley in his first race for us in 12.13, 32nd, Adam Swinton in 12.22 and Bradley Chapman 41st in 13.35. Our five runners in the U15 girls were, 14th, Jenny Dybeck in 12.04, 29th, Ruth Kitchen in 12.51, 33rd, Louisa Clarke in 13.13, 37th, Emily Kerr in 13.23 and Laura Chapman in her first race for us in 38th place in 13.25. This gave the girls 7th team overall on the day. Our two U17 runners were Will Plastow in the boys race finishing in 9th place in 21.53 and Catherine Gibbons finishing in 13th place in the girls race in a time of 18.54.
Withins Fell race, Sunday 22nd October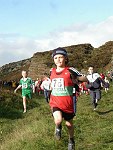 A good turnout of junior Harriers at this fell race. As all the courses were new all winners are also course record holders. In the U8's Ben Cheetham raced around the half mile course in 2.58, which could be a difficult record for anyone to beat in the future. In third place was James Turland in 3.15, with Rosie Hagan 7th overall and first U8 girl in 3.24. Logan Hargreaves-Madhas was 21st in 4.38 and Tom Hagan was 35th in 6.14. In the 1 mile race our highest finisher was Fiona Jordan in 7th place overall and 3rd U14 girl in a time of 7.36. In 21st place was Bradley Chapman in 8.37, followed by Curtis Tiplady in 23rd place in 8.40, Jack Cummings, 25th in 8.50, Dominic Ellis, 36th in 9.20 and Sam Wood in 37th place in 9.21.
West Yorkshire Cross-Country, Huddersfield, Sat 14 Oct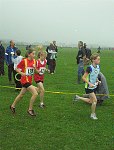 What a tough days racing!! I am certain that the standard is even higher this year - there are just no average runners. All credit to everyone who raced even when finding themselves in the unusual spot near the back of the field. It takes courage. In the first race of the day in the U11 Boys we had Alex Woodward, 3rd in 5.53, Alasdair Kerr, 12th in 6.32 and Jack Cummings, 16th in 6.47. If we had had one more we would have had a complete team so that's our target for the rest of the season (and a second team position is possible). Helen Wood was our only U11 girl runner, but she produced an excellent 5th place overall. We had a fantastic turnout in the U13 Boys with Josh Crane leading the team home in 19th place and 12.49, followed by Sam Haggar, 22nd in 12.58, Ben Swinton, 23rd in 13.02, Adam Swinton, 25th in 13.18, Stephen Clarke, 27th in 13.21, Toby Mountain, 35th in 14.02 and Bradley Chapman, 40th in 14.16. This gave them 4th boys team overall. In the U13 girls we had Ellie Taylor, 19th in 10.38, Jessica Holden, 44th in 12.09 and Lily Kitchen, 52nd in 13.50. This gave them 9th team position overall. Our 4 runners in the U15 girls were Jenny Dybeck, 11th in 12.49, Fiona Jordan, 12th in 12.55, Louisa Clarke, 32nd in 14.02 and Emily Kerr, 41st in 15.04. This performance gave them 4th team overall, but 2nd team place IS possible by the end of the season. Our only U17 runner of the day was Will Plastow who kept good form throughout the race to finish in 18th place in 20.13. All credit to him for a strong performance in an extremely tough age category. The next race is at the end of half term on Sunday 29th October at Boddington in Leeds.
English Fell Relay Championships, Sedbergh, Sun 24 Sept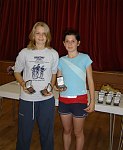 There were 21 teams competing and we fielded 3 of them - boys, girls and mixed. The first leg (run by the U12's) was 1.25m, 590' climb and the winning time was 12.32. The second leg run by the U14's was 1.75m, 870' climb with a winning time of 17.21 and the final leg for the U16's was 2.5m, 1,115' climb with a winning time of 22.36. For the boys team our first leg runner was Josh Crane who finished in 12th place in a time of 15.45. On the second leg Michael Hinchcliffe pulled up two places to 10th in a leg time of 18.31. And finally Elliot Dawson ran a sound third leg in a time of 25.44 to bring the team home in 7th place (5th boys team). For the girls team the first leg runner was Ellie Taylor, finishing in 18th place in a time of 17.41. Fiona Jordan ran 21.58 to hold on to this position with Jenny Dybeck pulling the team up to 14th place with her 28.44 leg time. This gave them 4th girls team, but 3rd eligible FRA girls team so they have been awarded bronze medals. Honours of the day also go to the mixed team ofBradley Chapman who ran 16.21 for 14th place. Emily Kerr ran 25 minutes and Catherine Gibbons finished it off with a 31.17 leg time and 16th place overall. This was good enough to give them the third mixed team and bronze medals. Many thanks to all of the juniors. It was a fantastic day out and it was so good to see you all running so well on what are truely testing fell courses. And Happy Birthday Catherine!
Harrogate Theatre Race - Fun Run, Sun 17th September
Well done to Sam Haggar who was 4th in 8.38, Bradley Chapman, 9th in 9.16, Sam Wood, 20th in 9.54 and Eileen Gibbons 58th in 12.21 out of the 132 competitors.
English Fell Championship review
The final race has been run in this seasons Championship. Forty Ilkley juniors (U8 to U20) have competed in a race this season - the majority just doing our own Baht 'at race in March. But that's a good start. However there have been 12 juniors who have travelled further afield for other events. In the U10 non-championship races Georgie Williams and Jack Cummings both competed in 4 races and Alistair Jordan in 3. In the U12 Ellie Taylor and Josh Crane both raced 5 times and Sam Wood twice. In the U14's Fiona Jordan and Michael Hinchcliffe both competed in 5 events, Emily Kerr (4) and Tom Crane(2). Finally in the U16's Jenny Dybeck raced in 5 events and Elliot Dawson in 2.
From Morgan Williams at Lads Leap Sat 2 Sept... The weather forecast was awful and as we arrived at Crowden it was chucking it down and the wind was rising menacingly. However, it takes more than a poor weather forecast to deter the Junior Harriers who have committed themselves to running in the English Junior Championships 2006 and the youngsters impressed once more with their dedication to the task in hand with fine performances in the last race of the Championship Series. The early (younger) racers got the worst of the weather as the rain poured down resulting in a seriously greasy descent which they all handled with care and some skill. The later (older) runners were spared the worst of the rain but, climbing higher on the fell, felt more of the force of the rising wind.
Results were as follows:
U10 Girls Georgie Williams 4th 7.20
U10 Boys Alastair Jordan 6th
U12 Girls Ellie Taylor 4th 15.52
U12 Boys Josh Crane 7th 14.20
U14 Girls Fiona Jordan 4th 22.34
U14 Girls Emily Kerr 7th 24.43
U14 Boys Michael Hinchliffe 6th 19.26
U16 Girls Jenny Dybeck 8th 27.56
The U10s have raced at each Championship venue but without a formal Championship; Georgie Williams and Jack Cummings have each raced 4 out of the 6 rounds, gaining experience for future campaigns.
The final standings via the FRA website for the Junior Harriers in the English Fell Championship categories are:
U12 Girls Ellie Taylor 5th
U12 Boys Josh Crane 8th
U14 Girls Fiona Jordan 5th
U14 Girls Emily Kerr 8th
U14 Boys Michael Hinchcliffe 6th
U16 Girls Jenny Dybeck 6th
For some of these Juniors, this has been the first full season of Championship racing and the newcomers have done the Club proud. For others it has been a season of further progress and we can look forward to the FRA Junior Relays with some anticipation. Well done to the Juniors who completed a full Championship series and also to those who have done any of the Championship races. The standard of these races is very high. Thanks also to all the parents who have fetched, carried and supported through the year. Roll on the relays in Sedbergh.
The Bunny Runs return, Tuesday 22nd August.
The bunnies have found a new home - Haworth. Just to tempt you into doing the complete series in the Spring Dave and Eileen organised this race to give everyone a taste of the new course. Fiona Jordan and Emily Kerr both raced taking 98th (19.58) and 104th place (20.47). Tons of chocolate and fun - Fiona made up the winning Ilkley ladies team. Make sure you do these in April (12 years +).
Pendle English Championship Fell race, Sunday 20th August.
8 juniors raced in this tough Championship event. In the U10's Georgie Williams and Jack Cummings both did well but we don't know their placings. In the U12 race Josh Crane was 9th and Sam Wood was 13th with Ellie Taylor splitting the two with her 5th girl placing. In the U14's Michael Hinchcliffe had a fantastic run for 5th place - well within reach of 3rd place and Emily Kerr (another good run) finishing as 6th girl. In the U16's Jenny Dybeck was 9th girl over what was a very tough course.
English Uphill Championships, Rossendale, Sunday 23rd July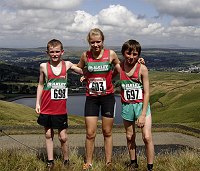 Four juniors competed in the English Uphill Championships. In the U12 boys, Josh Crane was 4th in 14.15 and Bradley Chapman was 5th in 14.23. In the U14 girls Emily Kerr was 6th in 15.35 and finally in the U16 girls, Jenny Dybeck was 5th in 18.12.
Sport Relief 'Run a Mile', Ashlands School, Sat 15th July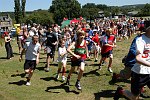 A brilliant turn out of 120 children and parents took part in this event, joining thousands of others running at various venues throughout the country today and raising money for Comic Relief (link). Everyone was a winner - see all the photos.
Washburn Valley Relays, Friday 14th July
Well done to the older mixed junior team of Mary, Catherine, Simon and Dan who won the mixed category at these relays. Other juniors running in teams included Ruth Kitchen on leg 1 (32.41), Adam Bennett on leg 2 (27.37), Josh Crane (33.11) and Ben Rowley (28.08) on leg 3 and finally Bradley Chapman on leg 4 (26.18). It's great to see so many juniors competing alongside our seniors - well done to you all.
Stirton Fell Race, Wednesday 12th July
6 juniors ran in this local fell race. In the U10's Alistair Jordan was 2nd in 3.03 and Jack Cummings was 3rd in 3.04. In the U12 race Josh Crane was also 2nd in 10.39 and Sam Haggar was 3rd in 10.52. Fiona Jordan was 5th (and 2nd girl) in the U14 race in 11.10 and Jenny Dybeck won the U16 race in 32.16.
Schools orienteering, Nell Bank, Thursday 6th July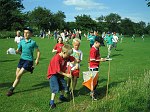 There were lots of teams contesting the Fun Relays at Nell Bank, racing round and learning about team work.
Afterwards, eXplorer Challenge awards were presented, and medals were presented to the fastest runners on this season's Yellow courses.
Thanks to the Nell Bank Centre for letting us use this lovely venue.
Danefield Relays, Wednesday 5th July
For the first time we had a junior team in this local fell relay. They were 11th team overall (out of 35 teams). Michael Hinchcliffe ran the first leg in 20.56, followed by Simon Chapman in 24.59 and Dan Roebuck in 22.04. Other older juniors running were Jack Wood (20.49), Ben Stevens (20.07) and Hector Haines (19.23) who finished as 6th team overall and to Mary Gibbons who ran 28.29 in a senior ladies team.
Badger Stone Relays, Wednesday 14th June
For the first time we had junior teams in this local fell relay - three legs of 2.5miles. Our older junior boys team of Will Plastow(19.34), Simon Chapman(21.51) and Dan Roebuck(20.16) were 8th overall out of the 24 teams competing. Our younger boys team were 15th overall with Michael Hinchcliffe having the fastest time of the night with 19.07 followed by Adam Bennett (25.37) and Ben Rowley (22.19). Our junior girls team were 18th overall with Fiona Jordan (22.23), Emily Kerr (24.43) and Jenny Dybeck (21.48). Josh Crane also ran to make up numbers in one of the senior teams and did 23.56. Well done to everyone.
Ilkley Fun Run, Sunday 11th June
There were about 30 Junior Harriers/Sportshall children running in this 3 mile fun run. Alex Sinclair running for Skipton AC was the outright winner in 18.56. The Harriers placings were Ben Rowley in 10th place (21.52), 11th and 2nd girl, Catherine Gibbons in 22.11 closely chased by Jenny Dybeck in 12th place (22.13) with Fiona Jordan, 4th girl and 18th overall (23.38). Not far behind and having a fantastic run was 8 year old Jack Cummings in 20th place (24.08). The order of the remaining Ilkley finishers and their times were: Ruth Kitchen (25.19), Sam Haggar (26.03), Joe Beesley (26.05), Alice Munnoch (26.23), Bradley Chapman (26.36), Chris Tomlinson (27.12), Heather Rawlinson (27.27), Bea Bradley (28.17), Anna Tench (28.18), Amy Park (28.23), William Tench (28.24), Naomi Elliott (28.28), Adam Bennett (28.54), Victoria Scott (30.09), Tom Bennett (30.30), Odin Hargreaves (31.03), Henry Websdale (33.07), Anna Sinclair (35.02), Max Beesley (36.08), Anna Simpson (36.40),Lily Kitchen (37.38), Lara Simpson (37.55) and Logan Hargreaves (42.41). I think it's a really tough fun run, so well done to you all.
Garburn English Junior Championship Fell Race, Sunday 4th June
Alison Eagle reports..... Good results from the few harriers at the Garburn races, Windermere. In the U/10 fun run fast finishers saw Alistair Jordan 19th boy and Georgie Willliams 9th girl. Jack Cummings also ran finishing in front of the others but not as yet on the results!.
Although registration was before 12 the championship race were not due to start until 2. The U/12s were then kept waiting in the heat for a further 30 mins for the Gurburn trail and fun running prize givings! Despite this the race was over an interesting course through woods and onto the top of Orrest Head and then followed the end of the trail race back down. Josh Crane trying hard to improve his position with a sprint finish came 9th, 11.16. Ellie Taylor was 2nd girl in 11.49mins. Fiona Jordan retired after an even longer wait in the heat in the U/14 race.

Rombalds Fell Race, Tuesday 30th May
In the U12 race Ellie Taylor was 11th overall and 1st girl with Sam Haggar finishing just one place behind. Sam was lucky enough to win a mountain bike in the prize draw.
White Lion Fell Race, Kildwick, Wednesday 24th May
In the U8 race Millie Websdale was 12th in 2.51. In the U10 Jack Cummings was 2nd in 3.10, Ben Cheetham 3rd in 3.12 and Henry Websdale 6th in 3.28. In the U12 Alistair Kerr was 10th in 11.41 and sister Emily was also 10th in the U14 in 21.11.
High Rigg Junior English Championship Race, Sunday 21st May
A good turnout of 9 Junior Ilkley Harriers went to High Rigg on Sunday. By all accounts a true Lakeland experience with steep up and back courses. Although we have no results as yet we do have overall positions. In the U16's Jenny Dybeck was 8th. In the U14's Fiona Jordan was 3rd and Emily Kerr 8th and for the boys Michael Hinchcliffe was 7th. In the U12's Ellie Taylor was 4th and for the boys Josh Crane was 9th. In the U10's race we had three runners Georgie Williams, Jack Cummings and Alistair Jordan. Well done to you all.
Esholt John Carr 5km series - Wednesdays in May
Race 1: 3rd May
Elliot Dawson, 115th in 19.45 and Alice Munnoch, 240th in 23.42
Race 2: 10th May
Ben Rowley, 131st in 20.21; Josh Crane, 200th in 22.21; Alice Munnoch, 227th in 23.33 and Adam Bennett, 280th in 26.14
Race 3:17th May
Ben Rowley, 94th in 20.01; Josh Crane, 156th in 21.46; Alice Munnoch, 181st in 22.54 and Adam Bennett, 215th in 24.39. Well done to everyone - all your times improved over the series and Alice, having done all three of the races was 2nd in her age category.
Carnegie Aquathlon, Sunday 14th May
Tristar 1 (9/10 years) Anna Tench - 18th. 150m swim - 3.36/1200m run - 6.41 Overall 10.17
Tristar 2 (11/12 years) Josh Crane - 16th. 200m swim- 4.45/1800m run - 8.48 Overall 8.23
Tristar 3 (13/14 years) Michael Hinchcliffe - 4th 250m swim - 4.47/2400m run - 10.57 Overall 14.44 Tom Crane - 6th 250m swim - 5.13/2400 run - 12.33 Overall 17.36
Alison Eagle reports....... A well organised event (apart from late start time due to an increase in numbers from last year 26 to 126+). An aquathon is a swim followed by a run, with the overall time including the time it takes through transition (when you put on shoes and a top). This is difficult as Michael found, taking over a minute to fight a IH vest onto a wet body - take off this time from his run and I think he ran the fastest time for his group!). Josh had learnt from a triathlon last year, got his shoes on the right feet this time and whizzes through tranisition. Tom was the fastest in transition,, overtaking Michael who was out the pool earlier - learning the trick of lots of talcum powder in your shoes and put the vest on second, on the move. A great atmosphere, with not bad results for the harriers when the majority of their competitors were triathletes and none of ours had done any swimming training.
It is a little different and a positive experience, though be prepared for a long day!
Next event locally is the Childline Triathlon at Ashville School in July - details on Childline or Yorksandhumbertri web site. Tom and Josh did it last year, enjoyed it so much going back again this year.
Jack Bloor Fell Race, Tuesday 9th May
Well done to all the boys and girls who ran in this race - there were almost 50 children (either Junior Harriers or sportshall) running. Some excellent results and lots of PB's. Complete results are on the Jack Bloor website.
Hare and Hounds, Lothersdale fell race, Wednesday 3rd May
Well done to the 11 boys and girls who ran in this race - some excellent results. U8: 3rd Will Cheesewright, 3.53. U10: 1st Ben Cheetham, 5.02, 3rd Jack Cummings, 5.20, 4th (2nd girl) Georgie Williams, 5.37, 6th Laura Cheesewright, 5.44, 7th Natalie Below, 5.46. U12: 3rd Josh Crane, 12,58, 8th (2nd girl) Ellie Taylor, 14.29, 10th Jack Cheesewright, 18.25. U14: 1st Michael Hinchcliffe, 10.06, 4th Tom Crane, 14.12.
National Sportshall Finals, Birmingham, Sunday 9th April
Well done Danny Elliott (U15) and Thomas Scott (U13). The West Yorkshire boys U15 team was 9th overall and the boys U13 team was 11th overall
Meanwood Valley Trail Race, Saturday 8th April
Well done Odin Hargreaves-Madhas, 11th in 8.33, 21st Edward Bickerdike in 9.12, 25th Ellie Bickerdike 25th in 10.12 and 38th, Logan Hargreaves-Madhas in 13.10 in the one mile race. In the two mile race Catherine Gibbons was 12th and 1st girl 15-16 in 14.24, Patrick Gibbons was 19th overall and 1st boy 13-14 in 16.48.
Sportshall Athletics Shine Awards, Thursday 30th March
Well done to the 57 children who received their Decathlon Agility Challenge Sportshall Athletics awards. This award is now in its third year for us, but it is still tough to get the higher awards. One gold medal was presented - this went to Peter Linnegan (this is the third year in a row that Peter has achieved a gold medal standard, which proves how much talent he really has). Two silver medals went to William Giles and Lucy Deakin. The overall standard is improving every year, but individuals should set their own personal targets for next year. Many thanks to Alison Eagle, our very own 'local celebrity' for presenting the awards to both the Monday and Thursday groups.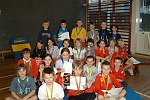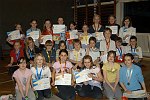 Sportshall Athletics Shine Awards, Monday 27th March
Well done to the 42 children who received their L3 Sportshall Athletics awards 11 - 15 years. The award proved to be quite tough, but everyone achieved an Heptathlon coloured award. During the evening we presented 1 gold medal (Danny Elliott) and eight silver medals (Daniel Judkowski, Roisin Elliott, Fiona Jordan, Thomas Scott, Alix Wood, Emily Kerr, James Swinton and Michael Johnson).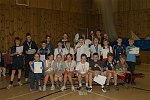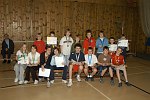 Baht'at English Championship fell races, Sun 19th March
40 junior Harriers competed in these races in all age categories from U8 to U20. There were six medallists in the Yorkshire Championships with pride of place going to Jenny Dybeck who by coming first in the under-16 girls' race was crowned Yorkshire Champion and gained maximum points in the English Championship - a brilliant start to the series. There were also 3 silver medallists - Ellie Taylor (U12), Fiona Jordan (U14) and Victoria Stevens (U18). Our two bronze medallists were Hector Haines (U18) and Ben Stevens in the U20's. Full results and hundreds of photos can be found on the Bahtat page.
West Yorkshire Regional Sportshall Athletics, Sun 5th March
Thomas Scott (U13) and Danny Elliott (U15) were competing for West Yorkshire in Halifax for a place in the National final in Birmingham. Thomas won his obstacle race, was first in the Speed Bounce (with 82 in 1 minute) and was third overall in the 6 lap time trial (he won his heat). Danny was second in his heat of the 2 lap time trial and competed in both the Speed Bounce and Triple Jump. Both their teams won so they're off to Birmingham. Well done and good luck.
Ilkley Moor fell race, Sun 26th Feb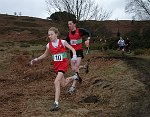 The Ilkley Moor fell race was the first race that Ilkley Harriers offered junior races at, in February 2003. They've got better every year, with a staggering 119 children competing in 2006. There were 5 new records and one equalled. Junior Ilkley Harriers were presented with Phil Dean trophies for the first time - Georgie Williams and Jack Cummings (U10), Ellie Taylor and Josh Crane (U12), Fiona Jordan and Michael Hinchcliffe (U14) and Jenny Dybeck and Elliot Dawson (U16). It was a brilliant day so many thanks to everyone - helpers and competitors. More on the race's own page.
U13 and U15 West Yorkshire Sportshall Athletics trials, Sun 5th Feb
Over 120 girls and boys from all over the region came to the Richard Dunn Centre to compete for a place in the West Yorkshire team. Thomas Scott (U13) and Danny Elliott (U15) put together a fantastic trials programme and were both selected for their respective teams. Thomas was second in the 6 lap time trial, 4th in the standing long jump with 1m 94, third in the high jump with 1m 30, third in the obstacle time trial and came first in the speed bounce setting a new record of 84 in one minute. Danny was fourth in both the 2 and 4 lap time trials, third in the standing long jump with 2m 32, jumped a PB in the standing triple jump of 7m 16 and was second in the speed bounce with 75. Good luck to both of them in the regional final in Halifax on 5th March. The winning team at this event will go through to the national final.
Well done to Louisa Clark and Celine Cheshire who also attended the trials but were not selected for the team. Competition was very hard in the U13 girls with 60 girls competing for a few places.
Norwich Union Sportshall Athletics Festival, Sun 5th Feb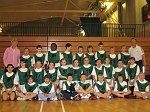 13 teams from the Yorkshire region competed in the regional event at Sheffield's English Institute of Sport. Joanna Snook, Lucy Deakin, Daniel Judkowski and Josh Crane competed in various individual and relay events for the City of Bradford team. Joanna was in the top three in the standing long jump with 2m 10 and was in both the winning 4 x 1 lap obstacle relay and over and under relay. Lucy also competed in the standing long jump and jumped just under 2m, threw a 6m chest push and was in the winning pairs relay and grand prix relay. Daniel was in the top three in both the balance test ( 51 secs out of a maximum 60) and the standing triple jump where he did a PB of 5m 94. He also competed in the paarlauf relay. Josh was the outright winner of the Javelin with a PB of 24m. He also competed in the vertical jump, was third in the pairs relay and was in the winning grand prix relay team. The City of Bradford's boys team finished second to a strong Sheffield team and the girls team finished 4th overall, again with Sheffield the winners. A great day and a fantastic achievement by all four athletes.
Northern Cross-Country Championships, Sat 28th Jan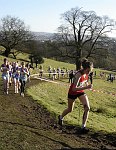 Well done to the 5 girls who competed at the Northern X-C Champs at Witton Park, Blackburn. In the U13's Emily Kerr was 155th in 15.35 and Emma Davidson was 169th in 15.59. In the U15's race we had Jenny Dybeck in 77th place in 15.42, Ruth Kitchen in 79th place in 15.42 and Catherine Gibbons in 105th place in 16.19. A really good way to end the X-C season - thanks for all your commitment girls.
Stanbury Splash fell race, Sun 22nd Jan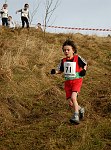 Well done to the 7 juniors who ran at Haworth. In the U8 race Ben Cheetham (running in his new Ilkley vest for the first time) won the race in 2.44 with Logan Hargreaves -Madhas in 25th place in 4.50. In the 1 mile race Josh Crane was 5th overall and 1st U12 boy in 7.19; Alex Smith was 12th and 4th U12 boy in 8.06; Sam Wood was 25th in 8.43 and Odin Hargreaves-Madhas 34th in 9.27. In the two mile race Nevada Hargreaves-Madhas was 2nd boy in 18.39.
Wharfedale & District Primary Schools XC Challenge
This was a great day - see the dedicated page here. And it was super to see so many Junior Ikley Harriers running so well for their schools.
Yorkshire XC Championships, Sat 14th Jan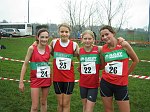 Well done to the 8 juniors who ran at Herringthorpe Stadium, Rotherham. In the first race of the day the U13 girls had a 9th overall team position with Fiona Jordan 28th in 15.14; Emily Kerr 34th in 15.23; Louisa Clark in 16.31 and Emma Davidson 52nd in 16.59. In the U13 boys race that followed over the same course Michael Hinchcliffe was our only competitor in his first race for the club. Despite having very few races under his belt this season he finished 44th in 13.54. And finally in the U15 girls race we had Jenny Dybeck 24th in 17.41; Ruth Kitchen 32nd in 18.17 and Catherine Gibbons 36th in 18.26 out of a field of 68 finishers. This gave them a 7th overall team position.
---
Back to Top
|
2005 Results