This page shows the results of races that Junior Ilkley Harriers have run in, up to December 2004, most recent races first.
2004
Ribble Valley 10k, Mon 27 Dec
Dan Roebuck ran a PB and was 461st in 51:01; and Simon Chapman struggling to overcome a cold was 599 in 58:50. (Eleanor Kitchen, Bingley, who trains with the Harriers, had an excellent race finishing 263rd and first junior lady in 43:53.)
Stoop fell race, Sun 19 Dec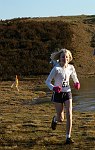 Well done to Odin Hargreaves who was 4th in the U8 quarry race on 2:50
In the 1 mile U10/12/14 race, Ruth Kitchen was 23rd and 4th U14 girl in 8:00; Fiona Jordan was 25th and 1st U12 girl in 8:15; Jenny Dybeck was 30th and 6th U14 girl in 8:32; Sam Wood was 44th and 5th U10 boy in 9:11; and Lily Kitchen was 55th and 8th U10 girl in 11.44

Photos
WYXC, Wakefield, Sat 4 Dec
Well done to the U13 girls, who finished 4th team on the day, and 5th overall in the League. Ruth Kitchen was 15th in 8:34; Fiona Jordan 18th in 8:50; Jenny Dybeck 21st in 8:56; and Emily Kerr 32nd in 10:04
More on the Complete Runner web site
Roundhay Park 3M Race, Sun 21 Nov
Neil Chapman reports ... A few junior Harriers tackled the Roundhay races today, in extremely cold and damp conditions. In the three mile race James Wardman ran around 19:25 to finish 6th overall and 1st in U16, with Simon Chapman finishing in 22:35 and Bradley Chapman running 24:45. Josh Atkinson arrived expecting to run a one mile race, and responded well to the challenge of three miles, finishing strongly in 28:34. All the Juniors ran PBs for that distance.
WYXC, Nell Bank, Sat 20 Nov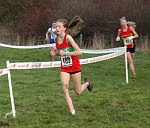 The Junior Ilkley Harriers U13 girls team was 6th: Ruth Kitchen was 14th in 11:11; Fiona Jordan 18th in 11:25; Emily Kerr 22nd in 11:34; and Jenny Dybeck in her first race for us 27th in 11:43. In the U17 race, Victoria Stevens ran 18:09
The final race is at Thomas Park, Wakefield on Sat 4 Dec.
More on the sponsor's web site

Photos
Kelbrook fell races, Sun 14 Nov
Well done to Fiona Jordan who was 2nd U12 girl and James Jordan who was in the top 10 in the U14 race.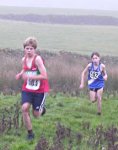 Halloween Howler, Sun 31 Oct
James Jordan was 14th in the 2 mile U14 race in 14:42. In the U10 race Odin Hargreaves was 5th in 5:23
Full results on the K & C site
Race and Spooky Do photos on David Brett's site
The event was followed by the "Spooky Do", incorporating the presentation of English Junior Fell Championship awards.
WYXC, Bramley Fall Woods, Sat 30 Oct
The Junior Ilkley Harriers U13 girls team was 7th: 18th Emily Kerr 11:58; 26th Alice Munnoch 12:22; 35th Fiona Jordan 13:06. Harriet Midddlebrough was 34th in 13:03 The next race is at Nell Bank on Sat 20 Nov.

Photos
Full results on the sponsor's web site
Withins Skyline, Sun 24 Oct 2004
In the U8 race Emily Middlebrough was 4th overall and 1st girl in 3:01; and Scott Marshall was 7th in 3:05
In the U10/12/14 race Fiona Jordan was 14th overall and 2nd U12 girl in 8:02; Sam Wood was 33rd overall in 9:15 and 11th U10 boy; and Harriet Middlebrough was 41st overall and 7th U12 girl in 9:59
Aquathlon, Sun 17 Oct 2004
Four Junior Ilkley Harriers were competing in their 1st Aquathlon , which consisted of a swim followed by cross country run, at Leeds Grammar School on Sunday. Bradley Chapman was first to go, and completed his 150m swim and 1200m run in 12:32. Emily Kerr then did her 150m swim and 1800m run in 11:53, a great achievement considering she was part of a very successfull team competing in the West Yorks XC the previous day. Then Dan Roebuck and Simon Chapman set off on the 400m swim, which they both completed in exactly the same time, before starting the 3000m run. Dan finished with a total time of 21:05 and Simon 23:58, slightly hampered by the fact he had been playing a match for Ilkley Juniors only a couple of hours earlier.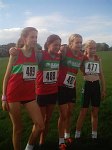 WYXC, Shipley, Sat 16 Oct
The Junior Ilkley Harriers U13 girls team was 3rd: 11th Ruth Kitchen 13:02; 13th Fiona Jordan 13:05; 15th Emily Kerr 13:17; and 22nd Alice Munnoch 13:57 - 41 ran. Harriet Midddlebrough was 33rd in 14:38. This is a wonderful start to the League. The next race is at Bramley Fall on Sat 30 Oct.
Full results on the sponsor's web site
Sportshall Selection success
Harriet Midddlebrough was selected for the City of Bradford Sportshall Athletics team following the U11 trials at Beckfoot on Friday 15 Oct
British and Irish junior fell championships, Latrigg, Sun 10 Oct
Fiona Jordan and Emily Kerr rounded off a very succesful first fell season with 5th and 7th places in 9:20 and 9:52 respectively. Full results on the Fell Junior web site.
Harewood Hop, 2 mile race, Sun 10 Oct
Neil Chapman reports ...Junior Ilkley Harriers were well represented in the Harewood Hop 2 mile junior race, with nine runners tackling the course which has a tough hill to finish. First Harrier home was new member James Wardman in his first race for the club finishing 10th in 14:33, with Dan Roebuck hot on his heels 11th in 14:39, and Simon Chapman 20th in 15.43. Then came the family battle between Catherine and Mary Gibbons, finishing 28th & 30th in 16:22 & 16:27 respectively, but both finishing 1st in their age groups. Patrick Gibbons was the next Harrier in, 43rd in 17:40, just ahead of Bradley Chapman 45th in 17:55, with Kieran Roebuck 86th in 20:34 and Eileen Gibbons finishing well 111th in 22:19.
Twin Peaks, 2 day Orienteering event, Lake District, 25th/26th September
4 Juniors were competing in this event on 2 quite technical areas. In JW2 Emily Wood was 3rd overall (3rd/5th), Sam Wood 6th (11th/3rd), Scott Marshall 10th (8th/13th) both running JM1 and Gemma was 4th on day 2 in JW1.
Kirkstall 10km, Sunday 26th September.
Daniel Roebuck, Simon Chapman and Mary Gibbons all ran in this their first 10km road race. Daniel and Simon finished together in 52.10 and Mary had a good sprint finish to finish in front of her mum in a time of 54 minutes. Well done to all three of them as this is an excellent result for the Junior club.

Click here for Mandy's photos.
Myrtle Park Cross-Country, Wednesday 22nd September
Year 7 Girls: Fiona Jordan was 3rd and Emily Kerr 10th. Harriet Middlebrough ran in the Year 6 Girl's Race.
Harrogate Theatre 2.5km Fun Run, Sunday 19th Sept
149 runners competed in the fun run. Our first finisher was Ruth Kitchen in 15th place (4th girl) in 9.37, followed by Catherine Gibbons 23rd in 10.22; Sam Wood 24th in 10.31; Bradley Chapman 49th in 11.29; Kieran Roebuck 67th in 12.50; Eileen Gibbons 78th in 13.14, Emily Wood 82nd in 13.27 and Lily Kitchen 83rd in 18.28. Well done to everyone.

Click here for some photos.
Three Shires English Junior Fell Championships, Saturday 18th Sept
Well done to the 4 Junior Harriers who raced in this, the last of the Championship races for 2004. All four competed in the U12 race which was a fast out and back course. Harry Liuba-Carmichael was the first Harrier back 6th (making him 7th U12 boy in the Championship), followed by Fiona Jordan 5th (4th in the Champs), followed in hot pursuit by Emily Kerr 6th (now 8th in the Champs) and Poppy Liuba-Carmichael 10th (15th in the Champs). Two other Junior Harriers who were not running in this race had placings in the overall Championship, they were Marcus Bennett 13th in the U12 Boys and Harriet Middlebrough 17th in the U12 Girls Championships.

Click here for some photos.
Junior Sprint Fell Relays, Wednesday 8th Sept
There were lots of Junior Harriers running, thanks to the many helpers - more ....
Kilnsey Show crag and fell races, Tuesday 31st Aug
Well done to Fiona Jordan and Emily Kerr, 1st and 3rd in the girls U12 crag race at the show. And not to be out done James Jordan had a good race in the U14 boys race including a very steep descent from the top of the ridge.
Hebden Sports, Monday 30th Aug
Richard Melia was 7th in the U9 race and then went on to win the relay race. Well done.
Burnsall fell races, Sat 21 Aug
Alistair Jordan went off like a rocket and finished 9th on 5:09 in the U9 race and Joe Stapleton was 15th in 5.33, Fiona Jordan was 1st in her U11 race in 7:47, and James was 2nd in the U13 race in 8:09. From race-results.co.uk
Sedbergh hill races, Sat 21 Aug
Fiona Jordan was 4th and Emily Kerr 7th - this leaves Fiona 3rd and Emily 9th in the U12 English Fell Championships with one race to go. Details on Junior Fellrunner site.
Welsh Orienteering, 15-21 Aug
Emily Wood was 2nd W12B (just 8 points away from 1st place), Sam Wood 6th M10B and Scott Marshall 17th M10B in the Welsh 6 day Orienteering festival held in Brecon, Mid Wales.
Wharfedale Schools Orienteering, Wed 7 July
Well done to all the children who receoved eXplorer Challenge badges and certificates at Nell Bank, more ...
Danefield Relays, Tue 6 July
It was great to see a Junior Harriers team too, in 35th place and 2nd juniors team we had Simon Chapman 28:28; Daniel Roebuck 25:52; and James Wardman 24:49
Skipton Fun Run, Sun 4 July
Two of our Junior Harriers were competing in the 2.5k Skipton Fun Run, (but not much fun in torrential rain), with Daniel Roebuck having a good run finishing 5th and Simon Chapman only 20 seconds or so behind, finishing 7th.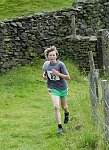 English Junior Fell Championships counter,
Settle Hills, Sun 27th June
In the Under 12's race (1 mile with 340' of climb), Harry Liuba-Carmichael finished 9th in 13:04; Fiona Jordan 18th and 4th girl in 14:38; Emily Kerr 21st and 7th girl in 15:14; Poppy Liuba-Carmichael result tbc. 38 ran, incl. 16 girls.
Eldwick Gala fell race, Sat 26 June
Sam Haggar was 4th, and 2nd U10, in the 1 mile junior race, with a time of 10:21
BOFRA Kettlewell fell race, Sunday 20th June
Fiona Jordan was 3rd U12, and Alastair Jordan second U9.
English Championship fell race, Helvellyn, Sunday 30th May
Fiona Jordan was 6th and Emily Kerr 12th in the U12 race. An excellent result girls.
Jack Bloor Fell Race, Tues 11th May
106 children ranging in age from 6 to 16 years ran in the three junior races. Well done to the 26 Junior Ilkley Harriers who ran and to the many dads and mums who came to support the event. Full results and photos are available here.
Bunny Run #3, Tue 20 April
CS 3m/300' Well done to Fiona Jordan who ran 29:45, and James 30:40
Yorkshire Fell Championships, Sun 18 April 2004
At the West Nab fell race the junior races counted towards the English Fell Championships and they were also The Yorkshire Junior Fell Championships. And some of our Junior Ilkley Harriers did really well.
Fiona Jordan won a Bronze medal in the U12 Girls category in the Yorkshire Championships.
Harry Liuba-Carmichael won a Silver medal in the U-12 Boys category and Marcus Bennett the Bronze (both are Ilkley Harriers and Wharfedale Harriers too).
Harriett Middlebrough was running too in the U12 race- well done.
Orienteering, Easter 2004
Emily and Sam Wood, Gemma King and Scott Marshall had good results at the JK International Orienteering competition in the Lake District over the Easter weekend.
Meanwood Valley Trail, Sat 27 March 2004
Two young Ilkley Harriers were among the prize winners in junior races at The Meanwood Valley Trail. Ilkley's Mary Gibbons claimed first prize in the Girls' 15-16 race and younger sister Catherine took second place in the Girls' 13-14 event. Recent rain made for difficult conditions as runners took to muddy paths and scrambled over slippery rocks and trailing tree roots. The course was partly on The Dales Way long distance footpath from Leeds to Bowness on Windermere.
Results: Mary Gibbons, First Girl 15-16yrs, 13min 38 sec; Catherine Gibbons, Second Girl 13-14yrs, 14 min 53 sec; Patrick Gibbons, Fourth Boy 11-12yrs, 14 min 12 sec; Eileen Gibbons Third Girl 9-10yrs, 8 min 08 sec.
Sportshall Athletics Awards, Wed 24 March 2004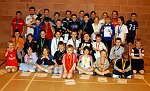 82 children gained their Norwich Union Shine Awards at the presentation session on Wednesday. Since September the children have been doing the Agility Challenge Decathlon Award and have all been working very hard. Of the 82 medals and certificates presented one was for gold, two for silver and seven for bronze. The remainder were split between blue, green, yellow and orange awards. Well done to everyone.
Pendle fell race, Sat 20 March 2004
This was the first of the English Championship races of the season. Well done to all the Junior Ilkley Harriers and Wharfedale Harriers who ran in the U12 race. Known results are U12 girls: 3rd Fiona Jordan, 7th Emily Kerr, Poppy Liuba-Carmichael, Harriet Middlebrough. In the boys' U12 race: 4th Nathan Proctor in 10 mins, 6th Harry Liuba-Carmichael 10.16, 11th Marcus Bennett 11.05, 14th Alex Sinclair 11.18 and 24th Roam Hamilton 12.50
British Orienteering Championships, Northumberland, Sat 20 March 2004
Well done to Emily Wood 5th on the W12B course; Sam Wood 3rd on M10B course and to Scott Marshall and Gemma King 1st and 2nd respectively on the White course.
Sportshall Athletics friendly 'match' versus Westville, Friday 19th March 2004
Well done to the children who took part - Jack and Drew Hanson, Harriet and Emily Middlebrough, Mark Wilcock, Max Greaves, Anna Hellen, Sam Wood, Ben, Adam and James Swinton. Also for Westville Emily and Alistair Kerr and Marcus Bennett. There were many good performances and improved times and distances recorded. Thankyou to Emily Wood for helping with the teams.
Ogden Water races, Sat 13 March 2004
Well done to Sam Haggar who was 10th in the 1½ mile race in 10:32
Ilkley Moor Junior Fell Races, Sun 22 Feb 2004
A great day! There were nearly 70 in the junior races, including 24 Junior Ilkley Harriers, - click here for results, photos, etc.

Stanbury Splash fell races, Sun 25 Jan 2004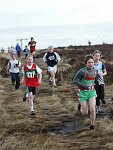 This was the latest running of Dave Woodhead's "quarry races" at Penistone Hill Country Park - a great introduction to fell running. There were 13 Junior Harriers racing.
In the Under 8's race, we had 1st girl Emily Middlebrough, 2nd overall in 3:23; and third boy, Scott Marshall 4th overall in 3:46 (10 seconds faster than last time, well done Scott!).
The U-10's, U-12's,and U14s ran together in a 1 mile race. Harry Liuba-Carmichael was 6th overall (2nd U12) in 7:51. Fiona Jordan was 9th overall, 1st U12 girl, and she broke that record by 11s in 7:59. Then we had 12 Danny Roebuck 8:17; 17 Harriet Middlebrough 8:51, 2nd U12 girl; 26 Arran Woodhouse 9:30; 27 Simon Chapman 9:31, just pipping Sam Wood 9:32; 29 Sam Morris 9:45; 30 Kieran Roebuck 9:55; 33 Corey Woodhouse 10:21; 35 Max Greaves 10:37. Well done to those who ran the 1 mile race for the first time.

Harriers photos.
Sportshall Trials, Sun 25 Jan 2004
Well done to Gina Williams who took part in the U13 Trials at Beckfoot.
Clevedon House School XC, Sat 17 Jan 2004
20 or so Junior Harriers were running in their Primary School team; some of the older ones were helping with race organisation - click here for results, photos, etc.
Bradford Schools XC, Sat 17 Jan 2004
Emily Wood, Eleanor Kitchen, Gina Williams, and Ruth Kitchen represented Ilkley Grammar School at the Bradford Schools XC at Northcliffe playing fields, Shipley, on Saturday.
2003
Jolly Holly Jog Fun Run, Sun 28 Dec 2003
Sharp Intake of Cold Air for Young Ilkley Harriers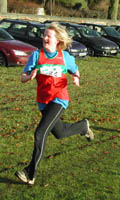 Vince Gibbons reports ... After a gasping start for Ilkley Junior Harriers, Mary Gibbons claimed the prize for third placed female in a 74 strong field at the Jolly Holly Jog Fun Run.
Six Ilkley Harriers travelled to Ripon for the seasonal event, organised by Ripon Runners, on Sunday 28 December.
Finding the start proved to be the toughest task of the day. There was no provision for advance entries and the Ilkley athletes arrived at the venue with just minutes to spare. Numbers were still being pinned onto vests as the starting gun was fired!
It was a cold start as the Ilkley runners, deprived of a warm-up, gulped down freezing air and chased off after the pack on the frosty course over one and a half miles. Nevertheless, the entire Ilkley contingent finished strongly.
Brothers Simon and Bradley Chapman came in close together. Simon was placed 23rd with a time of 13 min 38 sec, just ahead of Bradley, Ilkley's youngest runner in the Christmas race, 24th in 13 min 40 sec.
Ilkley results: 16 Mary Gibbons, 11minutes 57 seconds; 17 Patrick Gibbons, 12 min 02 sec; 18 Catherine Gibbons, 12 min 07 sec; 23 Simon Chapman 13 min 38 sec; 24 Bradley Chapman, 13 min 40 sec; 44 Eileen Gibbons, 16 min 30 sec.

Mandy's Harriers photos.
The Stoop fell races, Sun 21 Dec 2003
Dave Woodhead's "quarry races" at Penistone Hill Country Park are a great introduction to fell running, and always attract a good field.
In the Under 8's race, we had 3rd Harry Williams 2:51; 4th Sam Wood 2:54; 13th Scott Marshall 3:56; and 14th Georgie Williams 3:58 - Georgie was the 3rd girl.
The U-10's and U-12's ran together in a 1 mile race. Tom Crane was 20th overall and 8th U-12 in 8:15; Alice Munnoch was 28th overall and 2nd girl U-12 in 8:34; Josh Crane was 37th, 8th U-10 in 9:09; and Bradley Chapman was 9th U-10 in 11:41.

Click here for some Junior Harriers photos.
Nell Bank XC, Sun 7 Dec 2003
24 Junior Harriers ran in the junior XC races at Nell Bank, before our Sport Direct XC race. Well done everyone. For full results click here.
Roundhay 3 mile run, Sun 16 Nov 2003
Simon Chapman had a good run in the Roundhay 3 mile road race finishing with a PB of 22:38, and Bradley Chapman also ran a PB of 25:51, more than 6 minutes faster than last year.
U11 Regional Sportshall Athletics event, Halifax, Sun 16th Nov
Emily Kerr, Fiona Jordan and Marcus Bennett were selected for the U11 City of Bradford team and competed in this regional event. All 3 performed well, with the Bradford Girls coming 2nd (out of 10) behind the City of Sheffield team; and the boys coming 3rd with 395 points behind Sheffield 407 points and City of Leeds 399 points.
Harrogate and Craven Schools XC Champs, Sat 15 Nov
Mary and Catherine Gibbons ran well in the Harrogate and Craven Schools Cross Country Championships at Aireville Park, Skipton. Both sisters achieved twentieth place in their respective events. Mary, 14, competed in a very strong Intermediate Girls field of 50 runners over 2750 metres. Younger sister Catherine braved strong winds to come home sprinting in a field of 60 runners for the 2000 metre Year 8 Girls' event. The young athletes were selected by their school, St John Fisher, Harrogate, for this North Yorkshire Schools County Championship qualifying meeting. Eleven schools fielded teams. The championships will be staged at Scarborough in January.
Leeds XC League on Saturday, Sat 15 Nov 2003
One of our junior Harriers, Alice Munnoch, competed in this league race at Leeds Grammar. She had a storming run finishing 4th in the U/12 girls race which had around 60 runners.
Wharfedale Schools XC
On the same day four Junior Harriers competed in the Wharfedale Schools XC at Prince Henry's in Otley. Josh Crane had an excellent run to finish 1st in the U/9s race with Calum Kerr finishing 8th and one of the younger runners Drew Hanson finishing 30th. In the U/11 race Jack Hanson running against many older competitors ran well to finish 30th.
Kelbrook fell race, Sun 9 Nov 2003
Five Junior Harriors tackled Kelbrook for the first time on Sunday morning on a perfect day for racing. All the Juniors enjoyed a well organised event with some stiff competition. Alice Munnoch was 19th (10th girl) in the U/14 race over 1.5m in 21:08. In the U/12 race over 1.25m the results were, Harriet Middlebrough 24th (7th girl) in 16:07, Annabel Smith 27th (9th girl) in 16:57, Bradley Chapman 28th (19th boy) in 16:58 and Kieran Roebuck 29th (20th boy) in 18:29. All the children did well as they were all competing against older and more experienced runners. A special mention for Kieran, who could have run in the much shorter under nine race and would have probably won a prize, but chose to run in the U/12 race. Also well done to Annabel's brother Oliver who came second in the U/9s and he is only six years old. A Junior Harrier for the future.
Stickle Pike Orienteering event, Sun 9 Nov 2003
Emily and Sam Wood ran in the Stickle Pike Orienteering event in the Lake District. Emily was first on the JW1 course and Sam 2nd on the JM1 course
WYXC #2, Sun 2 Nov 2003
Ruth Kitchen was the first Junior Ilkley Harrier to run in a WYXC League race, finishing 38th on her 3km course in 15:37
Withins fell races, Sat 25 Oct 2003

In the U8 race, Sam Wood beat his record of last year by 1 second in 2:44, but was just beaten into 2nd place. We had the first girl U8, Emily Middlebrough, 6th overall in 3:21; then 7 Oliver Smith 3:22; 8 Max Greaves 3:23; and 15 Drew Hanson 4:12. In the U10 race we had 21 Harriet Middlebrough 8:45 (2nd girl U10); 28 Poppy Liuba-Carmichael 9:06; 34 Bradley Chapman 9:49; 36 Jack Hanson 9:53; 38 Annabel Smith 10:03 (5th girl U10) and 41st Keiran Roebuck 10:13. These were all good results against experienced competition.

Click here for Junior Harriers photos
Sportshall, 17 Oct 2003
Emily Kerr and Fiona Jordan were selected for the City of Bradford U11 Sportshall Athletics team - good luck on 16th November in Halifax.
Harewood Hop Fun Run, 12 Oct 2003
Simon Chapman was 5th in his age group; Mary Gibbons 6th; Bradley Chapman 9th; and Annabel Smith 6th - well done to all of them!.
Skipton XC, Sat 4 October 2003
A big local event, with races for all age categories and quality fields in all of them. The day started with the Under-11 girls running 1 mile around the Aireville School fields. Some of the new Junior Ilkley Harriers ran in this race. Fiona Jordan ran a well-paced race working her way through the field for a very creditable 2nd place in 8:52. Emily Kerr was 11th in 10:03, and Harriet Middlebrough 18th in 10:59 to make a complete team for us in this event for the first time.
Jack Hanson represented us in the U11 boys race, finishing 22nd in 11:16. And in the U15 boys race over 3.7km, Simon Chapman was up against some very classy runners but he ran impressively and managed a sprint finish too, for 43rd place in 24:56.
Junior Sprint Fell Relays on Ilkley Moor, Wed 3 September 2003
The first official race for Junior Ilkley Harriers *the club was established on 1 September.
Click here for info and results.
Back to top