Ilkley Harriers news archive 2019
Outstanding Achievements, July
From the Committee ...
Jayne Norman for prolific running as well as prolific volunteering
Jack Cummings for winning the Ilkley half marathon and Nick Helliwell for organising it
Jemima Elgood, England vest and 10th at International Snowdon Mountain Race
Jann Smith, Joss Naylor Lakeland Challenge
Jack Wood for winning the HDSRL series, 3rd at Snowdon Trail Marathon
Geoff Howard 1st in UK V75 rankings half marathon
Roy Ruddle for completing Abraham's Tea round
Alison Weston for completing her 1st Sky race, the Pinnacle Ridge Extreme Sky Race
Euan Brennan for finishing 5th at the European Mountains running championships
Paul Stephens, organising entries to the HDSRL
Dan McKeown, organising Washburn Valley Relay teams
Jack Wood and team, organising the Addingham Gala fell race
Sedbergh Hills fell race, Sun 18 Aug

(1 2:22:21 James Harris, Ambleside)
3  2:29:11 Nathan Edmondson
101 finished

Tynedale 10 miles, Sun 18 Aug
From Geoff Howard... History had provided a target for my only go at a 10 miler this year (Tynedale 10 at Ovingham village) in that my times at ages 60, 65 & 70 were within seconds of 61m, 65m & 70m respectively. So hoping for 75m or so to maintain the trend, I was pleased to finish in exactly 100th place with 73m 46s. 407 ran with Dominic Shaw of New Marske Harriers first in 52m 7s. Supposedly flat, the out and back route actually had 450' of ascent (about 2/3rds of the Ilkley 1/2). The only race I've run that had compulsory jelly and tea at the end.
Coniston Country Fair fell race, Sun 18 Aug
From Alison Weston... I went to a traditional Lakeland fair in Torver on Sunday which had a fell race to the top of Coniston Old Man - a lovely route up but sadly no views due to mist.
The winner was Tom Simpson from Ambleside in 47:27 minutes in a small field of 40 runners and I was 31st (5th lady) in 1:10:23.
Highly recommended race!
Punk Panther Dales Way Challenge, 17-18 Aug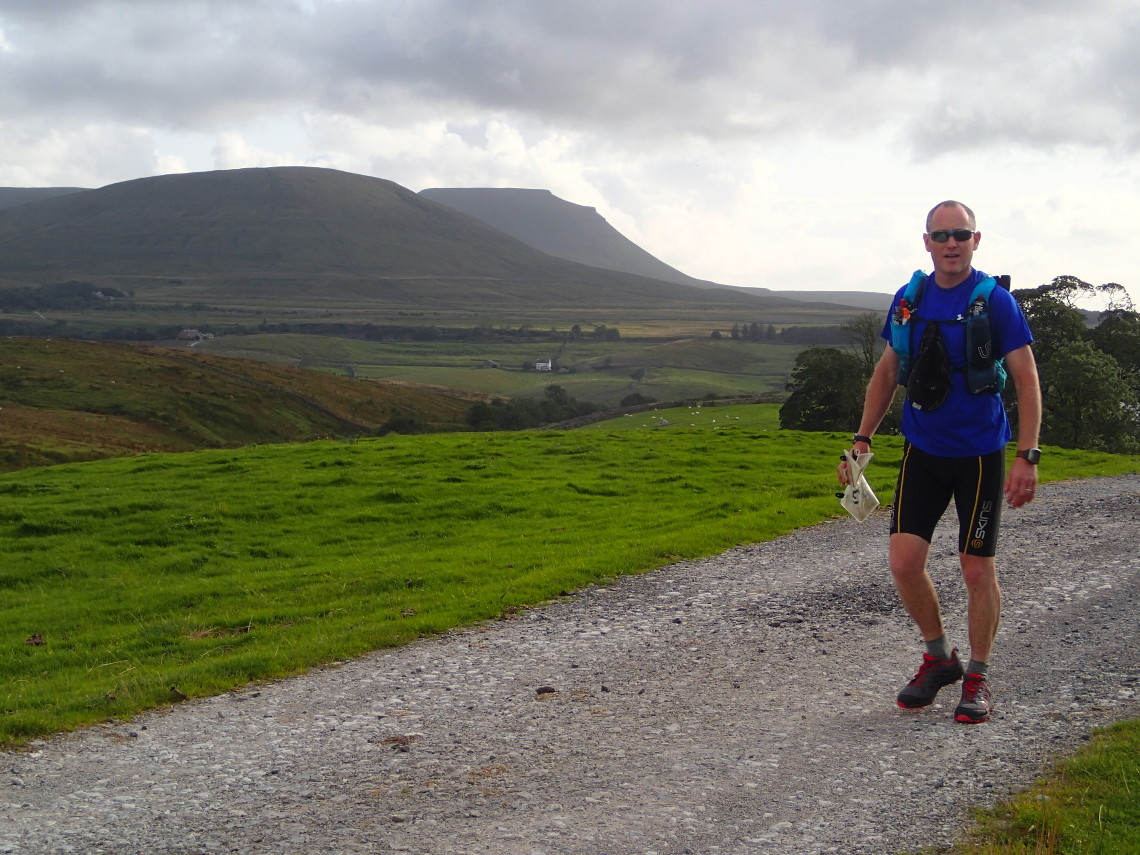 From Adrian Hall ... An 82 mile ultramarathon to celebrate 50 years of the Dales Way. A challenging run from Bowness-in-Windermere back to Ilkley with aid stations every 9 - 12 miles and a gear drop at 40 miles. About 150 competitors set off from the Lakes. Whilst the going was boggy for large sections, the threatened rain never materialised which made the event more pleasant than expected.
I had wanted to complete the Dales Way for nearly 20 years during which time the length seems to have increased significantly. I was fortunate to have piggy-backed on the IH relay two weeks earlier which allowed a long section to be reccied that I wasn't familiar with - many thanks to the Harriers on Legs 2 and 3 for their patience. After boggy sections it was a relief to reach Buckden and Wharfedale in daylight having passed one of the trickier sections. I finished along with friend, Mike Bottomley in 20 hrs 5 mins having completed nearly 83 miles, with no navigation errors. It was a relief to survive with nothing more than a couple of blisters.
Results ...

(1 14h35 Keith Wigley)
6  17h44 Ben Shepherd 2nd V40
18 19h56 Andrew Merrick 3rd V50
20 20h11 Adrian Hall
55 24h20 Oscar Stapleton
109 completed

From Andrew Merrick ... the opportunity to run the Dales Way with logistical support and a finish location which made for an easy journey home was too good to miss.....
Organised by the local ultra organisers Punkpanther, we were coached to the start from Ilkley Tennis Club, with a vaguely civilised 6am departure allowing plenty of faffing time in Bowness prior to the 8:30 start time. I was slightly concerned I might not see my drop bag again as I stuffed it in the back of an estate car along with everyone else's - approximate 200 in total I think!
The race itself started about half a mile up the hill from the lake - ie the actual start of the Dales Way - which did make for early stile queuing.
The checkpoints were pretty well stocked although not the largest I have come across, with a couple being small gazebos, and only the drop bag checkpoint (and the end) offering hot drinks. At this station, although there was only just room to swing a compeed, there was a very wide range of hot food options, which numbered more than the available chairs. Our "chef" seemed slightly disappointed with my choice of a plate of baked beans.... ("you lot have strange appetites") I couldn't fault the level of support we received from all the volunteers along the way. A thank you also to the other runners' support teams who were well organised in finding appropriate locations to cheer us on and offer support.
A couple of small navigational errors, despite the GPX file provided by Punkpanther, my incompetence not theirs; their file even included the sections off the Dales Way to the various checkpoints which was helpful additional reassurance.
As Adrian mentioned we were very fortunate with the weather having swerved the heavy rain of Friday at the cost of some very soggy going in places.... wet feet is not the best for long distance running, but my feet survived better on this run than my previous outing in Devon. I spent much of the run with Chris Smith having got chatting about 25 miles or so into the route. We were both glad of my local knowledge over the last 20 miles of the route as we headed back to Ilkley in darkness - a moonlit Wharfe will be an abiding memory of that section. At the end, to prove we had completed the full route we had to go past the Tennis Club to the official finish of the Dales Way at the Old Bridge and then go back to the club to tell the organisers the letter on the sign hung there (Fittingly a "Y" for the end of the Dales Way). I bumped into Adrian as I headed home after a quick cup of tea at the finish tent outside the tennis club entrance, and offered to show him where the Old Bridge was - he very politely indicated he knew.......
Overall, a well organised race and a great opportunity to run our local ultra footpath with friendly, enthusiastic support. I understand there is a plan to do it again next year. Give it a go - what's the worst that could happen?!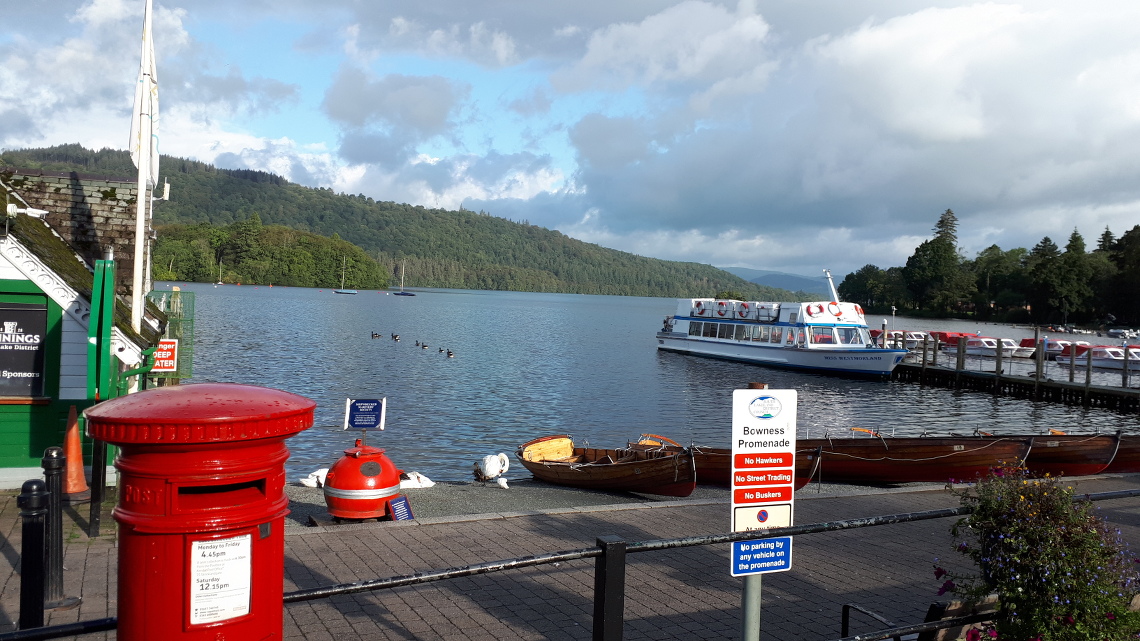 Podium 5k, Sat 17 Aug
From Sally Armitage ... This was my 4th trip to Podium 5k in Barrowford for yet another bid for a personal best over the 5k distance. 4 and 3/4 laps of a totally flat cycle track. The wind was not anticipated and definitely made it more challenging, I was joined by Euan Brennan and Mark Iley. Euan put in a stonking performance for 3rd place in the 'A' race, Mark and myself were also pleased with our performances in the 'B' race.
Results ...

'A' race
(1 14:17 Charlie Hulson, Liverpool Harriers) 
3  14:52 Euan Brennan  (PB)
23 15:55 Ruaridh Mon-Williams
58 ran

'B' race
(1 16:33 Ian Carruthers, unattached) 
22 19:44 Sally Armitage  (PB)
30 20:27 Mark Iley 
45 ran

Euan's time is a new club record, beating Tom Adams' 15:02 at Barrowford on 17/6/16.
parkruns, Sat 17 Aug
Trail du PNR Perigord-Limousin, Sun 11 Aug
From Gavin Lamb ... 39km Didn't spot any more Harriers here, sorry if I missed you! First time I have ever seen one of the competitors stub out a cigarette on the way to the start line (he beat me I think!) - only in France!

(1 2:49:54 Pierre Provest)
18 3:34:52 Gavin Lamb
54 finishers

parkruns, Sat 10 Aug
From Petra Bijsterveld ... Hilda Coulsey claimed the age category record at Portrush this Saturday and came top of the age grade table! Well done Hilda! Tom Worboys found himself in Frankfurt but had some problem finding the parkrun venue. Not easily deterred he still ran even though he had arrived well after the start!
Results ...

Bradford
(1  17:37 Martin Soszka, Saltaire Striders)
84  24:44 Phil Hirst
142 27:13 Petra Bijsterveld
236 30:30 Paula Reynier
427 ran

Dulwich
(1  16:34 Nick Bester, Herne Hill Harriers)
16  19:10 Rob Cunningham
354 ran

Portrush
(1  18:47 unknown athlete)
112 25:31 Hilda Coulsey
338 ran

Skipton
(1  19:01 Ed Newbould, Horsforth Harriers)
20  22:37 Catherine Gibbons
64  26:14 Robin Nicholson
204 ran

Pendle
(1  20:13 Shaun Heys, Trawden AC)
56  34:28 Andrew Wilson
70 ran

Nidda (Frankfurt)
(1  16:35 Nikita Golowizin, U/A)
50  37:36 Tom Worboys
55 ran

Mole Valley
(1  16:56 unknown athlete)
41  22:14 Peter Roll
373 ran

Centre Vale
(1  19:02 James Franklin, U/A)
26  25:05 Will Worboys
90 ran

Round Hill fell race, Sun 4 Aug

1   51:41 Tom Adams  New record
10  65:58 Jim Ryder
48  77:23 John Hayes
49  77:55 Colin Williams
88  95:39 Dan Simmons
109 finished

Manorlands 5k and 10k races at Bolton Abbey, Sun 4 Aug
From Caroline Howe... The club was pleased to be able to support Sue Ryder Manorlands in hosting a new 5k and 10k race at Bolton Abbey, with a team of 8 of us going along to marshall on the day. The event was a big success, and adds to the Sue Ryder calendar of runs which also includes another series at Bolton Abbey in November and the Solstice Saunter in June. Well done to the Harriers who took on the tough route on a hot morning, and thanks to Petra, Jayne, Nicky, Istvan, Mike, David and Sue for helping out - a lovely morning out!
Results ...

(1  40:50 Lee Athersmith)
34  55:09 Oliver Stoker
239 85:34 Jill Roberts
240 85:34 Emma Roberts
261 finished

Firefighter's 5, Sun 4 Aug
From Sally Armitage... A 5 mile hilly road race in Birkenshaw hosted by West Yorkshire Fire and Rescue Service and Bradford Airedale Athletics Club. I ran this race 2 years ago so knew the course (albeit it was slightly tweaked this year), which has a total of 400 metres on the 'flat' and a brutal 1 mile climb to the finish. I was super happy to be 1st lady and much to my delight there was another Harrier there too, Robin Nicholson, who came 2nd out of the Fire Service runners. It's a nice small field and chip timed.

(1 26:54 Joe Sagar, Spenborough AC) 
14 32:23 Robin Nicholson 
32 34:59 Sally Armitage  
275 ran

Borrowdale Fell Race, Sat 3 Aug
From William Buckton... Organised by Borrowdale Fell Runners the Borrowdale Fell Race is one of the classic Lake District races. Starting from the village of Rosthwaite the route takes in 27km of the roughest terrain in the Lakes including Scafell Pike and Great Gable, and with 2,000m ascent it is right up there with Wasdale and Ennerdale. It was a hot day on Saturday and I was happy to get round and survive the scree descent from Scafell Pike!

(1  3h03:57 Ricky Lightfoot Ellenborough AC)
199 5h20:52 Will Buckton
237 finished

Dales Way Relay, Sat 3 Aug
From Jayne Norman ... After an absence of 6 years, we held a relay run along the Dalesway from Bowness on Windermere to Ilkley, a total of 81 miles.
Starting at 5am, and completing by 8:30pm carrying a rock as a baton along the way. Everyone enjoyed their leg/s running through beautiful countryside and amazing views. Followed by a few social drinks in the Vaults after. Hopefully this has helped revive this relay and many more years of running to come.
Thank you to all runners that took part, it is much appreciated to allow this great Relay to take place again. Watch this space for details of next years run, a great event that any in the club can take part in, fast and slow runners alike. It really is a run for all, and the more on each leg the merrier.
More pictures can be found on our facebook page.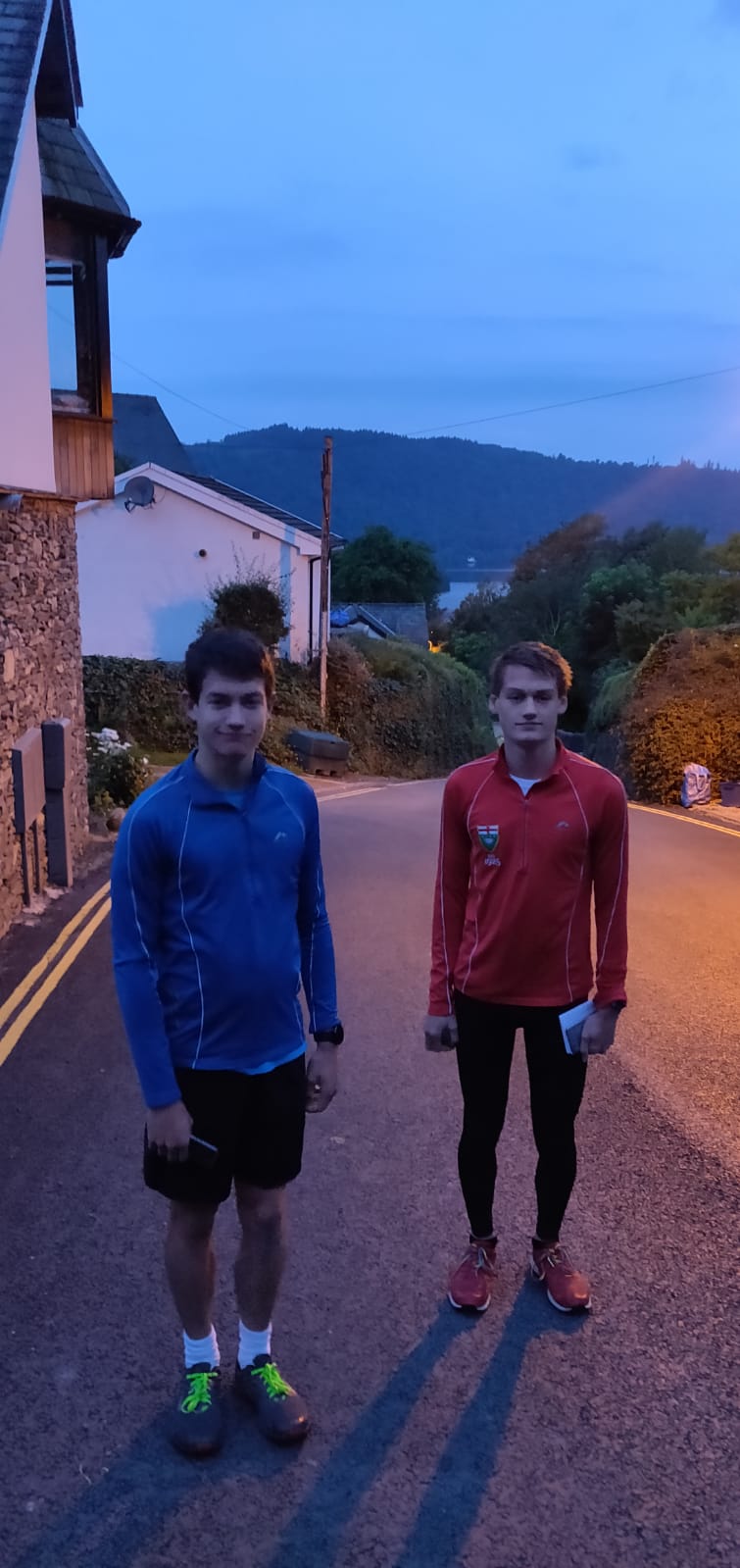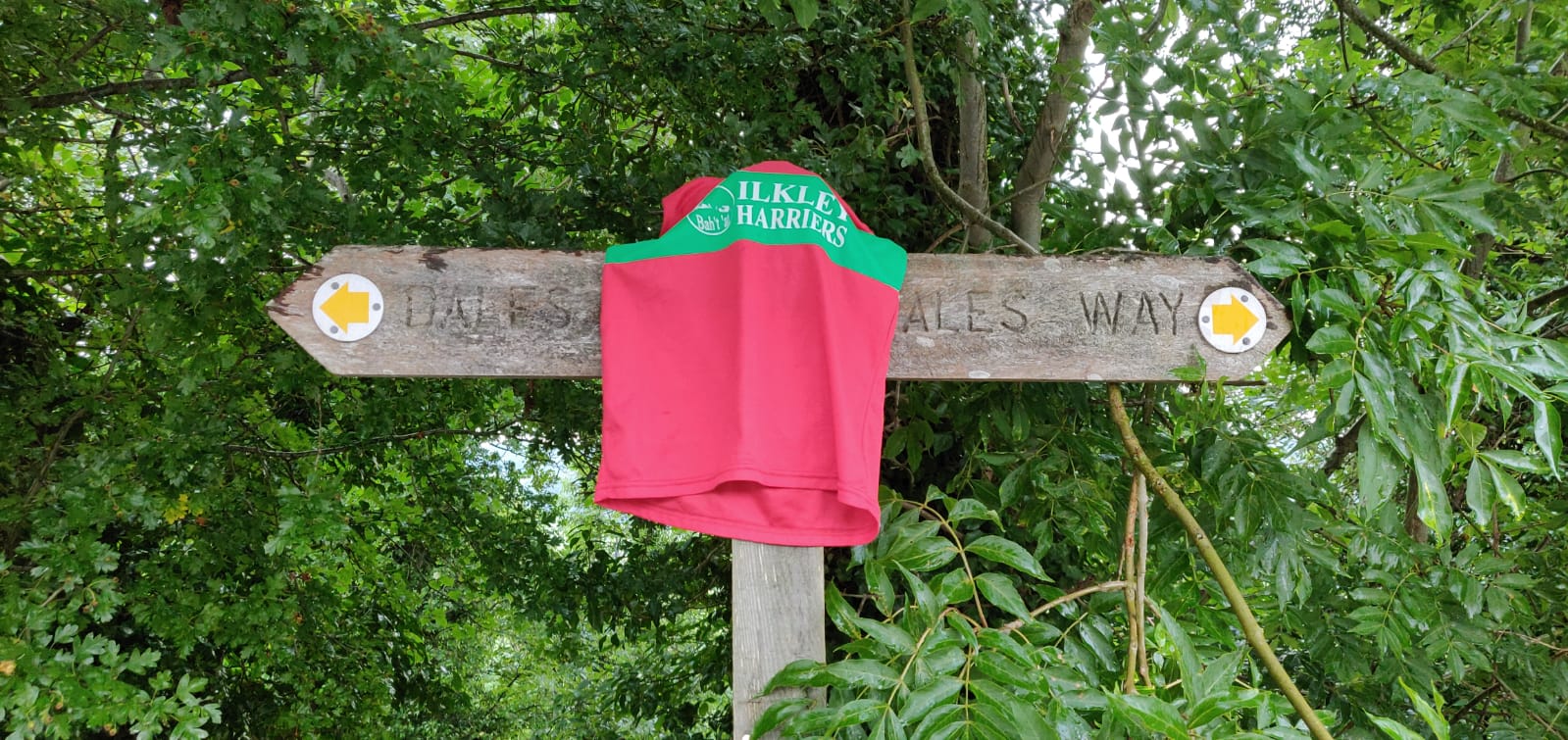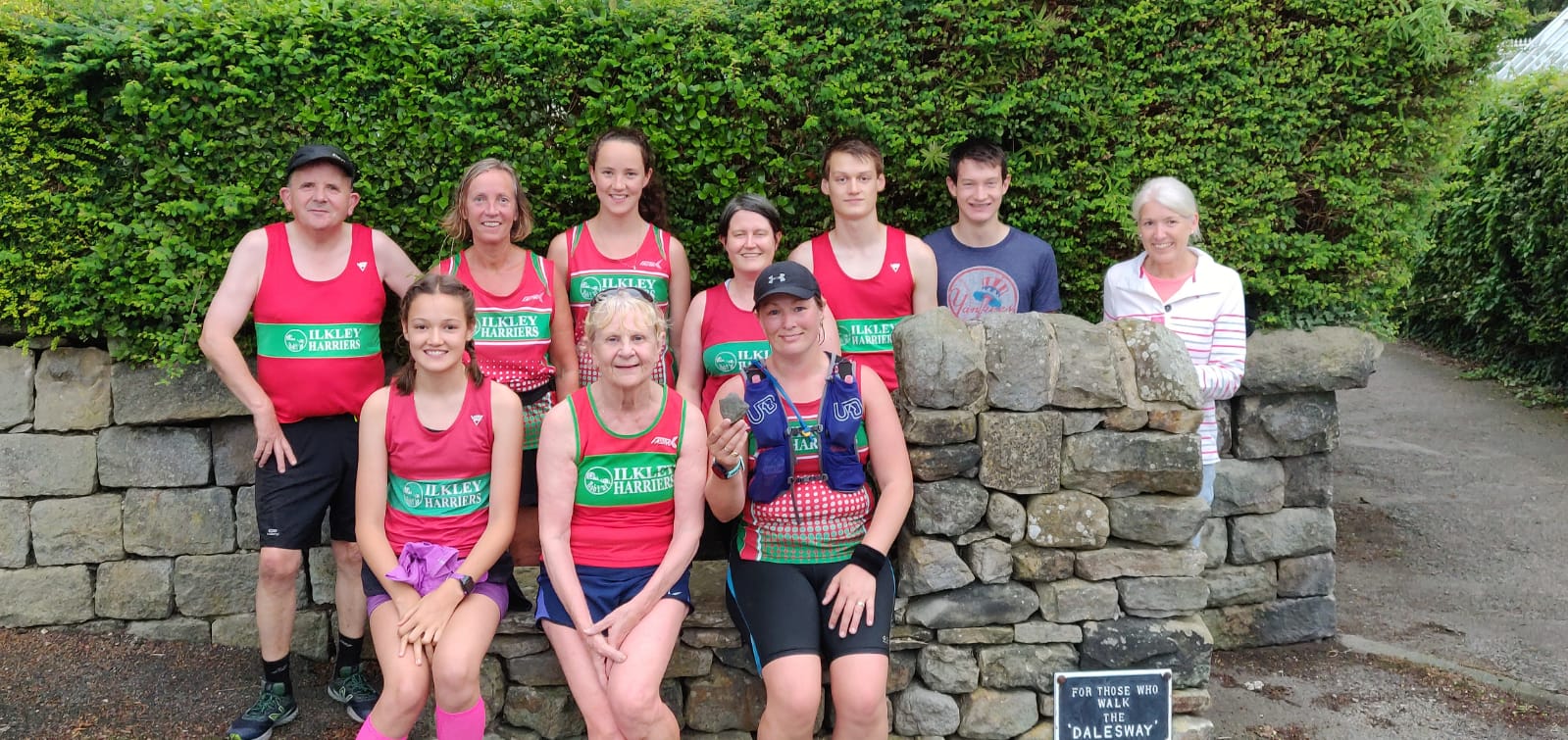 parkruns, Sat 3 Aug
From Petra Bijsterveld ... Results ...

Bradford
(1  16:59 Tim Baldwin, Saltaire Striders)
4   18:52 Alex Hirst
6   19:06 Adam Rhodes
35  22:35 Oscar Street
72  24:49 Philip Hirst
197 30:14 Paula Reynier
399 ran 

Sale Water
(1  17:36 James Hutchison, Eton Manor AC)
30  22:06 Catherine Gibbons
204 ran

Clapham Common
(1  16:34 Joe Toomey, Hercules Wimbledon AC)
22  18:34 Rob Cunningham
602 ran

Conyngham Hall
(1  18:56 Cal Mills, U/A)
34  24:23 Malcolm Pickering
86  28:51 Sally Pickering
200 ran

Eshton Moor, Thu 1 Aug

1  31:34 Tom Adams
7  36:02 Steve Gott
13 36:57 Dan Wilkinson
21 39:09 Lucy Williamson 2nd lady
79 finished
Ilkley took the men's team prize

James Herriot Country Trail Race, Sun 28 July
From Jim Ryder ... I think I was the only Ilkley Harrier in the James Herriot Country Trail Race from Castle Bolton - 8.7m, 1120ft. The weather stayed dry with some sun at the start. The race has a long grassy climb on to the fell side and then follows farm tracks along the top and back down then through fields to the finish. Very well organised by the Rotary Club of Wensleydale, with a great view over the valley from the race field.

(1 57:37 Tom Levi)
18 64:38 Jim Ryder
around 200 in the field

Tolkien Trail 10k, Sat 27 July

1 32:54 Tom Adams
246 finished

Piling 10k, Sat 27 July
From Hilda Coulsey... Unashamedly searching for an age PB under 51 mins I entered the Piling 10k, a series of 10ks through the summer months in quiet country roads near Lancaster. It was as billed and definitely has PB potential. I didn't make it this time but would definitely recommend the event, based in the local rural pub, very friendly, and I will do it again.
Results ...

(1 33:31 Ross Campbell Barrow in Furness Striders)
50 51:38 Hilda Coulsey
86 ran

parkruns, Sat 27 July
Ambleside Sports fell race, Thu 25 July

(1 14:00 Simon Bailey, Mercia)
11 17:36 Iain Gibbons
84 finished

Leeds Evensplits 5k, Tue 23 July
From Hilda Coulsey ... This evening was hot at 27 deg, there was a noticeable breeze but no shade. It certainly discouraged many and the turn out was meagre. Nevertheless I was ok with my time and I quite enjoyed the challenge of the heat.
Results ...

(1  16:11 Jonny Johnson Rotherham Harriers)
6   16:45 Nathan Edmonson 
53  20:57 James Greenlay  (Junior)
102 25:38 Hilda Coulsey 
135 ran

Lytham St Annes Windmill Half Marathon, Sun 21 July

1  1:10:43 Grant Johnson (Salford Harriers)
44 1:34:52 Daryl King 
435 finished

Cracoe fell race, Sun 21 July

(1 20:34 Simon Bailey, Mercia)
9  25:40 Iain Gibbons
76 finished

International Snowdon Race, Sat 20 July

Female results
(1 1:14:49 Sarah McCormack
10 1:28:04 Jemima Elgood
137 finished

Ingleborough Mountain Race, Sat 20 July
From Will Buckton ... Ingleton hosted its own mountain race this weekend and a good field of runners set off from the Gala to the top of Ingleborough and back including three Ilkley Harriers. Kate was 15 seconds behind the 1st lady Linda Hardaker of Keighley who finished 35th.
Results ...

(1   48:02 Hector Haines HBT)
36 1h00:21 Kate Archer 2nd lady
42 1h01:27 Roy Ruddle
53 1h03:33 Will Buckton
164 finished

Denholme Doddle, Sat 20 July
From Helen Waddington ... This is an LDWA Challenge Event which was formerly the Harden Hard'un. A few route changes have been made since the event was revived two years ago, but in essentials it is the same. A 28 mile circuit with 4,000+ feet of ascent encompassing open moorland, steep-sided Pennine valleys, meandering woodland trails and numerous reservoirs. The route gives awesome views and takes in historic landmarks including Top Withens and the spectacular Hewenden Viaduct. It's quite a handful in terms of route finding and with so many criss cross footpaths, ways and trails (Pennine, Millennium, Senior, Great Northern, Calder Aire Link etc etc) it was a challenge to stay on track, especially with a small field of runners which very quickly thinned out. It's billed as 27 miles but most of us recorded 28+ which could be due to the many small navigational errors we all seemed to have made. The first runners finished around the 5 hour mark and I managed to drag it out to 7 hours 10 mins. When renaming the event, the Denholme Demon and Bronte B****** were suggested, but this is Yorkshire after all.
parkruns, Sat 20 July
From Hilda Cousley ... Portrush parkrun. Woman cycles to parkrun! Hardly unusual however in this case it's because the road is closed to traffic as it passes the entrances to Royal Portrush where The Open golf tournament is on and the car park is closed due to Sky tv, NTL and many other tv channels (mostly American) parking their paraphernalia. The run is along the beach, the golf is on the cliffs and dunes directly above. The run itself coincided exactly with high tide hence soft sand and a "brisk" westerly therefore I can't imagine times were any good but it was fun chatting to various visitors from around the globe. And yes we on Sky TV .. much more entertaining than the golf obviously ... and more challenging...? Having seen Rory McIlroy and Tiger Woods crash out of the tournament yesterday I was expecting to see them on the run this morning!
From Petra Bijsterveld ... Results ...

Bradford
(1  16:45 Matthew Merrick, Aldershot, Farnham and District AC)
4   18:59 Steven Gott
7   19:54 Jonathan Turner
173 28:52 Dawn Turner
292 35:04 Dave Reynier
380 ran

Harrogate
(1  17:42 Tom Moulson, U/A)
189 27:07 Chris Cunningham
449 ran

Portrush
(1  17:58 Scott Rankin, Foyle Valley AC)
121 28:18 Hilda Coulsey
252 ran

Skipton
(1  17:48 Julian Hood, Skipton AC)
21  23:05 Catherine Gibbons 1st F
190 ran

Whinlatter Forest
(1  18:44 Mark Lamb, Keswick AC)
36  26:59 Geoff Howard
119 ran

Bakewell
(1  16:31 Ben Hague, Rotherham Harriers)
37  21:25 Steve Newell
267 ran

Clapham Common
(1  17:21 James Ralston, Southville RC)
30  19:36 Rob Cunningham
557 ran

Centre Vale
(1  16:26 Max Wharton, Halifax Harriers)
44 24:50 Will Worboys
146 ran

California Country Park
(1  17:00 Daniel Brookling, Windsor, Slough, Eton and Hounslow AC)
50  24:50 Emily Elmes
184 ran

Middleton Woods
(1  18:06 Calum Clark, Leeds and Bradford Triathlon Club)
59  27:38 Petra Bijsterveld
158 ran

From Geoff Howard ... Just a minor clarification of mention on the Twitter feed and in the Gazette that my Ilkley 1/2 time placed me second in the national v75 rankings. The time actually equalled the existing leading time (Graham Smith, Scottish Vets, 26 May) and RunBritain list us both as 1= (with Graham's name first as he did it first).
This weekend's Whinlatter parkrun was something completely different (and different from most other parkruns in ascending over 1,000') and I was pleased to squeeze in a just over 70% age graded result. Although a complex route, only two marshals were used because the run mainly follows a permanent 5k trail. Beforehand, it was interesting to meet a 48 year old Italian from Norfolk who after only a year's fell-running was, later in the day, going to attempt the Bob Graham Round.
Washburn Valley Relays, Fri 19 July

1 55:50 Roundhay

17 68:35
Jonathan Turner 19:15, Craig Mainprize 27:21, Daryl King 21:49

18 68:42
Dan Mckeown 18:07, Peter Roll 28:59; Sally Armitage 21:36

22 72:24
Mike Duffield 20:59, Michael Ho 30:27, Mike Abrams-Cohen 20:58

54 teams finished

Joss Naylor Lakeland Challenge, Thu 18 July
Huge congratulations to our fantastic Jann Smith who completed the Joss Naylor Lakeland Challenge in tough conditions! 48 miles, 17000ft and 30 summits... with the legend Joss himself waiting for her at the end.
Harrogate District Summer Race League #5, Wed 17 July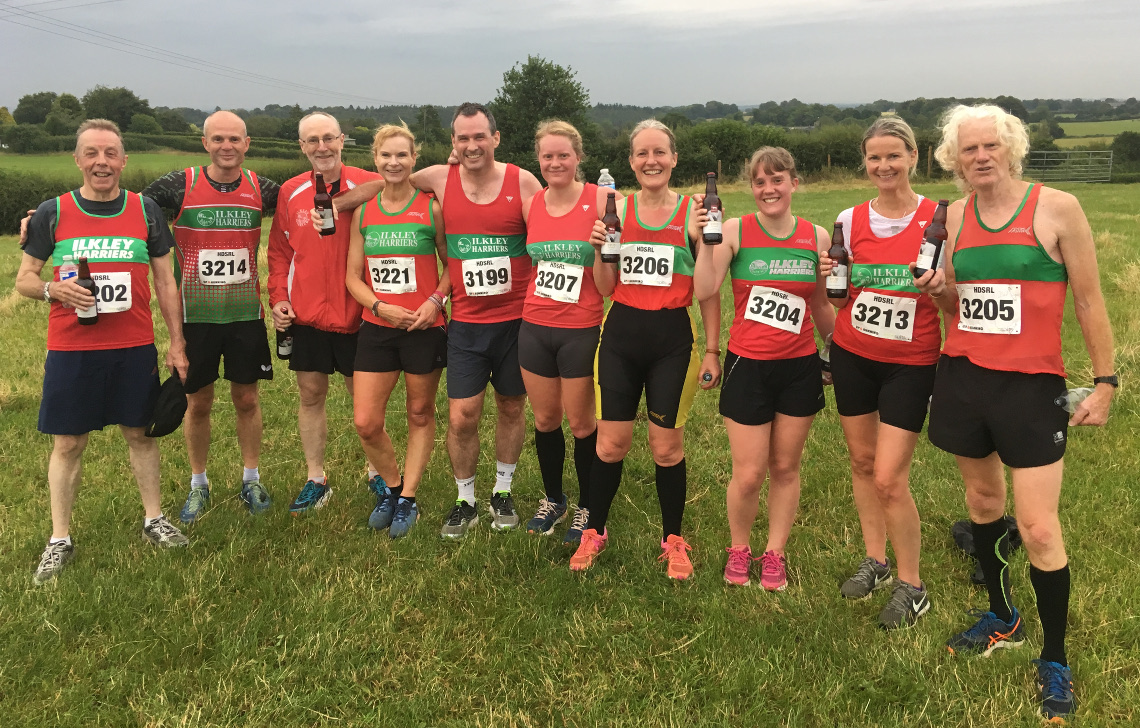 From Jonathan Turner ... A great end to this season's Harrogate District Summer Race League, with a handicap finale at Sicklinghall, thanks to Wetherby Runners.
It was slightly disconcerting when speedier runners from behind flew past early on, but it all came together later as virtually everyone finished within a few minutes of each other - top marks to the handicapper.
Jack Wood was the overall winner of the series with a perfect record of three wins out of three, and Malcolm Pickering was almost as dominant in the MV65 category. This is an excellent series - and surely one of the best value ones around at just £13 for five really well-run races, plus free food afterwards - and a bottle of beer tonight!
Massive thanks to Paul Stephens for organising everything again this year.
Results ...

(1  32:30 Jonny Johnson, Harrogate Harriers)
28  38:57 Jonathan Turner
84  44:35 Sarah Pickering
100 45:49 Malcolm Pickering
141 48:31 Tom Lally
234 55:17 Sally PIckering
245 56:15 Anna Pickering
251 56:35 Dawn Turner
280 61:43 Sally Wright
301 71:17 David Millson

Snowdon Trail Marathon, Sun 14 July

(1 3:18:10 Nick Swinburn, Northumberland FR)
3  3:23:10 Jack Wood
11 3:37:30 Tom Adams
638 finished

Ilkley Half Marathon, Sun 14 July
There's a rather good write-up on Ilkley Chat.

Results ...

1    1:11:24 Jack Cummings
21   1:23:07 Alex Hirst
30   1:25:25 Rob Cunningham
33   1:26:12 Lucy Williamson 2nd lady
38   1:27:08 David Foyston
42   1:27:18 Andrew Overend
58   1:29:43 Jim Ryder
59   1:29:56 Rachel Carter 3rd lady, 1st LV40
63   1:30:13 Jonathan Turner
80   1:32:19 Sara Mclean
83   1:32:40 Rhys Jones
84   1:32:34 Jane Mccarthy 2nd LV40
115  1:34:32 John Hayes
116  1:34:53 Derek Oliver
119  1:34:55 Michael Duffield
144  1:35:56 Michael Abrams-Cohen
154  1:36:57 Andrew Marshall
173  1:38:39 Steve Newell
186  1:39:17 Daryl King
203  1:39:46 Richard Reeve 1st V60
209  1:40:20 Peter Roll
212  1:39:53 Geoffrey Howard 1st V70
236  1:41:12 Colin Williams
247  1:41:55 Robert Budding
265  1:42:43 Mary Fairclough
284  1:42:59 Mark Judkowski
285  1:43:22 Martyn Stocker
301  1:43:54 Steve Murray
318  1:44:34 Nicky Liptrot
324  1:45:05 Kay Pearce
339  1:44:48 Rebecca Mon-Williams
344  1:45:22 Harry Sime
361  1:45:35 Nigel Tapper
390  1:47:23 Craig Berry
419  1:48:14 Simon Jenkins
430  1:47:53 Oli Street
432  1:47:54 Oscar Street
480  1:50:11 Keith Wood
542  1:52:18 Tom Lally
598  1:53:47 Philip Hirst
601  1:53:54 Geoffrey White
602  1:54:08 Lucy Jacques
642  1:54:39 Michael Eardley
722  1:57:40 Joe Rigby
724  1:57:59 Charlotte Smithson
732  1:57:40 Jane Thomas
754  1:58:39 Adrian Weatherly
789  1:58:55 Andrew Merrick
811  1:59:48 Clare Boyle
824  2:00:27 Sally Westlake
826  1:59:27 Ros Brown
831  1:59:50 Stephanie Fox
835  2:00:40 Bess Sturman
867  2:01:56 Will Worboys
877  2:02:04 Alex Stanley-Hyde
898  2:02:51 Hilda Coulsey
918  2:03:09 Jill Ezard
967  2:04:21 Andrew Wilson
992  2:05:53 Sarah Hayes
995  2:05:55 David Ibbotson
1001 2:06:00 Lisa Mcdonell
1003 2:05:59 Peter Tapper
1008 2:06:14 Barbara Bullock
1010 2:05:40 Andrew Mccallion
1084 2:08:01 Dawn Turner
1092 2:08:26 Paul Sugden
1102 2:08:25 Fiona Schneider
1106 2:09:25 Melanie Edwards
1124 2:10:38 Ian Conyers
1131 2:10:56 Sheena Pickersgill
1138 2:10:29 Amelia Miles
1139 2:11:13 Donna Jackson
1163 2:11:27 Claire Greenwood
1164 2:11:12 Rachel Corrigan
1208 2:13:10 John Marshall
1223 2:13:28 Ruth Jones
1232 2:13:57 Sue Harris
1245 2:16:05 Paula Reynier
1246 2:15:09 Bernadette Gibbons
1253 2:15:30 Nicola Budding
1316 2:19:00 Natalie York
1318 2:18:27 Abigail Bailey
1334 2:20:10 Jo Pattinson
1359 2:21:33 Sue Verspyck
1413 2:25:00 Diane Ollier
1439 2:26:25 Sue Williamson
1466 2:28:51 Elaine Ibbotson
1469 2:29:03 Tracy Russell
1519 2:34:24 Emma Roberts
1520 2:34:25 Jill Roberts
1529 2:35:53 Christine Airey
1626 finished
Ilkley Harriers took the men's and ladies' team prizes.

Well doine to Geoff Howard who as well as setting a V75 club record, is now equal-first in the national v75 rankings.
Addingham Gala fell race, Sat 13 July
Well done to Jack Wood and all the helpers, lots of photos etc. on Facebook and the provisional results Page 1, Page 2

(1 38:53 Gary Priestley, Salford)
9  45:43 John Denniss
11 46:44 Paul Castle
13 47:11 Dave Robson
16 48:58 Kate Archer 1st lady
20 51:29 Will Buckton
34 58:31 Paul Stephens
36 59:02 Norman Bush
47 66:50 Helen Waddington
53 89:22 Peter Lewis
54 finished

Baildon Canter fell race, Sat 13 July

(1 18:58 Josh Tighe, Salford)
6  20:27 Steven Gott 1st V40
92 finished

Alva Games fell race, Sat 13 July

(1 18:59 Simon Bailey, Mercia)
11 24:24 Iain Gibbons
82 finished

Abraham's Tea Round, Sat 13 July
From Roy Ruddle ... 30 miles, 12,000 feet of ascent. I needed a long training run, so decided to try this round (https://www.georgefisher.co.uk/community/abrahams-tea-round/) instead of running the Wasdale race. Perfect weather - dry and warm (perhaps a little too warm given the 4 litres I drank during the day) - and a very welcome stop for tea and a scone at the Croft House Farm Cafe in Buttermere (much more civilised than racing!). 9 hrs 24 followed by a pleasant swim in Derwentwater and then driving home (phew, that was some day-trip).
Pinnacle Ridge Extreme Sky Race, Sat 13 July
From Alison Weston... my first attempt at a Sky Race - the new Pinnacle Ridge Extreme Sky race, shorter than the norm but requiring climbing experience to get an entry. The route 28 km with 2700m ascent started from Patterdale over Sticks pass down to Thirlmere, up Helvellyn via Browncove Crag scramble, down Swirral Edge, up Striding Edge, down Nethermost Pike East ridge, then up St Sunday Crag via Pinnacle Ridge with a final short scramble on the way back down to Patterdale.
The winner was Rob Sinclair 50 minutes clear of second position. I was pleased to finish in 15th position and 4th female in 6.14 hrs in a small field (25 runners completed the race)
parkruns, Sat 13 July
From Petra Bijsterveld ... Results ...

Bradford
(1  16:17 Matthew Merrick, Aldershot, Farnham and District AC)
164 28:44 Paula Reynier
165 28:45 Dave Reynier
380 ran

Skipton
(1  18:19 Samuel Williams, Skipton AC)
21  22:28 Catherine Gibbons
74  26:09 Joanne Williamson
219 ran

Cliffe Castle
(1  18:44 Christopher Loftus, KCAC)
34  28:13 Fiona Schneider
134 ran

Teignmouth Promenade
(1  18:30 Shaun Yeoman, U/A)
2   18:58 Michael Lomas
213 ran

Woodhouse Moor
(1  17:17 Sam Robbins, Chapel Allerton Runners)
206 26:54 Petra Bijsterveld
497 ran

European Mountain Running Championships, Sun 7 July
From Steve Brennan ... Euan finished in 5th place at the European Mountain Running Championships in Zermatt today. The GB team retained their title as team champions with Joe Dugdale winning the race overall.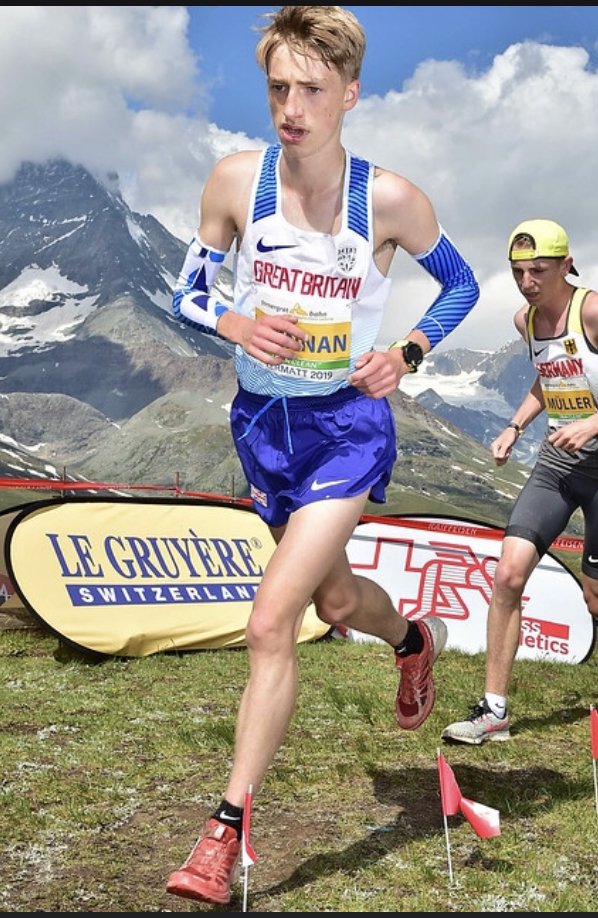 Blackfell, Sat 6 July
We hear Tom Adams won with Jack Wood 2nd in this Yorkshire Championships and English Championships race at Kettlewell. Jack Cummings was 2nd U23 in the Yorkshire Championships. The three together were Yorkshire team champions! More soon.
Results:

1   1:14:28 Tom Adams (course record time)
2   1:17:50 Jack Wood
18  1:20:26 Jack Cummings - 2nd Yorkshire MU23
92  1:33:01 Paul Carman
111 1:36:00 Kate Archer - 1st FV40
212 1:58:39 Jann Smith - 3rd Yorkshire FV50
227 2:02:41 Alison Weston
*Ilkley won men's team prize*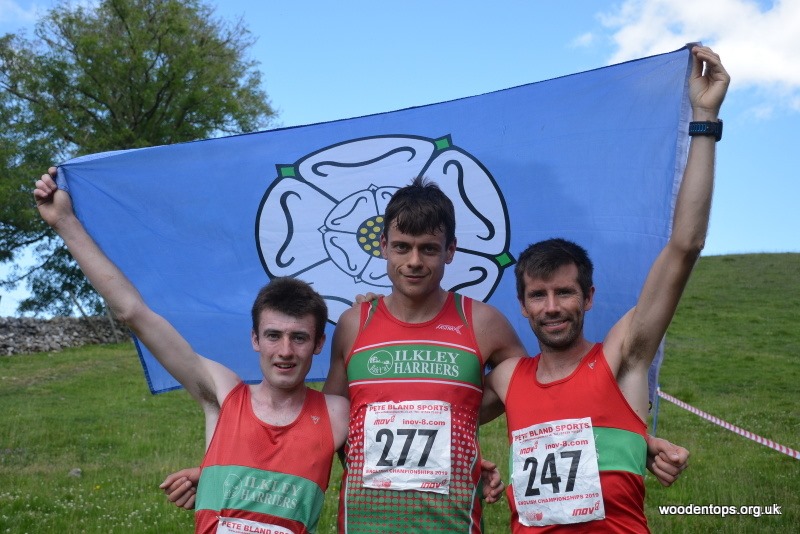 Leeds 10k, Sun 7 July
From Michael Abrams-Cohen ... Today was the Leeds 10k race- a fast flat race along Kirkstall Road. 3 Harriers raced the course today in quite hot conditions . Michael AC was first Harrier to finish with 42:29 (251) before Alex Hyde came in at 53:21 (1721) and Abigail Bailey finished off the trio with a time of 1:13:47 (4919)
5,705 people raced today
Saunders Lakeland Mountain Marathon, Howgill Fells, 6 & 7 July
From John Hayes ... The Howgill Fells are - for many - the perfect location for a Mountain Marathon. I'm not sure I shared that viewpoint as I descended what seemed like a near vertical slope down to a particularly difficult control. Oliver (14) and I had entered the parent & child course (Bedafell) and it was his first taste of the challenges of this type of event. On the up side, the weather was magnificent and the overnight camp was fabulous as people collapsed by their tents drinking tea and eating varieties of (revolting) dried food as if they were tucking into some gourmet delight. In the Carrock Fell class, many congratulations to Ruaridh Mon-Williams and Daniel Hayes for coming third and picking up a prize and a place on the podium. Well done too to Mark and Rebecca Mon-Williams who were 20th and 3rd Mix Vet team also in the Carrick Fell class. In fact, with their vets handicap time calculated their adjusted time wasn't far behind Ruaridh and Daniel. Oliver and I were also pleased with our 26th in the Bedafell class. For me, possibly for the first time ever in my entire fell-running and orienteering career, I managed to navigate the entire route knowing where I was. As I remarked wisely to Ruaridh and Daniel just before the start, "Remember the story of the tortoise and the hare". "Yes", Ruaridh replied, "... the hare always wins". And with that he sped off.
Results ...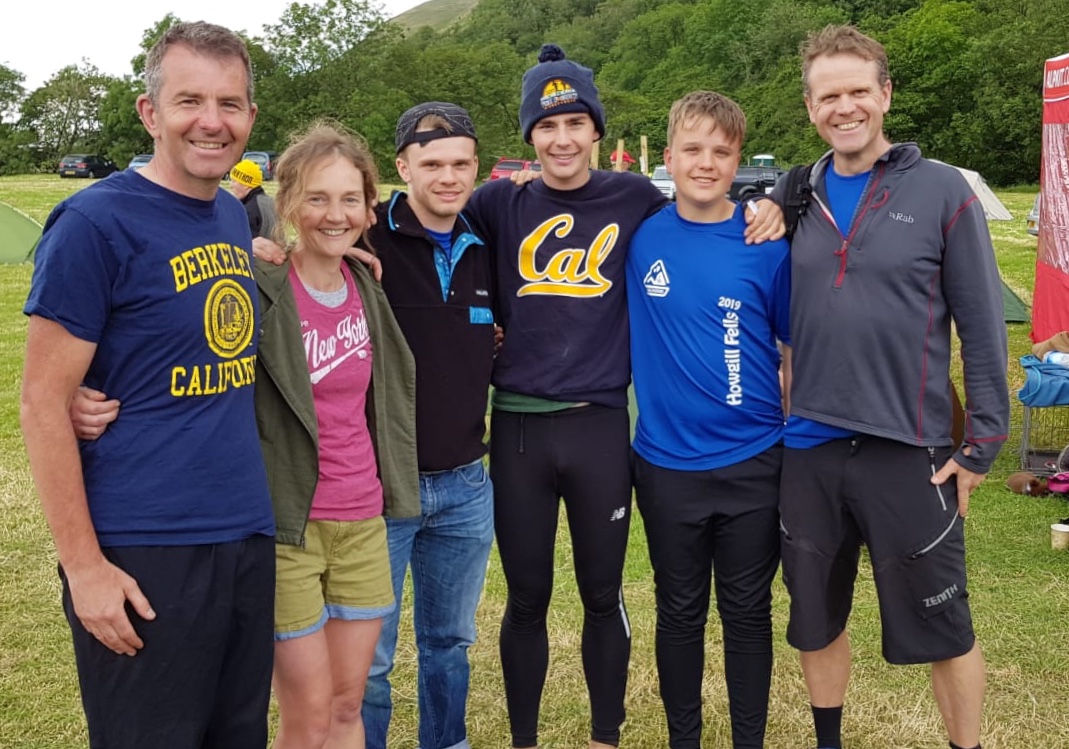 Pie 'n' Pint 10 mile, Pateley Bridge, Sat 6 July
From Helen Waddington ... One of the races provided by It's Grim up North who seem to put on a huge number of events, offering summer and winter editions of most of them. Starting in the centre of Pateley Bridge Pie 'n' Pint heads out along the river through fields and trails before heading up one generous hill giving on to a gradual downhill to the finish. There were 5 distances to choose from, starting at 5 miles and going up to an ultra distance, with runners doing laps of the 5 mile circuit. Pete Shields and I opted for the 10 miler and set off together but Pete very soon drifted off in to the distance finishing comfortably ahead and 3rd male overall. I was pleased to be third lady in a small field of runners. We both took away a nice little trophy for our efforts as well as the promised Pie 'n' Pint. It couldn't really have been nicer, with the Dales looking at their best in the lovely sunshine and day trippers eating ice-creams amongst tired runners sitting on the grass munching their pies. The flavour of these races is friendly and low key, but well organised with plenty of water/snack stops and marshals cheering you on. I think we will be back.
Results ...

(1 1:14:10 Martyn Wilson)
4  1:34:24 Pete Shields
7  1:37:38 Helen Waddington
28 ran

Heptonstall Festival fell race, Sat 6 July

(1 51:35 Neal Crampton, P&B)
38 62:58 Paul Calderebank
64 73:28 Chantal Busby
102 ran

parkruns, Sat 6 July
From Petra Bijsterveld ... Results ...

Bradford
(1  17:25 Leon Foster, Leeds City AC)
122 27:44 Stephanie Fox
412 ran

Roundhay
(1  18:14 Huw Lippiatt, Valley Striders AC)
34  22:19 Geoff Howard
331 ran

Skipton
(1  18:16 Jack Leafe, South Derbyshire Road Runners)
8   20:08 Rachel Carter (2nd F)
212 ran

Barry Island
(1  19:10 Andy Pearce, Penarth and Dinas Runners)
2   19:13 Michael Lomas
185 ran

Bramley
1   18:27 Steven Gott
147 ran

Centre Vale
(1  18:24 Daniel Bennett, Rochdale Harriers)
28  24:57 Will Worboys
100 ran

Woehrder See (GER)
(1  17:17 Chris Smith, Wirral AC)
25  22:23 Caroline Howe
66 ran

HDSRL4 Knaresborough, Tue 2 July
From Caroline Howe ... A pleasant sunny evening in Knaresborough for the fourth Harrogate Summer Race League installment. With the past couple of races having been unseasonably wet and muddy affairs, this was run in the conditions one would expect of a summer league series! It was also back to tarmac with the last two having been off-road routes. An out-and-back route with a downhill final mile providing a fast finish. Jonathan Turner was first Harrier home, and Kate Archer was second lady. This was the final race to count towards the overall standings which take individuals' best three results out of four races. On that basis Jack Wood has already won the series with three wins, and Malcolm Pickering has won the MV65 category. A good show of Harriers this year across the series and lots of excellent performances!
Results ...

(1  31:02 Rob Scott, RZH)
41  36:49 Jonathan Turner
46  37:01 Kate Archer
132 42:38 Caroline Howe	
133 42:41 Malcolm Pickering	
161 44:10 Sarah Pickering
164 44:23 Jane Bryan
177 44:44 Tom Lally	
236 47:29 Geoffrey White
317 52:09 Amelia Miles
319 52:29 Sally Pickering
325 52:52 Dawn Turner
369 57:05 Sue Verspyck	
379 58:52 Sally Wright	
380 58:52 Tracy Russell
409 finished

---
Outstanding Achievements, June
From the Committee ...
Steve Turland for the Spine Fare
Jayne Norman for the Upper Wharfedale fell 3 Peaks race, PB at Settle Saunter
Petra Bijsterveld, Trail des Paccots
Jack Wood, overall winner at HDSRL & 4th at Man v's Horse & 1st at Otley Chevin Fell race, 1st at Otley 10 mile race
Lucy Williamson, 1st lady at Beamsley Beacon fell race and 1st lady at Harrogate 10km
Caroline Howe PB at Eccup 10
Helen Waddington for the Lakeland Ultimate Trails, 1st FV50.
Bradford Millenium Way relay - Caroline Howe and the teams
HDSRL coordinator Paul Stephens
Run Harrogate 10k, Sun 30 June
From Sally Armitage ... This was the 2nd year on the new Harrogate 10k course which took on a new location in 2018. Described accurately as undulating and multi-terrain with a torturous 500m climb to the finish. Most runners seemed to agree that the warm weather made for a challenging run! Though the breeze did provide some relief. 5 Harriers took part. Lucy Williamson took the win for the ladies beating her own course record by 2 minutes, with myself and Paul first in our age groups.

(1    34:58 Marcos Angel Valero Palacios, Roundhay Runners) 
19    41:10 Lucy Williamson (1st lady) 
66    46:04 Michael Abrams-Cohen 
76    46:26 Paul Calderbank (1st M55) 
77    46:31 Sally Armitage (1st F40) 
539 1:06:45 Sue Williamson 
755 ran

Hollybank Eccup 10, Sun 30 June
From Rachel Carter ... In addition to being a League counter the Eccup 10 this year also provided a timely 10 mile race for many in advance of Ilkley Half. This is a well organised (often sell out) event by Abbey Runners, largely on undulating back roads with the exception of a mile or so on trail around Eccup Reservoir. Thankfully the heatwave of Saturday was on its way out by Sunday morning but it still felt warmish for running though some cooling affect was provided by the fairly stiff breeze that seemed to coincide with the uphill sections that occurred more than I recalled from my last outing to this race a few years ago. I followed Johnathan Turner round - keeping him reasonably well in my sight until the last quarter mile up to the finish when he powered off into the distance! Overall a good local race (if you enjoy pacing out the miles on tarmac) with lots of great results for Ilkley this year.
From Hilda Coulsey ... Congratulations to Jonathan Turner who was first Harrier home. Sally Malir and I waited for the prize giving with the Harriers ladies taking the trophies. Rachel Carter took the v40 first prize and Yorkshire Champion with a stonkingly good time. Caroline Howe was second v35 and a pb. Sally Malir came in second v55 unfortunately sustaining a calf injury nevertheless was Yorkshire Champion. Nicky Liptrot was third v45 in the Yorkshire awards. Hilda Coulsey took the v65 prize and Yorkshire Champion. Rachel, Caroline and Sally won first team - an excellent result.
Results ...

(1 57:18 Matthew Hallam, Valley Striders)
60  1:07:37 Jonathan Turner
64  1:07:52 David Westhead
66  1:08:14 Rachel Carter
76  1:09:26 Dave Robson
126 1:13:46 Daryl King
140 1:14:32 Sally Malir
152 1:15:36 Caroline Howe
154 1:15:48 Catherine Crawley
162 1:16:24 Craig Mainprize
168 1:16:46 Sarah Gresswell
199 1:18:42 Nicky Liptrot
203 1:18:59 Mary Fairclough
209 1:19:13 Colin Williams
254 1:21:14 Michael Ho
367 1:19:13 Adrian Weatherly	
449 1:31:11 Will Worboys
450 1:31:12 Hilda Coulsey
510 1:34:38 Donna Jackson
516 1:34:52 Paul Sugden
518 1:34:46 Dawn Turner
530 1:35:31 Alex Stanley-Hyde
574 1:38:36 David Ibbotson
613 1:40:36 Jo Pattinson
652 1:44:11 Natalie York
680 1:46:25 Diane Ollier
693 1:48:36 Elaine Ibbotson
798 ran

Kirkby Gala fell race, Sat 29 June

(1 31:04 Charlie Ing, Calder Valley)
8  25:05 Iain Gibbons
51 ran

Eldwick Gala fell race, Sat 29 June

(1 19:08 Mark Sennett, Wharfedale)
6  20:06 Steven Gott
22 22:39 Will Buckton
62 ran

Lakeland Trails Ultra 55K, Sat 29 June
From Helen Waddington ... Another brilliantly organised event from the Lakeland Trails crew. The routes for these races are always beautiful and the 55K (6,500 ft elevation) is no exception. Three main climbs (Kentmere, Grisedale Tarn and Silver Howe) with lots of bumps in between. Almost entirely off-road, the route is technical in places but way-marked and there are plenty of check-points/feed stations manned by the ever-cheery Marshalls. Damian Hall, who was top five at last year's UTMB, was the overall winner in a mind-boggling 5 hrs 39 mins. I was delighted to be first in my age category.
Results ...

(1  5:39:12 Damian Hall, Team Inov-8)
136 9:41:01 Helen Waddington	(1st LV50)
346 ran

UWFRA 3 Peaks, Sat 29 June
From Jayne Norman ... Upper Wharfedale Fell Rescue offer 3 run/walks: a valley walk/run, 2 peaks - 13.1miles, and 3 peaks - 22miles. After completing the 2 peaks last year, I thought I would give the 3 peaks a go this year. The weather was not in my favour, the hottest day of the year so far and the longest run I have ever done did not bode well. 4000ft of climb up Birks Fell, Buckden Pike and Great Whernside, a very hot day and a brutal course, but managed to grit down and get round. A well organised event with free pie and peas after (always a nice treat!)
parkruns, Sat 29 June
From Petra Bijsterveld ... Results ...

Pontefract
(1  18:41 Daniel Longhurst, Medway and Maidstone AC)
25  21:42 Geoff Howard
315 ran

Skipton
(1  17:54 Ian Beresford, Barlick Fell Runners)
163 41:29 Karen Shinn
173 ran

Bramley
1   15:46 Tom Adams (new course record)
122 ran

Tooting Common
(1  15:33 Jack Millar, Bristol and West AC)
13  19:27 Rob Cunningham
534 ran

Abrahams Tea Round Challenge, Thu 27 June
From Jann Smith ... 30 miles / 11,000feet. This challenge starting and finishing at George Fishers in Keswick takes in 13 Lakeland summits including the likes of Catbells, Robinson, High Stile, Red Pike , Grisedale Pike and Causey Pike. It is a beautiful route but very challenging in places so myself and Paul Carman were pleased to finish after a day of 26 degree heat in a good time of 8 hours 54 mins and be rewarded with our free tea and cakes in the Abrahams tea room cafe within George Fishers afterwards.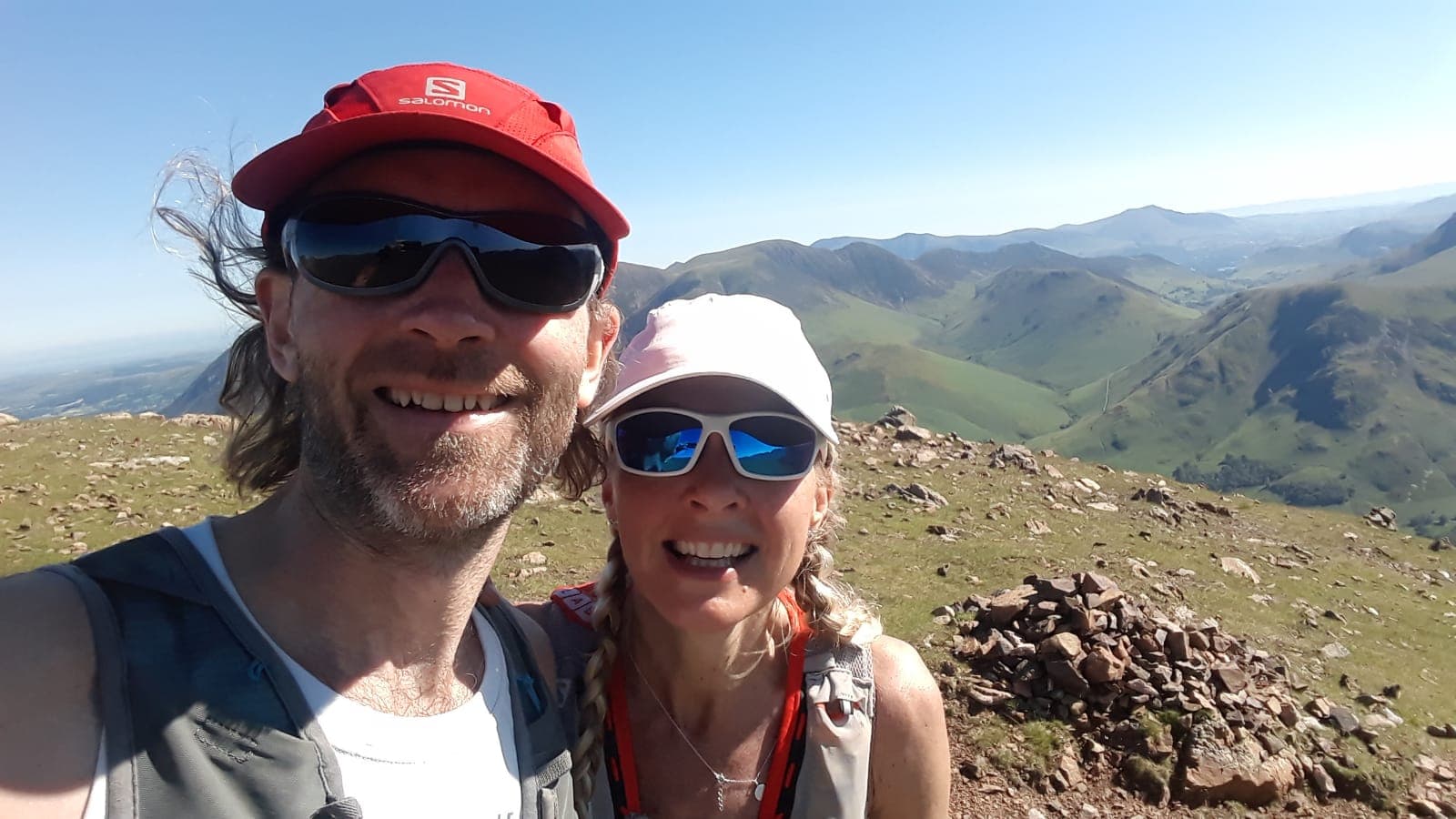 Selection news
Congratulations to Jemima Elgood, selected to run for England in the Snowdon International Mountain Race on 20 July. More
Bradford Millenium Way Relay, Sun 23 June
From Caroline Howe ... Our 'A' team came 12th out of 54 in 6:33 with the two Jacks taking the leg 1 fastest pair prize (and leg record!); 'B' team were 41st in 8:34. Great running by all 20 Harriers who took part! Some great photos on Facebook.

(1 5:44:48 Ribble Valley)

12 6:33:20 Ilkley Harriers A
1  1:16:23 Jack Wood, Jack Cummings
20 1:26:26 Sally Malir, Sarah Pickering
8  1:04:04 Nick Helliwell, Mike Abrams Cohen
17 1:22:24 Peter Shelley, Andrew Merrick
14 1:24:03 Marc Teasey, Will Buckton

41 8:34:35 Ilkley Harriers B
32 1:45:54 Caroline Howe, Nicky Liptrot
37 1:35:09 Malcolm Pickering, Michael Ho
40 1:26:25 Keith Wood, Lynn Donohue
48 1:50:53 Donna Jackson, Petra Bijsterveld
45 1:56:14 Jayne Norman, Alison Bennet

Hawkswick fell race, Sat 29 June

(1 11:22 Simon Bailey, Mercia)
6  13:15 Iain Gibbons
16 14:49 Roy Ruddle
60 ran

Crazy Cow 10k, Preston, Sun 23 June
From Pete Shields ... Results:

(1 37:58 Paul Muller, Northern Masters)
80 50:35 Peter Shields  1st V70
482 ran

Spine Flare, Sat/Sun 22/23 June
From Steve Turland ... So I was sitting in a field at 3.30am, somewhere south of Malham, eating an egg sandwich, trying not to be sick. Dark, cold, tired, hadn't seen anyone for hours. Only 35 miles to go. Had always wanted to be in the Spine Race since I started 'dot watching' a few year ago. So I entered the Spine Flare - which is the short version at 108 miles with c17,000ft of climb, following the Pennine Way from Edale to Hardraw. Really suffered for the final third, but was pleased to finish in 4th place overall. Great experience - thoroughly enjoyed (nearly) every minute. Will be back for the winter version (the Challenger) in January, and maybe the Full Winter Spine the year after.
Pennine 39 Ultra, Sat 22 June
From Colin Williams ... On Saturday I travelled to the north Pennines to run the Pennine 39 Ultra a 39 mile 5,600ft run along the Pennine Way from Teesdale to Alston.
We started with some light cloud but that soon cleared and with little wind the temperature was a bit on the warm side. As always I started off well but slowed towards the end but still managed to come in 5th in a time of 7hr 20min. around 45 runners took part.
parkruns, Sat 22 June
From Petra Bijsterveld ... Results

Barnsley
(1  16:34 Gareth Cooke, Penistone Footpath Runners)
17  21:47 Beth Massey 1st F
191 ran

Skipton
(1  16:44 unknown)
19  21:52 Adrian Bastow
25  22:30 Geoff Howard
29  23:14 Catherine Gibbons
67  26:08 Hilda Coulsey
202 43:28 Karen Shinn
210 ran

Barry Island
(1  16:59 Oliver Williams, White Rock Runners)
3   19:09 Michael Lomas
215 ran

Centre Vale
(1  17:45 Alex Whittam, Calder Valley Fell Runners)
34  25:07 Will Worboys
106 ran

Horton
(1  17:44 Paul Greenwood, Queensbury RC)
44  26:54 Petra Bijsterveld
101 ran   

HDSRL race 3, Thu 20 June
Well done to Jack Wood on another win.
Results...

1   30:53 Jack Wood
36  37:17 Jonathan Turner
46  38:12 Kate Archer
83  40:44 Sally Armitage
102 42:21 Steve Newell
105 42:29 Sarah Pickering
162 46:01 Malcolm Pickering
185 47:04 Jane Bryant
191 47:26 Tom Lally
207 48:22 Phil Hirst
218 48:53 Emily Elmes
276 53:23 Sheena Pickersgill
287 54:06 Amelia Miles
288 54:08 Dawn Turner
312 56:37 Sally Pickering
338 59:46 Anna Pickering
345 60:43 Tracy Russell
374 finished

Beamsley Beacon fell race, Thu 20 June
From Jann Smith... 5 miles/1000ft Up to the trig then back down any way you like!
Results...

(1  32:17 Joe Baxter, P&B)
2   32:40 Jack Cummings
13  37:46 Dan McKoewn (1st M40)
22  38:44 Paul Carman
31  41:35 Lucy Williamson (1st lady)
39  42:40 Helen Wood  (3rd lady)
57  46:25 Bob Hamilton 
86  50:06 Jann Smith (1st F50)
89  50:36 Chantal Busby 
97  51:18 Mike Baldwin 
113 54:52 Helen Waddington
134 finished
Ilkley won 1st ladies team (Lucy, Helen, Jann)

Harriers League update
From Jane McCarthy... The 2019 Harriers League is looking the most competitive and highest scoring for a number of years, and with loads of racing over May and June there is just time to to post the League Standings before the next road races (HDSRL 20th June and Eccup 10 30th June). Top of the overall League currently is 2018 Winner Colin Williams, yet to declare a Wildcard but with 8 races run already, he has an impressive 770 points. Jonathan Turner is currently second, with 639 points in 7 races including an excellent wildcard from the Apperly Bridge Canter. Steve Newell is in third place, having enjoyed racing in three fell, 2 trail and two road League races already this year. But behind the top three are some tremendous point scores - Kate Archer achieving 600 points in 6 races, and Rachel Carter achieving 391 points in 4 races. If the ladies can get points in their maximum 10 races they will be very hard to beat.
In the individual Leagues where a maximum of 4 races score, Jack Wood leads the Fell category (293 points from 3 races), Rachel Carter leads Trail (398 points from 4 races) and Colin Williams leads Road (292 points from 2 races).
Don't forget to nominate a Wildcard Race - which can be pretty much anything (except a park run - not deemed a 'race') - it can give a big boost to your overall score - and don't forget there is WINE or BEER to be WON for the Top 10 Places in the Overall League and for Winners in the individual League. All League Races and Information on the Website under 'Racing' and on the league page. Good Luck!
Pudsey 10k, Sun 16 June
From Paul Stephens... I have a t-shirt from a Pudsey 10k I ran back in 2006 which has a big yellow banana on the front and the words "all that for a banana". There was a banana for each finisher again this year (there is every year) as well as a t-shirt. Definitely worthwhile. One of my favourite races, although it was 2016 when I last took part. Three years later and 3 minutes slower, although I was only slightly down in terms of position in the field. Like this year's Ripon HDSRL race, I decided to wear road rather than trail shoes. It was slippy through the woods, but I didn't fancy 5k on the road without any cushioning, and I think made the right decision. My back and knees all survived. I saw just one other Harrier before the start but didn't speak to her properly. I was on a mission. Apologies.
Results ...

(1  37:34 Mark Smith, Horsforth Harriers)
153 52:12 Paul Stephens
504 71:50 Emma Cole
585 ran

Settle Hills fell race, Sun 16 June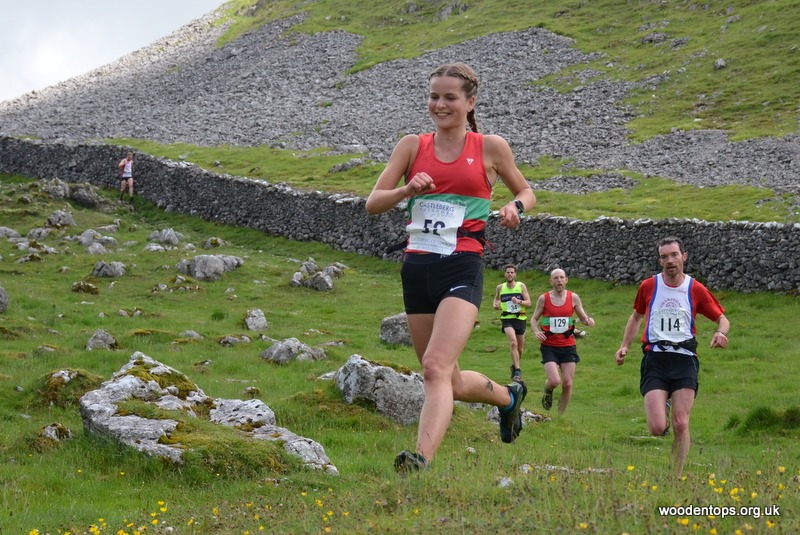 Well done to Jemima Elgood 4th woman at Settle Hills English Trials fell race for Snowdon International Mountain Race.
Results ...

(1 48:38 Daniel Haworth, Matlock)
19 58:06 Dan Mckeown
26 59:53 Jemima Elgood
73 1:10:11 Paul Calderbank
89 1:16:25 Chantal Busby
152 finished

Kettlewell fell race, Sun 16 June

(1 11:52 Simon Bailey, Mercia)
6  13:38 Iain Gibbons
74 ran

British Masters 5k Horwich, Sun 16 June
From Hilda Coulsey ... Another 5k race for me this week this time at the British Masters event at Horwich. The winners of the age categories are very much in the top few of the respective runbritain rankings and their times are amazing. Chatting before and after was interesting and enjoyable. The course itself is 3 laps of closed road; up then down, then flat and up to the finish.
Results ...

(1  15:36 Mick Hill, Leeds)
118 25:20 Hilda Coulsey  3rd F65
128 completed

Buckden Pike fell race, Sat 15 June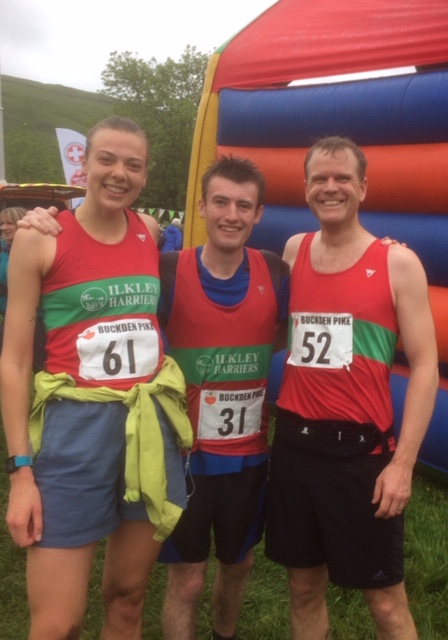 From John Hayes ... I hadn't run this classic fell race before. I mentioned this to Jack Cummings shortly before the start. "Is it brutal?" I asked. "Yes" he replied cheerfully (and it was!)
As we congregated at the start line, I couldn't understand why Jack was standing at the back near to me. And then I realised the race went the other way to what I had assumed. I tried to take up my rightful place, but before I knew it we were off. Early on is an exciting river crossing. And then the race goes up .. and up ... and up. Jack took the lead and soon vanished into the mist. I tried to keep up with Helen (all the while with a nagging feeling that this was over-ambitious on my part). On the downhill section, Helen moved up a gear and I gave up trying to catch her and concentrated instead on not falling over. On the steepest part of the descent, at least one runner overtook me sliding on his bottom!
Results ...

1  36:18 Jack Cummings
21 48:27 Helen Wood (2nd female)
29 50:06 John Hayes
62 ran

Great Lakes fell race, Sat 15 June
British & English Championship fell race.
Results ...

(1  2:37:58 Carl Bell, Keswick)
4   2:43:41 Jack Wood
161 3:55:31 Roy Ruddle
168 3:57:34 Kate Archer
214 4:20:09 Dick Waddington
235 4:32:43 Alison Weston
309 finished

Canal Canter Summer Extravaganza, Sat 15 June
From Colin Williams ... I was looking for a marathon to run this weekend and settled on the local "Grim up North, Canal Canter Summer Extravaganza", but as I left it very late to book, the Marathon was full, but there was spaces on the Ultra so I went for that instead. I was lucky with the weather, a lot better than we have been getting for the last week and I finished 10 minutes before the rain started. The ultra and the marathon start together. The course starts in Kirkstall and follows the Leeds Liverpool canal, fist to Leeds the turns and runs back along the canal to past the start to Saltaire then back to the start where the marathon finishes, the ultra continues back to Leeds for one last 6 mile loop. Only about half the ultra runners finished the race, I was pleased to finish in third place in a PB of 4:40:09
Results ...

(1 4:09:11 Dave Teggart, Bradford Airedale AC)
3  4:40:09 Colin Williams
8 finished

parkruns, Sat 15 June
From Petra Bijsterveld ... Results

Richmond
(1  17:17 unknown)
15  19:33 Rob Cunningham
447 ran

Cambridge
(1  17:02 Harry Anderson-Chapman, University of Bath Tri Club)
11  19:00 Dan Hayes
208 27:02 Sarah Hayes
480 ran

Bradford
(1  17:28 Jack Kelly, U/A)
61  23:28 Oscar Street
86  24:32 Philip Hirst
212 28:36 Paula Reynier
471 ran

Skipton
(1  18:12 Ste Brock, Wharfedale Harriers)
5   19:57 Rachel Carter 1st F
249 ran

York Evensplits 5k, Thu 13 June
From Hilda Coulsey... Having taken part in the Leeds Evensplits 5k series I decided to try York. It is entirely on the cycle circuit at the University of York Heslington East Sport Village, 5 laps of 1k. It's pretty flat and hence its a potential pb course with more than half of the runners on the night under 20 mins.
Results ...

(1 16:17 Thomas Holloway, Rotherham Harriers)
80 24:22 Hilda Coulsey 
91 finished

Otley 10, Wed 12 June
From Rachel Carter... A few of us made the short journey on Wednesday evening to take part in the Otley 10, a long standing road race organised by Otley AC for more than 30 years. It has a fast 3 miles to start, followed by some testing hills crossing the Washburn valley north of the town. Conditions were good with the long hill climb good for distracting from the slight breeze. This year the race was part of the Hilly Running Festival with all finishers receiving a free pair of socks alongside a bottle of beer. Jack comfortably took 1st place, being 40 seconds ahead of 2nd. I was 4th lady and 1st FV40.
Provisional results ...

1     54:46 Jack Wood
41  1:07:12 David Foyston
59  1:09:55 Rachel Carter
60  1:10:10 Lawrence Basham
118 1:17:56 Stephen Newell
186 1:24:28 Michael Ho
244 1:32:07 Clare Boyle
288 1:41:49 Janet Smith
310 finished

Settle Saunter, Sun 9 June
From Ben Sheppard... As its name suggests, the Settle Saunter is your typical "old man's walking race" - a 23 mile trundle (10k and half marathon versions are available) along trails, trods and lanes in the Dales, chewing the cud and admiring the views between food stations with fellow stroller Dan McKeown. Map, directions and GPS on my watch notwithstanding, we managed to make a couple of 'navigation' errors in the latter stages to add to the fun. Dan and I ran round together almost the whole way until we got lost in the woods and ended up separated, after which Dan got misdirected onto the 10k course for a little extra distance at the end while I made directly for the pie and peas and mug of tea, finishing in around 3 hrs 35. Nice to see some friendly Ilkley Harriers faces at the finish having done the 10k or half marathon courses, including Jayne Norman and Chantal Busby.
From Jayne Norman ... I did the 13.1 mile option, a great course, which does need some navigational schemes, but compared to other races this is more social run without the competitive nature, making it a fantastic race for new (or experienced) half marathon runners. Excellent value for money as free pie and peas, and cups of tea/coffee at the end. I finished in 2hrs 40 (beating my PB by 12 mins)
Results
Catforth 10k, Sat 8 June
We hear Beth Massey was 1st F45, 3rd lady. Awaiting results.
Man vs Horse, Sat 8 June
Jack may have been 4th, but he was the first runner, 9 minutes clar of 5th place.
Results ...

4 2:23:39 Jack Wood
767 finished

parkruns, Sat 8 June
From Petra Bijsterveld ... Results ...

Oxford
(1  16:45 James Eve, Headington RRC)
14  19:13 James Ryder
103 24:43 Jo Foster
311 ran

Bradford
(1  18:47 Martin Fillingham, Saltaire Striders)
22  22:06 Dave Reynier
173 28:56 Paula Reynier
338 ran

Skipton
(1  16:26, Joe Hudson, KCAC)
5   19:57 Kate Archer 1st F
167 ran

Selection news, Thu 6 June
From Steve Brennan ... Euan Brennan took third place on Sunday at the Trial Race for the European Mountain Running Championships.
The trial was held on a wet and windy course up Skiddaw with 660 metres of elevation over 5.2 km.
British Athletics announced today his inclusion in the GB & NI U20 team that will compete at the European Mountain Running Championships to be held on an Uphill Only course in Zermatt, Switzerland on 7th July 2019.
Euan was part of the winning GB team from last years European Championships in Macedonia.
Link to BA announcement.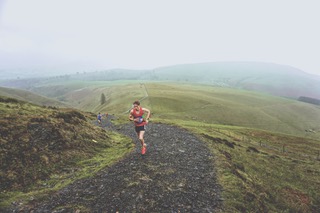 Blencathra fell race, Wed 5 June
From Jann Smith ... 7.6miles / 2864 ft Englands 9th highest mountain was wet and clagged in for this summer evening race, a lovely circular route approaching from the village of Mungrisedale in the East and touching the summit.
Results ...

(1  1:01:10 Brennan Townsend, Keswick)
137 1:36:03 Jann Smith  1st F50
179 finished

Otley Chevin fell race, Wed 5 June

1   17:26 Jack Wood
4   18:16 Jack Cummings
18  20:50 Dan Mckeown
36  21:58 Lucy Williamson
41  22:18 Jonathan Turner
43  22:23 Kate Archer
64  23:32 Richard Joel
73  24:26 Bob Hamilton
106 27:07 Alison Weston
127 29:09 Helen Waddington
160 finished

HDSRL 2, Ripon, Tue 4 June
From Caroline Howe ... Racing in monsoon conditions for the second Harrogate Summer Race League event at Ripon. A mainly off-road course across fields, farm tracks and through woods around Studley Park, the torrential rain meant we we were literally running through rivers, mud, and ankle deep puddles for the entire course. All in all conditions made for a very memorable evening, helped by great hosting by Ripon Runners who put on a great spread and awesome bunnage afterwards! Great performances from the 19 Harriers who made the trip... Jack Wood won the race by almost a minute; Sarah Pickering and Sally Armitage were in the top 10 female finishers; and Malcolm Pickering was first V65. The next race at Yeadon is a Harriers league counter so looking forward to a good turnout!
Results ...

1   29:55 Jack Wood
47  36:58 Jonathan Turner
114 40:57 Sarah Pickering
115 41:06 Sally Armitage
155 43:00 Caroline Howe
209 45:22 Tom Lally
210 45:24 Paul Stephens
213 45:29 Jane Bryant
218 45:57 Emily Elmes
230 46:34 Malcolm Pickering
240 47:05 Geoffrey White
274 48:53 David Ibbotson
341 53:36 Dawn Turner
350 54:20 Anna Pickering
352 54:28 Sally Pickering
385 57:35 Amelia Miles
398 58:42 Sue Verspyck
413 62:39 Tracy Russell
423 68:35 David Millson
433 ran

Trail des Paccots, Sun 2 June
From Petra Bijsterveld ... I looked for an Alpine race to fit in with my holiday plans, and this event in Switzerland just north east of Lake Geneva appeared to fit the bill just perfectly. Given the options of a 17k, 27k or 42k course I immediately chose the longest, thinking that more than 8000 feet of ascent to add to the distance can't be too bad if you say it quickly enough! Training had gone well and I had the benefit of spending my final tapering week in the Alps so could do my last runs at greater altitude. As the day approached the weather got hotter and a forecasted 25 degrees made me worry about heat exhaustion, so a last minute purchase of a bright white baseball cap ensued, which I think helped as I possibly suffered less from the heat than normal. Race morning saw a collection of very fit looking alpine mountain runners assemble at the start in Les Paccots. No fun runners here! From the entry list I had gleaned that 98% of runners were fairly local, but I had previously made contact with a Dutch compatriot, Mieke, and I was pleased to see her at the start. As it turned out we would meet each other many times during the race.
The course is a mixture of trails through forests, meadows, along (or up) steep mountain sides, across a few snow fields, and there were 2 river crossings. To add a bit of stress there were 3 time cut-offs and I was worried about having to travel back on the bus of shame (thankfully this did not happen)! 8247 feet of ascent obviously means a lot of climbing, what I had not expected was the steepness of 2 of the long climbs which felt almost vertical, the first one at mile 8 had me near fainting and I had to sit down 3 times on a rock with my head down. Many calls of 'ca va?' and 'courage' from passing runners ensued. After taking in some more calories, despite feeling very nauseous, this thankfully did not happen again. At mile 9 the 27k course parted from the 42k and I found myself entirely alone. Thankfully the course was well marked, and at least I did not have to keep stopping now to let faster 27k runners go past. I caught up with Mieke and a French woman runner at the 13 mile feed station and together we climbed the long ascent (5 miles) to the top of Le Moleson (2000m), where we met 3 male runners who had reached the top just ahead of us. The two sweepers had caught up with us and as I am the world's worst descender I then knew I would be the last finisher. Being last, and still worrying about being timed out at the final cut-off, were my only stressors, apart from that I managed to enjoy the final miles despite increasing fatigue, occasionally meeting Mieke at water stations as she was only just ahead, and calling out encouragement in Dutch. The only part which made me really unhappy was an additional uphill stretch of tarmac to make up the distance whilst the finish was actually in sight and along the flat. Like the final lap around a field but ten times worse. Still I did not cry!
I was indeed the 162nd and final finisher in 9 hours 10 minutes, but pleased to see that the 5 runners I had been with on Le Moleson had arrived no more than 10 minutes ahead of me. 20 runners had abandoned the race. I met up with Mieke once more as we tucked into the generous free meal we were given.
I loved the entire experience and could not fault the event organization. Such friendly marshals and volunteers (benevoles) at the feed stations and also friendly local and tourist support along the course. I felt obliged to thank all marshals more profusely as I was last! Excellent provisions at the feed stations including Gruyere cheese (my body really craved salt) and flat Coke. Encouragingly this race was almost entirely plastic free and every runner had to carry their own cup. Despite being last I would do this race, or a similar Alpine event, again as soon as the opportunity arises! Perhaps with less heat I could even be a little faster......
Results ...

(1  4:19:30 Remi Francais, Ski-Club Les Diablerets)
162 9:10:02 Petra Bijsterveld 
162 finished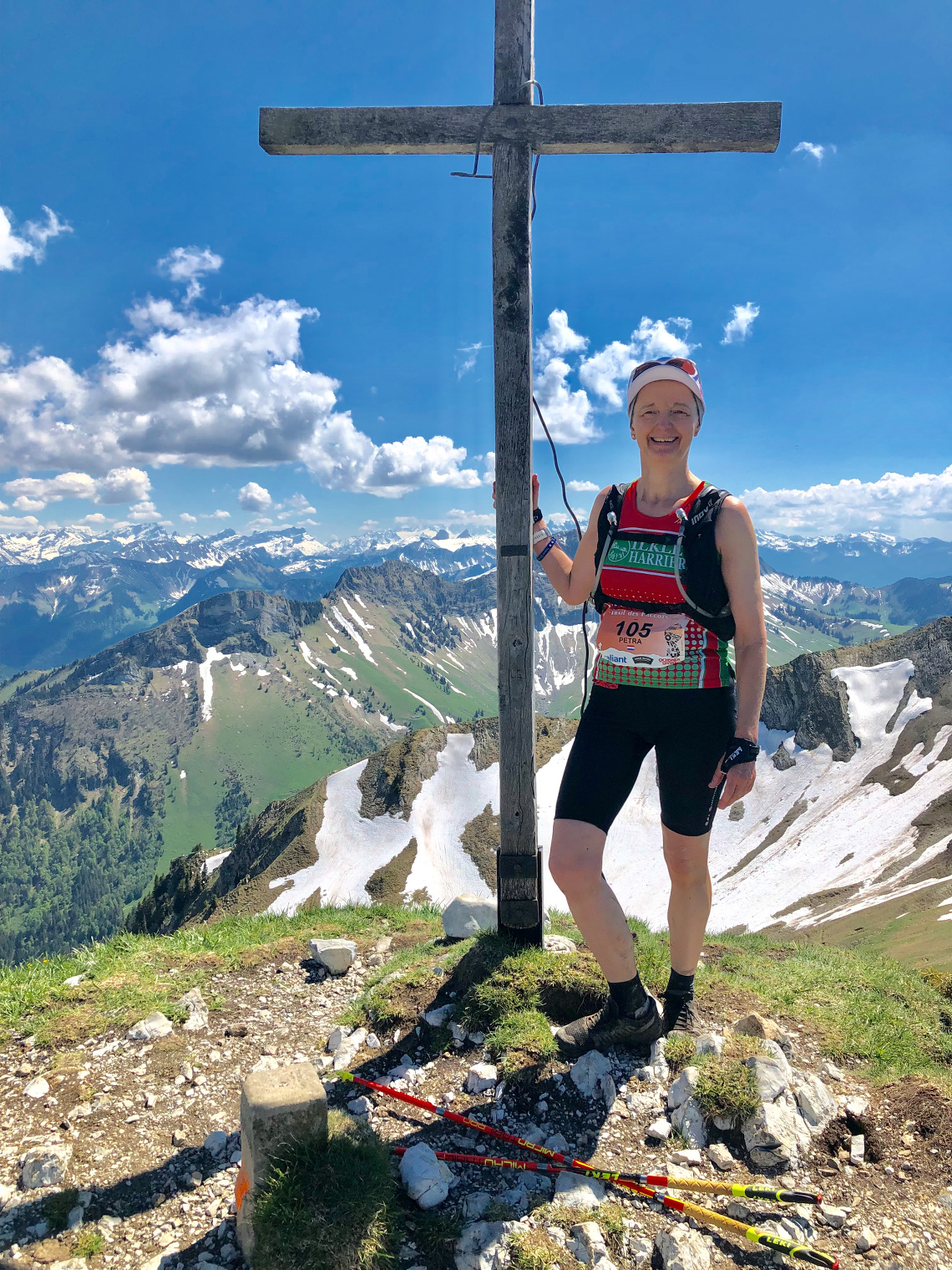 Coniston Lakeland Trails Marathon and Half Marathon, Sun 2 June
From Helen Waddington ... Great to see two other Ilkley Harriers at this event. Paul Sugden and Nicky Liptrot took on the half marathon Challenge event which takes in the first 17 km/1200 ft of the full marathon course as far as Tarn Hows before returning to Coniston. I completed the full Marathon which is a full circuit of Coniston with just shy of 3,000 feet overall ascent and all the usual Lakeland terrain boxes ticked including forest trails, moorland bogs, rocky tracks and a lovely run in along the shoreline before a lap of the finish field thrown in for good measure, which we always enjoy don't we . . .
Results ...

Half Marathon Challenge
(1  1:33:16 Ian Roberts, Liverpool  and Sefton Harriers)
32  1:59:04 Nicky Liptrot (4th lady)
232 2:34:09 Paul Sugden
344 ran

Marathon Race
(1  3:03:20 Joel Jameson, Team Jameson)
156 5:12:16 Helen Waddington
210 ran

Runforall Hull half marathon, Sun 2 June
From Hilda Coulsey... I ventured east on the M62 to run the Hull half marathon. I believe I was the only Ilkley Harrier, not surprisingly as the Wharfedale half usually attracts me and is more attractive in many ways! It was well organised and friendly, as expected from the Jane Tomlinson Runforall events, and I hadn't done this one before so I felt it was worth a shot. I'm disappointed with my time I have never experienced the drop off the in pace I did today to achieve my personal worst road half marathon performance. I have to blame the weather, it was hot and humid, and talking to others afterwards I wasn't the only one finding it hard. Others might say I ought to train more however I did manage 2nd in my age category! Grassington will be in the diary for me next year, however the Hull half is definitely a good race to do - it's fairly flat with lots of support.
Results ...

(1  1:08:41 Mohammad Aburezeq, Altringham)
721 2:06:45 Hilda Coulsey 
1289 finished

Huddersfield Marathon, Sun 2 June
From Colin Williams ... A few months ago I signed up to run the Huddersfield Marathon, how hard could it be to run a marathon the day after the Wharfedale Trail Half and the same week as the Ilkley trail? Well know I know, pretty tough. The Huddersfield road marathon and Half marathon run on a 13.1mile route around Huddersfield, the Marathon runs the same route twice. The route has a lot of climb, I clocked 3,406 ft according to my Garmin, 400 ft of that in the last mile. The organisers say it is one of the toughest road marathon in the UK, and having run the Langdale marathon last year, who also say that, I would have to agree. The winner Simon Courtney had a fantastic race, beating the second place runner by nearly 40 mins. A small event (130 ran the half and 58 the full), but very friendly and well organised, give it a go next year, but not after running the Wharfedale half.
Results

(1 3:14:23 Simon Courtney)
7  4:19:50 Colin Williams
58 finished

Wharfedale Trail Half Marathon, Sat 1 June

(1  1:25:15 Phil Marsden, Horwich)
26  1:43:25 Dave Robson
36  1:45:30 Rachel Carter
40  1:46:20 Jonathan Turner
44  1:47:25 Colin Williams
79  1:54:45 Derek Oliver
113 2:01:21 Peter Roll
126 2:03:53 Paddy Hagan
134 2:04:51 Peter Ferguson
136 2:05:02 Oli Street
254 2:24:12 Jill Ezzard
286 2:29:20 Jayne Norman
320 2:39:45 Fiona Schneider
366 2:52:48 Penelope Coulthard
367 2:52:51 Jo Pattinson
378 2:57:14 Sue Williamson
405 finished

Duddon Valley fell race, Sat 1 June
From Will Buckton ... Duddon Valley fell race was the first of this year's Lakeland 'super long' races, starting from the village of Seathwaite near Coniston. There were six major climbs including Little Stand and Swirl How which are relentless. The 2019 race was run in low visibility which led to navigational errors for the three Ilkley Harriers but we all got round in respectable times.

(1 2h59:15 Rhys Findlay-Robinson Dark Peak)
18 3h48:36 Jack Wood
75 4h48:56 Roy Ruddle
77 4h49:22 Will Buckton
117 finished 10 dnf

parkruns, Sat 1 June
---
Outstanding Achievements, May
From the Committee ...
Jean Sullivan for compiling the monthly summaries of Outstanding Achievements
Jack Wood for organising the Calderdale Way Relay teams.
Brian Melia and Justin Ions for completing the Dragon's Back
Rachel Carter for race win at the Ilkley Trail
Jack Wood for winning the British Championship race at Ras Y Moelwyn
Jemmima Elgood for setting a new IH ladies 5k record of 16:54
Geoff Howard for setting a new MV75 10k record of 43:19
Andrew Merrick the Devon Coast to Coast ultra
Nick Helliwell sub 40mins 10k PB at Piling.
Apperley Bridge Canter (ABC) 10k, Thu 30 May
From Dawn Turner ... Jonathan and I were the only Harriers at this very enjoyable 10k, which is based at Woodhouse Grove School. Organised by Horsforth Harriers, it's a multi-terrain race heading up through the woods and looping back round along tracks, gravel paths, roads and fields. A very well organised, friendly event - parking and facilities are excellent - I'd highly recommend it for next year.
Results ...

(1  35:03 John Hobbs, Valley Striders)
35  40:28 Jonathan Turner
310 58:28 Dawn Turner
462 finished

Ilkley Trail Race, Mon 27 May
Full results and photos on the Trail Race page.

(1  41:18 Matthew John, North Leeds Fell Runners)
2   41:58 Cameron Reilly
3   42:12 Jack Cummings
8   44:46 Dan McKeown - 1st MV40
9   45:02 Martin Archer
11  45:46 Ben Shepherd
20  48:05 Paul Castle
25  48:40 Dave Foyston
31  49:09 Rachel Carter - 1st lady
32  49:23 Will Buckton
34  49:27 Jonathan Turner
39  49:58 Jonathan Sinclair
40  50:14 John Hayes
42  50:43 Colin Williams
50  52:08 Nick Helliwell
54  52:59 Michael Abrams-Cohen
57  53:21 Michael Duffield
63  54:12 Sally Armitage
69  55:12 Sally Malir - 1st FV50
85  57:06 Mark Judkowski
88  57:24 Geoff Howard - 1st MV70
91  57:29 Craig Berry
111 59:36 Abi Swales
115 59:59 Caroline Howe
150 65:26 Helen Doyle
163 68:36 Donna Jackson
168 69:37 Alex Stanley-Hyde
185 73:55 Karen Lambe
191 75:14 Paula Reynier
192 75:15 Dave Reynier
194 75:21 Amanda Newham
202 80:13 Sue Williamson
203 80:27 Sue Verspyck
214 finished
*Ilkley won both the men's and women's team prizes*

Austwick Amble fell race, Mon 27 May
From Jann Smith ... The village is closed and the fell race is run in conjunction with the street festival so a great atmosphere. The route climbs up through limestone pavements to meet the 3 Peaks race route on the gnarly bit down to Sulber Nick then heads back down to Austwick. The field was quality due to cash payments being offered for the course records to be broken.
Results ...

(1   48:41 Tm Stratton, City of York)
14   56:33 Paul Carman       
93 1:10:24 Jann Smith        
169 ran

Edinburgh Marathon, Sun 26 May
From Kate Archer ... I decided to enter Edinburgh marathon last minute. Starting in the city centre, the first couple of miles are downhill (finishing 7 miles from the start means you don't have to run back up the hill), then it's an out and back course along the coast. Nice to run by the sea and with a breeze on the way out the pace seemed easy. Then at mile 18 we turned back towards the city and into a brutal headwind. From then on it was a battle to maintain any sort of pace. But still a PB for me. I crossed the line in 3:09:57. The race was won by Dan Tanui in a time of 2:30:13.

Edinburgh Marathon
(1   2:30:13 Dan Tanui)
247  3:09:57 Kate Archer
2342 3:59:13 Michael Ho
7301 finishers

Edinburgh Half Marathon
(1   1:07:40 Karl Darcy)
4056 1:58:31 Sheena Pickersgill 
10,964 finishers   

Northallerton 10k, Sun 26 May

(1  32:47 Callum Elson, Roundhay Runners)
429 58:39 John Marshall
838 finished

Ras Y Moelwyn, Sat 25 May
Jack Wood won this British Championship fell race in 1:21:03. 252 ran. Results ....
Jura fell race, Sat 25 May
From Alison Weston ... - managed the Jura fell race in 5 hrs 31 (winner Tim Morgan in 3 hr 20!) only 16 miles but pretty tough with seven tops including the 3 Paps and 7500 ft climbing. Despite the wet and misty conditions a really great event with a tremendous atmosphere.
parkruns, Sat 25 May
Berghaus Dragon's Back Race, Mon 20-Fri 24 May
Two Harriers have just tackled what is billed as the toughest five-day mountain running race in the world - the legendary Dragon's Back Race which follows the mountainous spine of Wales from north to south, covering 315 kilometres and featuring 15,500 metres of ascent across wild, trackless, remote and mountainous terrain. And both the experienced Brian Melia and Justin Ions, who was taking on this sort of challenge for the first time, did superbly to finish 75th and 135th respectively out of the 251 who managed to complete this epic ultra test.
Results ...

(1  37:48:06 Galen Reynolds, Canada)
75  56:07:41 Brian Melia
135 61:48:23 Justin Ions
251 finished

From Brian Melia ... I first ran the Dragons Back in 2015 and thought that it was so difficult I would not return. I am not sure why I entered again, but I found that I had. It is an incredible event dating back to 1992 when Diamntides and Stone won. The course begins in Conwy Castle(see picture) and finishes in Llandelio after 315 km and 15,500 metres of ascent.It sounds bad , but if you divide it up in to days it sounds better.
After a welsh male voice choir got the emotions going we left the Castle. My sister wished me well and I left for day one which takes the Carneddau, the Glyderau and then scary Crib Goch and over Snowdon for the first over night in Nant Gywnant. I ran with Tom Hollins well till Tryfan in poor visibility, in around 40th place. I stopped to change socks, but Tom wanted to push on. There was a great buzz at the mid point. The temperature dramatically increased over the Glyderau and was too hot over Crib Goch to the finish.
You stay in these brilliant 8 man tents. There is enough room to get yourself sorted for each day. There was great banter.
Day 2 is over Cnict the Moelwynions and Rhinogydds. It is a tough day of 55 km. It was too hot for me. And I struggled to hydrate. I ran into th mid point with Tom again, but started being sick I think I picked a bug up through the streams. I finished the day I thought I would drop out as I could not eat. I knew day 3 was super tough with 69 km so I was intending to go home, but I found myself walking up Cadar Idris. I settled in to a steady pace till the half way point at Machynlleth where I was able to stop and find some food . Feeling more normal I trotted up and over Pumlumon Fawr to the overnight camp feeling better.
Day 4 goes through Elan valley then up and over Drygarn Fawr with probably too much road running for my likes. I was happy to finish but had lost lots of hours over the previous 3 days. Day 5 is a blast over the Black Mountains. There was real excitement over the front runners with Sabrina chasing the lead with only around a minute to catch Lisa Watson and Jim Mann chasing Galen Reynolds with a 42 minute deficit. One of the beautiful aspects of the Dragons Back is the faster runners set off later. So everyday you are passed by the faster runners. It is super friendly and by the finish line there is a great feeling of unity to all who have travelled down Wales. It is a lot of money to enter however, there is no better way to visit the mountains tops and valleys than this race. Everything is included. Food accommodation and finally transport back to the start, if you finish.
I have two Dragons now and am proud to have finished, even though I wanted to run much quicker. Quite a few did not make it for lots of reasons, mainly fatigue or foot problems. Galen Reynolds from Canada was overall winner in 37 hrs 48 minutes ahead of 2015 winner Jim Mann. Lisa Watson from Dark Peak was First Lady on 44 hours 33 minutes beating Sabrina Verjee.
It is a great event to challenge every part of your body. I saw some sad sights with friends dropping and injuries and hill incidents, but there were some special moments I will treasure. Mum was at the finish line to surprise me which was special, but I felt slightly guilty as I was on empty with a hurting leg.

www.berghausdragonsbackrace.com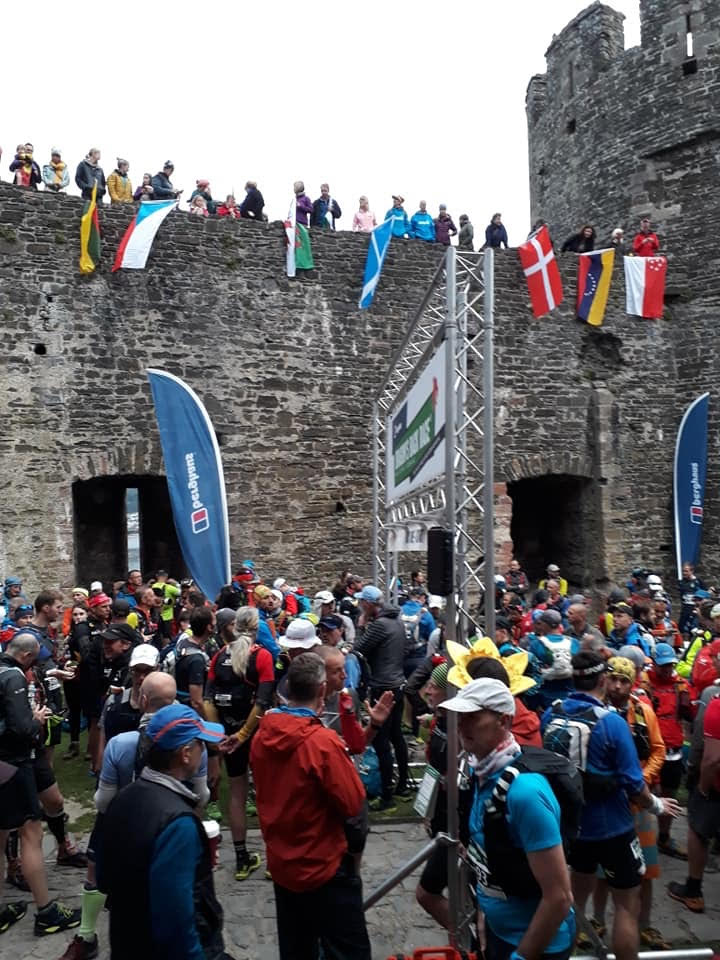 HDSRL race 1, Harrogate, Tue 21 May
A win for Jack Wood
Results ....

1   31:52 Jack Wood
169 45:31 Malcolm Pickering 1st M65
187 46:14 Mark Judkowski
200 46:48 Jane Bryant
218 47:36 Catherine Gibbons
233 48:01 Paul Stephens
248 48:41 Tom Lally
321 52:05 Dave Ibbotson
344 52:58 Emily Elmes
362 53:56 Di Kitchen
376 54:40 Sheena Pickersgill
383 54:58 Sally Pickering
390 55:17 Anna Pickering
417 56:42 Amelia Miles
487 62:57 Tracy Russell
493 63:16 Sally Wright
526 73:23 David Millson
531 finished

Calderdale Way Relay, Sun 19 May
From Caroline Howe... The Calderdale Way Relay is the UK's largest off-road relay, organised by Halifax Harriers, attracting teams from all across Yorkshire and Lancashire. This was the first year since 2014 that Ilkley Harriers were represented at the event, as 12 of us paired off to run sections of varying lengths. We were a mixed team and our primary aims were i) to complete the distance, and ii) to enjoy it! Both objectives were successfully achieved, and the team finished in 55th place out of 97, and 10th mixed team out of 19.
All legs are tough, with considerable amounts of climb, but the payoff is wonderful views of the surrounding countryside. Conditions were good on the day - not too warm, and nice and dry. Everyone managed make it to their starts on time (just!) and performed fantastically well. There was also a great atmosphere, with so many teams competing and lots of familiar faces from local clubs!
These events are brilliant to be part of, and hopefully the fact that our team contained people of all different standards will encourage more participation in future - these relays really are open to all, and it is a great buzz being part of a team, and representing the club, while challenging yourself on an individual level. It's also a great way to get to know other Harriers, and to experience routes you wouldn't normally run.
A lot goes on behind the scenes in terms of team organisation and logistics, so big thanks to Jack for sorting the whole thing out. Also thanks to Rachel, Dan and Keith who all stepped in at the last minute due to injuries, to ensure we could field a full team. Special mention to Jayne also for assisting others with last minute recces. Events like these do take commitment from everyone involved, so big thanks and well done to all!
Results:

Leg 1 (10.55 miles) Jack Wood, Dan McKeown           15(15)  1:20:33
Leg 2 (8.46 miles)  Caroline Howe, Nicky Liptrot     41(69)  1:25:24
Leg 3 (4.8 miles)   Rachel Carter, Peter Shelley     35(16)  0:43:43
Leg 4 (9.4 miles)   Keith Wood, Anna Nolan           57(94)  2:05:42
Leg 5 (7.44 miles)  Petra Bijsterveld, Jayne Norman  62(80)  1:27:47
Leg 6 (10.6 miles)  Ben Sheppard, Mike Abrams Cohen  55(42)  1:31:52
(figure in brackets is where each pair placed on their leg)

Windermere Marathon, Sun 19 May
From Jean Sullivan ... Having realised that it was 20 years since I did my one and only marathon (London 1999), I wondered if I would manage another, so I signed up to do this years Windermere marathon, billed as 'the UK's most scenic marathon'. What a fantastic event it was to be part of!! It started in the grounds of the lovely Brathay Hall in Ambleside, whose gardens slope down to the banks of Lake Windermere. The atmosphere was incredible, especially as the Windermere marathon is the last day for those completing the Brathay 10 in 10, one of the UK's toughest running events, which involves running the Windermere marathon 10 times over 10 consecutive days.
Having been led to the start by a brass band, this road run involves an anti-clockwise circuit of Lake Windermere. Running down the west side of the lake is mainly on traffic free roads. It is busier running up the east side, especially trying to dodge all the tourists in Bowness on Windermere! The crowd support is fantastic on the route, with lots of cow bells to be heard, and jelly babies and Kendal mint cake on offer! It is a challenging race in view of not only the distance, but the constant hills. I was very pleased to arrive back to Brathay Hall in one piece!
Results ....

(1  2:29:55 Rob Corney, Reading Roadrunners)
441 4:24:22 Jean Sullivan
964 finishers

Nidderdale Marathon, Sun 19 May
From Fiona Schneider ... Jemma Basham and I took on the Harrogate Rotary Club challenge of the Nidderdale Marathon on Sunday. There were many easier options of short runs, long walks, short walks. It is a great scenic route on the Nidderdale Way north from Pateley Bridge and back. 42 km peppered with plenty of climbing (885 metres in all), plenty of gates and stiles and a few water stations. We both managed to smile at the end! Not officially timed Jemma was out of view after 1km and flying whilst I took my place close to the last but not last of about 40 runners.

5hr 15min Jemma Basham 
6hr 18min Fiona Schneider  

Pilling 10k, Sat 18 May
From Nick Helliwell ... Flat, fast and relentless, Pilling is a perfect PB course. I went out fast, hung onto a group and just dug in for the second half. It hurt terribly, but I came away with a huge PB, and managed to finally break 40 minutes, something I've been trying to do for 20 years. Pilling is a bit of a drive, but recommended for anyone that wants a 10k personal record; they organise this race regularly across each summer.
Results ....

(1 33:08 Raymond Edgar, Lancaster & Morecambe)
17 39:40 Nick Helliwell
102 finished

Fairfield Horseshoe fell race, Sat 18 May
From Will Buckton ... Jack and I travelled to Ambleside for the classic Fairfield Horseshoe race which starts in the grounds of Rydal Hall. Chip timing was used for the 2019 event and the route was a bit slower as the route to the right of the wall after Dove Crag was out of bounds.
Results:

(1 1h20:15 Carl Bell Keswick AC)
2  1h23:06 Jack Wood
89 1h49:52 Will Buckton
232 finished

Old County Tops fell race, Sat 18 May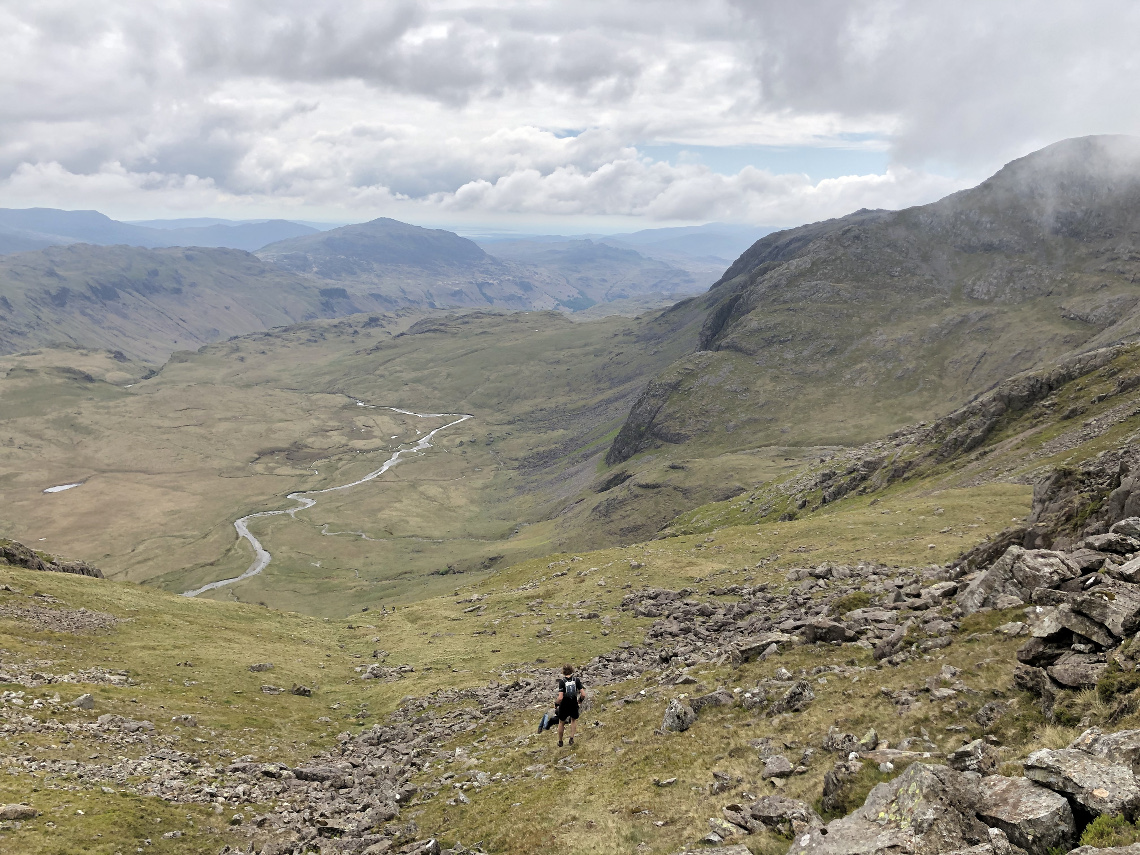 From Dick Waddington...The Old County Tops (37 miles, 10,000ft) takes in the highest summits of the former counties of Cumberland, Westmoreland and Lancashire - namely Helvellyn, Scafell Pike and The Old Man of Coniston. Paul Carman and I thought we would give it a go; my third time and Paul's first. The weather forecast had been pretty poor all week, but we were treated to bright weather, not too hot and little wind - perfect! The only bit of low cloud was on Helvellyn, but we'd both taken the grassy line down before, so we managed that well. After egg sandwiches at the feed station we went up the Wythburn valley, where I aptly fell in a bog up to my waist at a spot call 'The Bog' on the OS map. Paul kindly pulled me out. Scafell Pike had the usual crowds, but the descent into Eskdale was wild and beautiful as ever. A feed stop at Cockley Beck staffed by the same crew as before (very efficient) was welcome before the slog up towards Swirl How. Last year I made an exhausting nav error by taking Richard Joel to Dow Crag instead of Coniston Old Man (sorry Richard!). Well I didn't make that mistake again. A good run in saw us pick up a few places on the way to the Three Shires stone and back via Blea Tarn. Paul did some good coaxing to get me through the last mile as it all got a bit tiring. All in all a great day out. We finished in 9:14. Results to follow.
Devon Coast to Coast Ultra 18-19 May
From Andrew Merrick... When I was growing up, my mum's parents were living in Torquay and we spent a few weeks of every Easter and Summer holiday in the red soiled, narrow laned world of Devon. It was this connection that prompted me to sign up for the Devon C2C - a "117.5" mile journey from Wembury (near Plymouth) in the South to Lynmouth in the North.
A campsite at South Molton (about 45 mins drive from the finish) coupled with an early morning coach was the suggested approach to logistics, which didn't seem the ideal plan. So my ultra running friend and I left a car there and Airbnb'd in Wembury, allowing a 6am alarm on the Saturday morning in advance of an 8am start. A select gang of about 70 set off from alongside the beach at about 8.15am, the coach having been slightly delayed.
A cloudy, wind free Saturday made for pretty ideal running conditions and excellent views over Dartmoor. There were 10 check points along the way at reasonably regular intervals, with one bag drop for the half way point. I took the opportunity here to change my very wet socks which were causing my feet to blister far more than any previous ultra experience. It helped in the short term, but the rest of the journey did leave me with very sore feet despite extensive use of running poles on both up and downhill sections. I spent a few minutes concluding a little after half way I had about another 90,000 steps to take, had a brief "chat" with my grandad and carried on.....
The organisers and check point/feed station staff were all cheerful and supportive throughout our route, although I was disappointed with the facilities on offer. There was one hot meal but otherwise virtually all check points were outside (even during the night stages) and had fairly basic provisions - water, tea, and a small range of snacks, fruit appearing only twice. I suspect the low numbers did impact on the infrastructure although there was a 4 day C2C walk happening at the same time.
Otherwise, there was more road than I was expecting and the navigation was significantly more difficult. The two USB chargers I had with me were saved to keep my running friend's phone going since regular access to routefinder was essential......
At the pre-race safety briefing, the organiser did warn us about the last climb before reaching Lynmouth, but it did still come as a surprise, arriving half way through what I had assumed was the final descent. A low key finish in Lynmouth just before 3pm on Sunday was followed by the logistical challenge of getting home, which involved the organiser's transport back to South Molton, a lift to Exeter, a train to Plymouth and a taxi back to my car in Wembury. The drive back did still feel in some way part of the ultra challenge, although the M5, M42 and M1 "feed stations" were better stocked....
I limped back through the front door just before 4am on Monday morning, pleased to have finished what must have been nearer to 120 miles in a little under 31 hours, inside the top quarter of the field. A break now before deciding on my next adventure, and looking forward to my now guaranteed UTMB place for August 2020. I am sure my feet will forgive me in time.....
Despite the views and helpful support staff, not one I would plan to do again.....
parkruns, Sat 18 May
From Petra Bijsterveld ... Great to see Tom Adams back racing (though parkrun is 'a run not a race') and being first finisher at Oakwell Hall. Geoff Howard visited the inaugural parkrun at Conyngham Hall (Knaresborough). Fiona Schneider celebrated her birthday by asking lots of friends to join her in doing a parkrun today, either at Skipton or elsewhere (and sharing on Facebook), a great idea!
Results ...

Woodhouse Moor   
(1  16:07 Marcos Angel Valero Palacios, U/A)
12  18:38 Tim Ashelford
378 28:36 Karen Lambe
645 ran

Skipton
(1  17:05 Chris Ovenden, U/A)
20  22:49 Catherine Gibbons
57  25:59 Andrew Wilson
58  26:08 Fiona Schneider
92  28:18 Ruth Jones
96  28:35 Andy Wolfenden
208 ran

Oakwell Hall
1   16:31 Tom Adams
267 ran

Keswick
(1  17:35 Stefanos Stephanou, Richmond and Zetland)
225 33:26 Jonathan Sinclair
274 ran

Tyne Green
(1  17:50 Patrick Craig, Harrogate Tri Club)
5   18:57 Adam Rhodes
296 ran

Conyngham Hall
(1  17:43 Rob Scott, Richmond and Zetland)
25  23:27 Geoff Howard
137 ran

Harrogate
(1  17:38 Mark Bailey, Leeds and Bradford Tri)
234 26:21 Petra Bijsterveld
521 ran  

John Carr Race 3, We 15 May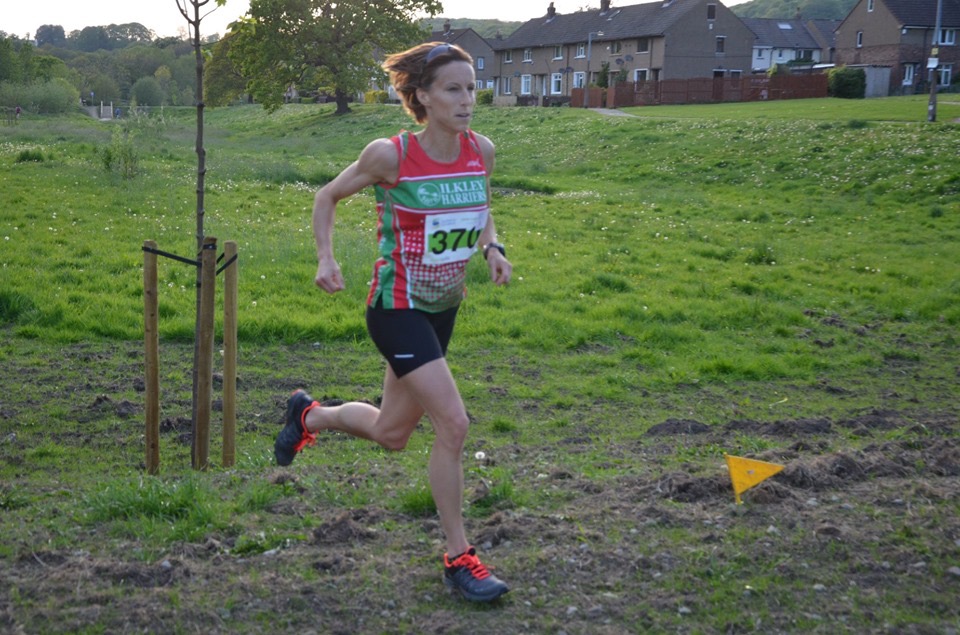 From Helen Waddington... Congratulations to Jane Mccarthy on a decisive overall win at the all-new John Carr Series. Saltaire Striders have done an amazing job at re-inventing these races. Each week has been a different course - all have been lovely and the last race was particularly enjoyable. The finale was a relay event with many teams cobbled together on the night from different clubs. It sounded like a recipe for organised chaos but it all worked and resulted in a really sociable event with lots of intermingling fun at the handover/finish point. An off-road mixed terrain course which introduced us to more of the lovely trails around the Saltaire/Eldwick/Baildon area. Steady uphill on the way out through fields and woods and tracks before returning along Shipley Glen and finally a short sharp descent to the finish. Fantastic marshalling and organisation with a bottle of beer for all finishers and great series prizes at 5 year age categories, this really is one to put in the diary next year.
Results ....

Race 3
(1 18:14 Joe Baxter, Pudsey and Bramley)
23 23:11 Jane McCarthy
69 29:29 Helen Waddington
85 ran

Overall series results
(1 1:02:09 Michael Malyon, Baildon Runners)
17 1:15:20 Jane McCarthy 1st L
41 1:33:41 Helen Waddington 1st V50

Jack Bloor races, Tue 14 May
Congratulations to Jemima Elgood who broke the women's record by 9 seconds, and Jack Wood who won for the 5th year in a row.
Results ....

1   38:52 Jack Wood
14  44:36 Martin Archer
17  45:19 Jemima Elgood (Leeds Uni)
20  45:35 Paul Carman
30  46:54 Daniel Mckeown
37  47:26 Dave Robson
43  48:20 Dave Wilby
48  48:53 Jim Ryder
49  48:55 Gavin Lamb
50  49:25 David Foyston
57  50:56 David Westhead
66  51:53 Richard Joel
67  51:55 Rachel Carter 1st FV40
72  52:20 John Hayes
82  53:01 Colin Williams
89  53:50 Duncan Cooper
93  54:09 Andrew Overend
98  54:37 Michael Duffield
99  55:11 Helen Wood
121 57:12 Joyce Marshall 1st FV50
127 57:24 Jann Smith
128 57:29 Paddy Hagan
141 58:23 Alison Weston
154 59:52 Steve Newell
164 62:19 Mary Gibbons
175 63:22 Geoffrey White
189 65:10 Caroline Howe
217 72:49 Helen Doyle
228 87:25 Amelia Miles
233 109:42 Tracy Russell
234 109:44 David Millson
235 finished
Ilkley had 2nd team and 3rd ladies team

Yorkshire Track & Field Championships, Sun 12 May
From Jonathan Turner ... There were medals for both Bethan Morley and Istvan Jacso at the Yorkshire Track & Field Championships. Bethan claimed silver in the women's U20 800m in 2:12:35 while Istvan was third in the 3,000m steeplechase in 10:25.79
Results...
Leeds Half Marathon, Sun 12 May

(1   1:07:56
808  1:42:08 Michael Ho
1240 1;50:18 Tom Lally
2767 2:00:16 Alex Hyde
2800 2:02:41 Dave Ibbotson
5812 finished

Malhamdale Trail Challenge, Sat 11 May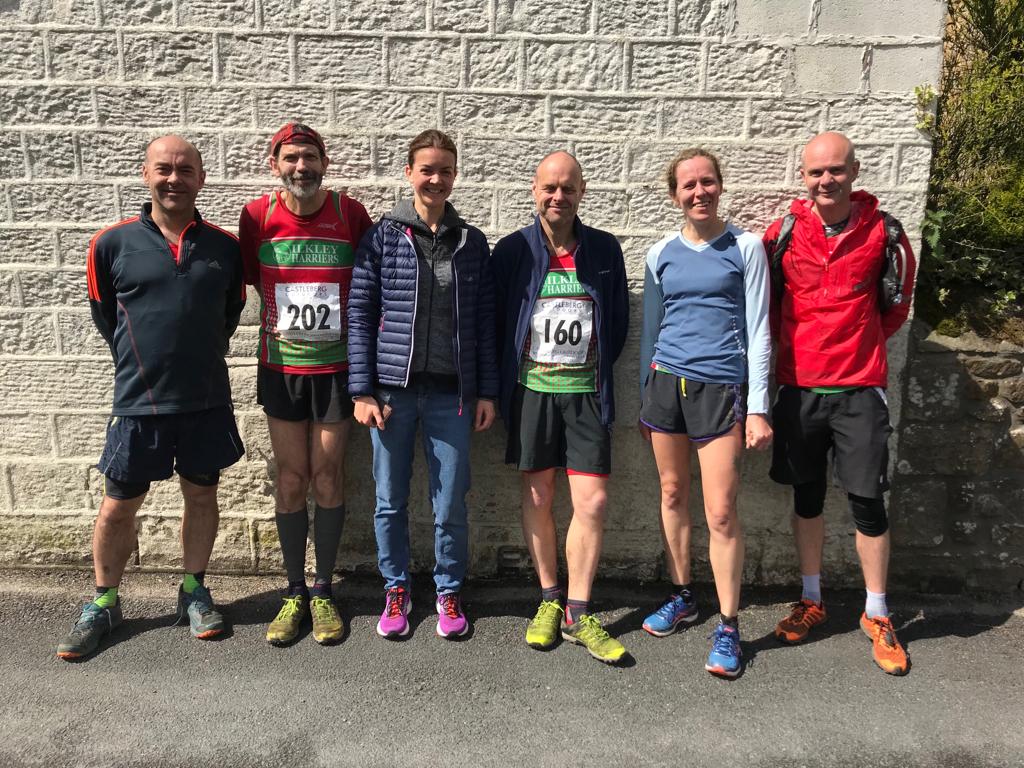 From Rachel Carter ... 13 Harriers took part in the Malhamdale Trail Challenge, described as a demanding half marathon, with approx. 1650ft of ascent, taking in landmarks such as Pikedaw, Malham Tarn, Goredale Scar and Janet's Foss. The event was very well organised with good and easy parking, registration and food provided afterwards in Kirby Malham village hall as part of the entry fee. The worst of the ascent came after a couple of miles - up Pikedaw, with much of the rest of the miles undulating on broad grassy paths, except for a steep descent round Gordale Scar. The course was marshalled and flagged but a few of us took a wrong turn (with some affected more than others) around mile 6 before cutting back to the course. There were some good performances across the age categories with Dave Robson and Kate Archer being the 1st Harriers home in this league race, in 4th and 7th place (2nd lady) respectively, and Colin Williams 1st MV50.
Results ...

(1  1:34:31 Julian Hood, Skipton AC)
4   1:43:44 Dave Robson
7   1:47:00 Kate Archer (2nd lady)
12  1:48:29 Rachel Carter (3rd lady)
13  1:48:49 Jonathan Turner
15  1:51:01 Colin Williams (1st V50)
39  1:59:50 Mike Duffield
48  2:01:36 Derek Oliver
60  2:06:49 Mark Judkowski
76  2:11:00 Peter Fergerson
109 2:24:47 Adela Reperecki
109 2:24:47 Elizabeth Price
144 2:36:46 Hilda Coulsey
159 2:47:23 Fiona Schneider

Flower Scar fell race, Sat 11 May
Yorkshire selecton for Jack, who helped the team to 4th place.
Results...

(1 54:16 Max Nicholls, Kent)
16 56:12 Jack Wood
166 finished

parkruns, Sat 11 May
From Petra Bijsterveld ... Results...

York
(1  15:48 Tim Stratton, City of York AC)
78  21:11 Geoffrey Howard
574 ran

Bradford
(1  17:22 Andy Burn, Jarrow and Hebburn AC)
151 27:34 Stephanie Fox
442 ran

Skipton
(1  18:06 Mike Crosby, U/A)
8   20:18 Will Buckton
25  23:25 Catherine Gibbons
36  25:09 Will Worboys
173 ran

Wetherby
(1  18:00 Daniel Linstrum, Wetherby Runners)
6   19:42 Nick Helliwell
96 ran

Whinlatter Forest
(1  19:36 Lewis Hinchcliffe, Rochdale Harriers)
3   22:12 Rob Cunningham
75 ran

Crissy Field (USA)
1   16:39 Ruaridh Mon-Williams
135 ran

Geoff Howard's time beats his own club v75 record.
John Carr 5k, Wed 8 May
From Caroline Howe... A drizzly night in Saltaire for the second in the new John Carr trail series. A nice multi-terrain 5k along the canal tow path. Well done to Jane on finishing 2nd lady and Jonathan for a pb!
Results...

(1 16:40 Michael Mayton, Baildon)
24 18:53 Jonathan Turner
34 20:20 Jane McCarthy
37 20:57 Tom Worboys	
59 22:17 Jann Smith	
60 22:21 Caroline Howe
76 24:03 Alison Bennett
81 24:24 Helen Waddington
120 finished

Cardiff 5k, Sun 5 May
From Caroline Howe ... congratulations to Jemima Elgood on breaking the club ladies record.
Results...

(1 14:13 Adam Hickey, Southend)
69 16:54 Jemima Elgood
1328 finished

Langtoft 10k, Sun 5 May
From Geoff Howard ... it may be small but its chip timing, excellent organisation and digital clock lead car show its aspirations aren't. In good conditions I managed to improve on my last 10k (Bradford) time, and the club v75 record, in 43m 19s and 57th place (358 finished). Aaron Scott of Hepston Harriers was first in a new course record on 30m 57s.
Up the Odda, Sun 5 May

1   37:20 Nathan Edmondson
31  48:21 Rob Budding
149 68:21 Sue Williamson
169 finished

parkruns, Sat 4 May
From Petra Bijsterveld ... Results...

Eastbourne
(1  16:50 Richard Jones, Eastbourne Rovers)
23  21:19 Andrew Merrick
361 ran

York
(1  16:01 Graham Rush, U/A)
25  20:03 Rhys Jones
550 ran

Bradford
(1  17:03 Huseen Usuie, Bingley Harriers)
160 26:29 Oscar Street
239 28:53 Paula Reynier
521 ran

Harrogate
(1  16:50 Chris Miller, Harrogate Harriers)
53  21:13 Tom Worboys
517 ran

Barnsley
(1  17:12 Gareth Cooke, Penistone Footpath Runners)
24  21:48 Beth Massey
187 ran

Cheltenham
(1  17:21 Matthew Rawlings, Reading AC)
8   18:49 Adam Rhodes
595 ran

Skipton
(1  17:42 Samuel William, Skipton AC)
27  22:41 Catherine Gibbons
61  25:43 Fiona Schneider
104 28:32 Andy Wolfenden
223 ran

Stretford
(1  16:54 Ben Hobson, Chorlton Runners)
54  20:17 Mike Abrams-Cohen
702 ran

Cliffe Castle
(1  18:04 Rob Byers, U/A)
5   20:08 Rob Cunningham
60  27:47 Chris Cunningham
191 ran

Centre Vale
(1  17:21 Andrew Worster, Vegan Runners)
52  25:37 Will Worboys
188 ran

Dick Hudsons fell race, Thu 2 May
From Jann Smith ... 7 miles / 1100ft A great concept ...start at the bottom of the track to White Wells ...take any route over to Dick Hudsons, touch the gate and come back any way you like. It was raining and a bit claggy leading to quite a lot of wrong route choices, slippy paving slabs and people getting a bit lost (including Istvan !) .. all adding to the fun.
Results ...

(1    48:45 Adam Stirk, Wharfedale)
3     51:16 Paul Carman             
5     52:28 Ben Sheppard           
7     53:28 Dave Robson             
10    54:32 Dave Foyston              
20    57:54 Roy Ruddle               
24  1:00:21 Helen Wood (2nd lady)
28  1:01:06 Istvan Jacso                
33  1:01:11 Robert Hamilton (1st MV60)
40  1:04:09 Jann Smith (1st LV40)
56  1:06:20 Mark Judowski          
69  1:09:19 Paul Stephens           
72  1:10:02 Matt Dodd               
79  1:11:07 Geoff White            
80  1:11:19 Keith Wood               
123 finished
Ilkley men were first team

John Carr 1 - The Trig, Wed 1 May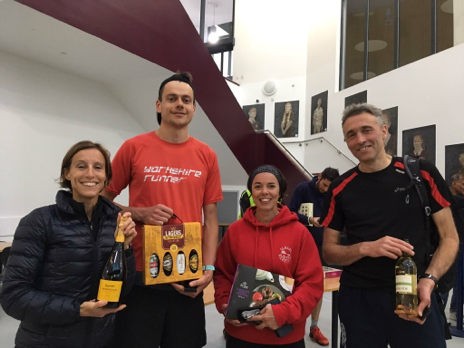 From Petra Bijsterveld ... The relaunched John Carr series started tonight with 'The Trig', an approximately 4 mile multi-terrain circular route from near Roberts Park in Saltaire, over fields, tracks, woods & moor to Baildon Trig point and back down. Perhaps the new format had made runners a little hesitant to enter this series, which has previously been a fast and furious 5k road race. Only 100 runners took part on what turned out to be a lovely evening for this quick jaunt up and down Baildon Moor with 700 feet of ascent. Immaculately organized by Saltaire Striders and Racebest, with dry underfoot conditions and a lovely sunset over the moor there was nothing to dislike. This was a counter in our race league and of the 9 Harriers taking part 4 won prizes! The next race is a flat 5K and the 3rd one a relay race, entries still available via Racebest.
Results ...

(1  24:53 Joe Baxter, Pudsey and Bramley AC)
2   25:44 Jack Wood
16  30:03 Jonathan Turner
18  30:12 David Westhead 1st MV50
26  31:49 Jane McCarthy 1st F
74  39:48 Helen Waddington 1st FV50
78  40:13 Alison Bennett
92  43:14 Hilda Coulsey
98  46:32 Petra Bijsterveld
99  46:38 Dawn Turner
110 ran

---
Outstanding Achievements, April
From the Committee ...
Kate Archer for 3:55 Three Peaks performance
Jemmima Elgood for setting a new new Harriers Ladies 10k record 35:33 at Salford
Geoff Howard for his new Harriers v75 5k record 21:13 at York
Ben Sheppard for Fellsman placing
All marathon runners in April, including Matt Cox 2:45 at London and Lucy Williamson 3:15 at Manchester.
Peter Shields for Wednesday training session
London Marathon, Sun 28 April

(1    2:02:37 Eliud Kipchoge, Kenya)
768   2:45:51 Matt Cox
5403  3:23:50 Dave Reynier
8286  3:36:58 Michael Abrams-Cohen
22045 4:27:41 Jill Ezzard
22098 4:27:52 Emma O'Looney
23825 4:34:28 Jacqui Weston
28478 4:52:39 Stephanie Fox
42,549+ finished

Three Peaks fell race, Sat 27 April

(1  2:50:22 Brennan Townshend, Keswick)
44  3:34:16 Jack Wood 
121 3:55:11 Kate Archer
122 3:55:12 Dan McKeown
128 3:56:05 Paul Carman
198 4:07:32 Will Buckton
310 4:25:05 Paul Castle
327 4:28:53 Michael Lomas
462 4:46:32 Dick Waddington
487 4:49:51 Paddy Sturman
426 4:43:26 Paul Calderbank
499 4:51:09 Alison Weston
670 finished

The Fellsman, Sat 27 April
From Colin Williams ... On Saturday morning Ben Sheppard and myself started the 57th Fellsman race, the weather was both wet and windy with the addition of driving hail on the summits. Ben finished in an impressive 12th in a time of 12 hrs 53 minutes, I was pleased to complete the race in 57th in 16 hrs 28 minutes 1.5 hrs faster that I have completed it before The full results are still to be announced.
From Ben Sheppard ... As well as me and Colin Williams, the Harriers contingent included the returning Steve Turland and the debutant (for this event at least!) Brian Melia, both also finishing in good times. The weather turned out a bit less challenging than forecast, but I didn't regret my choice to start and continue in full waterproofs. Entirely predictably I got carried away from the off, too busy nattering with acquaintances to listen to the voice in my head saying "this is way too fast". By Dent (20 miles and probably 5,000 ft) I was spent. The next 20 miles was a slow hard slog as I dropped a few places and lost my spork and almost my mojo. The final 20 miles was painful but the temptation to bail out faded away as the warm shower and hot meal became nearer. Latching onto a couple of strong-finishing Fellsman veterans for the last 10 miles dragged me to a PB and a three-way joint 10th place. It is a wonderfully challenging but low-key and friendly event.
parkruns, Sat 27 April
Beth Massey was first lady at Bradford, 18th overall; and Nick Helliwell was 3rd at Skipton with Catherine Gibbons 2nd lady there.
Results...

Bradford 
(1  17:03 Huseen Usuie, Bingley Harriers)
18 21:32 Beth Massey - 1st lady
342 runners

Cliffe Castle
(1  20:22 Sam Packham, U/A)
37  28:32 Fiona Schneider
121 runners

Orpington 
(1  18:40 Daniel Pink, U/A)
26  23:09 Geoffrey Howard
174 runners

Skipton
(1  19:19 James Annan, Settle Harriers)
3   20:17 Nick Helliwell
21  23:44 Catherine Gibbons - 2nd lady
79  28:18 Mark Scothon
159 runners

Evensplits Leeds 5k, Wed 24 April
From Hilda Coulsey... It was blustery and grey, threatening rain after earlier thunderstorms at the Brownlee Centre for this race, third in the 2019 series and chosen as a Harriers League counter. There was lots of competition amongst the men. Well done to Dan McKeown first Harrier home and some brilliant times from the others. Watching the A race was fascinating as Joe Sagar finally overtook Jonny Johnson, Rotherham, in the final straight after Jonny led for the whole of the rest of the race. The young Junior, James Greenay, looks one to watch for the future. I was the only Harrier in the earlier B race, some competition would be helpful for me too!
Results ...

(1  15:52 Joe Sagar,Spenborough)
16  17:27 Daniel McKeown 
36  18:22 Stephen Coy 
41  18:30 Nathan Coy 
42  18:43 David Foyston 
45  18:54 David Westhead 
57  19:14 Jonathan Turner 
65  19:26 Steve Murray 
68  19:31 Colin Williams 
100 21:22 Steve Newell 
104 21:29 James Greenlay 
166 25:32 Hilda Coulsey 
205 completed

Guiseley Gallop, Sun 21 April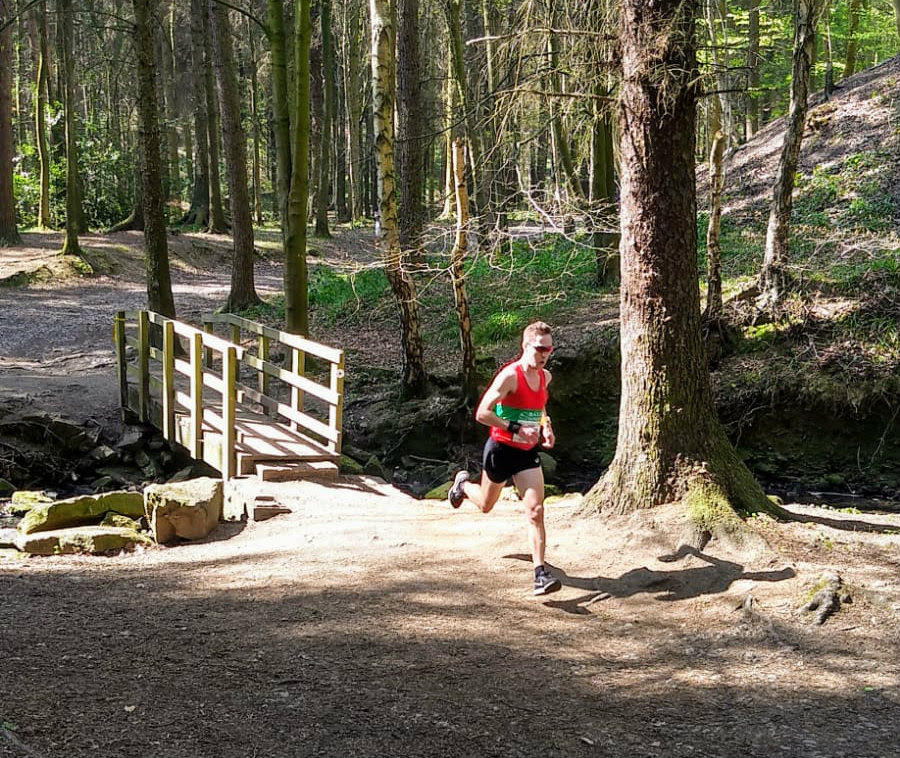 From Jonathan Turner ... Nathan Edmondson was an unlucky second in the Guiseley Gallop on Easter Sunday. Leading the way on the second circuit, he was momentarily sent the wrong way with just over a kilometre to go when lapping runners and suddenly found himself pushed from first place to a minute behind. A great recovery put him right back in the mix but it was too much of a deficit to bridge in such a short space of time, and he had to settle for second, 21 seconds behind winner Matthew Hallam of Valley Striders.
Results ...

(1  36:54 Matthew Hallam, Valley Striders)
2   37:15 Nathan Edmondson
18  41:23 Tim Ashelford	1st M55
31  43:38 Rob Cunningham
73  48:27 Beth Massey	1st F45
92  50:00 Robert Budding
198 56:22 Adela Reperecki 1st F55
253 60:09 Alison Bennett
262 60:58 Sheena Pickersgill
298 64:20 Chris Cunningham
312 65:31 Debbie Jukes
322 66:14 Sue Harris
336 67:36 John Marshall
387 71:53 Ruth Jones
426 finished

Newlands Memorial, Sat 20 April
From Nick Helliwell ... David Foyston and I ran the inaugural Newlands Memorial race on Saturday, which used to be called the Anniversary Waltz. It was a baking hot day, brilliant for views, terrible for running 19km over the Lakeland fells. Still, run it we did, and in retrospect we enjoyed it, though it was hard to feel that way with 2,000ft of near-vertical Robinson in front of you, on the hottest day of the year. We couldn't carry enough water, as our bags were packed with full body cover, hat and gloves (!), but both of us made it to the end and are able to laugh about it now, with tears running down our faces... How hard can 19km be??
Results ...

(1  1:40:50 Rob Jebb)
96  2:23:34 Nick Helliwell
121 2:30:10 David Foyston
291 finished

parkruns, Sat 20 April
Plenty of Harriers turned up to celebrate the 300th Skipton parkrun, Rachel Carter led them home in ninth overall - the second lady - with a superb sub-20-minutes time on a course which features narrow paths and plenty of momentum-losing turns.
Results....

Skipton
(1  17:01 Unknown)
9   19:53 Rachel Carter
18  20:45 Colin Williams
72  24:23 Ethan Thompson
74  24:27 Dylan Shinn
93  25:35 Fiona Schneider
101 25:51 Oscar Shinn
152 28:41 Andy Wolfenden
168 29:21 Bernie Gibbons
277 runners

Woodhouse Moor
(1  17:02 Michael Vargas, Hyde Park Harriers)
29  20:21 Tom Worboys
426 runners

Cardiff
(1  15:40 Unknown)
14  17:04 Alex Hirst
846 runners
 
Bradford 
(1  17:00 Unknown)
41  21:42 James Lee
208 27:04 Sarah Haines
619 runners

Harrogate parkrun
(1  16:39 Mark Ryall, Marshall Milton Keynes AC)
13  18:50 Robin Nicholson
34  19:55 Charlotte ast
82  22:01 Geoff Howard
568 runners

Burnley
(1 16:32 Matthew Lalor, Ribble Valley)
235 31:06 Neve Tennant
367 runners 

Exmouth
(1  14:44 Tom Merson, Exmouth)
55  21:25 Nina Pearce
502 runners

Salford 10k, Fri 19 April
A new club ladies record by Jemima, beating the 2014 time of 36:22 by Nicky Green.
Results ...

(1  31:03 Norman Shreeve, Cambridge & Coleridge)
62  35:33 Jemima Elgood, 4th lady
208 42:33 Adrian Bastow
232 43:23 Sally Malir 
605 finished

Paris Marathon, Sun 14 April
From Caroline Howe... This was marathon #18 for David (6th Paris) and #5 for me. David has long been a fan of this race, and now I know why... it takes in all the main sights of this beautiful city (it made me laugh that they have signs pointing out the Eiffel Tower!), the support is fantastic (and at times a bit crazy!), it's well organised and there is no ballot. It's iconic, with the start and finish on the Champs Elysees, the Arc de Triomphe stunning against the morning's blue skies. We were very lucky with the conditions - crisp and cold but bright. My training for this had not gone to plan due to various interruptions (excuses, excuses!) whereas David, having had a rare 18 months off marathons, got back into the swing, so we suspected our times might end up being quite similar (but heaven forbid we would run it together!) My race went to plan, and I was pleased to keep an even pace throughout, crossing the line in 3:55, and actually enjoying (most of) it! Normal order was restored with David finishing 6 minutes ahead of me in 3:49. A wonderful marathon, highly recommended!
Results ...

(1    2:07:05 Abrha Milaw, )
14881 3:49:06 David Howe 
17835 3:55:00 Caroline Howe 
421965 finished

Flat Caps 10K, Sun 14 April
From Colin Williams ... I ran the Flat Caps 10K at Sowerby Bridge, the only flat part of it are the caps that some of the runner wore, The first 5k is a continual climb, climbing a total of around 1,000 feet the second half was a lot easier down hill most of the way with just a little climb half a kilometre from home. The route is on open roads but with very little traffic and lots of marshals. A very friendly event and well worth running (if your not looking for a PB). I came 14th and was the first V50
Results ...

(1 39:03 Joseph Crossfield, Halifax Harriers & AC)
14 45:35 Colin Williams
258 finished

3 Bridges 10k, Lancaster, Sun 14 April

(1  33:47 Ross Campbell, Barrow In Furness Striders)
134 48:44 Peter Shields, 1st V70
386 ran

Vale of York 10-mile, Sun 14 April

(1     53:47 Steve Littler, Wesham Road Runners & AC)
118  1:09:55 Beth Massey, 3rd LV45
1216 ran

Skipton Triathlon, Sun 14 April
From Val Kerr ... A dry but cold day for this year's Skipton triathlon. This was only my second triathlon and I was pleased to finish in only a few minutes slower than last year. The cold gusts of wind during the bike stage were numbing to the legs making the first 1/2 lap of the run quite difficult. However I was happy to eventually get going and overtake a few folk in the process. This is an extremely well organised and firendly triathlon and is great for novices. There were some fantastic results for a number of Harriers spotted amongst the finishers.

(1  1:00:04 Carl Shaw)
8   1:08:47 Steve Coy
387 1:44:15 Val Kerr (3rd LV60)

Burnsall Half Marathon, Sat 13 Apr
From Jayne Norman ... The 2nd year the Burnsall Half Marathon event has been run by Due North, and a truly well organised, and well waymarked race, so minimal marshals are needed. A sunny breezy day helped runners keep cool on the day. The figure of eight course was great, with plenty of climbs and descents in and around the Wharfe Valley.
Results ...

(1  1:27:20 Ted Mason, Wharfedale)
156 2:37:43 Jayne Norman
214 finished

parkruns, Sat 13 Apr
From Petra Bijsterveld ... Results ...

Bradford
(1  17:33 Martin Fillingham, Saltaire Striders)
47  23:42 Oscar Street
183 29:31 Paula Reynier
379 ran

Pontefract
(1  17:51 Michael Grain, Barnsley Harriers)
12  20:06 Colin Williams
367 ran

Portrush
(1  19:55 David O'Neill, Springwell RC)
89  27:29 Hilda Coulsey
232 ran

Skipton
(1  17:20 unknown)
99  27:53 Karen Lambe
219 ran

Cliffe Castle
(1  18:03 Rob Byers, U/A)
65  27:27 Fiona Schneider
183 ran

Myrtle
(1  17:41 Huseen Usuie, Bingley Harriers)
26  23:09 Geoff Howard
187 ran

Centre Vale
(1  18:52 Diarmuid Pritchard, U/A)
46  26:01 Will Worboys
147 ran

Rothwell
(1  16:31 Ben Butler, Wakefield District Harriers)
114 25:33 Petra Bijsterveld
388 ran

York 5K Series race 3, Thu 11 April
From Geoff Howard ... The event optimises your chances of a good time having a flat and smooth surface with no sharp bends and a field of only about fifty so I was pleased to run my second best time in three years reducing the club v75 record.
Results ...

(1 15:45 Chris Smith, Leeds)
67 21:13 Geoff Howard
97 finished

Blubberhouses Moor 25, Sun 7 April
From Will Buckton ... The LDWA's 23.8 mile route covers a variety of terrain and passes Fewston and Swinsty Reservoirs, Bolton Abbey, Beamsley Beacon, Round Hill and Timble. The ground was drier than my two previous attempts and I finished 10th in 3h27 out of 197 runners and walkers.
Results ...
Baildon Boundary Way, Sun 7 April

(1  1:23:06 Nattthew Hallam, Valley Striders)
5   1:25:59 Istvan Jacso
42  1:38:44 Paul Castle
48  1:40:13 Robin Nicholson
49  1:40:27 Rachel Carter
60  1:42:49 Colin Williams
61  1:42:52 Jane McCarthy
71  1:45:51 John Hayes
88  1:49:18 Peter Shelley
122 1:54:25 Stephen Newell
180 2:02:08 Mark Judkowski
220 2:07:10 Harry Sime
222 2:07:21 Adela Reperecki
240 2:10:11 Peter Shields
306 2:22:57 Helen Doyle
316 2:25:21 Petra Bijsterveld
322 2:27:23 Sarah Hayes
328 2:29:06 Paula Reynier
338 2:33:05 Michael Picken
344 2:35:35 Amanda Newham
387 finished

Greater Manchester Marathon, Sun 7 April
From Sue Williamson ... Lucy beat her PB by 29 minutes 43 seconds.
Results ...

(1   2:21:34 Aaon Richmond, Bideford)
261  2:51:30 Dan McKeown
1180 3:10:14 Dick Waddington
1728 3:14:12 Lucy Williamson
6012 3:58:15 Helen Waddington
13649 finished

Port of Blyth 10k, Sun 7 April
From Hilda Coulsey... I ventured to the Northumberland coast on Sunday to run this well sponsored and supported 10k. This was my first excursion in a British Masters AF event which was delightfully friendly (BMAF chose to join this local event for their annual road 10k). I was slightly intimidated as the convention is, in these BM events, to wear your age category as a target on your back but it amused me that it seemed to be younger runners chasing, I didn't see a single V65 during the race at all! The age category winners posted astoundingly good times. The race itself was flattish along the coast, a few sand dune bumps and back along a main road footpath. It was very misty hence any potential sea views were not visible.
Results ...

(1   31:17 Noah Hurton Milton Keynes )
(239 45:09 Dorothy Kesterton Sheffield Steel City, 1st FV65)
370  52:16 Hilda Coulsey 4th FV65
564 finished 

Toronto MEC 10k, Sun 7 April
From Jim Ryder... I took an opportunity to enter the Toronto MEC 10k race in Canada. One of a series of races organised by the Mountain Equipment Company - a great outdoor shop/co-op across Canada. A rare road race for me - I think only my 5th 10k. It was a friendly low key event, with options of 5k, 10k and half marathon which encouraged a wide range of entries and a good atmosphere. It was out and back along the lakeshore, pretty flat with a strong initial tailwind - so faster out than back.

(1 34:37 Rob Bark
18 39:37 Jim Ryder, 1st V50
498 ran

Howgill fell race, Sat 6 April

(1  2:28:05 Carl Bell, Keswick)
128 3:27:10 Kate Archer
181 3:45:22 Alison Weston
245 4:09:37 Duncan Cooper
304 finished

parkruns, Sat 6 Apr
From Petra Bijsterveld ... Results ...

Bradford
(1  16:39 Matthew Merrick, Aldershot, Farnham and District AC)
17  20:45 Michael Abrams-Cohen
26  21:47 Dave Reynier
55  23:35 Oscar Street
109 25:38 Steph Fox
164 27:46 Paula Reynier
409 ran

Skipton
(1  17:56 Lee Athersmith, RAF AC)
9   20:40 Rob Budding
63  25:53 Fiona Schneider
205 ran

Fountains Abbey
(1  16:40 Sebastian Hall, West End Runners)
55  22:00 Geoff Howard
398 ran

Wetherby
(1  18:11 Joseph Kwallah, Wetherby Runners)
7   19:34 Nick Helliwell
112 ran

Bramley
1   16:42 Nathan Edmonson
190 ran

Clapham Common
(1  15:06 unknown)
46  19:23 Rob Cunningham
789 ran

Bunny Run 1, Tue 2 April
As well as the seniors below, many juniors running, helping Ilkley to first ladies' team.
Results ...

(1  16:16 Michael Matyon, Baildon)
41  20:14 Pauline Munro
56  21:24 Rob Budding
81  23:18 Steve Newell
159 finished

---
Outstanding Achievements, March
From the Committee ...
Caroline Howe for getting teams together for the Yorkshire and Northern road relays together with Istvan Jasco as well as Caroline individually for work on these relays for the club this month.
Yorkshire relay ladies bronze medallists - Kate Archer, Rachel Carter, Beth Massey, Sally Armitage
Euan Brennan for World XC champs
Jemima Elgood, 1st lady, Bradford 10km (and being 1sec off the all time IH record!)
Kate Archer for great racing this month
Jonathan Turner, sub 40 10km at Bradford
Mike Abrams-Cohen for Spen 20 and general dedication to training
Hilda Coulsey and Geoff Howard for club records set this month and Jayne Norman for half marathon PB at the Settle Saunter
World Cross Country Championships, Sat 30 Mar
Euan Brennan represented Great Britain and Northern Ireland in the men's under-20 event at Aarhus, Denmark. The race was won by Ethiopia's Milkesa Mengesha in 23:52: Euan finished 50th in 26:55, 3rd Brit, helping his team to 8th place, the first of the European teams.
See him on BBC catchup, the U20 race starts at about 1h50 in.
Yorkshire Road Relay Championships, Sat 30 Mar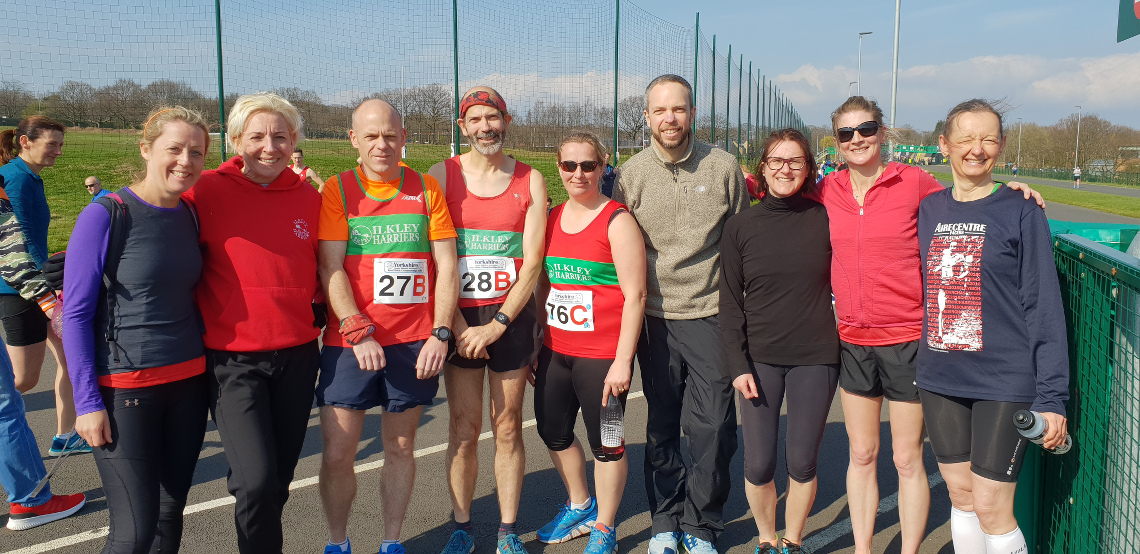 From Caroline Howe and Istvan Jacso ... The ladies managed to field 3 teams, made possible by some last minute stand-ins (thanks Kate and Jayne!) And what a result by our A team of Kate, Rachel, Beth and Sally A who all went well under 20 mins, and finished in bronze medal position, out of 35 teams!! Great performances too in both the B and C teams, to finish 19th and 27th respectively. There were a number of impressive PB and SB-pace runs across all teams (a shame the course was just short of 5k!), with the team dimension seeming to spur everyone on to perform at their best. The team spirit was fantastic, with lots of cheering each other on round the track. In total 15 IH ladies have taken part in either the Northerns or Yorkshires in the past week, and it is really great to see such enthusiasm for these sorts of events and hopefully something we can continue and build on in future years!!
This year we were able to enter two mens teams, so together with the three womens teams, it was a great turnout by the Harriers at the Brownlee Centre. Some of us were slightly surprised that the circuit, known about runners posting fast 5k times on it has a "hill" and it's not completely flat. I think by the end of the day we all proved that this is still indeed a fast course despite that, as most of us posted unofficial 5k PB times, however the distance of each legs were officially 4.8k. It was Nathan and Steve who started the race, both were benefiting slightly from running with others around them which was helpful in the windier parts of the course. Both of them gave an amazing start for the two teams in 9th and 40th place. Next ones were Dave and Colin who both said that the third lap was pretty tough! Third runners were Nick and Mark completing the changeover in 24th and 42nd place. Bringing home the virtual baton were Istvan and Mike. Istvan nearly missed the changeover while Mike experienced a bit of fatigue after a recent 5k. At the end, team A finished 17th and team B came home in 39th out of 49 teams who completed the race which is a solid result and we all enjoyed the day!
Results ...

Ladies
1 73:01 Holmfirth
2 75:54 RZH
3 76:35 Ilkley A
        18:34 Kate Archer
        19:04 Rachel Carter
        19:46 Beth Massey
        19:11 Sally Armitage
19 87:07 Ilkley B
        22:12 Caroline Howe
        21:55 Abigail Swales
        22:00 Tracey Watson
        21:00 Sally Malir
27 94:27 Ilkley C
        22:16 Jane Bryant
        24:32 Petra Bijsterveld
        24:15 Jayne Norman
        23:24 Helen Waddington
35 teams

Men
1  60:25 Hallamshire
17 68:35 Ilkley A
        15:35 Nathan Edmondson
        17:52 David Foyston
        18:53 Nick Helliwell
        16:15 Istvan Jacso
39 76:37 Ilkley B
        18:07 Steve Murray
        19:10 Colin Williams
        20:22 Mark Iley
        18:58 Michael Abrams-Cohen
49 teams

Coniston 14, Sat 30 Mar

(1  1:13:32 Lewis Rodgers, Loftus & Whitby)
895 2:17:20 Dave Ibbotson
1280 finished

Mother's Day 10k, Lancaster, Sat 30 Mar
From Pete Shields ...

(1 32:32  Jack Turner, Lancaster University)
88 51:39  Peter Shields 1st V70
257 ran

LM42 NAV4Adventure, Sat 30 Mar
From Brian Melia... I ventured up to Askham, near Penrith for the start of this 42 mile Lakes Mountain race, run by Joe Faulkner. Super friendly with lots of good runners. It runs over Loadpot up to High Street on beautiful grassy tracks. Then by Angle tarn down to George Starkey hut, for refreshments. There was a great crew of helpers. I ran most of the day with a friend Matt Neale, who helped with my Joss Naylor. We continued over to Wythburn church via Grisedale tarn with Tom Hollins tagging on. This is the same checkpoint as on the Old County tops. The only problem was we needed to ascend up to Helvellyn, which is some climb. I had sore feet and was a little tired so dropped behind on the climb. Only to be caught by another good friend. We ran over to Whiteside then back to George Starkey where I needed a rest as feet annoying me. It is then just a pleasant trot back over Place Fell and back under the hills to Askham for lovely homemade soup and tea ... .A perfect day in the mountains ... apart being a little slow.
Finished 10hours 11 minutes in 64th place.
parkruns, Sat 30 Mar
From Petra Bijsterveld ... Results ...

Woodhouse Moor
1   16:19 Jack Wood
593 ran

York
(1  16:29 Chris Poulton, York Acorn RC)
47  19:48 Rhys Jones
606 ran

Bradford
(1  17:51 Martin Fillingham, Saltaire Striders)
19  21:38 Dave Reynier
50  23:26 Oscar Street
81  24:39 Tom Lally
83  24:50 Adela Reperecki
155 27:50 Paula Reynier
409 ran

Skipton
(1  17:46 Lee Athersmith, RAF AC)
111 29:19 Bernie Gibbons
198 ran

Wetherby
(1  18:51 Joseph Kwallah, Wetherby Runners)
17  23:16 Geoffrey Howard
88 ran

Cliffe Castle
(1  21:42 Joe Atherton, Keighley and Craven)
36  27:18 Fiona Schneider
60  29:22 Karen Lambe
161 ran

Evensplits 5k Leeds, Wed 27 Mar
From Hilda Coulsey... Results ...

(1  16:01 Jonny Johnson, Rotherham Harriers )
32  17:52 Stephen Coy 
63  19:06 Harry Stead 
64  19:07 Michael Abrams Cohen
142 23:42 Alison Bennett 
169 25:44 Hilda Coulsey 
203 finished

Northern Road Relays, Sun 24 Mar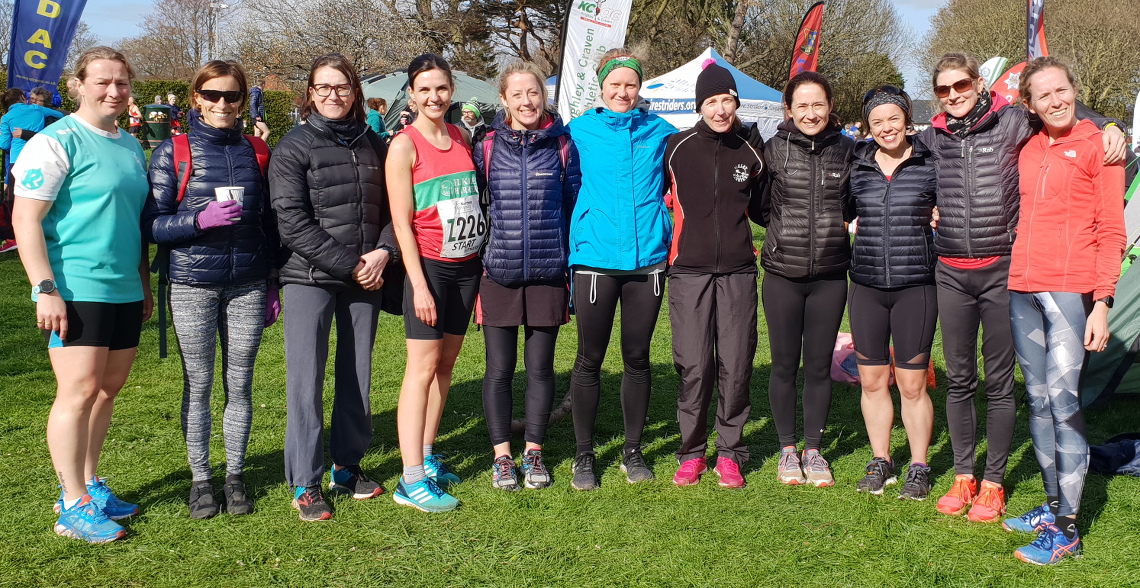 From Caroline Howe ... It was a bright, sunny, breezy day in Birkenhead for the Northern Road Relays, at which the Club managed to field two teams. It had been touch-and-go as to whether this would be the case, so many thanks to the late joiners Jayne and Tracey who ensured we were able to make up a second team!
The race consisted of two longer legs of 8k and four shorter legs of 4k, all around the pretty Birkenhead Park. Apart from the first leg, the field is fairly spread out, with the men's and women's races taking place at the same time, so it feels a bit like a parkrun. The atmosphere was very relaxed and sociable, with those who had already run or waiting to run able to enjoy spectating. So it had a real 'day out' feel!
For most of us this was our first experience of this sort of event, and it was a great way to meet some new faces while representing the club at what is a prestigious, championship event with a very high quality field.
Our A team performed spectacularly, finishing in 14th position out of 64 teams in total (54 of which completed the race) - equalling the highest position the club has ever achieved at these championships, and with very fast individual performances. The B team finished in a respectable 42nd place, again, with everyone putting in great individual times.
But most importantly, we all enjoyed the day immensely and are keen to return! These events really are open to everyone - from the top class runners, to those who simply want to challenge themselves in a team environment over an unfamiliar distance. I urge everyone to consider joining us next time!
Results ...

Women
(1 1:47:30 Rotherham)

14 2:04:12 Ilkley Harriers A
Jane Mccarthy    (25) 30:51
Sarah Pickering  (22) 15:12
Beth Massey      (19) 15:52
Rachel Carter    (18) 30:34
Sally Malir      (15) 16:15
Sally Armitage   (15) 15:28

42 2:23:58 Ilkley Harriers B
Abigail Swales   (51) 35:40
Nicky Liptrot    (45) 17:10
Tracey Watson    (41) 17:08
Helen Waddington (42) 38:17
Jayne Norman     (45) 19:21
Caroline Howe    (43) 16:22

54 teams completed

Wilmslow Half Marathon, Sun 24 Mar
From Petra Bijsterveld ... Hilda and I were the only Harriers today at the 'Wilmslow Festival of Running' which incorporates a half marathon, a 10K, and fun runs for the juniors. I had run the 2018 version with 'bonus' heat (it had been moved to June due to snow in March), this year the race was back in its normal slot and we had excellent running weather, cool with sunshine and a manageable breeze. It's a good, traffic free course which goes through pleasant suburban countryside and many locals come out to offer support. Impeccably organized with a fab medal there really is nothing to dislike. The obvious downside is that you have to run 13.1 miles. I had no particular expectations regarding time, though I hung around the 2 hour pacer until about half way. Then the legs started to complain rather loudly, not helped by there being rather more uphill in the second half. I slowed quite a bit but was pleased to at least not walk. Hilda did rather better and managed to set a new FV65 club record for the HM distance, knocking more than 6 minutes off the previous record which had been held by Margot Dale since 2007.
Results ...

(1   1:05:26 Nigel Martin, Sale Harriers)
1858 1:58:33 Hilda Coulsey
2135 2:04:26 Petra Bijsterveld
2836 finished

Wakefield 10k, Sun 24 Mar

(1  32:05 Joe Sagar, Spen)
414 49:34 Pete Shields 1st V70
1723 runners

Edale Skyline fell race, Sun 24 Mar
From Alison Weston ... A brilliant performance from Kate Archer in this classic skyline race - 4th lady, 1st LV40 and a PB by well over 30 minutes! I got round the 21 miles as 2LV50 but it felt very hard and a long way behind Kate! A new record this year by Carl Bell.
Results ...

(1  2:34:11 Carl Bell, Keswick)
49  3:27:35 Kate Archer
201 4:19:21 Alison Weston
286 runners

Heptonstall Fell Race, Sun 24 Mar

(1  1:50:22 Phil Marsden, Horwich Harriers)
82  2:24:53 Helen Wood
211 2:56:16 Mark Judowski
235 3:05:37 Adela Reperecki
279 finished

Yorkshire Cakeathon, Sat 23 Mar
From Colin Williams... On Saturday afternoon I took part in the Yorkshire Cakeathon, a race that you can run as many 6.55 mile laps in 6 hours and you get to eat a piece of cake after each lap, hence the name. I started off well, but after 4 laps (26.4 miles) I was done in and decided to stop. A race for those who like cake, I find it difficult to eat during a race, but enjoyed in after I finished.
I finished third in the marathon, in a time of 3:48:57
Results ...
parkruns, Sat 23 Mar
From Petra Bijsterveld ... Results ...

Bradford
(1  17:15 unknown)
10  20:08 Michael Abrams-Cohen
23  21:40 Dave Reynier
73  24:10 Oscar Street
154 27:27 Paula Reynier
463 ran

Clapham Common
(1  17:23 Christoph Neumayer, U/A)
24  19:22 Rob Cunningham
754 ran

Stretton Hills fell race, Sun 17 Mar
English Fell Champs counter ... Results ...

(1  45:04 Carl Bell, Keswick)
164 58:39 Iain Gibbons
269 68:43 Alison Weston
339 finished

Bradford 10k, Sun 17 Mar
From Helen Waddington ... So many incredible performances despite the inclement weather. A great turnout for this League counter - PBs, Sub-40 first-timers, high category placings and an amazing and what I assume must be a new V75 Club record from Geoff Howard who cruised past me around mile 4.
From Pete Shields ... Well done to Geoff Howard who is top of the GB Rankings for the MV75 10k after this result.
Results ...

(1  32:24 Joe Sagar, Spen)
10  35:18 Istvan Jacso
15  36:23 Jemima Elgood 1st lady
32  38:21 David Westhead 2nd V50
68  39:37 Jonathan Turner PB
69  39:37 Kate Archer 3rd lady, 1st F40
84  40:21 Steve Murray
92  40:57 Colin Williams
115 41:42 Sarah Pickering
136 42:19 Michael Abrams-Cohen
405 45:43 Geoffrey Howard 1st V75
535 49:19 Helen Waddington
771 52:39 Alex Stanley-Hyde
958 55:11 Michael Picken
1027 54:46 Dawn Turner PB
1029 55:16 Paula Reynier
1092 55:30 Ruth Jones
1931 65:25 Diane Ollier
2445 finished

Thirsk 10M, Sun 17 Mar

(1  53:38 Rob Scott, RZH)
5   54:53 Jack Wood
224 71:23 Sally Malir 2nd F50
1040 finished

Muncaster Luck fell race, Sun 17 Mar
From Jim Ryder ... Muncaster Luck fell race takes in a few lower fells, two river crossings, moorland, tussocks, bog - a little bit of everything. Nice low key event in Western Cumbria. I was 10th and 2nd V40 in a field of 41 in 1h51. 11.3 miles, 2000ft
parkruns, Sat 16 Mar
From Petra Bijsterveld ... Results ...

Woodhouse Moor
(1  18:05 Neil Armitage, Pudsey and Bramley AC)
5   18:40 Tim Ashelford
402 ran

Cardiff
(1  15:56 Benjamin Reynolds, Cardiff AAC)
13  17:18 Alex Hirst
744 ran

Bradford
(1  18:20 Martin Fillingham, Saltaire Striders)
17  22:34 Dave Reynier
23  23:01 Caroline Howe 2nd F
62  26:23 Alex Stanley-Hyde
109 29:27 Paula Reynier
209 ran

Roundhay
(1  18:19 Daniel Josephs, South Shields Harriers)
44  24:00 Tom Worboys
259 ran

Newborough Forest
(1  18:25 Rory Johnson, Eryri Harriers)
2   19:26 Lucy Williamson
82 ran

Myrtle
(1  18:49 Matthew Warters, Keighley and Craven AC)
59  28:13 Petra Bijsterveld
123 ran

Selection news
From Dave Woodhead ... Euan Brennan has been named in the British Team for the IAAF World XC Championships in Aarhus, Denmark, later this month. Info.
League update
From Jane McCarthy ... A great start in the 2019 Harriers League with nearly 40 runners enjoying either the Meltham 10K, Harewood Half Marathon or Ilkley Fell Race. Steve Newell tops the table after declaring his Wildcard from the Cambridge Half Marathon. Well Done Steve! But not far behind and having run one race less is Kate Archer, her Wildcard coming from her win at the Rombalds Stride and earning her an impressive 105 points for the League. League winner from 2018 Colin Williams is in third place. Jack Cummings has started his Fell League campaign with another maximum 100 points from his fantastic win at the Ilkley Fell Race. The next League Race is the Bradford 10K on Sunday 17th March.
2019 results tables @ 11 Mar
Please note that all races are now confirmed (see League page) and include Evensplits 5K on 24th April, John Carr Trail Race 1 on 1 May (open for entries on RaceBest now) and Harrogate & District Summer Road League (HDSRL) race 3 on 20th June at Yeadon (Dragons Running Club) - details and HDSRL entry on the HDSRL website.
Spenborough 20, Sun 10 Mar
From Michael Abrams-Cohen ... Flying the flag for Ilkley at the Spenborough 20 Mile - starting on the Queen Mary's track before heading out on two 10 mile laps. All weather was experienced - starting with rain, then sleet and snow before finishing with glorious sunshine. With 1500ft elevation, it was the perfect practice for London.
Results ...

(1 1:56:22 Lewis Gamble Thompson, New Marske)
70 2:35:36 Michael Abrams-Cohen
187 finished

Liverpool Landmarks Half Marathon, Sun 10 Mar

(1  1:11:00 Daniel Kestrel, Rotherham Harriers & AC)
131 1:30:10 Dick Waddington
191 1:33:53 Jane McCarthy - 1st F45
3,046 finished

Trafford 10k, Sun 10 Mar

(1  29:26 Bart van Nunen, U/A)
250 40:22 Nick Helliwell
888 finished

Dentdale 14, Sat 9 Mar

(1  1:23:13 Nick Leigh, Horwich RMI Harriers & AC)
6   1:27:51 Dan McKeown
252 2:28:15 David Ibbotson
283 finished

Dentdale 7, Sat 9 Mar

(1    43:18 Mark Kearney, Elvet Striders)
154 1:20:47 Elaine Ibbotson - 1st F60
189 finished

Haworth Hobble ultra, Sat 9 Mar
From Colin Williams ... On Saturday I took part in my first Haworth Hobble along with another Harrier Adela Reperecki, we experienced all of the weathers in one day starting in the rain, but got hail and sunshine too, but the hardest to cope with was the strong, strength sapping, head wind, which we ran into for the first 10 miles or so. The very hilly 32 mile route with over 5,000 ft. of climb (according to my Garmin) I found to be a tough run under those conditions.
Results ...

(1  4:22:59 Rory Harris, u/a)
88  5:56:45 Colin Williams 
167 6:47:30 Adela Reperecki 
294 finished                     

parkruns, Sat 9 Mar
From Petra Bijsterveld ... This week Oscar Stapleton was first finisher at Riverside (Chester-le-Street) and closer to home Rachel Carter was first woman home at Skipton. Mark Mon-Williams flew the Harriers flag at a rather small parkrun in Toulouse. Numbers wise the inaugural parkrun in Centre Vale park in Todmorden was a huge success, with almost 200 people turning out on an unpleasant day weather-wise. Our own Will Worboys has been instrumental in setting this new parkrun up, well done Will!
Results ...

Bradford
(1  17:45 Andrew Humphries, Airecentre Pacers)
41  22:39 Dave Reynier
177 28:52 Paula Reynier
354 ran

Riverside
1   16:55 Oscar Stapleton
436 ran

Skipton
(1  17:43 Chris Ovenden, U/A)
7   20:37 Rachel Carter 1st F
9   21:19 Martin Archer
57  27:02 Fiona Schneider
176 ran

De La Ramee 
(1  18:59 Jerome Costinot, U/A)
2   20:04 Mark Mon-Williams
14 ran

Centre Vale
(1  17:58 Alex Whittem, Calder Valley Fell Runners)
39  24:07 Tom Worboys
197 ran

From Geoff Howard... The Fountains Abbey Park Run was abandoned today because of a 'major medical incident' namely that one of the runners (called Paul) had had a cardiac arrest within minutes of the start. I was stopped after 8m 10s which in retrospect I estimated must have been about as far away from the incident as it was possible to be. This indicates just how quickly a marshal, spectator or competitor had managed to contact the Run Director, who having made the decision to abort the event, had then contacted other marshals including the one who stopped me. This evening I received a copy of a message from Paul's wife which said that "Paul was in Harrogate Cardiac Unit and things were looking good, adding that the swift action taken had saved his life". It served to remind me that marshalling isn't just a matter of being a human signpost.
Brownlee Centre Festival of Running, Sun 3 Mar
From Geoffrey Howard ... The inaugural Brownlee Centre Festival of Running was held on Sunday just after the previous night's strong winds had fortunately almost gone. It had an ambitious programme of five events from one mile to twenty miles all run round the Centre's one mile cycle track (with all entry fees going to a Leeds University overseas charity). The fields weren't large with many not belonging to a club although most events were won in impressive times. In the 5k it must be the first time I've run against more than four times as many women (32) than men (7). The winner was Martin Roscoe (Leeds City) in 18m 59s and, although I was third, my time of 22m 34s was 18s slower than at Horton Park Run (which has more than twice the ascent) three weeks ago. Maybe upping to v75 in the meantime has taken a toll. The whole event had a Park Run feeling from the excellent organisation (e.g. results on the RunBritain website within a couple of hours) to the participation of a wide range of abilities (including some very young children in the mile). I hope it will, and expect it to, prosper.

5k
(1  18:59 Martin Roscoe, Leeds City) 
 3  22:34 Geoffrey Howard
39 finished

From Hilda Coulsey ... Geoff's time is a new V75 club recoprd.
Cambridge Half Marathon, Sun 3 Mar
From Steve Newell ... After the pain of the moor and the hills, it was lovely to get onto nice, flat roads for the Cambridge half marathon. It is a lovely course, going through the centre of the city and past a number of the iconic colleges, before heading into the Cambridgeshire countryside, through Grantchester and back into the city. Lots of support and entertainment along the way helped to make this one of my favourite half marathons. It is a very popular event with an entry limit of 10,000.

(1 1:06:40 Michael Kallenberg, Cardiff AAC)
965 1:35:43 Steve Newell
8,357 finished

Settle Half Marathon, Sun 3 Mar
From Jayne Norman ... Described as a hilly road marathon, Its grim up North Running organised a superb event. An out and back course - so you knew the hills you had to return on! A few Harriers attended the race. For myself the thought of homemade cake at the end got me through the tough middle section. My half marathon PB was gained on the course, by a whole minute.
Results ...

(1  1:20:25 David Smithers, York Knavesmire)
28  1:39:08 Daryl King
142 2:07:08 Jayne Norman
197 finished

Anglesey half marathon and 10K, Sun 3 Mar
From Sue Williamson ... Starting on the Menai Suspension bridge I was the only Harrier taking part in the Anglesey 10K. Through wind and rain I was happy to finish in the time of 54:58. Great encouragement from a large crowd with nice views.

(1   32:23 Gwion Roberts, Meirionydd RC)
244 54:51 Sue Williamson
527 finished

Ron Hill Accrington 10km, Sun 3 Mar
From Jean Sullivan ... This 10km race is held in Accrington, Lancashire, birthplace of the famous athlete Ron Hill. Unfortunately he was too unwell to attend today's event. Organised by Cannonball Events, this well-organised and friendly 10km race starts at Accrington's impressive Town Hall, is largely on road, apart from a 2-mile section on the old train line between Haslingden and Accrington which is now used as a cycle track. By mile 4 the climbing is complete and the flat and then downhill finish was very welcome! I was particularly impressed by the appearance of provisional results via 'live timing' on a large leader board within seconds of crossing the finishing line!
Results ...

(1  35:29 Jon Dance, Salford Harriers & AC)
174 51:04 Jean Sullivan 
515 finishers

Pendle Round, Sat 2 Mar
From Jim Ryder...Two Harriers in a top quality field for the Stan Bradshaw Pendle Round from Barley, 9.3 miles, 1936 feet.

(1  1:05:03 Rob Hope, P&B)
44  1:19:08 Jim Ryder
200 1:46:02 Adela Reperecki
250 ran

Podium 5k, Sat 2 Mar
From Sally Armitage... This is now the 3rd time I've driven over to Barrowford for the Podium 5k. The course is almost 5 laps of a totally flat cycle track. It's certainly the fastest 5k course within 20 miles of Ilkley and always attracts the fastest runners, with the first male of the 'A' race finishing in 14:42 and the first female finishing in 16:10.

B race
(1 17:08 Seb Patrick, Trafford AC) 
40 19:58 Sally Armitage
55 ran

parkruns, Sat 2 Mar
From Petra Bijsterveld ... Results ...

Cardiff
(1  15:28 Kurt Taylor, Bristol and West AC)
14  17:01 Alex Hirst
798 ran

Bradford
(1  17:24 Sam Clegg, Idle AC)
57  23:18 Oscar Street
212 28:52 Paula Reynier
474 ran

Skipton
(1  17:40 Chris Ovenden, U/A)
10  20:35 Will Buckton
206 ran

Clapham Common
(1  16:54 Hugh Tibbs, U/A)
11  19:02 Rob Cunningham
709 ran

---
Outstanding Achievements, February
From the Committee ...
Sally Armitage and Steve Murray for their PBs at Dewsbury
Jack Wood for winning Wadsworth Trog
Kate Archer for Rombalds Stride, Harewood Half and Ilkley Moor Fell Race placings
Jack Cummings for winning the Ilkley Moor Fell Race
Anna Pickering for amazing run of attendance at cross countries this season, including Yorkshire, Northern and Nationals
Helen Thurston for her National XC placing and 5k PB
Steve Weston and Jane McCarthy for organising the Ilkley Moor Fell Race (senior and junior)
Gaenor and Steve Coy for the cross countries organisation, and Nicola and Rob Budding for the PECO XC.
Evensplits 5k Leeds, Wed 27 Feb
From Hilda Coulsey... A select band of Harriers ran the first of the 2019 Leeds Evensplits 5ks at the Brownlee Centre. Getting there and home was a struggle. However times were amazing with everyone, bar me, under 20 mins (I'll have to try harder!).
Results ...

(1  15:43 Johny Johnson, Rotherham)
2   16:09 Dominic Coy
27  17:57 Stephen Coy
30  18:05 Nathan Coy
33  18:09 Helen Thurston PB
55  18:58 Michael Abrams-Cohen PB
65  19:27 Robert Budding
172 25:10 Hilda Coulsey
2154 finished

Brian Sweet Predictor Run, Tue 26 Feb
From Vince Gibbons ... The inaugural Brian Sweet Predictor Run attracted 37 runners, 32 of whom ran the full 10k course on an unusually warm February evening. The event was staged in memory of Brian Sweet, a stalwart of the club who led a Tuesday night club run every week for more than two decades. Brian introduced hundreds of new starters to running.
Prizes for the most accurate male predictions go to Keith Wood (one second), Peter Tapper (two seconds) and Paul Stephens (nine seconds). The female prizes were won by Catherine Gibbons (29 seconds), Sarah Pickering (1 minute 20 seconds) and Adela Reperecki (1 minute 29 seconds).
Results
Prizes will be presented at club night on Tuesday 5 March. Feedback on the event (to Bernie Gibbons) will help with planning for the future.
Many thanks to: organiser Bernie Gibbons; Neil Chapman who measured the new course and timed the event; course marshals Alison Bennett, Ros Blackburn, Barbara Bullock, Jane Cullingworth, Ben Joynston, Don McCrae, Clive Smith, Pauline Watts, Alison Weston and Sally Wright; and to course sweepers Jayne Norman and Vince Gibbons.
HDSRL entries are open
From Paul Stephens ... Entries to this year's Harrogate and District Summer Race League are now open. Please enter via the HDSRL web-site and follow the links - www.harrogate-league.org.uk.
The first race is Harrogate on May 21st, folowed by Ripon, Yeadon and Knaresborough with the handicap in Wetherby on July 17th. On-line entries only (and I'm sorry but the club is not offering a discount). See you there.
30th Ilkley Moor fell race, Sun 24 Feb
Well done to Jack Cummings on winning the senior race. (Report to follow.)
Links to photos and results on the IMR race page.
National XC, Sat 23 Feb
From Petra Bijsterveld ... After the successful Northern Championships at Harewood House in 2018 the English Cross Country Association decided to hold the 2019 Nationals here, a wise choice indeed. Whilst the sight of thousands of XC runners charging up Parliament Hill is almost unequaled, it is good to have this national event in the North and especially when it is right on our doorstep (and in Yorkshire!) The large undulating grounds of the estate make for a good course with no more than two laps having to be run by anyone, and the house gives a good backdrop for the photographers. The recent dry weather ensured that there was not a spot of mud on the course, and the gloriously sunny conditions on the day made for good spectating and 'general hanging about' conditions, though pretty warm for running. The course, though dry, was energy sapping with an uphill start and several long inclines that appeared to go on forever and seemed hardly to be compensated for by the downhills. That was my impression at least as I forced myself not to cry or walk! Despite quite a few late drop-outs due to injury and illness we still had a good number of Ilkley juniors and seniors running. At the pointy end Euan Brennan came 4th in the junior men, and Helen Thurston finished impressively in the first 100 of a fast senior women's field, having not run XC since her school days. Luckily for the club she now appears converted to the discipline and will be back in the autumn!
For most of us the Nationals herald the end of the XC season and thanks must go to Steve and Gaenor Coy for organizing all the entries, keeping everyone informed, taking the tent to the events, and generally providing encouragement and support to all.
As an enthusiastic XC runner I feel compelled to give a shout out to anyone in the club who wonders what it is all about and hasn't tried it: come and join us in the next season 2019/2020 starting with the West Yorkshires. Don't be put off by terms such as 'championships', these events are open to everyone regardless of speed. As not everyone runs at the same time there is plenty of opportunity to soak up the atmosphere, marvel at the elites at the front, and cheer on your club mates, in other words: always a good day out.
The Ilkley women's team came 19th out of 114, the men's 50th out of 144.
Results ...

( 1  36:34 Mahamed Mahamed, Southampton)
265  42:17 Jack Wood
451  44:22 Daniel McKeown
463  44:28 Istvan Jacso
568  45:40 Steven Gott
928  48:58 Tim Ashelford
1070 50:20 David Westhead
1468 54:33 Robert Budding
1999 82:53 Peter Lewis
2006 finished

(1  28:17 Emily Hosker Thornhill, Aldershot)
76  32:32 Helen Thurston
137 34:01 Lucy Williamson
228 35:45 Rachel Carter
259 36:13 Helen Wood
683 43:38 Sarah Edwards
842 47:01 Alison Bennett
858 47:34 Petra Bijsterveld
893 48:49 Anna Pickering
921 50:01 Sally Pickering
1034 finished

Junior women
(1  20:40 Amelia Quirck, Bracknell AC)
13  22:03 Jemima Elgood
87  26:04 Sarah Pickering
129 ran

Junior men
(1  28:27 Rory Leonard, Morpeth AC)
4   28:59 Euan Brennan
201 ran

High Cup Nick fell race, Sat 23 Feb
From Jann Smith ... A stunning horseshoe race in the lesser known North-West corner of the Dales, starting and finishing at the beautiful village of Dufton.
Results ...

(1  59:12 Nick Swinburn, Northumberland FR)
64  76:46 Paul Carman
203 92:19 Jann Smith 
433 finished
parkruns, Sat 23 Feb
From Petra Bijsterveld ... Results ...

Bradford
(1  17:26 Huseen Usuie, Bingley Harriers)
24  21:48 Beth Massey, 1st F 
111 25:29 Oscar Street
241 28:53 Stephanie Fox
242 28:54 Paula Reynier
502 ran

Skipton
(1  17:07 Chris Ovenden, U/A)
27  22:15 Adrian Bastow
129 29:43 Bernie Gibbons
233 ran

Fountains Abbey
(1  17:55 Stephen Ellison, U/A)
147 25:45 Fiona Schneider
472 ran

Clapham Common
(1  15:26 unknown)
25  18:43 Rob Cunningham
748 ran

Myrtle
(1  20:22 Martin Critchley, Horsforth Harriers)
55  28:01 Will Worboys
224 ran

PECO XC update
From Anna Pickering ... after 5 races in the Peco x/ c league Ilkley had two podium places with Steven Gott finishing 2nd V/40 and Malcolm Pickering 1st V/65
BHF Harewood, Sun 17 Feb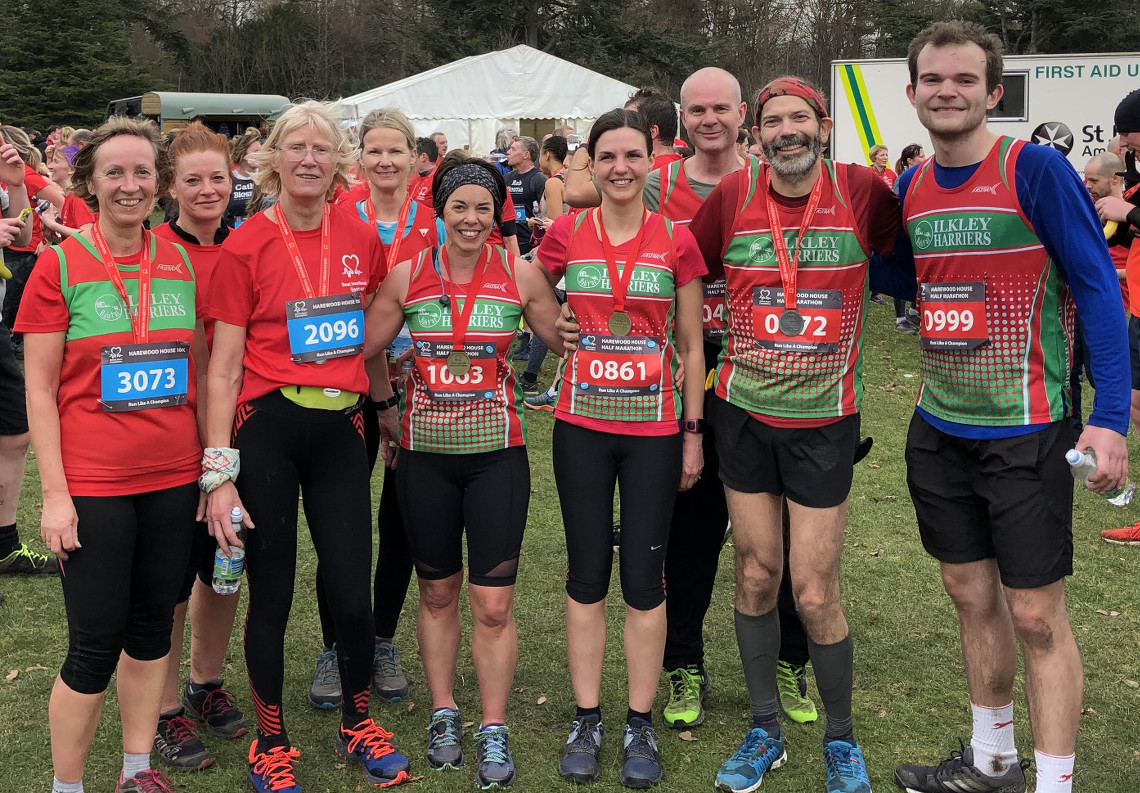 From Hilda Coulsey... It was a fine day in the Harewood estate for the half marathon (a trail league counter) and 10k. The weather was ideal and the parkland always makes for good views even though the hills and underfoot conditions were not easy. I saw the half marathoners off an hour before the 10k which meant we came in at a similar time together, hence the photo with a mixture of finishers from the two races. The times were good for trail races with Kate Archer coming in third female/first v40 and Colin Williams second v50 both in the half plus Hilda Coulsey first v60 in the 10k.
Results ...

Half Marathon
(1  1:21:23 Ciaran Forde)
33  1:32:37 Kate Archer
52  1:36:18 Colin Williams
73  1:38:23 Jonathan Turner
131 1:43:57 Michael Abrams-Coen
139 1:44"28 Derek Oliver
200 1:48:16 Steve Newall
209 1:48:47 Caroline Howe
372 1:57:19 Helen Waddington
417 1.59.54 Nicole Liptrot
427 2:00:26 Adela Reperecki
516 2:05:01 Jemma Basham
655 2:11:32 Alex Stanley Hyde
851 2:25:13 Paul Sugden
853 2:25:13 Jo Pattinson
1002 finished

10k
(1  38:08 Tom Midgley)
313 55:42 Hilda Coulsey
433 58:16 Karen Lambe
458 58:43 Dawn Turner
499 59:43 Dionna Jackson
543 60:58 Sue Williamson
649 63:23 Sue Verspyck
763 66:58 Diane Ollier
1078 finished

London Series 10k, Hyde Park, Sun 17 Feb

(1 35:51 Mr Alex !)
92 48:00 John Woodward

parkruns, Sat 16 Feb
From Petra Bijsterveld ... Some excellent results on this first spring-like parkrun day of 2019. Istvan Jacso finished second at Fountains Abbey, Oscar Stapleton third at Woodhouse Moor, and Helen Thurston and Sally Armitage were first and second lady respectively at Harrogate, with Helen coming fourth overall. Alex Hyde and Fiona Schneider seem both to be reaping the rewards of RED (run every day) in January with faster times, and Alex was delighted to dip sub-25. Geoff Howard was impressive as always, this week at Horton, and further afield Alex Hirst and Rob Cunningham continue to be very fast in their respective cities of Cardiff and London.
As part of the LBT parkrun league (I know....is my club loyalty in doubt now??) I went to the relatively new event at Potternewton which proved to be hillier than I expected, but a nice friendly event on good wide tarmac paths.
Results ...

Woodhouse Moor
(1  16:25 unknown)
3   17:05 Oscar Stapleton
590 ran

Cardiff
(1  15:59 Dan Nash, East Cornwall Harriers)
12  17:20 Alex Hirst
1033 ran

York
(1  16:28 Rob Byers)
208 24:59 Alex Stanley-Hyde
583 ran

Harrogate
(1  17:10 Chris Miller, Harrogate Harriers)
4   19:01 Helen Thurston 1st F
26  21:05 Sally Armitage 2nd F
515 ran

Skipton
(1  17:55 Chris Ovenden, U/A)
63  26:14 Fiona Schneider
212 ran

Fountains Abbey
(1  17:16 Reece Dalton, Ripon Runners)
2   17:23 Istvan Jacso
488 ran

Horton
(1  17:48 Will Kerr, Saltaire Striders)
8   22:16 Geoff Howard
72 ran

Clapham Common
(1  15:16 Alex Milne, Enfield and Haringey AC)
16  18:52 Rob Cunningham
777 ran

Potternewton
(1  18:06 Mark Bailey, Leeds and Bradford Tri)
87  27:00 Petra Bijsterveld
185 ran

Peco XC, Sun 10 Feb

(1  26:17 Nathan Marsh, Tonbridge)
20  29:15 Steven Gott
35  29:42 Robbie Matthews
176 34:28 Robert Budding
182 34:35 Michael Duffield
260 37:30 Malcolm Pickering
458 58:14 Don Macrae
459 finished

(1  30:49 Aisling Wall, Horsforth)
21  34:18 Sarah Pickering
130 41:41 Nicola Budding
155 42:55 Diane Kitchen
162 43:17 Alison Bennett
183 44:16 Anna Pickering
294 49:20 Bernadette Gibbons
315 50:38 Kate Lofthouse
325 51:57 Wendy Bishop
374 finished

parkruns, Sat 9 Feb
From Petra Bijsterveld ... Results ...

Portrush
(1  21:46 Ryan Smith, Springwell RC)
57  32:58 Hilda Coulsey
117 ran

Skipton
(1  17:20 Alan Buckley, Leeds City AC)
25  23:10 Geoff Howard
37  25:15 Neil Pomfret
116 ran

Stratford-upon-Avon
(1  17:37 Rob West, U/A)
145 25:42 Fiona Schneider
393 ran

Clapham Common
(1  17:38 unknown)
7   19:07 Rob Cunningham
708 ran

Caffarella (Rome)
(1  19:48 Angelo Mazzoli, G.S. Bancari Romani)
34  28:35 Peter Lewis
62 ran

Dewsbury 10k, Sun 3 Feb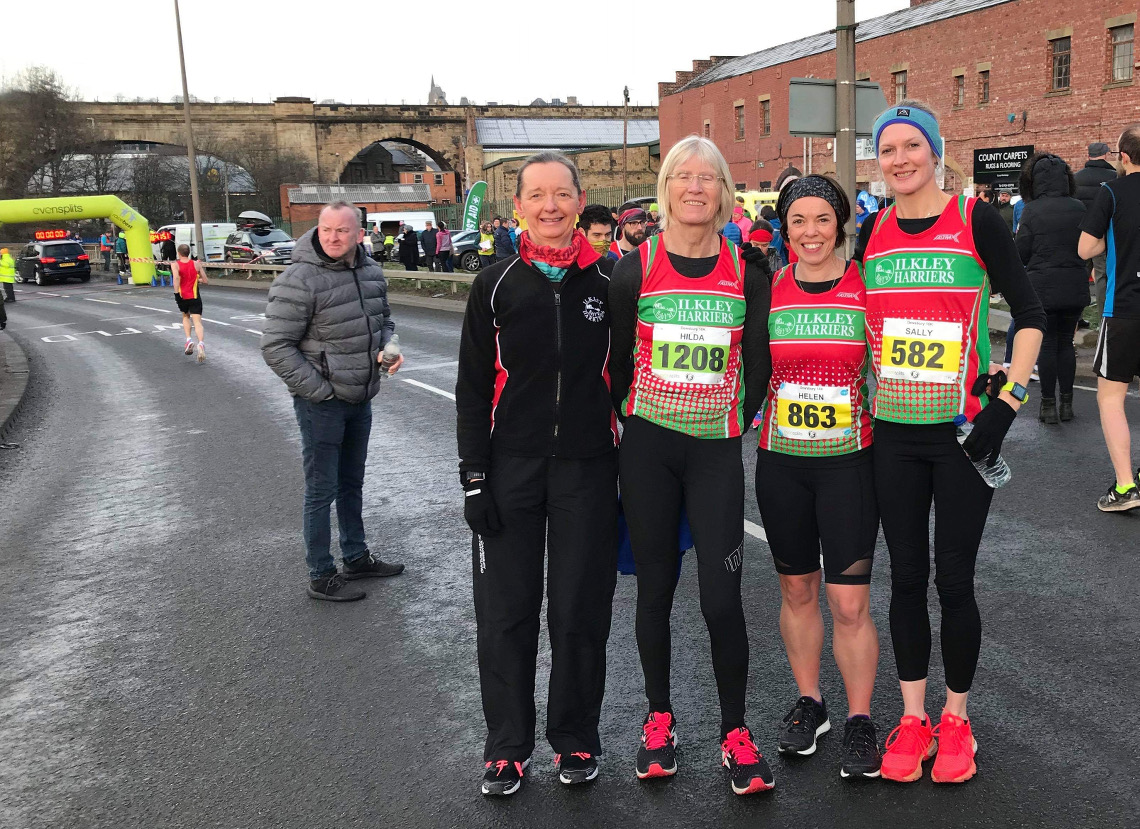 From Sally Armitage... This was my first time running Dewsbury and conditions were perfect, no ice, no breeze and some much appreciated sunshine! 6 Harriers took part with some PBs achieved too. An 'out and back' course with a gentle incline all the way out followed by a lovely downhill 5k to finish. A great course for anyone chasing a personal best. It's definitely on the calendar for next year!

(1   31:22 Chris Parr, Jarrow and Hebburn) 
214  39:10 Steve Murray  (PB)
352  41:53 Adrian Bastow 
395  42:14 Sally Armitage  (PB)
746  48:39 Helen Waddington 
966  Hilda Coulsey 51:25
1068 53:16 Petra Bijsterveld 
1679 ran

Wadsworth Trog, Sat 2 Feb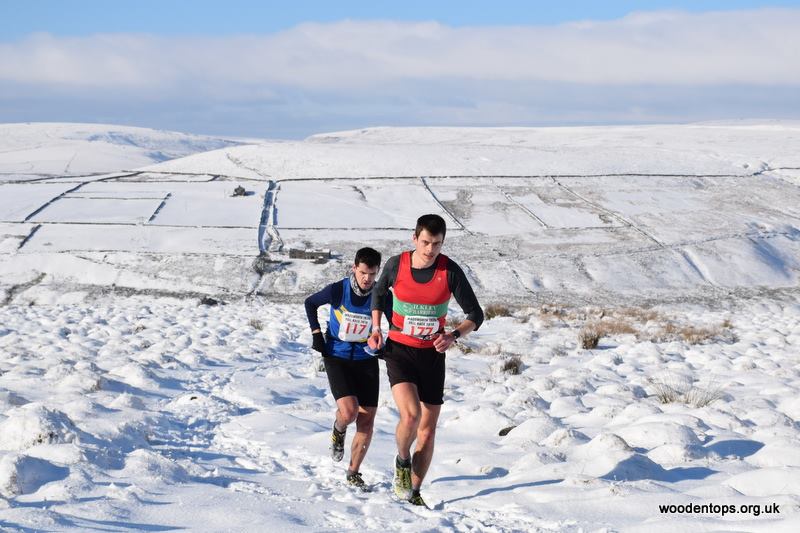 1   2:35:46 Jack Wood
124 3:57:50 Brian Melia
177 finished

Rombalds Stride, Sat 2 Feb
From Michael Duffield ... Results ...

(1  2:47:10 Tom Van Rossum, Aire)
8   3:00:42 Michael Lomas
17  3:09:37 Kate Archer 1st Female
28  3:19:59 Colin Williams
40  3:28:26 Duncan Cooper
44  3:30:54 Dick Waddington
51  3:34:24 John Hayes
57  3:38:59 Derek Oliver
59  3:39:02 Peter Shelley
76  3:50:11 Michael Duffield
96  4:02:00 Martin Stocker
97  4:02:06 Andrew Merrick
110 4:10:04 Adela Reperecki
218 5:28:23 Sarah Hayes
454 finished

Runners and riders, Appletreewick, Sat 2 Feb

(1 30:14 Stefan Macina, Aurelius, bike)
(2 30:36 Simon Bailey, Mercia)
5  31:49 Jack Cummings
28 36:00 Jeff Green
29 36:03 Paul Carman
45 38:03 Nick Helliwell
79 45:09 Jann Smith
148 finished

parkruns, Sat 2 Feb
From Petra Bijsterveld ... Results ...

Cardiff
(1  15:17 Matthew Edward, Barry and Vale Harriers)
9   17:31 Alex Hirst
764 ran

Advance notice of this year's "Harrogate League races"
From Paul Stephens ... We are back to 4 races and the Handicap race this year and the dates are:
21 May Harrogate
4 June Ripon
20 June Dragons
2 Jul Knaresborough
17 July The Norman Smith Handicap Race & League Presentation
All races are midweek and in the evening, 7.45pm starts except the Handicap. There will be online registration (new this year) and the link will be posted on Facebook and here when this is live (in the next few weeks). The entry fee will be £13 for the League - the same as last year. More details on the HDSRL web-site - www.harrogate-league.co.uk.
---
Outstanding Achievements, January
From the Committee ...
Kate Archer Brass Monkey Half Marathon PB
Euan Brennan for being 2nd in the International, 1st in Yorkshire and 2nd in the Northern Cross Countries
Steven Gott for his 3rd in Bradford parkrun & sub 18mins, PECO results, high pacing in Giant's Tooth fell race
Jack Wood for 3rd in the Brass Monkey and his cross countries
Tigger Tor fell race, Sun 27 Jan
From Alison Weston ... 9.7 miles 1,600 ft organised by Totley AC on 27th January.
Very wintry windy conditions for this picturesque race. Well over 400 runners on narrow trods made it a slow start and difficult to run at your own pace but a great route with a bit of everything, including generous amounts of mud and a mile or so of tarmac at the end!

(1  1:11 Steve Franklin, Totley AC)
253 1:53 Alison Weston

Meltham Tough 10K, Sun 27 Jan
From Petra Bijsterveld ... Arctic temperatures combined with a decidedly stiff breeze made for a character-building experience on the first Harriers League race of 2019. This road 10k fully deserves its 'tough' adjective as it involves 674 feet of climbing. Whilst there are various ups and downs the overall feel really is '5 miles up, 1 mile down'. Only 6 Harriers made it to the start line today. Colin Williams and Sally Armitage both came 2nd in their respective categories, and were swiftly followed by newish member Craig Berry and by Steve Newell, all below 50 minutes. Hilda and I both ran on tired legs from yesterday's Northern XC, it did not seem to slow Hilda down too much but I went well over the hour mark for the first time ever in a road 10K. Never mind, I enjoyed the race, the tea and cakes back at the club house were delicious and we all came away with a nice beanie hat as a memento. An event I would certainly go back to.
Results ...

(1  36:06 Gareth Cooke, Penistone Footpath Runners)
40  42:29 Colin Williams
89  46:16 Sally Armitage
116 47:43 Craig Berry
137 49:27 Steve Newell
289 58:04 Hilda Coulsey
335 61:55 Petra Bijsterveld
391 ran

Northern XC, Sat 26 Jan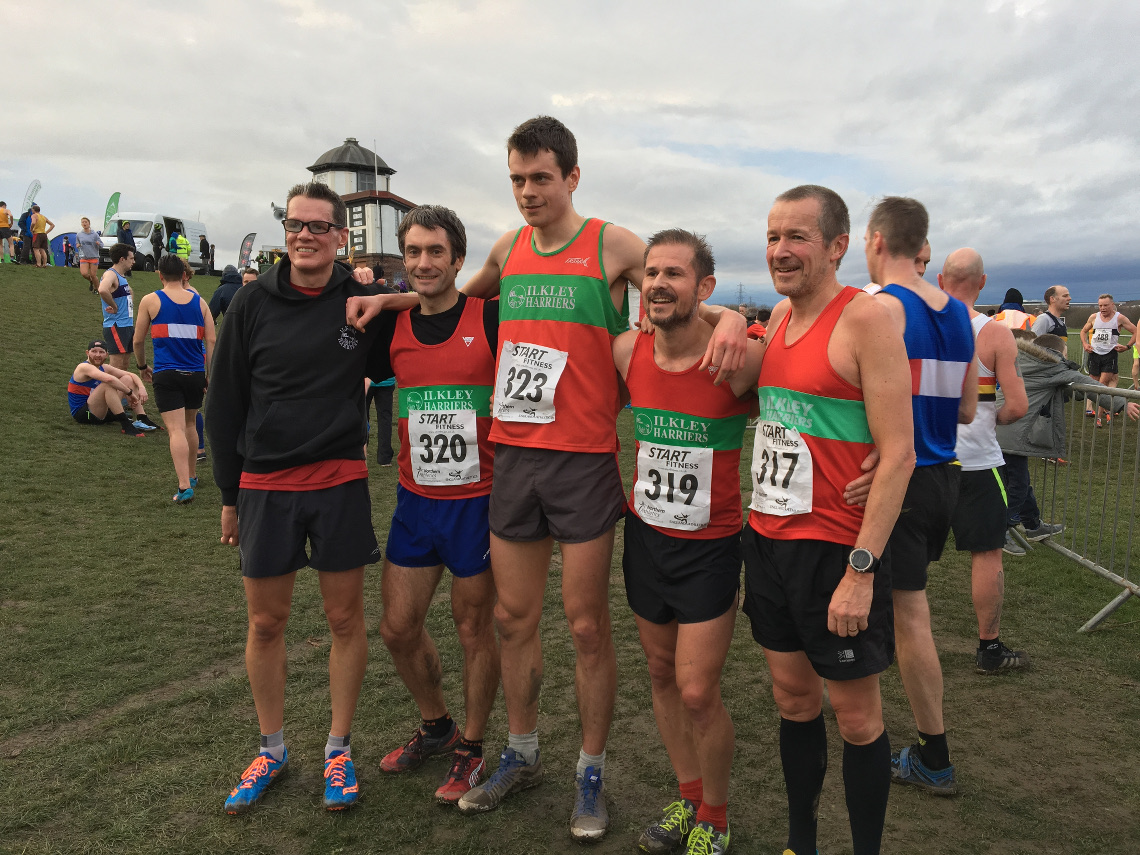 From Petra Bijsterveld ... Results ...

Women, 12th team
(1  27:36 Mhairi Maclennan, Morpeth)
46  31:51 Pauline Munro
73  33:26 Kate Archer
105 34L57 Rachel Carter
183 38:01 Caroline Howe
282 42:37 Diane Kitchen
309 44:24 Hilda Coulsey
312 44:37 Anna Pickering
316 44:53 Petra Bijsterveld
339 46:32 Sally Pickering
376 finished

Men, 19th team
(1  38:05 Emile Cairess, Leeds)
14  39:47 Jack Wood
152 44:42 Steven Gott
202 44:55 Istvan Jacso
249 47:11 Stephen Coy
281 48:03 Tim Ashelford
407 51:04 Dave Westhead
439 52:04 Mike Abrams-Cohen
592 57:45 Malcolm Pickering
704 finished

U20 women
(1 19:29 Eleanor Bolton, Ribble Valley)
5  20:17 Jemima Elgood
36 22:38 Sarah Pickering
62 finished

U20 men
(1 25:41 Rory leonard, Morpeth)
2  25:51 Euan Brennan
12 26:53 Cameron Reilly
62 finished

U17 women
(1  17:17 India Pentland, Darlington)
9   18:34 Bethan Morley
107 ran

U17 men
(1  19:13 Samuel Charlton, Wallsend Harriers)
7   19:56 Dom Coy
83  22:42 Robbie Matthews
139 ran

parkruns, Sat 26 Jan
From Petra Bijsterveld ... Results ...
	
Bradford
(1  17:36 Hussain Usuie, Bingley Harriers)
17  21:52 Sally Malir 1st F
34  23:02 Oscar Street
68  24:37 Phil Hirst
78  24:53 Helen Waddington
79  24:54 Jean Sullivan
198 28:42 Paula Reynier
199 28:42 Dave Reynier
453 ran

Tooting Common
(1  17:50 Martin Dickson, Wimbledon Windmilers)
11  19:04 Rob Cunningham
802 ran

Cleland
(1  21:48 Marcus Whelband, Flinders AC)
20  32:33 Chris Cunningham
42 ran

Cliffe Castle
(1  18:21 Rob Byers, U/A)
36  27:58 Fiona Schneider
185 ran

Potternewton
(1  17:35 Sam Robbins, Chapel Allerton Runners)
24  23:07 Geoff Howard
176 ran

2018 League final results
From Jane McCarthy ... Congratulations to the League Winners:-
Overall League - Colin Williams
Fell League - Jack Cummings
Trail League - Jonathan Turner
Road League - Colin Williams.
First League race of 2019 - Meltham 10K this Sunday; Good Luck to all competing!
Full 2018 results tables and 2019 fixtures list on the League page
PECO XC, race 4, Sun 20 Jan
From Caroline Hpwe ... A fab new PECO course at Crimple Valley, Harrogate, with muddy trails, grass, technical wooded areas, plenty of twists and turns, and great view of the Crimple Valley Viaduct, despite the mist. An added point of interest for me was running past my old high school (with memories of school XC flooding back!) A strong Harriers ladies' team saw three Harriers finish in the top 20 out of nearly 400 finishers. Great performances all round in the penultimate race of the series.
Results ...

(1  28:21 Helen Cross, York Tri)
8   29:39 Pauline Munro 1st F50
14  31:14 Sarah Pickering
20  31:47 Rachel Carter
65  35:36 Caroline Howe
132 38:15 Nicola Budding
138 38:32 Diane Kitchen
178 40:37 Alison Bennett
246 43:42 Sally Pickering
269 44:31 Bernadette Gibbons
289 45:19 Anna Pickering
318 46:41 Kate Lofthouse
393 ran

(1  25:10 Terrence Forrest, Ackworth RR)
31  27:38 Steven Gott 3rd V40
134 30:55 Steve Murray
176 31:48 Peter Shelley
184 32:10 Robert Budding
191 32:20 Michael Duffield
241 34:03 Malcolm Pickering 1st V65
481 52:41 Donald Macrae
485 ran

Pilancones Tunte Ultra Trail Gran Canaria, Sat 19 Jan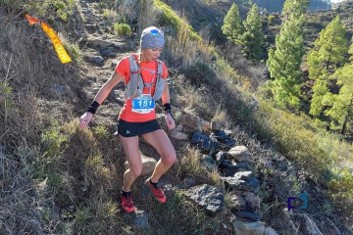 From Jann Smith ... This long race circled around the middle of this very mountainous island starting in San Bartolome de Tirujana a mountain village. The mountains here are at their highest and roughest with near vertical rocky ascents and descents. A rope was used at one point. We started in dark, mist rain and cold and finished in hot sun.
Resultados ...

(1 4h15 Pau Gil)
49 6h23 Paul Carman       
70 6h51 Jann Smith (2nd  vet)	
112 finished

parkruns, Sat 19 Jan
From Petra Bijsterveld ... Results ...
	
Bradford
(1  17:48 Martin Fillingham, Saltaire Striders)
73  25:15 Philip Hirst
371 ran

Harrogate
(1  17:24 Chris Miller, Harrogate Harriers)
160 25:35 Will Worboys
491 ran

Skipton
(1  18:31 Jake Ridding, U/A)
12  21:26 Adrian Bastow
33  24:25 Rachel Carter
214 ran

Wetherby
(1  20:59 Mark Ryder, Ripon Runners)
14  24:31 Geoff Howard
70 ran

Aldinga Beach (AUS)
(1  17:19 Mike Klocke, U/A)
12  25:38 Chris Cunningham
79 ran

Clapham Common
(1  16:45 Richard Ollington, Thames Hare and Hounds)
22  19:05 Rob Cunningham
941 ran

Annual Awards for 2018
Presented at the Awards Evening on Friday 18th January. Congratulations, everyone.
Category
2018 Winner
Runner of the year - male
Jack Wood
Runner of the year - female
Kate Archer
Most improved - male
Jonathan Turner
Most improved - female
Helen Thurston
Endurance Runner - over 50 male
Andrew Merrick
Endurance Runner - over 50 female
Alison Weston
Endurance Runner - male
Ben Sheppard
Endurance Runner - female
Helen Waddington
Runner under 23 - male
Euan Brennan
Runner under 23 - female
Lucy Williamson
Runner over 50 - male
Colin Williams
Runner over 50 - female
Hilda Coulsey
Contribution to club - male
Neil Chapman
Contribution to club - female
Hilda Coulsey
Captains award - male
Steve Murray
Captains award - female
Rachel Carter
League winner
Colin Williams
Fell league
Jack Cummings
Road league
Colin Williams
Trail league
Jonathan Turner
One-off Contribution
Petra Bijsterveld (membership database)
One-off Performance
Paul Carmen (solo Bob Graham Round)
Additional Contribution
The coaches: Jane Bryant, Neil Chapman, and Peter Shields
The website: Paul Wood
Chair 2018: Geoff Howard
Previous years' awards. Also see the Club records and Hall of fame pages.
International XC in Elgoibar, Spain, Sun 13 Jan
From Steve Brennan... Great run by Euan Brennan, 2nd in the U20 race video.
Brass Monkey Half Marathon, Sun 13 Jan

(1  1:09:42 Adrian Bailes, Birtley)
3   1:10:42 Jack Wood
242 1:27:26 Kate Archer
1554 finished

Jack's time is a new club record, beating Eddie Irving's 19 year old record of 1:11:21 also at the Brass Monkey.
Stanbury Splash, Sun 13 Jan
From Rachel Carter ... Results from the Stanbury Splash yesterday, undertaken in conditions of very gusty wind, and at times driving rain with plenty of photographic proof courtesy of Woodentops - links on Facebook.
Results

(1  46:41 Robin Howie, Wharfedale)
12  50:41 Jack Cummings
16  52:03 Istvan Jacso
36  55:38 Helen Thurston
72  61:20 Rachel Carter
77  61:53 Colin Williams
84  62:21 Richard Joel
98  65:05 Duncan Cooper
154 72:31 Alison Weston
218 80:89 Nea Weston
254 finished
Ilkley ladies 1st Team (4, 10, 28)

parkruns, Sat 12 Jan
From Petra Bijsterveld ... Two Ilkley first finishers this week: Jack Wood at Myrtle (Bingley), just 2 seconds outside the course record, and Michael Lomas at Barry Island. Steve Gott came 3rd at Bradford in 17:59 which I believe is his first sub-18 parkrun result.
Results ...

Bradford
(1  17:26 Jack Kelly, U/A)
3   17:59 Steven Gott
23  20:36 Sarah Pickering
42  22:16 Malcolm Pickering
80  24:17 Oscar Street
161 27:28 Paula Reynier
525 ran

Harrogate
(1  17:12 Chris Oddy, Serpentine RC)
123 24:43 Helen Waddington
555 ran

Roundhay
(1  17:21 Matthew Merrick, Aldershot, Farnham and District AC)
42  22:07 Tom Worboys
501 ran

Skipton
(1  18:15 Tim Chadwick, U/A)
106 29:13 Bernie Gibbons
114 29:47 Mark Scothon
230 ran

Watergrove
(1  22:20 Daniel Taylor, U/A)
26  28:30 Will Worboys
91 ran

Barry Island
1   18:42 Michael Lomas
208 ran

Clapham Common
(1  17:39 Rory Jordan, Milocaria AC)
18  19:06 Rob Cunningham
1019 ran

Myrtle
1   17:14 Jack Wood
79  28:08 Fiona Schneider
268 ran

PECO XC race 3, West Park, Sun 6 Jan
From Rachel Carter ... A dry cross country run at West Park of just under 5.5 miles mixing undulating terrain across field and trail through woods with some doing the double after the Yorkshire's on Sat.
Results ...

Men
(1  28:31 Michael Kallenberg, Wharfedale)
25  32:27 Steven Gott  
131 36:09 Steve Murray 
199 38:06 Mike Duffield 
234 39:09 Robert Budding 
249 39:40 Malcolm Pickering 
502 finished

Women
(1  32:17 Georgia Taylor-Brown, Sale)
20  37:04 Rachel Carter 
74  42:01 Caroline Howe 
207 48:47 Ros Brown 
236 50:20 Anna Pickering
245 50:37 Sally Pickering
328 54:49 Kate Lofthouse
372 59:24 Sally Wright
396 finished

Yorkshire XC Chanpionships, Lightwater Valley, Sat 5 Jan
From Caroline Howe...

Senior Men (10,320m)
(1  32:15 Emile Cariss Leeds City)
7   33:46 Jack Wood 
68  37:30 Istvan Jacso 
74  37:51 Dan McKeown 
77  37:56 Steve Gott 
115 39:39 Steve Coy 
132 40:09 Tim Ashelford 
232 45:41 Rob Budding 
244 46:30 Mark Iley 
259 47:33 Malcolm Pickering 
326 finished
Ilkley men's team 8th out of 38

Men's U20 (8,240m)
1 26:26 Euan Brennan 
5 28:26 Cam Reilly 
18 finished

Senior Ladies (8,250m)
(1  27:57 Claire Duck, Leeds City)
20  30:37 Jemima Elgood 
25  31:02Pauline Munro 
33  32:32 Kate Archer 
63  34:20 Beth Massey 
67  34:30 Sarah Pickering 
110 37:38 Caroline Howe 
161 43:27 Petra Bijsterveld 
171 44:14 Hilda Coulsey 
181 45:34 Anna Pickering 
199 finished
Ilkley A team 6th out of 35
Ilkley B team 29th out of 35

Ladies U17 (4,450m)
(1 15:26 Esther Rowe-Towle Sheff & Dearne)
2  15:47 Bethan Morley 
33 finished

U17 Men (6,350m)
(1 19:45 Joshua Dickinson, City of York)
4 20:01 Dom Coy
41 finished

parkruns, Sat 5 Jan
From Petra Bijsterveld ... Results ...

Edinburgh
(1  16:05 Peter Avent, Shettleston Harriers)
38  19:26 Mark Mon-Williams
815 ran

Bradford
(1  17:29 Martin Fillingham, Saltaire Striders)
54  23:42 Oscar Street
271 31:06 Paula Reynier
484 ran

Skipton
(1  18:31 Ian Sadler, U/A)
90  27:09 Fiona Schneider
125 29:14 Tim Ratcliffe
164 32:01 Mark Scothon
236 ran

Fountains Abbey
(1  16:54 Ted Mason, Wharfedale Harriers)
61  22:14 Geoff Howard
462 ran

Clapham Common
(1  15:34 unknown)
25  19:15 Rob Cunningham
871 ran

Selection news
From Steve Brennan... Following on from Euan Brennan's 7th place at the British Cross Challenge he has been selected for the England U20 Cross Country team to compete at the International XC in Elgoibar, Spain on the 13th of January.
Nine Standards fell race, Tue 1 Jan
From Will Buckton... Great conditions for me and Colin to kick off 2019 with the Nine Standards race from Kirkby Stephen. GPS was allowed but not required due to the spring like weather! I got a PB on my 5th time at the New Years Day fell race. BM 12.9km/549m.
Results ...

(1 53:17 Jonathan Cox, Eden Runners)
32 1h03:30 Will Buckton
52 1h07:45 Colin Williams
196 finished

Giants Tooth Fell Race, Tue 1 Jan
From Michael Duffield... £3 and a friendly jostle to fill in an entry sheet in the pub got Steve and I an entry into the Giants Tooth Fell Race on New Years Day. Only 3 miles and not a typical fell race - more a rolling trail up to the Giants Tooth standing stone above Ogden Water and back, through woods, on technical paths in places. Good fun and got rid of a few xmas cobwebs.

(1 17:10 Robin Howie, Wharfedale Harriers)
9  18:19 Steven Gott
54 21:58 Michael Duffield
186 ran

parkruns, NYD Tue 1 Jan
From Petra Bijsterveld ... Four Harriers availed themselves of the opportunity to run two consecutive parkruns to start 2019: Rob Cunningham chose two in London, whilst closer to home Amanda, Alex and myself started at Myrtle (Bingley) and moved on to Cliffe Castle (Keighley) to join Karen and Geoff, the latter having volunteered already at Skipton.
Results ...

Richmond
(1  16:42 unknown)
16  19:20 Rob Cunningham 
575 ran

Fulham Palace
(1  16:54 Nick Marriage, Wooters Runners)
18  19:09 Rob Cunningham
431 ran

Skipton
(1  18:06 unknown)
11  19:33 Paul Carman
41  22:23 Jann Smith
128 28:41 Bernie Gibbons
215 ran

Mole Valley
(1  18:21 Daniel Evans, Dorking and Mole Valley AC)
38  23:06 Peter Roll
292 ran

Myrtle
(1  18:02 Michael Malyon, Baildon Runners)
123 28:13 Petra Bijsterveld
135 28:38 Alex Stanley-Hyde
150 29:31 Amanda Newham
243 ran

Cliffe Castle
(1  18:34 Michael Malyon, Baildon Runners)
66  24:27 Geoff Howard
164 29:41 Karen Lambe
181 30:18 Petra Bijsterveld
202 31:17 Alex Stanley-Hyde
219 32:20 Amanda Newham
352 ran

Barry Island
(1 16:33 Matthew Rees, Swansea)
5  18:22 Michael Lomas
616 ran

---