Ilkley Harriers training
Ilkley Harriers offers a program of training for its members (prospective members may try out a few sessions before they join).
In general all the sessions here are for senior (aged 16+), current, members of Ilkley Harriers, only.
(Junior training sessions are described on the Junior Harriers web site.)
All sessions are 'for all abilities'.
Current Programme
When
Where
What
Monday
7pm
Ilkley Grammar School Gym
Circuit training for runners
Tuesday
7pm
ILT&SC
Main Club run
Wednesday
7pm
Old Bridge
Speed session with Pete Shields
Thursday
7pm
ILT&SC field
Speed/strength with Neil
7.30pm
Old Bridge
Road speed session with Jane
Saturday
7.45am
Old Bridge
Road speed/endurance session
9.30am
Old Bridge
Trail run
15-18? Read about the training for younger runners here.
See the Run Library where we hope to map all the favourite Tuesday night runs, and other Harriers recommended runs too.
Monday
Circuit Training for runners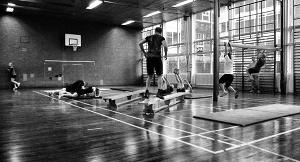 Circuit training for runners led by Neil Chapman is from 7pm-8pm at the old gym at Ilkley Grammar School. Enter from Springs Lane, go past the large Sports Hall, straight uphill, to the right of the swimming pool, door on the left and up the stairs. The cost is £2 per session. Please sign in and pay at the door. This is one of the few Harriers sessions that is open to non-Harriers, subject to space being available. Bring clean running shoes, light clothing and a drinks bottle and maybe a towel (it gets very hot). NB there is no session on the 2nd Monday of each month or on certain holidays, see Google Calendar for dates.
NB the junior session 6-7pm is now for Year 10-13 juniors only, no adults please.
Tuesday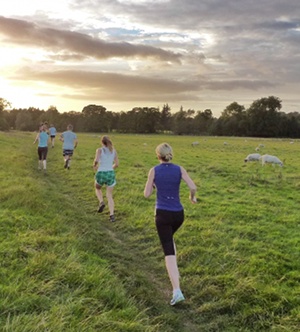 On the main club night, we meet at Ilkley Lawn Tennis & Squash Club at 7pm, when training is preceded by announcements of race results and future events. Splendid changing and shower facilities are available. A variety of training runs and sessions is informally organised each evening to cater for a range of abilities on the roads (and, now the lighter months are here, yippee, on the paths and moors above Ilkley). Experienced runners lead each group and typically there would be groups doing long, steady runs at various paces; a shorter run suitable for beginners; and either a hill or fartlek session.
NB our use of the facilities does not include the main car park, which is reserved for ILTSC club members. Please park on the grass field or in the back car park (follow the track).
Wednesday
Speed session with Pete Shields
7pm start at the Old Bridge.
Thursday
There is a choice of two evening coached sessions ...
Speed and stamina training on the field at ILT&SC
arrive ready for a 7pm start, 1 hour duration
terrain shoes recommended
this session is run as a single, mixed-ability group
warm up, plyometric exercises, then a structured session with a variety of speed and stamina drills, warm down
coaching from Neil Chapman
Road speed session
coaching from Jane Bryant
meet at the Old Bridge at 7.30pm
DO check Facebook for updates on sessions/times/meeting place etc.
Saturday
Early Birds Hard Run
Meet at the Old Bridge 7.45 am for an 8.8 mile run out to A59 and back in speed intervals, with recoveries, usually lasting 70/75 minutes. A hard session, but great for improving race times. This is a not a formally led session.
Trail Run
Steady run off road, on paths and tracks. Friendly and informal, 90 minutes or so but may be much longer from time to time. The pace is matched to the medium speed groups on Tuesday club night and it is recommended that new or less experienced members attend Tuesday nights first to meet the group and discuss how appropriate. Meet at the Old Bridge 9.30. On the first Saturday of the month this is often an away run to explore other areas so doesn't always start from the Old Bridge.
Other sessions
There are informal groups training throughout the week and at weekends, just ask around or keep an eye on the Facebook page ...