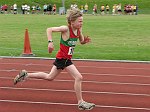 As part of our Monday and Thursday general summer coaching programme we are able to offer outdoor track and field athletics at Ghyll Royd School (Monday) and the Ilkley Grammar School playing fields (Thursday). We are able to do Hurdles, Long Jump, Triple Jump, Hammer, Javelin, Shot, Discus as well as track running (sprinting) and relays. All these activities are outside whatever the weather, so a waterproof coat and a sence of humour are essential!
We also do more specific indoor Track & Field coaching sessions at Ghyll Royd School during the winter on a Tuesday for those athletes who want to compete. This includes Running (sprint starts, baton handovers & hurdling), Jumping (long, triple and high), throwing (shot and javelin).
Junior Ilkley Harriers do not compete in any national Track & Field Leagues but we do encourage our athletes to compete at local friendly meets. We have listed a number of meets below that we think you'd like to have a go at in 2015. Entry forms will be at club training sessions or can be found on the appropriate website. AAA common standard cloth badges and certificates will be presented at the annual junior presentation evening.
NEW for 2015 - there will be a JIH Track & Field Award based on a recognised award scheme. We do not like juniors to specialise too early so we will do the Combined Events Award (Triathlon, Quadrathlon and Pentathlon). In order to gain an award an individual must compete at various runs, jumps an throws and represent the club at a minimum of 4 meets this summer from those listed below.
2015 confirmed meets: PLEASE NOTE THAT WE CAN ONLY DO THE 2 WY T&F LEAGUE MEETS SHOWN BELOW (unless individuals contact me offering to officiate/help at the other meets)
Sunday 8th February, Leeds Young athletes Indoor John Charles, Leeds City AC <=U17
Saturday 25th April, West Yorkshire Track & Field League meet 1, Cleckheaton, 12.30 field/1pm track.
Sat 9th May, Leeds City Open meet, U11 =>
Sat/Sun 23/24 May, Yorkshire Track & Field champs, Dorothy Hyman, Cudworth, U13=>
Sun 14th June, Burnley U11 Open Medal meet, Barden Athletic Track, Burnley
Sat 20th June, York Summer League event 1
Sat 4th July, York Summer League event 2
Sun 19th July, York Summer League event 3
Saturday 1st August, West Yorkshire Track & Field League meet 6, Wakefield, 12.30 field/1pm track.
Sun 2nd August, York Summer League event 4
Sun 16th August, York Summer League event 5
Sat/Sun 29/30 August, Yorkshire Champs Combined Events, Cudworth
Sat 5th September, York open meeting
Sun 6th September, Pendle Open, Seedhill Athletics Track , Nelson, U10=>Senior (pre-entry only by 2nd Sept)
Sun 20th September, Ivan Stringer memorial meeting, Cleckheaton

Further details and entry forms for the York Summer league here and contact Shirley for the West Yorkshire Track & Field League.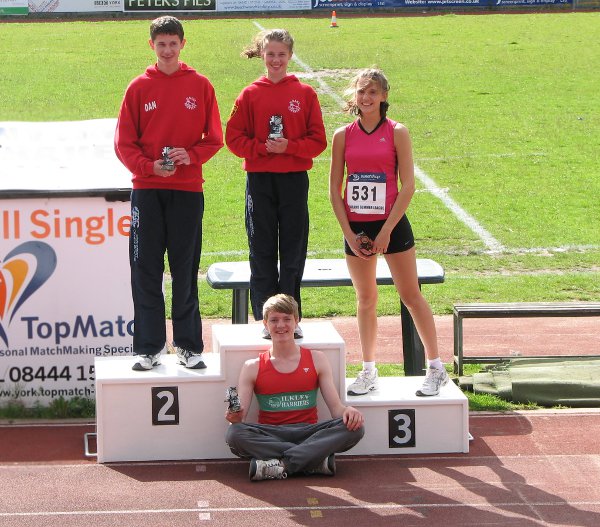 Daniel, Zoe, Chloe and Harry take podium places at the Ingrams League, York 2011