In 2012 we decided to set up an Ilkley Harriers Junior Fell League.
Local artist and sculptor Shane Green produced eight unique 'mini Henry Moore' trophies which will be presented annually. Shane is a well known fell runner competing for Pudsey & Bramley and Ireland. And during London 2012 he created 17 Olympic chainsaw sculptures in 17 days which are all currently sitting in London Parks.
The individual trophies show the different rock formations found on Ilkley Moor. The deep cut grooves represent the different pathways the fell runners take while racing down through the rocky moors.
There are 8 age categories and trophies for U11, U13, U15 and U17 (boys and girls). NEW for 2022 we are introducing an U9 category and individual medals will be given to the first three boys and girls.
Please look after and enjoy your special trophies.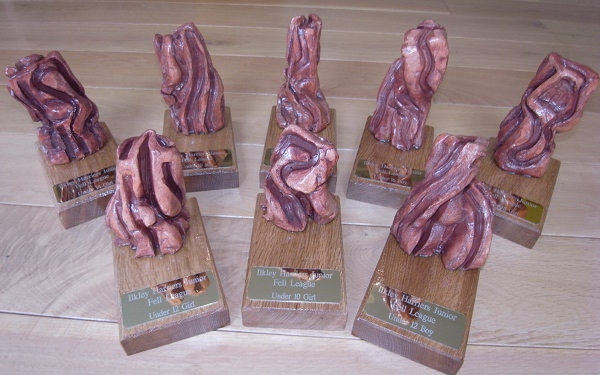 U10
2012 Emily Elmes and Ben Morley
2013 Poppy Anderson and Joe Bramham Butts
2014 Robyn Anderson and Lewis Carr
2015 Robyn Anderson and Archie Budding
2016 Charlie Macina and Archie Budding
U11 from 2017
2017 Jonathan Archer
2018 Jemima Overend and Alexander Wolfenden
2019 Lola Stead and Oliver Holder
U12
2012 Nea Weston and Robbie Matthews
2013 Emily Elmes and and Robbie Matthews
2014 Poppy Anderson
2015 Poppy Anderson and Harry Stead
2016 Phoebe Worrall and Harry Stead
U13 from 2017
2017 Hattie Bishop and Archie Budding
2018 Erin Doyle and Seth Toye
2019 Lily Singleton and Alexander Wolfenden
U14
2012 Tilly Melechi and Ruaridh Mon-Williams
2013 Lucy Jacques and George Hardesty
2014 Nea Weston and Euan Brennan
2015 Euan Brennan and Emily Elmes
2016 Poppy Anderson
U15 from 2017
2017 Bernadette Raven and Harry Stead
2018 Harry Stead
2019 Erin Doyle and Archie Budding
U16
2012 Georgia Malir
2013 Lucy Williamson and Ruaridh Mon-Williams
2014 Lucy Haines
2015 Jemima Elgood
U17 from 2017
2017 Euan Brennan
2018 Bernadette Raven
2019 Poppy Anderson and Harry Stead
U18 (medal only)
2014 Lucy Williamson
2015 Lucy Williamson
2016 Sarah Pickering
U19 from 2017 - 2019
2017 Sarah Pickering