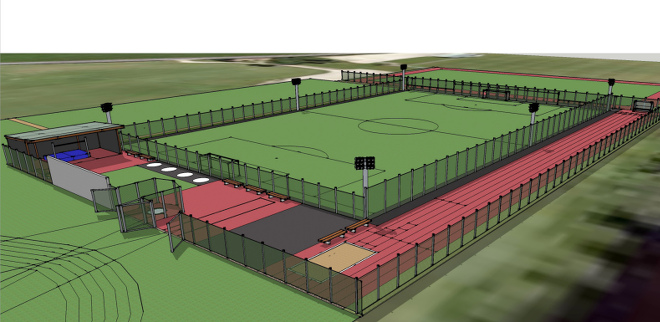 Planning approval has been granted for us to build a Compact Athletics Training facility on the IGS playing fields. The venture is a part of a larger development with an additional floodlit all weather hockey pitch and 3G Football pitch and car parking.
We have been working very closely with Ilkley Town Football Club but they are more advanced in their schedule to build and hope to have their 3G pitch built this summer. Their 3G pitch will be situated to the east of the current floodlit hockey pitch and against the Northern fence of the IGS playing field.
The athletics facility is very similar in design to the visual shown above accept that it has been switched so that the 100m straight is to the south ofthe 3G and the high jump building is nearest the River Wharfe on the East side. Although we hope to build at the same time as football if we are unable to get funding this may not be possible. The Compact Athletics Training facility can be added later and at a reduced footprint to reduce cost. Additionally there will be a permanently marked 200m grass track beyond the fencing to the east. Lighting from the football pitch will provide adequate lighting for training through the winter months.
Even entry level training facilities do not come cheap and we will be looking to raise approx £300,000 to make the whole project happen, but could do a reduced footprint costing £240k. We have been working closely with the Football club on the essential legal, lease, build and management arrangements and we are getting closer to sorting these. Once this is done we will launch a members investment loan scheme, apply for funding and fundraise.
JBA consulting have kindly produced the 3D visuals of what the athletics part would look like - note that they are not 100% accurate to the approved design but they give you a flavour of its potential look. The whole project is massively exciting for Ilkley Harriers and particularly the junior section where we are desperately in need of facilities. It will help us reduce waiting lists and also develop Track & Field athletics which up until now we have not been able to. The facility will accommodate large numbers across the majority of disciplines and will have the capability of taking an individual from newcomer to national standard without the need to travel long distances to train. Ilkley Grammar School students and local Primary school children will also benefit from having all year round athletics facilities on their doorstep.
There will be benefits to senior athletes to do speed work on the 100m straight as well as having the marked lit grass track for winter endurance training. There is also the long term prospect of seniors training for Track and Field events.
We are constantly fundraising so please support all our events and if you are in a position to make a commitment to support the development financially please speak with Shirley.
Further details on the potential of Compact Athletics Training facilities can be downloaded from the link England Athletics Compact Athletics Training Facility