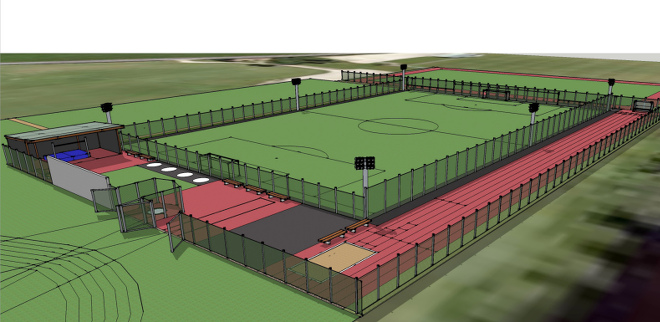 Latest: The Ilkley Carnival committee has announced the Junior Ilkley Harriers have raced ahead to be named primary beneficiaries of this yearís ĎAt The Moviesí themed May Day event.
---
Our project is to provide a purpose built Compact Athletics Training Facility (CATF) to support the Wharfedale community with a quality track and field athletics facility and provide a continuing pathway for athletes beyond the great foundations of the junior programme. This facility would be a major asset for the local area, thereby promoting continued participation in athletics and helping individuals to experience, enjoy and achieve their potential.
The project is part of a scheme to build a sporting centre of excellence at Ben Rhydding and Ilkley Grammar School playing fields which would include athletics, football and hockey.
The Ilkley CATF will be an L-shaped design wrapped around two sides of Ilkley Town AFC proposed 3G football pitch. We hope to be building together minimising costs and sharing certain groundworks and lighting. The CATF is 15m wide to the south and 17m wide to the east. The southern strip has an 8 lane all weather 100m running straight leading into a jumps pit. The eastern strip has provision for all the throws on marked hard standing, a throws wall and high jump area (including open covered building). The grassed area to the east will double up as a throws landing area and provide space for endurance running. North of the jumps pit there will be an open marked up tarmac area suitable for agility, balance, coordination and general strength and conditioning sessions.
JBA consulting have kindly produced the 3D visuals - note that they are not 100% accurate to the approved design but they give a flavour of its potential look. The whole project is massively exciting for Ilkley Harriers and particularly the junior section where we are desperately in need of facilities. It will help us reduce waiting lists and also develop Track & Field athletics which up until now we have not been able to. The facility will accommodate large numbers across the majority of disciplines and will have the capability of taking an individual from newcomer to national standard without the need to travel long distances to train. Ilkley Grammar School students and local Primary school children will also benefit from having all year round athletics facilities on their doorstep.
Planning permission was granted in May 2016 and will remain valid for 3 years. The cost of the CATF is £250k (total cost of project £300k) which at this present time is too much to raise. However the beauty of the design is that by removing two elements that can be added later (the high jump area and building and the throws wall) a smaller more affordable footprint can be built now at a cost of £245k.
It is our challenge to raise £245,000 through funding and a members investment loan scheme. Sport England Community Asset funding has been applied for and the junior section has raised £20,000. We are now ready to go public and ask the local community for its support. It would be brilliant to hear from anyone interested in investing or donating towards the project. Please contact Shirley Wood (Shirley@ilkleyharriers.org.uk).
Further details on the potential of Compact Athletics Training facilities can be downloaded from the link England Athletics Compact Athletics Training Facility