New for 2006. This race was the first counter in the Junior English Fell Championships, and the Under 20 English Fell Championships. It was also the Junior Yorkshire Championships race.
Seniors also run in the U18/U20 race.
Results 2006
You can download the results in

MS Excel format, or

Adobe PDF format
Photos

Peter Cooke's photos

Tim Done's photos
General Information
Ilkley Moor is open moorland and can be very exposed. Those who did the Susa trials last June know how cold it can be in Summer. So despite 'Baht'at' meaning without a hat it would be advisable to have hat, gloves and warm running gear. For the U14 and older races where the courses go onto high moor the organiser may insist that a caguole is carried so please be prepared. All courses are marked and marshalled and are on good paths or tracks. The orienteering maps below show the courses and should be self explanatory (orange - open moorland, white - blocks of woodland). If anyone wishes to recce the courses please give Shirley a ring and she will help. Orienteers competing at JK 2006 should NOT go onto Ilkley Moor to recce, but competing at the Championship fell race is fine.
We would like to thank all those local individuals and companies who have offered to help us with 'goodies' for the Championship goody bags. Pace for providing the 'boot' goody bags, Harrogate Spa Water for sportstop water bottles, Jamie Hutchinson and Bettys & Taylors for tea bags (make your parents a cuppa when you get home) and Lawrence Basham from Arcade Fruits in Ilkley for the bananas.
Course Maps
Please note that on 17th Feb we made a small change to the U14 course - it is now 200m shorter!
Click to change the map: U8 | U10/U12 | U14 | U16 | U18/U20/Senior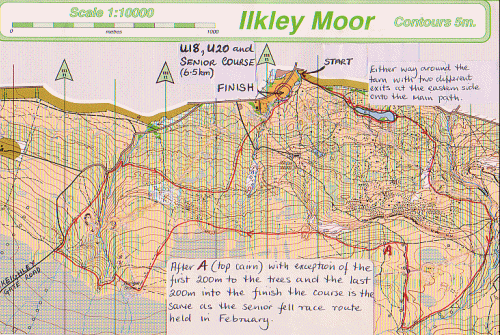 Thanks to Airienteers for use of this map.
Details
Sunday 19th March 2006
Wells Road, Ilkley. GR 115470
Toilet facilities in car park.
Refreshments: White Wells cafe is closed, but we'll have a junior Ilkley Harriers fund raising cake stall.
Entry on day only, registration from 9am, U8 and U10 £1, all others £2
(You can if you wish download an entry form here and bring it along on the day.)
U8 (min age 6 on 1 Jan 2006) non Championship race, 0.8km, 10.30am
U10 (non Championship) 1.5km, start 10.40am
U12 3.1km, start 11:00
U14 3.6km, start 11.30
U16, 5.5km, start 12:00
U18/U20 (and senior) 6.5km, 12.30
Prizegiving in the finish area. Hopefully (time permitting) U8 and U10 presentation of Easter eggs (first 3 boy/girl finishers) will be before the U12 race. Championship prizegiving as soon as possible after the last finisher in the U18/U20/senior race.
'Boot bag' Goody bags sponsored by Pace to all junior finishers in the Championship races and 'sweet' goody bags to all U8 and U10 finishers. Creme Egg to all senior finishers.
Easter Egg prizes to the first 3 in each age category (U8 to U20).
Yorkshire medals to first 3 girls and boys in each age category U12/14/16/18/20, perpetual trophies to winners. Yorkshire awards sponsored by Burton Safe Company
Yellow vest (as Tour de France) to the race leader in every Championship category.
ETA (sponsors of the junior Championships) will be present at our race with a stock of junior running shoes and are providing 2 pairs of shoes (vouchers) for the prize draw - 1 pair for the winners draw and a second pair for the 2nd/3rd place draw.
---
In the week up to the race we were counting the days like this ...
Nearly There

Bahtatcam: the new Championship Leaders yellow vest. Who will be wearing them after Baht'at??
See you all at the race ...

Saturday: 1 day to go!

Bahtatcam: This'll be the view as you descend into the finish (U14 and older). The moor is fantastic today and the sun is shining, but it is bitterly cold so hats and gloves would be advisable. Bring a cagoule just in case the weather changes.

Bahtatcam: One day to go and the organiser's changed the course ...the two paths at the end of the tarn are in a disgusting state after the snow and rain this week. Competitors in the U14 and older races will ALL go around the South (moor side) side of the tarn and at the far end go up a small bank onto a different path, meeting the original path later. It's a much nicer path anyway.

Friday: 2 days ..

Bahtatcam: At a secret location in Yorkshire we have a stash of over 80 Easter Eggs, 230 Creme eggs, 200 bananas, 360 bottles of water, 200 boot bags, and 170 packs of Yorkshire Tea.
.... and Dave Woodhead threatens even more chocolate for the Yorkshire prizegiving.

Thursday: 3 days ..

Bahtatcam: Sunshine on Ilkley moor today but still very cold. The photo was taken from Keighley Gate Road looking back across the moor - the top cairn and the Badger Stone rock are shown. We've just taken delivery of 200 bananas!

Wednesday: 4 days ..

Bahtatcam: rain overnight cleared a lot of the snow, but still some on top. The photo was taken just after the top cairn (marked A on the U18/U20 course map) showing the path split. All courses (U14+) take the right path down to the block of trees.

Tuesday: 5 days ..

Bahtatcam: it snowed overnight, but it's melting fast. The course marked on the photo is common to the 3 courses that go up onto high moor (U14 and older). It's taken 200m after the tarn looking up to the block of pine trees that all the courses go up through.

Monday: 6 days to go

yesterday's snow is still on the Moor, but no fresh snow overnight.
To cheer you up, here's a picture of the goody bag and some of the things in it that will be received by all finishers in the Championship races.
Plus, of course, there'll be lots of chocolate prizes too!

Sunday: 7 days to go

Bahtatcam: snow on t'moor
It's a snowy Ilkley Moor today.
Temperature just below freezing. We braved the elements and walked up to White Wells to take this photo looking down at the finish area. You can work out most of the U8 course and some of the U10/U12 courses.