Latest News and Results ...
Please send any Harriers results to news@ilkleyharriers.org.uk - they'll be forwarded to Paul for this web site and to Alison W for the newspaper report.
Notice of Extraordinary General Meeting
From Hilda Coulsey ... sadly we did not get a quorum of members on 18th April hence the EGM will now be held on Tuesday May 2nd at the Tennis Club 8:30pm
This is a formal notice of an Extraordinary General Meeting of members to be held on Tuesday evening 2nd May 2017 at 8:30pm at ILTSC (the tennis club on Stourton Road LS29 9BG), regarding the Junior section's plans to build a compact training facility at Ben Rhydding.
Agenda to include:
1 Overview of new facilities plan proposed and how it will be delivered
2 Vote on an amendment to the Constitution to support and enable participation
3 Launch of investment loan scheme
More information on the committee page.
---
Beginners 0-5k Challenge, Tue 2 May
A 6 week course in a friendly group for those new or returning to running, only £10 for all 6 sessions.
More information and application form.
Website updates
The website dude has been on holiday, thanks for all your results, keep sending them in, the website will be updated 2 May probably.
Bunny Run 3, Tue 18 April
Ilkley won the men's team prize again! Results and photos on woodentops.org.uk
Guiseley Gallop, Sun 16 April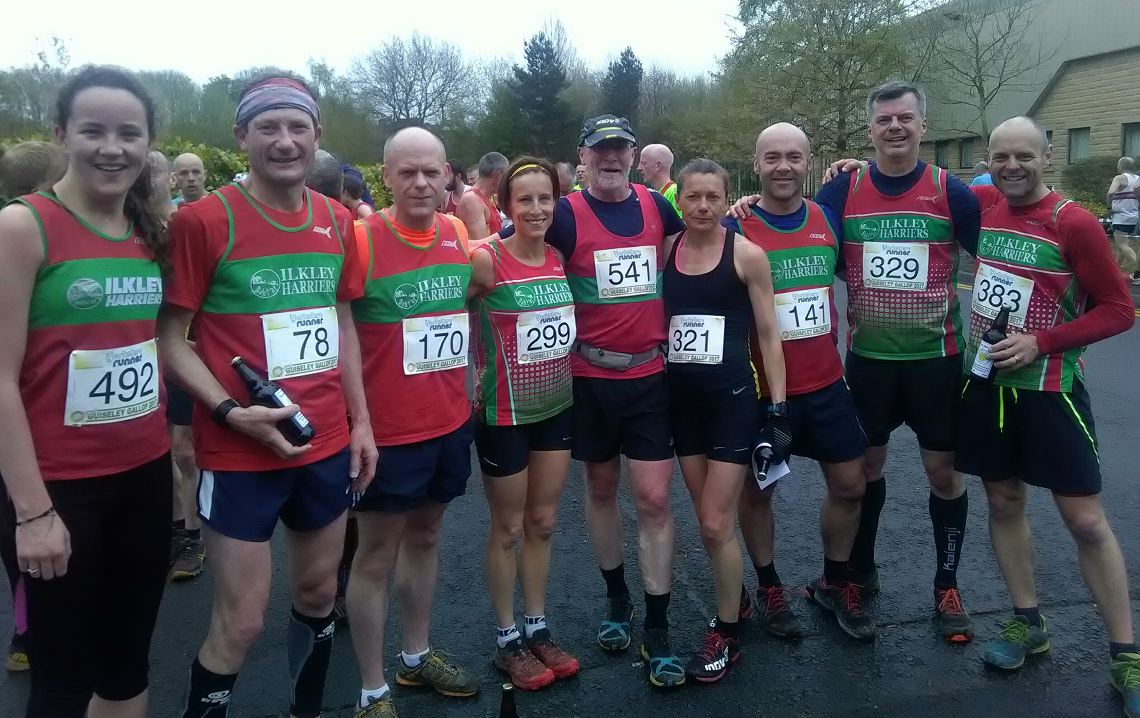 (1  35:39 Conner Craig-Jackson, Skyrac)
20  41:12 David Foyston	
35  42:21 Dave Robson
40  42:58 Jane McCarthy	1st F40
41  43:03 Pauline Munro	1st F45	
53  44:17 Lucy Williamson
58  44:48 Michael Duffield
78  45:59 Steve Murray
105 47:43 Robert Budding
117 48:14 Paul Stephens
176 51:23 Sarah Edwards
214 53:21 Adela Reperecki
226 54:02 Caroline Craske
294 57:11 Peter Lewis
370 60:37 Hilda Coulsey
491 finished

Zwolle Zuid 10M, Sat 15 April
From Petra Bijsterveld ... The 10 mile distance has become more popular in the Netherlands in recent years, though I imagine not a single Dutch participant thinks in miles, apart from me! I managed to get a last minute entry through a transfer and joined my friends for this race in what was my home town a long time ago. A two lap flat course taking in some lovely scenery along the river IJssel, we had to contend with a stiff breeze but otherwise conditions were good. It seemed a good opportunity to have another crack at breaking 90 minutes which has always eluded me. It wasn't easy but I managed to pace it evenly and was delighted to reach the finish with a good 30 seconds to spare.
Results ...

(1  54:15 Gert-Jan Liefers)
462 89:27 Petra Bijsterveld 
658 ran

parkruns, Sat 15 April
Bunny Run Two, Tue 11 April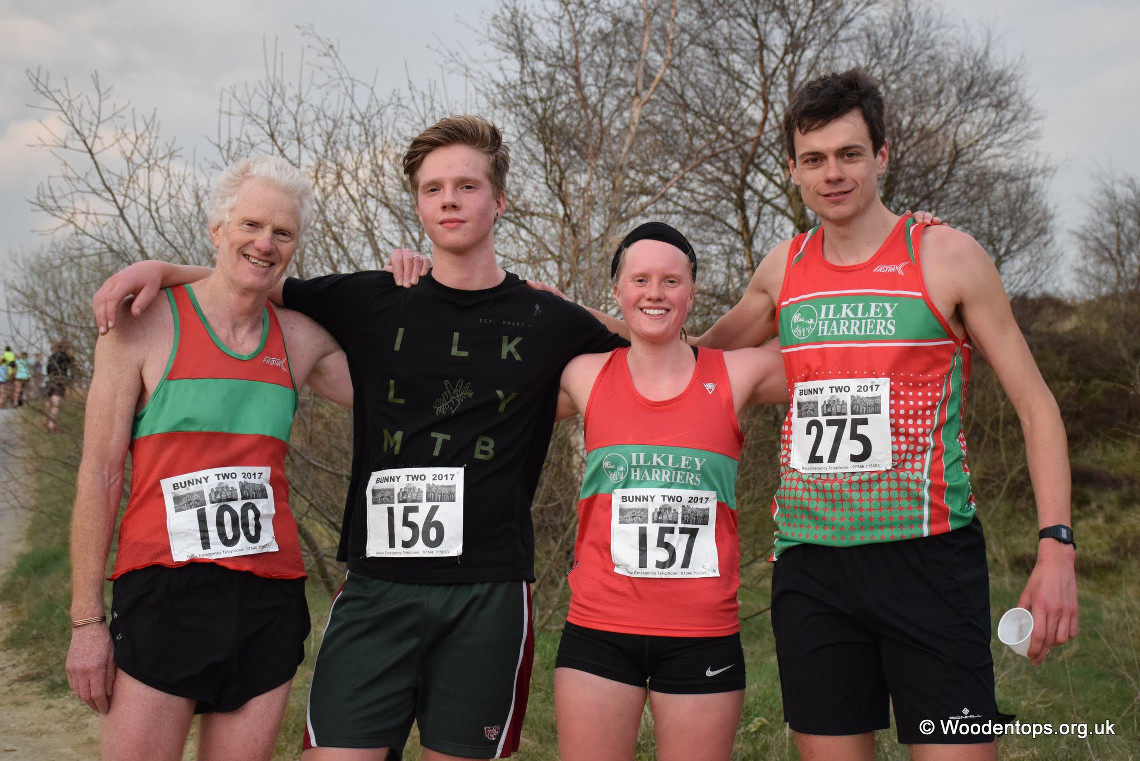 Ilkley had the first men's team! Final race next Tuesday. Results and photos on woodentops.org.uk

(1  14:51 James Hall, Wharfedale)
2   15:22 Jack Wood
5   15:47 Euan Brennan
11  16:34 Cameron Reilly
12  16:39 Jack Cummings
23  17:22 Oscar Stapleton
53  19:13 Sarah Pickering
60  19:35 Bernadette Raven
63  19:42 Richard Joel
66  19:48 Ben Joynson
79  20:09 Jane McCarthy 1st FV40
106 21:09 James Pickering
119 21:42 Malcolm Pickering 1st V60
139 22:26 Mary Gibbons
149 22:42 Charlotte Elston
151 22:44 Sarah Edwards
168 23:16 Harry Stead
176 23:27 Andrew Jackson
206 25:27 Val Kerr
237 27:21 Petra Bijsterveld
262 29:59 Sophie Brown
270 31:07 Patrick Gibbons
285 finished

White Horse 10k, Sun 9 April
From Vince Gibbins ... Bernie and Catherine Gibbons took part in The White Horse 10k, one of the Hardmoor off-road races, on Sunday. This series comprises seven beautiful, challenging runs in various locations around the North York Moors. It's known as the only series where you can legitimately ask 'How far is a 10k?' The White Horse was in fact a 7.5 mile course and included 1,000 feet of climbing, taking in Gormire Lake, the heights of Sutton Bank and parts of the Cleveland Way. It was a spectacular course with stunning views on a beautiful, sunny day.
Bernie Gibbons First Vet Female 60 in 86.30
Catherine Gibbons Second Lady in 68.54
www.hardmoors110.org.uk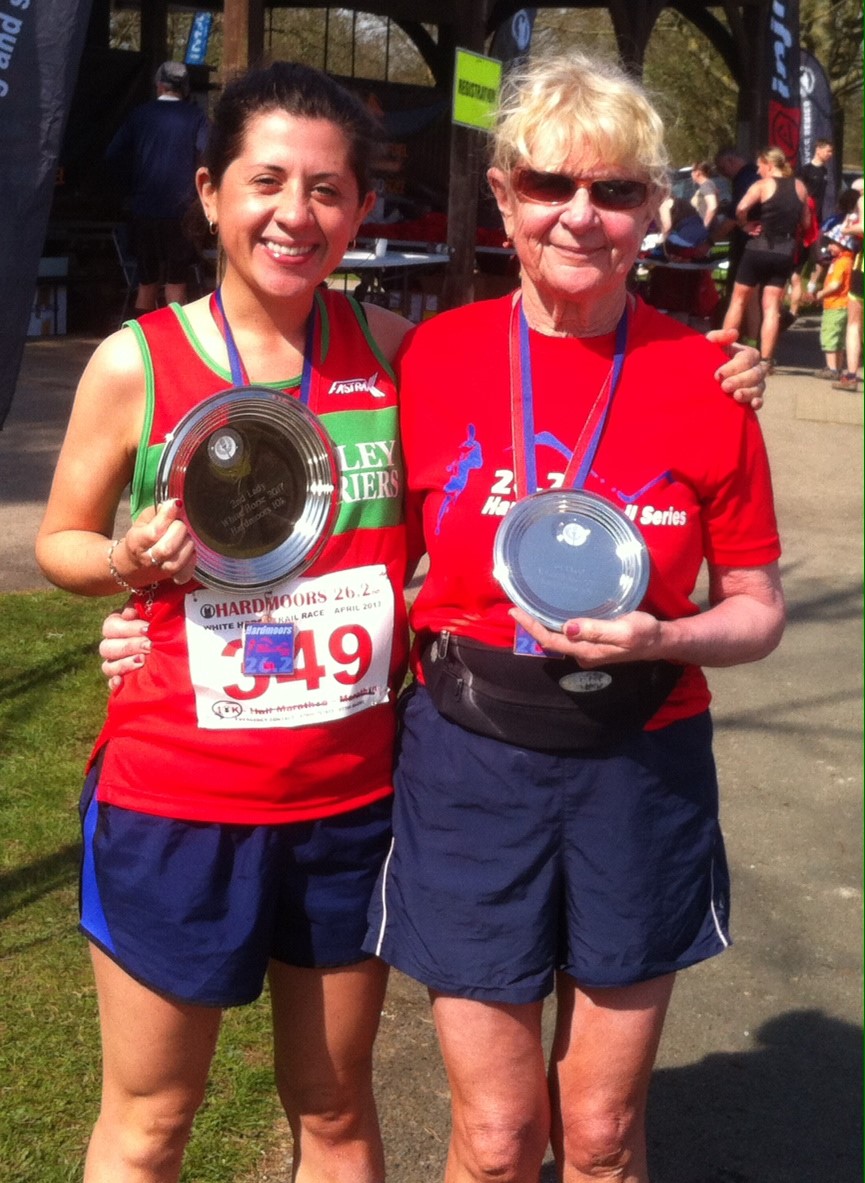 Donard Challenge, Sat 8 April
From Alison Weston ... I was the only Harrier to do the first British fell running championship race, Donard Challenge, in the Mourne Mountains on Saturday but it was well worth the effort. Classed as a 'short' race (10km) it starts from sea level in Newcastle and climbs 900m to the top of the highest hill in Northern Ireland and then returns a more direct way back down over tussocks and rocks. We were rewarded with a magnificant view from the top of a cloud inversion over the sea (unfortunately I didn't dare take my eyes off the ground on the descent). The winner was Tom Addison from Helm Hill Runners in 58:03 and Wharfedale Harriers had some great results too. I was content with 198th (6th FV50) in 1:29:06 but keen to return to do more races in the area.
parkruns, Sat 8 April
From Petra Bijsterveld ... Results ...

Woodhouse Moor
(1  16:41 Tim Gordon, U/A)
13  19:04 Tim Ashelford
202 26:30 Jennifer Carne
409 ran

Bradford Lister Park
(1  16:37 Matthew Merrick, Bingley Harriers)
5   18:44 Will Wood
436 ran

Harrogate
(1  17:22 Andrew Dobby, Harrogate Harriers)
108 22:27 Caroline Howe
508 ran

Skipton
(1  16:29 Jack White, City of Norwich)
53  24:24 Chris Cunningham
187 ran

Montsouris (Paris)
(1  16:50 James Young, Meltham AC)
20  22:25 Geoff Howard
80 ran

Ilkley Harriers of the Month, March
Runner of the month:
Ben Sheppard
for Haworth Hobble
Other nominations were:
Caroline Howe for Keithley 10k, Haweswater half and Harrogate parkrun
Jack Wood for Long Mynd and Edale the same weekend
Kate Archer for Pendle
Volunteer of the month:
Petra Bijsterveld
for organising our Northern Road Relays teams
Other nominations were:
Alison Weston for Gazette reports
More Harriers of the Month ...
Bunny Run One, Tue 4 April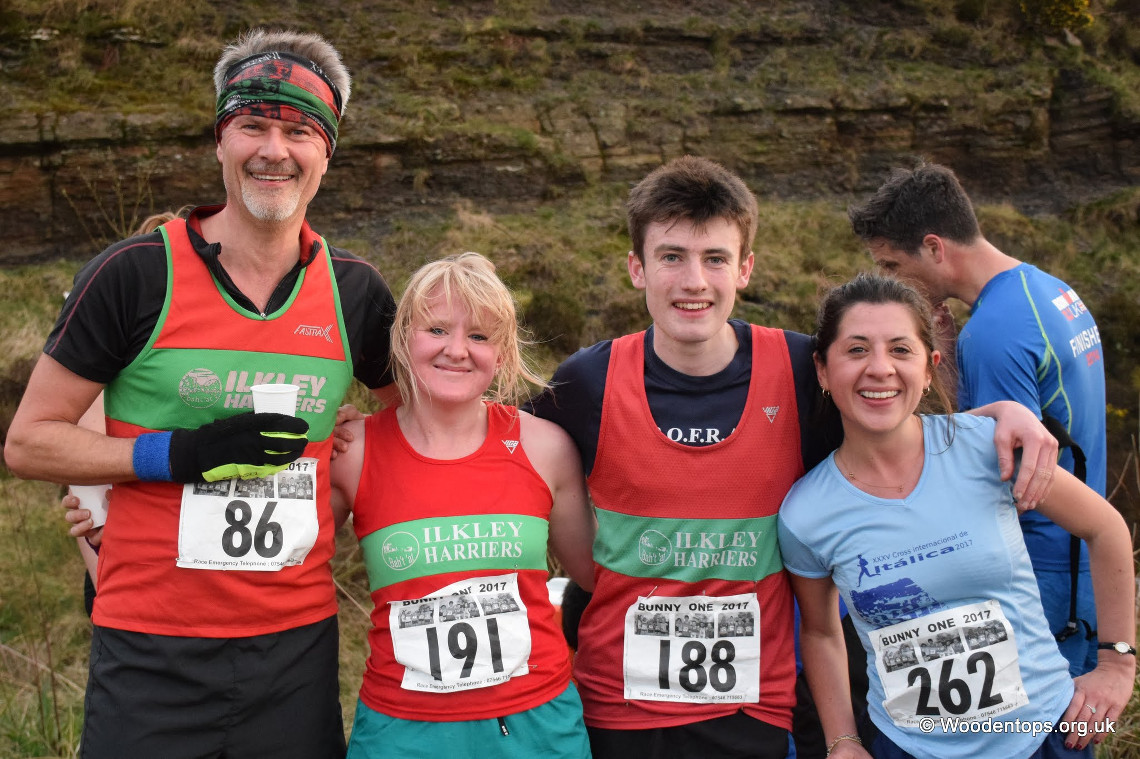 Easter's coming! Lots of Bunny Fun last night, another race next week. Results and photos on woodentops.org.uk

(1  15:44 Joe Baxter, P&B)
7   16:31 Matt Newall
10  16:38 Jack Cummings
13  16:52 Cameron Reilly
24  17:33 Oscar Stapleton
56  19:43 Ben Houlihan
58  19:47 Ben Joynson
67  20:14 Bernadette Raven
74  20:28 Lucy Williamson
83  21:03 James Pickering
111 21:59 Malcolm Pickering
119 22:28 Sarah Edwards
134 23:02 Catherine Gibbons
141 23:13 Andrew Jackson
142 23:16 Mary Gibbons
146 23:24 Charlotte Elston
147 23:26 Alison Weston
149 23:32 Tom Jackson
173 25:28 Emily Elmes
175 25:33 Adela Reperecki
191 26:12 Val Kerr
197 26:33 Joanne Williamson
231 28:25 Petra Bijsterveld
243 29:17 Anna Pickering
255 31:11 Sophie Brown
265 36:02 Nea Weston
269 finished

Baildon Boundary Way, Sun 2 April

(1  1:20:22 Alisdair Burns, Valley Striders))
20  1:34:20 Steve Coy
27  1:36:31 Jane Mccarthy 3rd lady
35  1:38:14 Kate Archer
43  1:39:57 Mark Summerson
122 1:52:53 Harry Sime
131 1:53:42 Jo Foster
164 1:57:52 Neil Pomfret
187 2:01:11 Eric Hawthorn
191 2:01:34 Helen Waddington
207 2:03:45 Adela Reperecki
284 2:15:09 Melanie Edwards
312 2:22:05 Sally Lynch
330 2:29:55 Alison Bloor
331 2:29:55 Neil Bloor
361 finished

LDWA Blubberhouses 25, Sun 2 April
From Ben Sheppard...For the price of four hand-piped fondant fancies at Betty's (£7) you can enter the LDWA Blubberhouses 25, a scenic and thoroughly enjoyable long walk (made less so if you choose to run it). For me it was a no-brainer, I don't even like fondant fancies (I'm more of a fat rascal kind of guy). Plus, you get a free meal at the end (meat stew or veg stew, or bread if you don't like stew). If you like a hard-core race with a charged atmosphere and a deep field of fast club runners, this is not the one for you. Good to see Dave Robson and Mike Duffield there in training for the Three Peaks, and Derek Oliver looking calm and assured as usual. While most walkers and runners set off at a gentle trot, a few runners hared off towards Swinsty Reservoir at an unsustainable pace. By Fewston Reservoir we were a break-away of four, and shortly after Thruscross Reservoir a clear leader emerged. By Ellercarr Pike had opened up a lead of 4 minutes from me and one other. He and I seemed to be matching each other for pace and effort and, enjoying a good old natter (you don't get that at a half-marathon road race), settled into an un-spoken accord to stick together (he didn't know the route and I could tell he would finish stronger than me). In the final half mile we agreed to finish jointly for what we assumed would be joint second. Alas, sadly for the leader he had managed to get lost only half a mile from the finish, trotting in forlornly a couple of minutes after us. Maybe he can take consolation from the fact that an LDWA challenge is not really a race anyway. Dave and Mike appeared to have good runs and I think Derek surprised himself with an excellent time and placing. The genial atmosphere at the end, sitting out in the sunshine eating stew and drinking tea while applauding the finishers in, was worth the price of a box of fondant fancies alone. Highly recommended for walkers and runners who like value for money. Results ...

1  3h17 Ben Sheppard
5  3h28 Derek Oliver
19 3h55 Dave Robson
20 3h55 Mike Duffield
22 3h57 Paul Calderbank
36 4h19 Chantal Busby
168 finished

Fountains 10k, Sun 2 April

(1 34:36 Ben Pease, Ripon)
34 45:18 Helen Thurston
82 50:51 Tracey Watson
325 ran

Pendle Short Fell Race, Sat 1 April
From Ewan Welsh ... Ilkley's young guns were out in full force on Pendle Short Fell race, as Ewan Welsh and Mike Baldwin were competing in their first V50 and V60 races (respectively !), with Norman Bush (V70) also appearing. The route covers 4.5 miles/1500ft, consisting of a bit of road at the start/finish, one steady/steepish climb, one downhill, another steep climb, another steady downhill. Finishing order amongst the three young fellas was Ewan, Norman, Mike. Apologies if any other Harriers where in attendance that we didn't spot. Results soon.
Dales Trails 20 - Reeth, Sat 1 April
From Gavin Lamb ... Results ...

(1 - 1:20:37 Ben Livesey)
20 - 1:45:57 Gavin Lamb 
279 finished

parkruns, Sat 1 April
From Petra Bijsterveld ... Results ...

Woodhouse Moor
(1  16:58 Robin Outtersides, Otley AC)
240 27:30 Jennifer Carne
464 ran

Bradford
(1  17:24 Alexander Flaherty, Bingley AC)
4   18:24 Will Wood
497 ran

Penrhyn
(1  19:34 Louis Guest, U/A)
4   19:52 Lucy Willaimson 1st F
194 ran

Beginners 0-5k Challenge, Tue 2 May
A 6 week course in a friendly group for those new or returning to running, only £10 for all 6 sessions.
More information and application form.
Enter this year's HDSRL online

From Andrew Sheldon ... Summer is coming! Members of Ilkley Harriers wanting to run in this year's Harrogate and District Summer Race League races should use this link (also on the right).
Edale Skyline fell race, Sun 26 Mar

(1  2:47:45 Chris Steele, Borrowdale)
2   2:47:57 Jack Wood
156 4:16:24 Brian Melia
158 4:16:30 Jamie Hutchinson
274 finished

Keighley BigK 10k, Sun 26 Mar
From Caroline Howe... A tough 10k with lots of twists and turns, and some challenging hills, through Keighley's parks, paths and residential areas. 90% road apart from two laps at the start round a muddy field to thin the runners out, and then a couple of gravel paths later on and finish on the grass. The most disconcerting part was when halfway round we met up with the start of the 5k race in Lund Park, when swarms of 8 year olds suddenly engulfed us! All in all, a tough race (made tougher by the 9am start and the loss of an hour's sleep!) but well organised, varied and enjoyable with a great atmosphere and support. I managed a PB of 48:52.
Results ...

(1  33:37 Callum Elson, Roundhay)
15  38:35 Will Wood (3rd in age group)
184 48:52 Caroline Howe PB
310 55:31 Jan Carrier
862 ran

Long Mynd Valleys, Sat 25 Mar
The first counter in the English Fell Championships. Results ...

(1  1:33:28 Tom Addison, Helm Hill)
8   1:36:32 Jack Wood
237 2:14:48 Kate Archer
402 finished

Northern Road Relays - Stanley Park Blackpool, Sat 25 Mar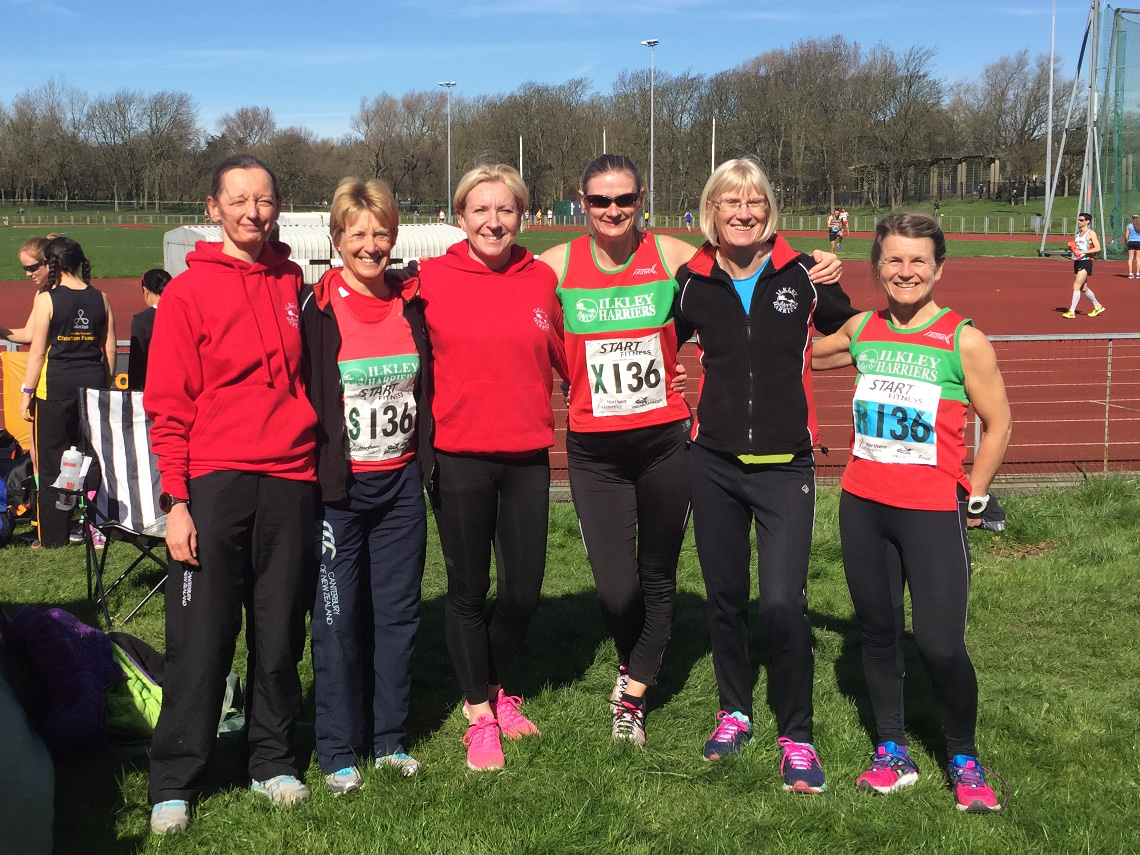 From Petra Bijsterveld ... Organized by Northern Athletics the Road Relays are team events consisting of 6 stages for women and 12 stages for men. We were not able to field a men's team this year, but the club managed to send 6 of its finest women to this event. The 6 stages are 2 long legs of 9.5k and 4 short legs of 5.2k, starting on the track, then looping through and around Stanley Park before finishing with three quarters of a lap on the track where the next runner takes over. The course was slightly undulating, mainly on tarmac footpaths but taking in a small section of unmade trail through the trees. Those who had been 'volunteered' to do the longer legs went round the park twice before returning to the track.
Stanley Park Sports Arena provided excellent sporting facilities, and the park itself with pavilions, gardens and boating lake looked its very best on what turned out to be the most beautiful sunny and warm day of 2017 so far. This caused the one downside of the event: the weather attracted so many people to the park that at times the race became more of an obstacle course heavily populated with slow moving pedestrians eating ice creams, with dogs, wheelchairs, prams, and scooters ridden by tiny children. It required skill to weave around them whilst going at 5k pace, and as the men were running at the same time we were being overtaken, so acute awareness was required of who was behind you as well as in front. Personally I had a very near collision with a small boy coming downhill on a scooter, which could have been quite nasty for both of us.
The Ilkley women all ran very well in what were warm conditions, with Sally Malir and Jane Bryant valiantly running the long stages in excellent times, and Val Kerr, Stephanie Fox, Hilda Coulsey and myself taking the shorter legs with very consistent results. We all felt the motivation and positive pressure of running for the club and for our team, and it definitely makes you push just a bit harder. Considering we were competing against an elite field of runners we can be rightly proud to have finished 36th out of 50 complete teams. Moreover our entire team consisted of veterans, but in this competition no age-grading takes place.
This type of event takes just a little bit of organization but the pay-off is great in terms of sense of achievement and cohesion and I hope we may be able to enter more than one team next year. Thanks to all the runners, also to Alison Bennett and Jacqui Weston who were on stand-by until the last moment as reserves, and to Pete Shields for his help and encouragement.
Results ...

(1 2:24:11 Rotherham Harriers & AC)
36 3:09:29 Ilkley Harriers AC                 

Sally Malir       (27) 39:44
Val Kerr          (38) 25:44
Petra Bijsterveld (39) 25:44
Jane Bryant       (39) 46:55
Stephanie Fox     (39) 25:31
Hilda Coulsey     (36) 25:51
(nn) is team position after each stage

parkruns, Sat 25 Mar
From Petra Bijsterveld ... Results ...

Bradford 
(1 16:39 Joe Sagar, Spenborough AC)
4  18:36 Will Wood
212 27:41 Eric Hawthorn
481 ran

Roundhay Park
(1 17:34 Jonathan Lancaster, U/A)
55  22:08 Tom Worboys
66  22:39 Geoff Howard
354 ran

Skipton
(1  18:44 Danny Thompson, U/A)
24  22:54 Caroline Howe
152 ran

Bramley
(1  18:25 Mark Pottinger, Stainland Lions)
79  27:37 Jennifer Carne
192 ran

Harriers Race League quarterly update
From Jane McCarthy ... After 4 races in the 2017 League Alison Weston leads with 330pts, from 2015 League winner Michael Duffield, both having competed in all four races so far. In the Fell category, Tom Adams won both the Stanbury Splash and the Ilkley Fell Race, scoring his maximum available 200 points, superb performances in both. With just one Trail and one Road race so far, Jane McCarthy and Pauline Munro lead the categories respectively. Hilda Coulsey has played an excellent wildcard after a strong performance at Skipton Park Run and gaining herself 103 points.
Next races in the League are the Guiseley Gallop (Trail, Sunday 16th April), John Carr 1 (Road, Wednesday 3rd May), Over the Odda (Trail, Saturday 6th May) and Jack Bloor (Fell, Tuesday 9th May). GOOD LUCK ILKLEY HARRIERS!
Results and calendar on the League page.
Heptonstall fell race, Sun 19 Mar

1   1:57:41 Jack Wood
6   2:02:54 Will Simmons
189 3:11:50 Mary Gibbons
220 3:26:15 Adela Reoperecki
247 finished

Bradford 10K, Sun 19 Mar
From Petra Bijsterveld ... This was the first road race counter in the 2017 Harriers Race League and just ten hardy Harriers turned out on a wet and decidedly blustery morning. An out and back course from Centenary Square along Canal Road towards Shipley, advertised by Epilepsy Action as 'fast and flat' and a PB potential course. I found that description to be debatable, whilst not hilly there is definitely too much up and down to invoke the tempting word 'flat'. What's worse it is downhill on the way out and therefore uphill on the return. A stiff breeze with occasional sideways gusts between buildings did not help our cause. If all that sounds a little negative, it was very well organised with plenty of toilets, an efficient baggage drop, and a t-shirt and pretty medal at the end. The atmosphere was friendly with lots of runners from local clubs.
Pauline Munro was the first woman home in her category and 5th woman overall, as well as being in the first 50. Michael Duffield ran an excellent race finishing in the first 100, and all 10 of us finished well within the first half of the field.
Personally I had entered this race aiming to break 50 minutes after having been made to run 200 meters too far at Dewsbury last month. However, the course and the weather were unfavourable and my legs grew very tired on the slightly uphill return, having possibly overcooked the first half. Reaching 8k after just over 40 mins I knew it wasn't going to happen and I lost what fizz I had left. I will try again!
Results ...

(1  33:13 Joe Sagar, Spenborough AC)
49  40:28 Pauline Munro 1st F40
91  42:05 Michael Duffield
208 45:23 Harry Sime
342 48:00 Jean Sullivan
417 49:41 Alison Weston
450 50:15 Alison Bennett
476 49:57 Stephanie Fox
477 50:51 Petra Bijsterveld
593 52:49 David Green
729 54:52 Alex Stanley-Hyde
1700 ran

Trimple 20, Sun 19 Mar
From David Ibbotson ... 4 Harriers travelled west in the wind and rain on Sunday morning to run the Trimple 20 as part of their London Marathon preparations.
It is an excellent event which is 99% tarmac but run mainly on traffic free bridleways/footpaths including long scenic sections by the raging river Lune.
Registration and finish is within the walls of Lancaster Castle.
Results ...

(1  1:55:53 Blain Rooney, Ellenborough)
75  2:26:38 Derek Oliver
195 2:48:43 Stuart Herrington 
293 3:06:40 David Ibbotson
357 3:18:01 Jan Carrier
526 runners finished

Rivock Edge fell race, Sun 19 Mar

(1   54:22 Joe Baxter, P&B)
4  1:00:08 Martin Archer
20 1:08:37 Peter Shelley
24 1:11:10 Malcolm Pickering
36 1:15:16 Norman Bush
67 finished

Lakeland Trail Races - Cartmel, Sat 18 Mar
From Helen Waddington... Despite the dreadful forecast the weather was relatively kind for the first race in the Lakeland Trail series. The scenic and undulating course starting at Cartmel race course was incredibly muddy, especially by the time the last race of the day commenced. There were a variety of distances on offer including 5K, 10K and two different 18K events. Three Harriers took part in the 18K Race, including Tom Adams who won for the second year running, Jane McCarthy taking 3rd LV40 and myself. Jacqui Weston and Anna Nolan took part in the 10K Race. Sorry if I missed anyone else! Well organised with lots of marshals and a decent (ladies fit) t-shirt at the end.
Results ...

10k Trail Race
(1    41:03 Andrew Maltman, UA)
70    55:57 Anna Nolan                                                      
209 1:07.19 Jacqui Weston                                           
491 finished

18K Trail Race
1   1:08:46 Tom Adams                                                       
33  1:31:08 Jane McCarthy (3rd FV40)                         
128 1:52:45 Helen Waddington                                                
195 finished

10k Challenge
(1  1:29:55 Paul Gregory, UA)
79  1:53:41 Neil Pomfret
505 finished


parkruns, Sat 18 Mar
From Petra Bijsterveld ... Results ...

Bradford Lister Park
(1  18:12 Martin Fillingham, Saltaire Striders)
124 26:43 Eric Hawthorn
439 ran

Harrogate Stray
(1  17:29 Andrew Dobby, Harrogate Harriers)
25  21:32 Helen Thurston
325 ran

Skipton
(1  18:27 unknown)
23  23:02 Geoff Howard
49  25:14 Chris Cunningham
151 ran

Fountains Abbey
(1  16:47 Reece Dalton, Ripon Runners)
193 30:23 Jennifer Carne
331 ran

Keswick
(1  18:04 Sam Stead, Keswick AC)
30  23:36 Caroline Howe
115 ran

Cardiff
(1  16:45 David Rees, Les Croupiers AC)
11  17:37 Alex Hirst
146 23:33 Phil Hirst
619 ran

Wharfedale Primary Schools XC, Sat 18 Mar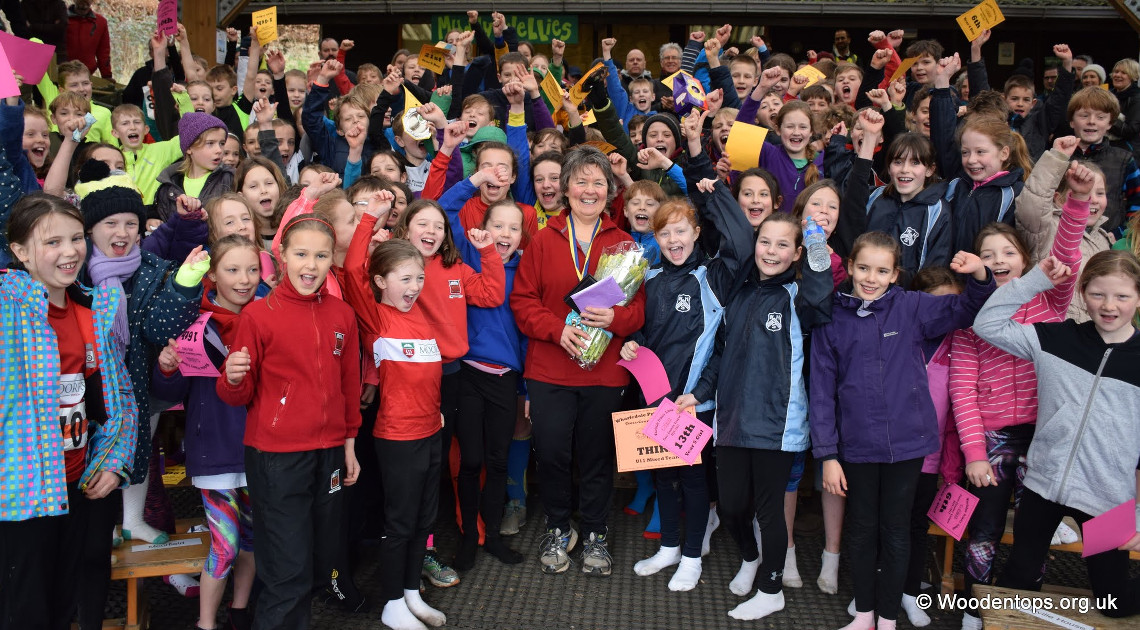 Over 200 children took part in the final event of the season, the Nell Bank Relays, and asttended the League presentation afterwards. Results on the junior pages.
The Mighty Deer Stalker, Innerleithen, Sat 11 Mar
From Ben Joynson ... The race is a mix of terrain fell, rivers, mud, forest trails and some tarmac. 15K ish. You run up two of the hills either side of Innerleithen in the dark on a marked course. The climbs are tough, one can only be done by physically climbing up using your hands to haul yourself up the rocky escarpment. The descents are steep with little room for mistakes if your racing down. I started in wave 2 of 7, there was a half stalker and long stalker course. There was single track running and obstacles to negotiate on the course. But mainly a good technical off road race. After the race there is a on-site party with live music and a big bar. If you fancy a challenge in the dark and enjoy some camping and a party give this race a try.

(1 1:27:08 Kieron Ross)
40 1:47:10 Ben Joynson
1597 finishers on the full Stalker course

Haworth Hobble Sat 11 Mar
From Ben Sheppard ... This year's Haworth Hobble (aka Wuthering Hike) was the British trial race for a GB vest for the world trail championships. Consequently there were quite a few top class speedy long distance runners on the start line. Clayton le Moors' Chris Holdsworth seemed to be hotly tipped, and by all accounts, despite not knowing the route, was in the top two until the final few miles when he was overhauled by a chasing pack. The race was won by Tom Payn in a new CR of 3:54. True to the adage that class is permanent, fell running legend and MV50 Ian Holmes was 6th, only 3 minutes behind.
The women's race was won in style by the exceptionally talented Wakefield's Julie Briscoe from Dark Peak's Sally Fawcett and North Leeds' Katie Kaars Sijpesteijn. Julie was waiting for someone to show her the right way when I first saw her. She promptly sped off into the distance only to get lost further along - and then re-pass me at pace as I slowly walked up the road to Heptonstall!
Jane McCarthy ran well to finish in a little over 5 hours on her first go at this race. I think Adela Reprecki ran too. And I was pleased to get my annual high five from the early-starting Amanda Parnaby at around the customary 11 mile mark. Having set off way too fast I struggled through the final 8 miles and dropped from 20th pace to finish 29th in 4:40, a PB by 10 minutes despite the late blow up.

(1  3:54:18 Thomas Payne)
29  4:40:09 Ben Sheppard
71  5:12:47 Jane McCarthy
140 5:53:15 Derek Oliver
288 7:16:10 Adela Reperecki
363 9:28:08 Amanda Parnaby
367 finished

Black Combe fell race, Sat 11 Mar
From Alison Weston ... Kate Archer and I travelled to the south-west of the Lakes on Saturday for the Black Combe fell race (13km 1000m). The weather deteriorated the closer we got to the race venue and it was rather disappointing not to be able to see the bottom of Black Combe, never mind the top as we arrived. As last year, it proved to be a challenging race. Two very steep climbs and difficult navigation. Almost every runner had map and compass out at check points, although running off in very different directions, and I found myself out of sight of other runners for quite a bit of the time (always a bit nerve-wracking!).Good tea and large pie at the finish was very welcome.
Kate did very well to come 6th lady in 1:44 and I was a good bit behind in about 6th V50 in 1:54.
parkruns, Sat 11 Mar
From Petra Bijsterveld ... I very much enjoyed joining the celebratory 500th Woodhouse Moor parkrun. The first event was held there in October 2007 (with 15 people turning out) and it was only the 4th parkrun to start up. Now there are over 1000 parkrun locations all over the world.
Results ...

Leeds Woodhouse Moor
(1  16:07 Josh Norman, Owls AC)
334 26:59 Petra Bijsterveld
718 ran

Bradford Lister Park
(1  17:46 Oliver Daffern, BGS)
18  20:12 Rhys Jones
77  23:53 Phil Hirst
483 ran

Harrogate Stray
(1  18:42 Jason Millward, U/A)
57  23:51 Caroline Howe, 2nd F
372 ran

Skipton 
(1  17:55 James Raven, Cardiff AAC)
62  24:48 Chris Cunningham
188 ran

Stretford
(1  16:15 Craig Jones, Manchester YMCA)
11  17:51 Rob Cunningham
563 ran

Peco XC #5, Sun 5 Mar

(1  27:17 Terence Forrest, Cairngorm)
77  32:03 Steve Coy
138 34:28 Ben Joynson
172 35:49 Robert Budding
251 39:01 Andrew Jackson
277 40:14 Geoffrey White
374 50:31 Don Macrae
387 finished

(1  30:32 Helen Cross, York Tri)
14  34:29 Ellie Kitchen
115 45:39 Gaenor Coy
216 51:36 Kate Lofthouse
262 66:25 Clare Shouler
266 finished

Montserrat Skyrace, Sun 5 Mar
Well done to Tom Adams, winning this international race, 25km with 1500m of climb! and setting a new course record 2h06:56 Results ...
Haweswater Half Marathon, Sun 5 Mar
From Caroline Howe... starting in the little village of Bampton in the north west Lakes, the Haweswater Half is a friendly race organised by Eden Runners. It's an out-and-back on roads alongside Haweswater Reservoir, with some great views. It's what I'd desribe as 'undulating' with a few tough old hills.
This is an 'old-skool' race with no chip timing or even a finishing clock, but has plenty of charm... lots of support, friendly marshalls, and at the end you get a mug - which is filled with a cuppa - and flapjack... give me that over a fancy medal or an ill-fitting t-shirt any day!!
Having accidentally left my sports watch at home, I ran this race 'free' - pacing myself by feel alone. So I was delighted to finish in 1:50:14... just a minute outside my pb, which I'll take on that course. As the sole Harrier taking part, I'd recommend this race for anyone who likes their roads with a view, and enjoys a few hills offset by nice stretches of downhill recovery.
Anglesey half marathon, Sun 5 Mar
From Sue Williamson... Lucy Williamson competed in her first half marathon one of the most beautiful in the UK. Menai Bridge is the start location following the coast road to Beaumaris castle and return. The weather was not kind this weekend pouring down the whole time with no stunning scenery. Lucy finished the race in 1 hour 27.55, 4th female overall and 3rd female open.
Pendle Round, Sat 4 Mar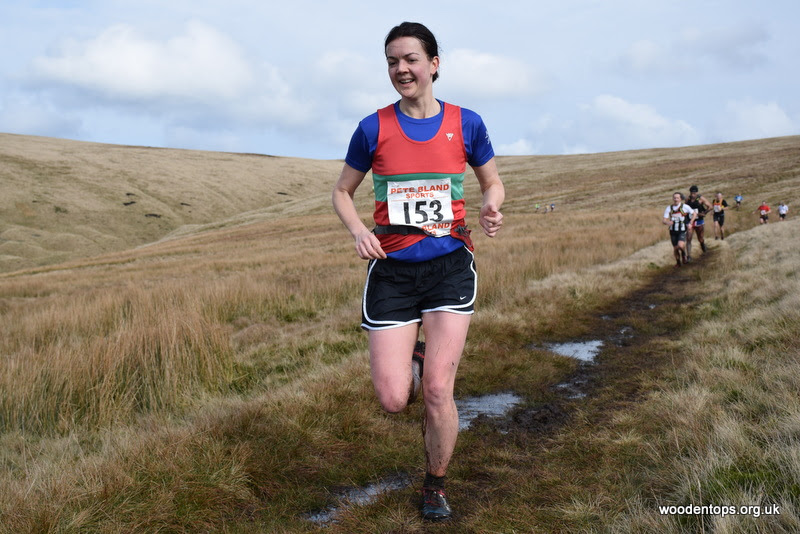 We hear Kate Archer was 2nd lady, results soon but photos and provisional resuilts on www.woodentops.org.uk
parkruns, Sat 4 Mar
From Petra Bijsterveld ... Results ...

Bramhall
(1  17:29 Rob Downs, Wilmslow RC)
3   18:20 Ruaridh Mon-Williams
71  23:33 Rebecca Mon-Williams
359 ran

Bradford Lister Park
(1  17:01 Martin Soszka, Saltaire Striders)
93  24:43 Sarah Haines
447 ran

Temple Newsam
(1  19:43 Ian Maudsley, st Theresa's AC)
129 30:51 Jennifer Carne
215 ran

Skipton
(1  18:20 Stuart Hunn, Wharfedale Harriers)
5   19:46 Jemima Elgood 1st F
54  25:09 Chris Cunningham
185 ran

Fountains Abbey
(1  17:51 George Phillips, Doncaster AC)
45  22:38 Geoff Howard
317 ran

---